The 🤠 Cowboy Emoji: 10 Reasons Why This Emoji Is So Hot Right Now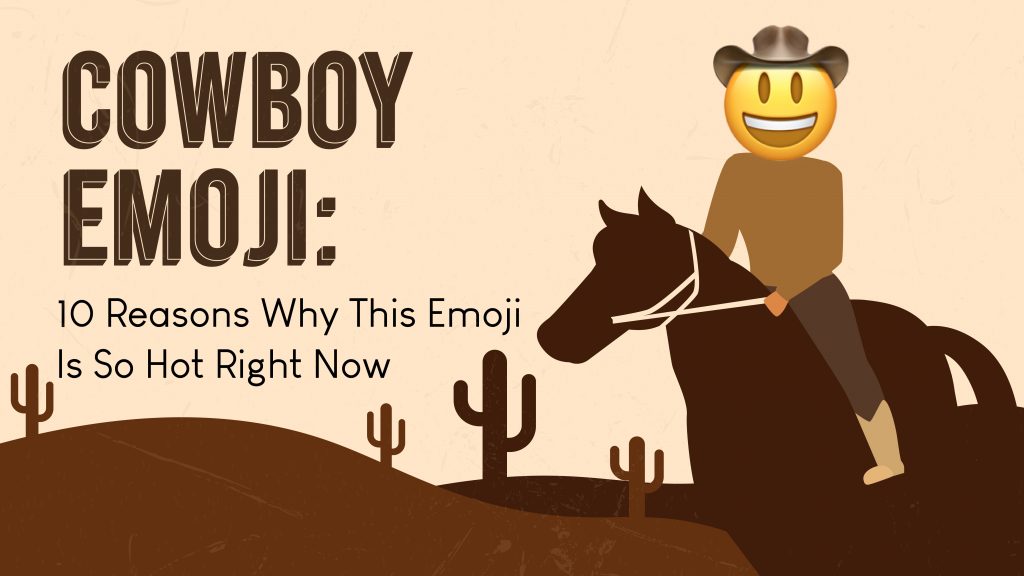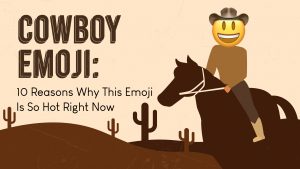 We use emojis every day in our texts and social media posts, from smileys to high-fives. And don't we just love them! Emojis are in the thick of our conversations with our family, friends, and even our colleagues. In a world where so much of our communication is through texting, icons like the cowboy emoji supplement and enhance words by providing strong emotions.
To add, did you know that according to the Unicode Standard, the official governing body of emojis, there are 3,178 emojis in the world?
Out of all those emojis, one symbol is making waves in the emoji universe, and that is the 🤠 Cowboy emoji. Yes, those horse riding, gun-toting fellas are taking over the Internet and many people's hearts!
If you need more proof, well, get ready to giddy up because we're here to present to you 10 reasons you've got to have cowboys and the Cowboy emoji in all your texts, emails, and social media posts.
What Is The Cowboy Emoji?

word
Before we embark on our western adventure, let's go through a basic round-up of what the Cowboy emoji is about. A Cowboy emoji, sometimes called a 🤠 Cowboy Hat Face emoji, is a yellow face with a broad smile wearing a wide-brimmed, brown leather cowboy hat. In some platforms, like Facebook and Joy Pixels, the Cowboy emoji is wearing more of a smirk than a wide grin.
Where To Find The Cowboy Emoji?

The 🤠 Cowboy emoji is available for online platforms, Apple, Google, Facebook, Microsoft, Twitter, JoyPixels, and Samsung. If you want to add some country flair to your texts or social media posts, the 🤠 Cowboy emoji is your guy!
Let's move on to the first reason.
1. The Meaning Of Cowboy Emoji

As you can see, the 🤠 Cowboy emoji looks very joyful and happy.
It is sometimes used to emphasize that someone is agile or good at solving something. In other words, the 🤠 Cowboy emoji has a positive tone. Maybe that is why many people gravitate toward it. Did you know that, based on a study made by software engineer Simo Tchokni of the University of Cambridge Computer Laboratory, more people are attracted to positive emojis than negative ones.
This could be one reason so many people can't get enough of the fun lovin' Cowboy emoji!
2. Old Town Road By Lil Nas X
We are all aware of the power of music.
Last year, American rapper Lil Nas X's hit song "Old Town Road" debuted on Billboard's cross-genre Hot 100 chart, the Hot Country Songs chart, and the Hot R&B/Hip-Hop Songs chart all at once. "Old Town Road "eventually reached the top spot on the US Billboard Hot 100 and stayed there for 19 weeks, the longest time for any song since the chart began in 1958!
Before it slew the charts, the tune first became famous on the hugely popular social network TikTok.
So, how does this connect to the Cowboy emoji? "Old Town Road" is a song about an individual unsatisfied by his material possessions. He is tired of his hedonistic, consumerist lifestyle, so he gives up all he has, heads out for the open road, and becomes, yes, a cowboy.
3. Yeehaw Agenda
Unless you've been living under a rock, we bet you've seen all the cowboy and "yeehaw" memes.
Yup, the Internet is the new frontier for memes of this type spreading through various themes and formats like social media.
What could be the reason for this? Many experts speculate it's because of the Yeehaw Agenda. The Yeehaw Agenda is a reclamation of cowboy narratives initiated and pushed by celebrities of African-American origin. According to these celebrities, mainstream pop culture whitewashed the American cowboy, and they would like to show that not all cowboys are white.
A big proponent of the Yeehaw bandwagon is singer Solange Knowles. Her album was even inspired by it. Solange's most recent musical compilation, "When I Get Home," is inspired by her experience growing up in Texas with African- American cowboys and cowgirls. American rapper Cardi B also showed her support for the Yeehaw Agenda as well. One way she did it was by wearing cowgirl-inspired outfits in her Thotiana music video.
We know how influential celebrities are. It's not too far to believe that the popularity of Cowboy emojis could have been influenced by this!
4. TikTok Yee Haw Meme Challenge
As previously mentioned, cowboy-related memes are spreading like wildfire over the Internet. It has even gone over to video-sharing, social networking service TikTok! If you're one of the six million users of this popular app, you've most likely come across the "Yee Haw Challenge."
In this challenge, users turn into a cowboy or cowgirl after drinking a beverage called "yee haw juice." Playing in the background as they do the challenge is "Old Town Road" by Lil Nas X. The challenge is so popular, and as of this writing, 1.8 million videos have been uploaded and tagged with #YeehawChallenge.
With over 500 million monthly users, TikTok is, without a doubt, a trendsetter and hitmaker. Thanks to TikTok, the cowboy life and cowboy lifestyle just got another layer of cool.
5. Cowboy Movies
Last year, Hollywood experienced a revival of western films with the release of two talked-about movies. One movie is "Eminence Hill," a movie set in the Wild, Wild West Era. Another movie is "East Of Yuma," about a cowboy from Yuma City, Arizona, who tracks down his uncle's killers.
A year after Hollywood released those Westerns, the love Tinseltown has for cowboys spills over into this year. In the upcoming months, a movie about Billy The Kid, one of the most notorious outlaws in American history, will hit theaters. Another film, a horror western titled "Spirit Of The Reckoning," starring Sean Patrick Flanery, comes out in 2020.
To say that cowboys are having a bit of a renaissance right now is definitely an understatement!
6. Cowboy Appeal
Every Halloween, you'll see kids dressing up as cowboys.
This says a lot about the ageless and eternal charm of the Wild, Wild, West. An instantly recognizable symbol of America, cowboys are the bringers of the pioneering, frontiersmen spirit. They live the rugged, country lifestyle filled with adventure. For many individuals, especially those who are nature-lovers and thrill-seekers, to have that kind of a lifestyle is a dream come true.
Taking into account all that the cowboy symbolizes, it's no surprise why talk about cowboys continues to light up online chats and social media posts all over the world.
7. Cowboy Fashion For Women
Hollywood isn't the only industry in the middle of a Western revival. The fashion world's having a bit of a renaissance, too.
Cowboy-style women's boots made a big splash on the runway last year, and the trend is getting an upgrade in 2020. You can expect the same Western vibes, but with more bling. Metallics, embroidery, glitters – you name it, you'll see it on women in 2020.
8. Cowboy Fashion For Men
It seems Western wear is trending in men's fashion, too. French brand Holiday Boileau featured a collection of white jeans with an illustration of a cowboy.
To go with that, another clothing company, Celine, gave a more subtle nod to the cowboy look in its Fall 2019 collection. Some Western-style pieces were light blue washed jeans, snakeskin jackets and pocket shirts.
As more and more men and women channel their inner cowboy with clothes, symbols related to cowboys like the 🤠 Cowboy emoji, and the 🌵 Cactus emoji, are expected to get more online engagement, too.
9. Sad Cowboy Meme
We've all heard of "accidental stars," individuals that never dreamed of becoming a celebrity. They were just at the right place at the right time. Apparently, it happens not only to people; emojis and memes can become "accidental stars," too.
If you haven't guessed it, we're talking about the ubiquitous and slightly notorious Sad Cowboy meme. Once you see it, it looks like an emoji, but don't try finding it on your phone because it is technically a meme, even if it looks like an emoji.
Don't worry if it sounds confusing; we are about to explain that in a bit. 🙂
We don't know who created the Sad Cowboy meme or why it was created. What we do know is how it was created. The inventor merged the Cowboy emoji and the 😔 Pensive Face emoji to create it.
Described by many as the "most tragic figure in the Wild, Wild West," the Sad Cowboy has turned into a brand of its own. Merchandise like t-shirts, stickers, and even home decorations featuring the Sad Cowboy emoji logo, are being sold online.
As the meme becomes more popular, it won't be long before the Unicode Standard makes it officially an emoji. We know you're excited to use it in your social media posts, but unfortunately, you'll have to wait a lil bit longer- most major online platforms need to have the Unicode's approval before they include it in their list of emojis.
We don't think it will be that long a wait, though.
There's an ongoing petition to make the Sad Cowboy meme official, so if you're a fan of this meme, now's not the time to lose hope.
10. Cowboy Celebrity Looks
Yee-haw! Cowboy-inspired looks are all the rage in Tinsel town, thanks to a couple of celebrities who've helped bring the cowboy look back into the public eye.
Some celebrities recently spotted wearing cowgirl-inspired pieces are supermodel Gigi Hadid and American singer-songwriter Pink. At the 2019 CDFA Vogue Fashion Fund Fund Awards, Gigi wore brown croc-embossed Western boots.
At the Country Music Awards last year, Pink rocked a brown and orange cowboy hat. The popular singer brought her son, who was wearing cowboy boots with an ornate pattern, and her daughter Willow. Willow was in cowgirl attire, too.
We are all aware of the almost unavoidable influence celebrities have on human culture. We talk about who they are dating and what they wear. And since a lot of celebrities have been cowboy-inspired looks, you can definitely expect a spike in cowboy-related discussions in the following months.
Conclusion
To sum it all up, you bet there is just no better time to channel your inner cowgirl or cowboy. As we've proven in 10 important reasons, the cowboy culture is still alive and well!
Having said that, if you haven't been posting cowboy emojis on your social media accounts or creating #yeehaw Tiktok videos for family and friends… What are you waiting for? The time is NOW to show off your love for animals, the outdoors, and just about everything about the Wild, Wild, West!