🎂 Birthday Cake Emoji: Celebrate Birthday In A Fun And Creative Way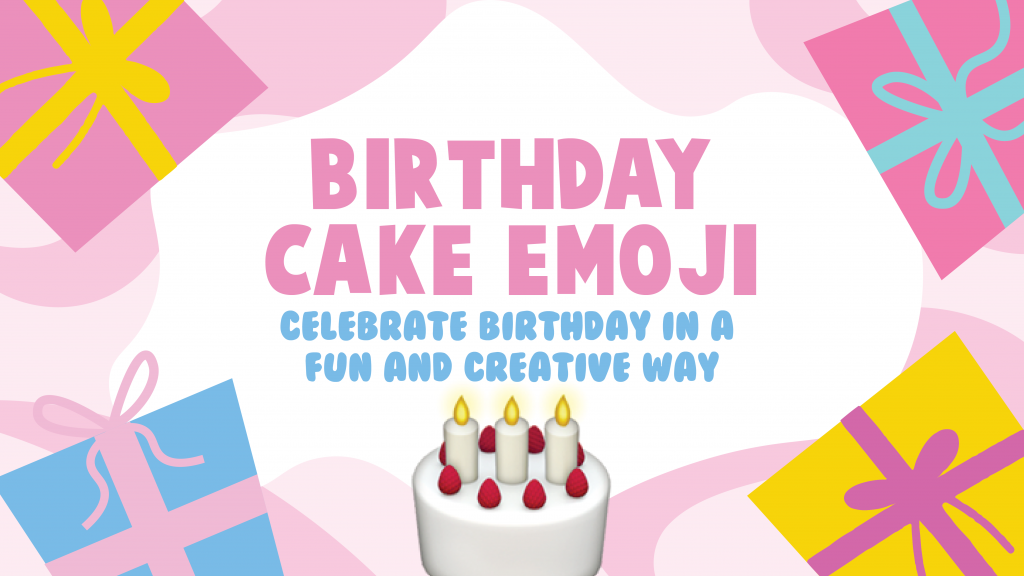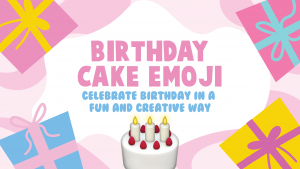 When a dear friend or family member has their birthday, we throw parties for them and surprise them with gifts. But if you can't be there for them in person, a sweet and heartfelt birthday message shows you have put some extra thought into greeting them on their special day. The bigger, the grander the message, the better! After all, birthdays happen only once a year. And what better way to spice up your message than by also including a 🎂 Birthday Cake emoji on your social media post, text, or email?
Everyone gets at least a cake on their birthday. It won't be a birthday without some good ol' cake! If you can't give the celebrant a cake on their birthday, sending a nice message with a 🎂 Birthday Cake emoji is the next best thing. The birthday cake emoji is perfect for saying happy birthday and letting others know that you care about them on their special day.
It's compatible with most platforms and operating systems, too! Although the emoji images may be different on each platform. We'll talk more about that later. For now, let's get down to business with some of the basics, like the symbol's definition and usage.
Birthday Cake Emoji Meaning

A frosted cake with lit candles, as seen at a birthday party. The 🎂 Birthday Cake emoji is a recognized symbol of someone's birthday. It's used to greet someone on their birthday or to notify a person about someone else's birthday.
You'll see the symbol in conversations related to birthdays, parties, celebrating life, etc. Some use it when they talk about wishing for something, in reference to a common belief of making a silent wish before blowing out the candles on a birthday cake. Thanks to its characteristic candles, it's seldom utilized in topics unrelated to desserts, birthdays, celebrations, or parties.
Birthday Cake Emoji Background
The 🎂 Birthday Cake emoji was introduced to the public as part of Unicode 6.0. This was a pioneer group since it was the first major version of the Unicode Standard to be published completely in an online format. The encoding of hundreds of symbols for mobile phones is a long-awaited feature of Unicode 6.0.
These emoji characters are popular, even more so in Japan. In fact, they've become an integral feature of text messaging in that country and abroad. Furthermore, the symbol first appeared on iOS devices in 2011. It was included in iOS5, the fifth major release of the iOS mobile operating system developed by Apple Inc, and the successor to iOS4.
On Android devices, the symbol first became available to users as part of Android 4.3, more popularly known as "Android Jelly Bean." Android Jelly Bean is the codename given to the 10th version of the Android mobile operating system developed by Google. It was first unveiled at Google's I/O developer conference back in June 2012.
Birthday Cake Emoji On Different Platforms

In the above images, you'll see how the 🎂 Birthday Cake emoji appears on different devices. All in all, the style of the cake varies widely depending on the platform. The number of candles on the cake changes, as well. If you're using a device that doesn't support the 🎂 Birthday Cake emoji, expect to see a blank box or X symbol instead of the emoji.
Apple, Samsung, And Google
Let's go over the differences – Apple's version has white frosting and strawberries, like a traditional Japanese Christmas cake. Samsung and Google's model also has strawberries on top of their cake.
Windows and JoyPixels
If the one you're greeting is fond of chocolate cake, you've only got two choices, the one from Windows and the one from JoyPixels. Windows' artwork for this emoji shows a chocolate cake with colorful sprinkles and one green candle on top. Like all the other Windows emojis, Windows' birthday cake is seen with a black outline. You've got to admit, regardless of how the cake appears or how many candles it has, each version looks really delicious!
Snapchat
In closing, on Snapchat, if you see a 🎂 Birthday Cake emoji next to the name of a friend, wish them a happy birthday! The symbol shows up on the date entered as a user's birthday when signing up for the platform.
Other Names Of The Birthday Cake Emoji
As we all know, emoji names differ from platform to platform, too. Don't be confused when this happens! Look up the alternative names of the emoji before you start to panic. As an example, the other names of the 🎂 Birthday Cake emoji are Birthday, Cake, and Cake With Candles.
How To Use The Birthday Cake Emoji
Send the emoji along with birthday greetings to that special someone who is celebrating their birthday physically apart from you.
Example: We might be miles apart, but that special place reserved for you in my heart will never be irreplaceable. I wish you all the happiness the world can give. Happy birthday! 🎂
In the context of just "cake." To talk about cake. If you texted someone about a cake, you baked a cake, you are ordering a cake, or craving a cake.
Example: I got so bored at home, I decided to bake a 🎂 Do you want to try it? Come on over and get a slice! I tried to copy the 🎂 we always order from the bakeshop.
To congratulate someone for reaching a milestone, like a birthday, wedding, graduation, etc.
Example: Congratulations! You got the promotion🎂I know how hard you worked and prayed. It all paid off!
Other examples:
– Didn't have anything left in the fridge, so I decided to make a ​🍚​🎂​ from a recipe I found online. I tried putting salsa on top of it, and it tasted even better! [What it means: rice cake]
– ​1️⃣​6️⃣​🎂​is one of my favorite movies of all time. I love watching it with my friends when we have sleepovers! What are some of your favorite lines? [What it means: 16 Candles]
– What's your ​🎂​🎶​? As a true R&B lover, Destiny's Child's "Birthday," will forever be my jam. If I want to go the classic route, Leslie Gore's, "It's My Party," takes second place. [What it means: birthday song]
Hold Remote Parties With The Birthday Cake Emoji
Clearly, no birthday goes unnoticed on the Internet! Well, why should it? If there is a will, there is a way right? On that note, If you're in the mood to amp up the celebration a little bit, why not throw an online birthday bash? In an age when everything is going digital, why not birthday parties? We are, after all, part of a society that is very much dependent on the Internet.
Bring all of your friends together and have the Zoom party to end all Zoom parties. It's easy: Choose a theme, a Zoom background (for a birthday, we recommend utilizing embarrassing images of your friend!), a drink, and enjoy partying the night away—all from the comfort of your couch. You may even play music and have a virtual emoji dance party!
While chatting with your friends via Zoom, don't forget to squeeze in the 🎂 Birthday Cake emoji for an added feel.
Birthday Gifts
Another idea would be to mail them a little gift. Just because you can't be there in person for your friend's birthday doesn't mean you can't send them a little something! Take advantage of this opportunity to offer your friend a present from a business they wish to support during this time.
If money is tight right now, you can always make a homemade gift they'll appreciate, like a physical birthday card or scrapbook. It's a chance to get creative! Decorate your card, or scrapbook, or album with the 🎂 Birthday Cake emoji and his or her favorite color. There are other celebration symbols to choose from as well. Even if you're no Picasso, as long as it comes from the heart, it will be something your friend will appreciate.
Conclusion
So you see, there are plenty of ways to spread joy and cheer in a virtual environment. Digital elements like a virtual card, Zoom party, and birthday greeting with a 🎂 Birthday Cake emoji will make your friends and family feel like you're right in the room celebrating with them! Doing things virtually isn't difficult at all. All it takes is a little scheduling, some technology, and a handful of creativity, and you will be on your way!