Discord Emojis: All The Things You Need To Know 👾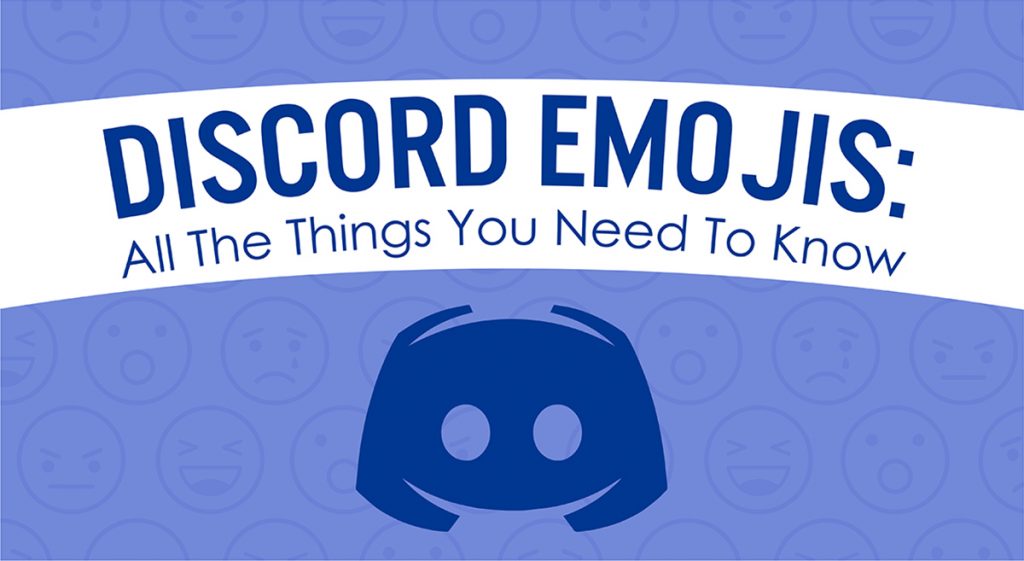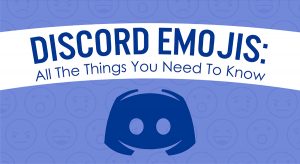 Everyone is playing video games now.
But that wasn't always the case. When video games entered our lives, people thought they were a pastime just for geeks. Boy, has that changed! Men and women of all ages enjoy the thrill of video games. As a matter of fact, 2.5 billion people all over the world play games! The video game industry has grown exponentially over the years and is now the most popular entertainment medium in the world.
As the gaming industry continues to evolve, and video game players continue to develop a rich and thriving community for their kind, more and more apps are being developed to service gamers' needs.
What Is Discord?
One app making waves in the online gaming community is Discord, a digital distribution platform designed for — you guessed it — video gaming communities. If you are a gamer and emoji lover, yo Discord is one app you will definitely enjoy because it converts images into Discord emojis.
You might be asking: what are Discord emojis? For the most part, discord emojis, (also known as Custom Emojis), are uploaded images in a Discord server that are used as emojis. So in other words, they are images uploaded to a Discord server that become emojis.
Now that we've got that out of the way, why don't we go even further and break down some basic terms and processes related to Discord, like the Definition of Discord, what is Discord Nitro, how to make Discord emojis from your PC, how to make Discord emojis from your Android phone, and how to use Discord emojis from your iPhone.
The Origin Of Discord
Discord is a free app that combines the text chat aspects of Internet Relay Chat and the voice chat aspects of Skype and Teamspeak. You can chat with other users and speak to other users through it. Now, we bet you're probably thinking if Skype and IRC exist, why was Discord created?
Founder Of Discord
Initially, Jason Citron, CEO and founder of Discord, created Discord out of a need for gaming clans and guilds to communicate with one another in a faster and stronger manner. Before Discord and other apps of this type were created, most games didn't have effective communication tools built into them. Discord has been around for more than four years, and it's really helped gamers step up their game, with its voice and text capabilities, and its multiple server and channel support.
Another great aspect of the app is how it is just so user-friendly. It is free, secure, and works on both your desktop and phone. To add to that, you can even make your own emojis with it!
Read on to find out how.
How To Make Discord Emojis On Your PC
Learn how to make Discord emojis in a few easy steps!
First Part
Open Discord. The app is easy to find; it has a blue icon that looks like a crab and is part of the Windows menu.
Once Discord is open, pick a server. There are several servers to choose from on the left side of the screen. Remember this important detail – any emoji you upload can be used only on that server.
Click the button with three horizontal bars. It's near the top of the screen, to the right of the server's name.
Go to Server Settings. It's on the left column, on the left side of the screen.
Click on the Emoji button also in the left column.
Second Part
Click on the Upload Emoji button. It is a blue button and is at the top right corner of the screen.
Upload the image. After you upload, give it a name. This is very important. Usually, if you download an image, it will be randomly generated or something long and unrecognizable. When you go into chat to reference it, you might not be able to find it if it's too long and has a confusing name.
To add an animated emoji all you have to do is click upload emoji, select an image of Gif format, and upload.
What if the Gif is too big? Then you will have to compress it, which can be done at a site like ezgif.com.
Third Part
If you are an admin or administrator of a server, you can upload whatever image you want and it will automatically be resized, with proper dimensions. If you don't have those privileges, it is fine. All you have to do is go to ezgif.com, choose the file you want to compress, upload it, then press the Optimize Gif button. You need to make sure the kilobyte size is under what Discord is asking for, so just compress it a little more.
If it still doesn't work with the maximum settings, hit the resize button, adjust the percentage, and you will be able to see that the image is smaller.
Hit the save button, go back to the Discord server, click on the Upload emoji, and upload the one you just created.
You are done!
If you're a gamer looking for ways to elevate your Discord experience to the next level, Discord Nitro is definitely what you are looking for! Think of it as a souped-up version of Disco. Disco Nitro gives you all the awesome features that you get with Discord Nitro, plus a whole lot more!
What Is Discord Nitro?
Discord Nitro is a premium subscription service for Discord, which gives users access to a variety of features. Discord Nitro costs around $ 4.99 a month.
Clearly, the price is worth every penny because with Discord Nitro you get to do all these things!
Discord Nitro users can use Discord emojis everywhere, from every server.
Discord Nitro allows users to upload individual files up to 50 MB. This is much bigger than the free version of Discord which allows individuals to upload files of up to 8MB at a time.
There are also bragging rites! Discord Nitro users get a Nitro badge next to your profile to show that you are a paid user.
You have the option to share your game screen in quality at resolutions 720p @ 60fps or 1080p @ 30fps.
How To Make Discord Emojis On Your Android Device
You can make Discord emojis at home, at the mall, or even on the road, as long as you have your android tablet or mobile phone!
It only takes a few easy steps to do it. Read on to familiarize yourself with the steps:
First Part
Open the mobile Internet browser on your Android device.
Go to the Discord website by typing https://discordapp.com/ or discord.gg into your browser's address bar. Don't forget to press the Enter button after!
Tap the button with three vertical circles. Once you do that, you will automatically see a drop-down menu.
Second Part
Tap the Request Desktop Site option on the menu.
Click on the log-in button at the upper right corner of the Discord home page.
Log in to your Discord account by entering your email address and password. Click on the login button.
Pick a server from the left sidebar.
Go to the sidebar on the left.
Find and tap the server you wish to edit.
Third Part
Click on Server Settings from the drop-down menu. This will open the server overview menu on a new page.
Click on the Emoji tab on the left menu. Find the settings menu on the left side of the page and click on it to open to the Server Emoji page.
Click on the upload emoji button. It is a blue button on the right side of the Server Emoji page. You will see a pop-up menu with a list of upload options.
Tap on the Documents or Gallery button. This lets you pick and upload an image file from your Android and use it as an emoji in the Discord chat. Isn't that neat?
Browse through your files and tap the image file you want to use as an emoji.
Fourth Part
Once your file is uploaded, it will be a part of the Emoji List at the Server Emoji page.
Don't forget to edit your emoji alias! Click on your uploaded image then give it a short name.
Test the Discord emoji you made! Open any chat conversation on this server, type the alias you made, then click send! You should see your new emoji in the chat.
How To See Other Discord Emojis?
Experiencing the creativity of others inspires you to be creative, too! If you want to see the Discord emojis of other users, there is a site where you can experience that, and it is https://discordemoji.com/category/9/nsfw.
Categories Of Discord Emojis
There are hundreds of Discord emojis separated into various designs based on their categories. Some of these categories include movies, gaming, anime, animals, etc. All you have to do is log in to your account with Discord to check out all these awesome designs!
How To Use Discord From Your iOS Device
Got an iPhone or iPad?
You can make and share Discord emojis with your iPhone or iPad as long as you have the Discord app! Downloading is very easy, and it takes only a few steps to get the job done.
Check out the steps below:
First Part
Download the Discord app from the App store. It is on the Home screen. Tap the App Store app icon, which is colored in blue with a big, white A on it.
Next, tap the search button. The button is in the shape of a magnifying glass at the bottom of the screen.
Next, type Discord in the search box, then once you see the Discord icon heading, click on the Get button. The Discord button has a blue background and has a crab-like shape.
Tap the Register button at the bottom of the screen.
If you already have a Discord account, tap login to enter your email address and password.
Second Part
You don't want to use Discord alone, that's against what the app stands for! To add friends, ask your friends for their code. Discord gives users Discord codes. You won't be able to add your friend without a Discord code.
Click on the Add Friend button. It's shaped like a person and is at the upper right corner of the screen.
Enter your friend's Discord tag and Discord code in the text box. The makers of the app outlined the box in bright green, you're sure not to miss it.
Don't forget to include the person's username and tag number. Usernames are case sensitive, so double-check to make sure words are capitalized.
Tap the Done button at the bottom right corner of your keyboard. Your friend will get a friend request. Once they've accepted the request, you can start chatting with them!
Third Part
Make even more friends by joining a Discord server. The first thing you need is a Server invite URL or code. Someone can give you one, or you can search the web for your Discord gaming preferences.
Once you have it, tap on the button with three horizontal lines at the top left corner of the screen.
A pop-up menu will appear. In the menu, click on the plus sign surrounded by a circle. You will see another pop-up menu.
Go to the popup menu and click on the Join Server button.
Congrats, you're done!
Now that you have the app, you've got access to so many fun features! A few perks of this app include being able to share videos, gifs, and Discord emojis with all your friends. In addition, you can manage your game groups and organize and customize your channel listings.
Conclusion
Emojis are a big and powerful tool used all over the world. In fact, they've become so big, that users send 5 billion emojis on Facebook messenger alone!
It doesn't take a rocket scientist to see that everyone has fallen in love with this powerful communication tool. Indeed, it makes perfect sense for industries, like the gaming industry, to use the popularity of emojis to craft, expand, and use emojis in ways that haven't been done before.
As these things unfold, one thing is definitely clear, exciting times are up ahead for both business owners and emoji aficionados.