How The 😂 Laughing Emoji And Other Similar Emojis Can 😀 Humanize Your Brand On Social Media 📱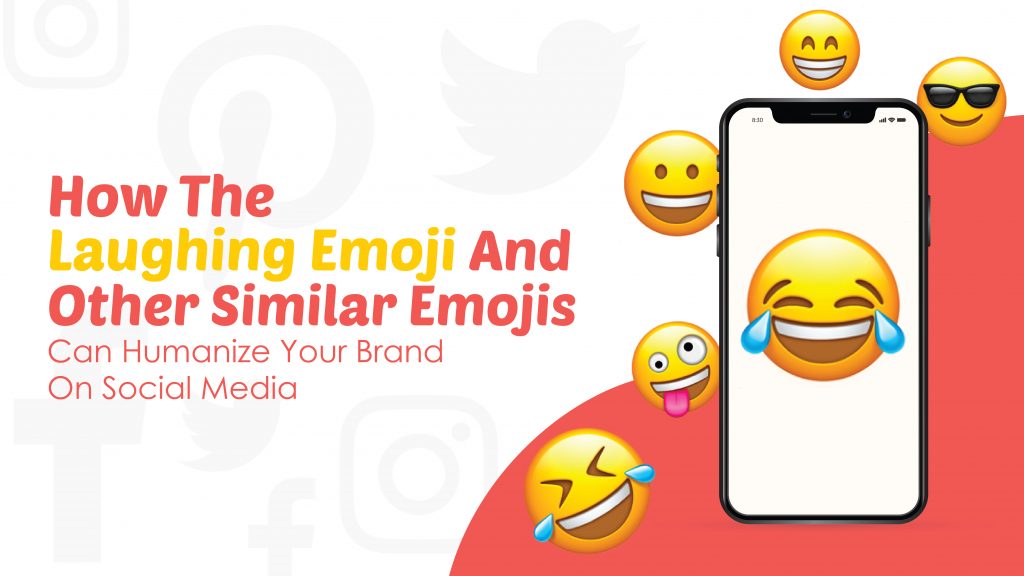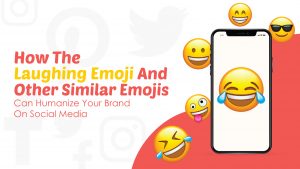 Many years ago, most companies would cringe at the thought of using emojis to market their products. Linguists all over the world claimed that emoji will cause the death of English — and a lot of Internet users believed them. These language experts criticized emojis, saying that only lazy people use emojis — too lazy to express themselves precisely with words. Why type the word "laugh," when you can put a 😂 Laughing emoji? Why even say the words, "I am crying," when you could just put a 😢 Crying Face emoji to get your point across?
Those doomsday linguists delivered a convincing argument, but boy, were they wrong. It would not be surprising if the online articles that published these statements had to deal with over one 😂 Laughing emoji or 😀 Grinning Face emoji in their comments section. If they could only jump into the future, they probably would have shut their mouths!
Emojis Taking Over Social Media
Fast forward to the year 2020. Emojis are everywhere. In fact, they've turned into too big a form of a cultural force to ignore. They're present in every form of digital communication, from email to Skype, Telegram, and even WhatsApp. Emojis are taking over the social media world. Many platforms are revising how they work, tweaking their systems to specifically respond to this communicative phenomenon. Contrary to the linguists' predictions, the English language — and many languages all over the world — are still alive and kicking. They are not dead — in fact, they are living harmoniously with emojis.
Perhaps those old-school linguists and businessmen missed the mark of what emojis really are, so we are here to explain it.
When you talk to someone online, you don't see the facial expressions of the people you are talking to. No emotional context is present. Emojis take care of that. They reproduce vital characteristics of human communication, characteristics present in the actual world, but missing in a digital environment.
Emojis Boost Social Media Posts
Facebook
Earlier, we mentioned how social media platforms are tweaking their features to accommodate emojis. An example of this is Facebook's adoption of emoji reactions. Before, Facebook only allowed users to interact with content via a "Like," using the 👍 Thumbs Up emoji, or leaving a comment.
Now, there are emoji reaction options for "Love," using the ❤️ Red Heart emoji, "Haha," using the Laughing emoji or 😆 Grinning Squinting Face, "Sad," the 😢 Crying Face emoji, and recently, the Care emoji. This allows users to immediately give an emotional reaction. The transition has been very useful for digital marketers. Now, they can immediately gauge the feedback of a specific post from a more subjective view.
For example, fast-food chain Wendy's posted a photo of their Berry Burst chicken salad and Berry Cherry Fruit tea on their Facebook page. It was a flat-lay type of shot, placed on top of an office table that had notebooks, an earphone, and a laptop keyboard on top. The post received over 3,000 love reactions and over 3,000 likes, more than their other usual food posts — photos of nuggets, hamburgers. This means that their audience is more attracted to aesthetically pleasing posts and healthier foods. Plus, they're most likely to be yuppies or office workers.
Twitter
Twitter has jumped on the emoji bandwagon, too. Do you know that Twitter will soon allow advertisers to target users based on the type, kind, and frequency of emojis users post? For example, if you use the ❤️ Red Heart emoji from Monday to Friday, once a day at 12 noon, and you suddenly see a shampoo ad on Twitter, chances are, people who use the ❤️ Red Heart emoji, at exactly the same time and on the same days, will see the same shampoo ad, too.
In summary, emojis help produce more sophisticated user data for marketers and advertisers. They provide an extra dimension of information relating to a user's demographics and behavior patterns. Eventually, a person's typical emoji reactions and emoji posts will soon be able to tell you much about their attitudes, thought patterns, and even their buying behaviors. Even now, emojis are helping marketers better understand user reactions to the content they distribute. What Twitter is doing, which we described above, is a perfect example of that.
Emojis Humanize Your Brand
Emojis help brands interpret the data of their users on social media, but that's not all they can do. Are you aware that they can humanize your brand, too? Emojis provide the human touch. They communicate emotional interest with visuals and can engage a brand's audience in deeply strategic ways.
Do you know that Facebook posts with emojis receive 57% more likes and 33% more comments and shares than posts with no emojis? While tweets with emojis have a 25% higher engagement rate. Isn't that amazing? With numbers like that, it's a must for every entrepreneur to use emojis to their advantage.
But there are a few rules to keep in mind while using it, and that's exactly why we're here, to show you how.
Tips To Humanize Your Brand With Emojis
Humor is an easy and effective way to get the attention of your audience. In fact, more and more brands are incorporating humor on their social channels. No matter how old you are or what country you hail from, we're 100% sure that you love to laugh. But you need to use humor wisely.
The three factors to keep in mind when using humor are information, fun, and control. Let's begin with the first information. Your social media post must be informative and not just funny. Your audience needs to learn something about your brand, too. You need to know the meaning of the emojis that you will use. Some emojis contain a hidden meaning, sometimes even a sexual meaning, and if you don't know the exact meaning of the emojis you'll be using, you could unknowingly damage the reputation of your brand.
You'll often see the 😂 Laughing emoji or 😀 Grinning Face emoji, and other funny emojis in humorous ads, for obvious reasons, and we highly encourage you to use them. But before you do that, check out our refresher of some most used laughing emojis to get you going.
Grinning Face Emoji

The 😀 Grinning Face emoji is an illustration of a yellow face with a big smile. This emoji conveys pleasure, humor, or good cheer. In some platforms, users see the upper teeth and tongue of the emoji. Variants of the 😀 Grinning Face emoji are 😃 Grinning Face With Big Eyes emoji and 😄 Grinning Face With Smiling Eyes emoji, all of them have the same smile, but with more expressive eye shapes.
Face With Tears Of Joy Emoji

The 😂 Laughing emoji or 😂 Face With Tears Of Joy emoji shows a face crying with joyful laughter. This 😂 Laughing emoji is so popular that it is ranked 1st in the list of the All-Time Most Popular emojis. The 😂 Face With Tears Of Joy emoji is widely used to show something is funny, pleasing, or surprising. Great for nearly every surprising situation.
Rolling On The Floor Laughing Emoji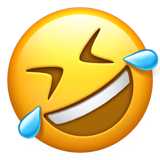 The 🤣 Rolling On The Floor Laughing emoji shows a face with scrunched eyes, a tear coming from each eye, and a big open laugh. This emoji is commonly used to convey hysterical laughter and extreme hilarity.
Zany Face Emoji

The 🤪 Zany Face emoji shows an illustration of a yellow face with a wide grin, big, white eyes, one larger than the other, and in a wild, cockeyed expression. This emoji is used when you're acting goofy, having fun, or being in a wacky mood, etc.
Beaming Face With Smiling Eyes Emoji


The 😁 Beaming Face With Smiling Eyes emoji shows a yellow face with happy eyes and toothy grin, similar to the 😄 Grinning Face With Smiling Eyes but with teeth. Some emoji providers show uppercase teeth, lowercase teeth, or both. This emoji is used to convey happiness, laughing, excitement, and fulfillment.
How To Use Emojis In Your Branding
We've already gone through the information, now let's talk about fun and control. Yes, these two go hand in hand. You want to make people laugh, but you also want to make sure that your humor doesn't hurt other people. This is very important. You don't want to be canceled!
If you're looking for examples on how to incorporate humor in social media ads, check out how Zomato does it. Nearly all their ads have emojis and humor in them, and their immense Facebook following is proof that their strategy is effective. They have millions of likes and followers!
Don't Go Overboard
In using emojis in social media, the last thing you want to do is smother your post with too many emojis. Why? The reason is simple. It might distort the messaging. Your audience might get too distracted by the emojis or it might appear too annoying or spammy and could diminish your brand impression.
Remember, emojis convey emotions. Imagine seeing someone laugh for three hours straight over something that is funny, but not really that funny. Creepy, right? It's the same thing as putting on a set of Laughing emoji, one after the other.
Do not forget that emojis highlight your content or social media messaging. You can make a point and connect to your audience with just one emoji. The clothing brand, Hand In Pocket does this really well. Each emoji reflects the content they use, and they have a specific brand voice- laid-back, casual, and fun. Whatever emoji they use also makes sense for the product.
Connect The Emoji To Your Brand
Emojis may work for a lot of e-commerce brands, but that does not mean it is a one size fits all type of situation. If emojis don't suit your brand voice and tone, you might offend your target audience or create conflicting brand messages. That is not good. For example, if you are a law firm with a lot of corporate clients, a shocked or 😉 Winking Face or 😂 Laughing emoji, in the headline copy of your Facebook fan page would seem out of place or even inappropriate. If your brand is fun and quirky, then go for it!
Capture Your Audience's Attention
In the right way. Besides your super-specific industry emoji, you can also use a few emojis that are sure-fire winners over many niches. Why are they winners? First, they are popular. Second, a lot of netizens use them, and like them. Having them appear in your social media posts is a good way to call attention to your product and to humanize your brand. Many people use it, many people identify it, which overall makes it more relatable.
Emojis To Make Your Post Relatable
Alarm Clock Emoji

The ⏰ Alarm Clock emoji is an illustration of a red alarm clock sitting on two short legs with two clangers perched on top. It's used in posts to emphasize urgency and to heighten the need for immediate action. You'll also see it in posts related to time, sports, to the change in season. If you're selling a product with a limited time offer, and you are aiming for more clicks, this is a magnificent symbol to use.
Fire Emoji

The 🔥 Fire emoji shows a picture of a burning flame. The flame is orange, yellow, and white. The fire emoji highlights something that is taking off or igniting, is also used to signify that something is outstanding, exciting or cool. Functions as a replacement of the word "lit," a popular, millennial slang word to describe parties and other fun happenings. You can find out more about this hottest emoji on our blog too!
Stop Sign Emoji

The 🛑 Stop Sign emoji shows a red octagon. When you see this, what do you automatically do? Stop, right? That is exactly what we want our audience to do when they see our ads. Many countries use it as a stop sign, to stop a person or a group of people in their tracks.
Astonished Face Emoji

The 😲 Astonished Face emoji shows a yellow face with an open mouth, raised eyebrows, and surprised eyes. This emoji conveys awe, admiration, amazement, or excitement. Have you ever seen an 😲 Astonished Face emoji online and wondered what it is about? This symbol creates a sense of intrigue, as most people want to know what all the fuss is about. If you're unveiling a new product, announcing a sale, or a new event, try using this emoji to capture attention.
Smiling Face With Sunglasses Emoji
The 😎 Smiling Face With Sunglasses emoji shows an illustration of a yellow face sporting a pair of black sunglasses, worn to protect the eyes from the sun's rays. This emoji conveys a sense of achievement in a cool, not so arrogant way. People use the symbol to describe someone or something as cool, chill, or easygoing. The symbol also functions as a stand-in for the sentiments of "ok," or "outstanding."
Keep It Positive
Have you heard of the saying, "You can catch more bees with honey than vinegar?" It's true. All of it. Life is hard. People don't like to see a brand ranting on their Facebook, Twitter, or Instagram fan page, unless the brand is talking about a particular advocacy like animal cruelty or sexual harassment. But if you are trying to sell a product in your post, keep it positive. Happy emojis like the various laughing emojis, are great ways to keep the branding positive.
Talk Like An Actual Person
We all know a real person is accessing your company's social media accounts, so you have nothing to lose by sounding like a human being. Use the same language, emojis, and overall jargon that you would as a human. Match the tone of your voice to the target audience of your brand. For instance, if you are selling health insurance, and elderly retirees compose your target audience, perhaps it would be best to chill on the simultaneous Laughing emoji post.
Sign Your Posts
This is a simple but effective way to humanize your brand. Create a headline, add copy to your posts, insert an appropriate emoji and finish with a name. The name of whoever wrote the post, naturally. Adding a name to your social updates is a great way to put a face to your brand. It will give your audience a clearer and better picture of the person they're talking to, making the interaction more personal.
Learn How To Apologize
It's okay to show human emotion on your brand's social media accounts. If your company makes a mistake, admit that you made a mistake and that you are sorry about it. It shows that you are human, and that your brand cares about its customers. Place a 😢 Crying Face emoji or 😥 Sad But Relieved Face emoji at the end of your apology for more dramatic effect, but do so sparingly. You don't want to look overly cutesy, it might make them even more displeased with the performance of your product or the quality of the service you provide.
Conclusion
And there you have it! We hope that you leave motivated and inspired to spice up your social media pages. With careful planning of a social media emoji strategy, you can help humanize your brand and set your business to benefit.
It should be noted that if at first, you don't see the followers of your social media page explode after a week or a month, don't get discouraged. When you put a social media post out there, by hook or by crook, people will respond to what you wrote. And once you've got their attention, you can use emojis to connect to them on a more personal level.
Remember, it takes time to develop rapport with customers, so you've got to be both persistent and patient. However, once you've developed a good rapport, there's no turning back! Subsequently, your customers will tell their family, friends, and colleagues who will then tell their friends… you probably know how this ends. Before you know it, your brand already has a million followers! That's the best way to grow an online business, in today's fast-paced, consumer-driven, digital market.