🚀 Rocket Emoji: Embark On A Rockin' Adventure & Blast Off Into Space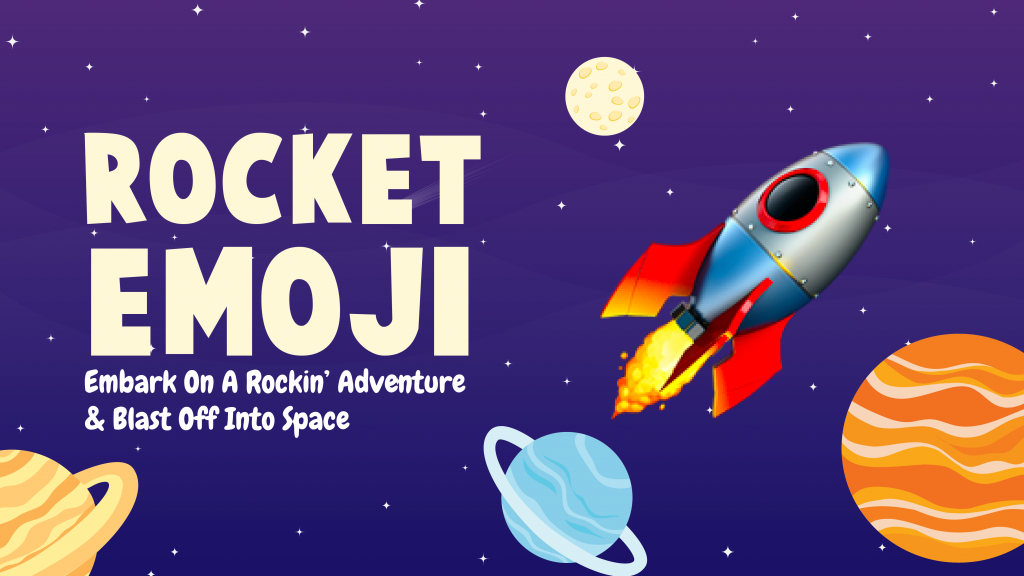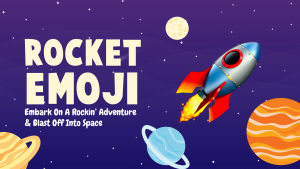 In an adventurous mood today? Wish you could travel through space and learn the truth about what's out there? Send the 🚀 Rocket emoji to your friends to let them know you're ready to take off anytime, anywhere!
You want to go on a wild ride and embark on an adventure you never imagined possible. Use the emoji to express that your feet are firmly planted on the ground, but your heart is flying through the stars. Connect with your playful side and invite your friends to a day of fun!
Identify The Rocket Emoji

The 🚀 Rocket emoji shows a space rocket blasting off into space. A space rocket is a piece of aircraft used to transport astronauts to and from space for research. The rocket icon may be used in other online situations, too. For instance, to indicate a quick increase, such as when referring to stocks that rise rapidly in price.
Or, the rocket emoji may also be used to convey a sense of anticipation and a thirst for adventure.
Rocket Emoji Origin Story
Did you know that the 🚀Rocket emoji is more than two decades old? This cute and colorful icon was first introduced to the public in October 2010, as a member of Unicode 6.0, one of the most popular batches in the emoji-verse.
Unicode is an open-source initiative that works with platforms like Microsoft and Google to ensure that languages look similar from browser to browser, website to website. They started working with emojis in 2010, standardizing and expanding the small pictorial dictionary that's oh-so-popular now!
Truly, a lot has changed since the first emoji came to fruition. Now, there are now more races represented in the emoji world, as well as more cultures and cuisines, in response to calls to make it more inclusive. These emoji characters are widely used, particularly in Japan, and have become an essential part of text messages in that country, and elsewhere. Without Unicode 6.0, there would be no emojis on mobile phones! Imagine that!
A decade later, in 2015, 🚀Rocket emoji was added to yet another batch, Emoji 1.0. But several years before that switch, the rocket emoji already made a head start into the "real world," by appearing on both Apple and Android devices.
First-Ever Appearance: Apple Products And Android Devices
In 2011, Apple users first laid their eyes on the rocket emoji when it was introduced to the public as part of the highly-anticipated iOS 5.0 update. iOS was the fifth major release of the iOS mobile operating system, a system developed and created by Apple Inc.
In 2012, one year after its iOS debut, in an effort to appeal to a wider audience, the rocket emoji appeared on Android devices for the first time. It was part of Android 4.1, the first version of Android with native emoji support. Android 4.1 was a big help, thanks to this update, it became easy to add emojis to notes, chat messages, folder names, etc.
When Unicode prepared the rocket emoji for the final release, the non-profit organization named the symbol, "Rocket." But when it was picked up by platform vendors, a few of them changed the name of the emoji from "Rocket" to "Rocket Ship" or "Space Shuttle." Other vendors, like Apple, kept the icon's original name.
Emoji Frequency
From the time it burst onto the scene, to where it stands present day, it won't be an exaggeration to say the rocket emoji has been doing quite a good job. This emoji is currently the 182nd emoji on social media platforms. 182nd place out of 3,521 emojis in the world? Not too shabby, right?
Rocket Emoji On Different Platforms
Emojis were created with the intention of allowing you to express yourself in any situation. Some of them are made to demonstrate how happy and sad you are. Others are designed to talk about a specific topic – like rockets!

Window or No Window?
With the 🚀Rocket emoji, present on all platforms is the spacecraft's classic, elliptical fin shape. It really does look like a rocket!
But the given width, height, and color of each one, on each platform, are very different. Additional, significant, contrasting details are the windows on each rocket. Most platforms display a rocket with one window, except for Samsung's version without any window.
Varying Colors
When it comes to color, the structure or frame of the rocket is mostly blue and gray on three main platforms – Apple, Facebook, and JoyPixels.
On Twitter, the body of the rocket is light blue, and its fins are red. Meanwhile, Windows' version has a mostly white frame, with a gray border on the bottom and on the top. Finishing it off is a pair of light blue fins.
Samsung's rocket has the most unique emoji style – it's the biggest, the thickest, and its overall design is really, like no else's. Samsung's nose cone and fins are bright red. Its main structure is white, with a red, vertical strip right down in the middle.
Lastly, all platforms display a red, orange, and yellow flickering flame below their racket to imply motion, to give the illusion of being airborne.
Rocket Emoji On Snapchat
Have you ever seen Snapchat emojis? They differ from those found on other platforms. Emojis are displayed alongside your friends' names on Snapchat. But, they aren't just symbols thrown in for good measure. Each emoji has a unique meaning.
As we all know, Snapchat thrives on user engagement, and it has an easy-to-understand reward system that boosts your morale by giving you Snapchat Trophies in the form of cute, little emojis, like the rocket emoji. By doing so, Snapchat rewards users for experimenting with new things and sharing more of themselves on the platform!
Get A Rocket Emoji Snapchat Reward
So, how does one get a rocket emoji Snapchat reward? When a user's score skyrockets to 100,000, Snapchat automatically unlocks the 🚀Rocket emoji in the Snapchat Trophy case.
To confirm or check if they got the emoji, and which trophies they're earned, all users have to do is click on their Snapchat profile, and click on Trophies on the profile page to see their Trophy Case. Once they're there, they need to click on a trophy to view its meaning, and what level it's at. And that's about it!
In case you're wondering, Snapchat trophies don't have any monetary or physical equivalent, so when you get a Snapchat trophy, what you are really getting in return is bragging rights – which can have its own on social media, if you know what we're saying!
Share Your Rocket Adventures Online
If you're still having trouble inserting the icon into your messages, we've compiled a list of possible combinations to help you out! They can be used in online conversations, or to spice up your social media posts.
– Signed up for a Crypto 🚀 seminar before I go into cryptocurrency investing. What I only know is that Crypto 🚀 earns money on trade volume, which means investors don't need to worry about dealing desk manipulation.
– I am so obsessed with getting out of the house, if anyone wants to meet up, I can be ready to go in just minutes! 🚀
– For my son's science final, I made a 🚀 out of an empty tube, scissors, water, and Alka-Seltzer tablets!
– Heard the latest ​🚀​🏀​ movie starring LeBron James was really, really corny! [What it means: Space Jam]
– When I was a kid, I wanted to be an ​👦​🚀​🌰​ so bad, I learned the names and locations of the constellations, galaxies, and planets in the Milky Way and beyond. [What it means: astronaut]
– The only superpower I want to have is ​🕓​🚀​🕢​ to not make the same mistakes I did when I was younger. [What it means: time travel]
Think Before You Click
Since emojis can sometimes be the cause of misunderstanding in day-to-day communication, knowing how and where to insert one is super important.
Before you send any chat, email, text, or social media post with the rocket emoji, read it aloud. Test it on yourself. Does it make sense to you? If it doesn't sit right with you, it probably will confuse the one you're conversing with.
Rocket Emoji: Cryptocurrency Icon
Cryptocurrency – it's a word almost everyone seems to use. Cryptocurrencies have not only changed the world's perspective on money and trading, but they have also continued to evolve in their own space.
In case you didn't know about it cryptocurrency is a type of digital currency that does not require physical existence to be valuable. People like it because it is decentralized. There is no need for a third party to oversee your transaction and take a cut. You earn more this, way!
Rockets In Crypto
How does the 🚀Rocket emoji fit in all of this? To answer your question, let's focus our attention on the Crypto Rocket Bitcoin and cryptocurrency tracker apps.
Cryptocurrency Tools
As more people and institutions accept cryptocurrency as a legitimate means of payment, businesses are making the most out of the boom by offering trading tools to help users stay on top of their cryptocurrencies. The Crypto Rocket Bitcoin and cryptocurrency tracker apps are part of them that category. In them are interactive price charts that let users track price trends in the cryptocurrency market.
CryptoRocket Platform
Here's yet another cryptocurrency tool with "rocket," in its name. As many people look for a safe and efficient way to buy and manage cryptocurrency, numerous platforms like the CryptoRocket platform have appeared, gaining popularity, promising investors with high returns.
Why the 🚀Rocket emoji has become synonymous with cryptocurrency we don't know yet. Perhaps it's due to the rocket's speed. What we know for sure is that its connection with the symbol is here to stay.
Conclusion
Who would have thought a simple spacecraft like a rocket could signify something as far out as digital currency? There stands the beauty of the language of emoji.
Unlike written words, their meaning changes over time. So, in order to avoid ambiguity, and possible confusion when sharing emoji symbols and smileys, the meaning and significance of each icon should be checked and updated.
Careful With Crypto
Moreover, when dealing with new and controversial topics like cryptocurrency, additional precautions apply. If you want to be a financial educator and finance influencer, by all means, talk about cryptocurrency. However, be bold enough to show two sides of the same coin.
For instance, share cryptocurrency success stories for one week. Next week, talk about how market fluctuations of cryptocurrency present a big challenge, especially for people investing in it, which many people are now doing. Therefore, in order to facilitate a more widespread trust and understanding of cryptocurrency, you should treat your bitcoins as you would any other commodity.
When you go with topics like these, they will entice your present and future followers. You definitely don't want to churn out lackluster content or pushy, sales-y stuff that might come across as too "spammy." You want your social media posts to be interesting, helpful, real, and of course shareable! Follow all these tips and steps, and you'll get there!