🍔 Food Emoji Kitchen Hacks: How Food Emojis Can 🍭 Brighten Up And 🥠 Level Up Your Cooking Game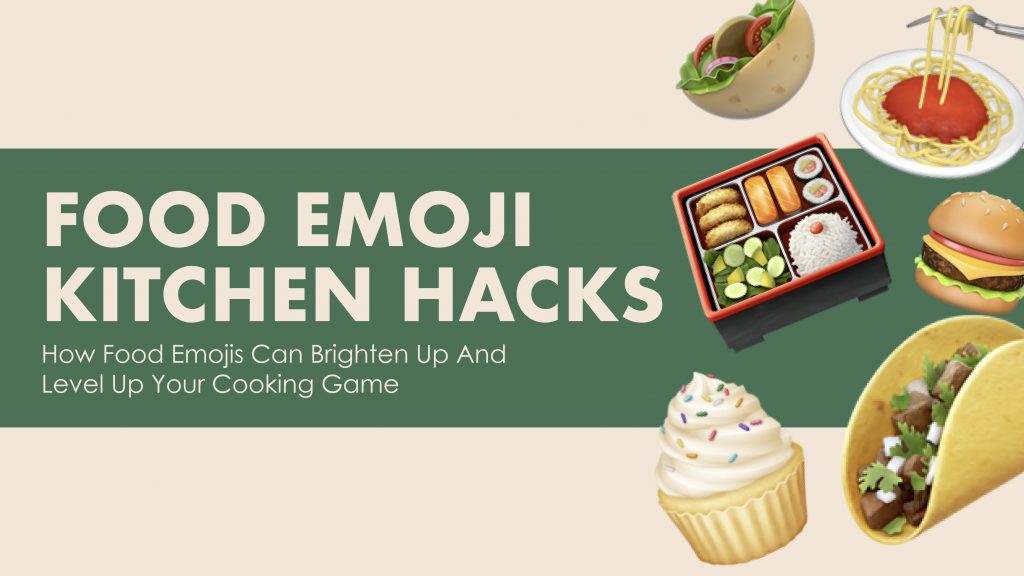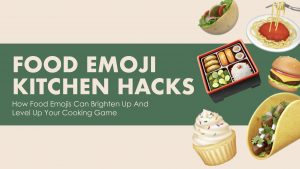 When the lockdown and stay-at-home mandates were put in place, many people stayed indoors to avoid catching the coronavirus. In the absence of restaurant dine-in options, more people are cooking at home, and more and more are sharing their recipes online. Whether you're a kitchen newbie or a long-time home cook looking to learn something new, why not make your recipes more exciting with a food emoji or two?
Emoji Evolution
No matter where you live or where you're from, we're sure you know about emojis. Emojis have changed the way people communicate, and people use them in a multitude of ways- even in cooking!
As of 2017, emojis have developed into their own language. Years ago, they were used to only showcase emotions, but now they've grown into a more complex communication system by replacing words and phrases.
Food Emojis
If you've never used a food emoji in a recipe or social media post, that's ok. We're here for you, and we're here to add some spice to your culinary journey by bringing you a couple of tasty recipes to practice on!
But before we go on our merry way, we've got some things we have to do, like going over tools to help us with our tasks. If we plan to spice up our online recipes with emojis, we need to know what we'll be working with, right? Here's a list of food emojis under our Food & Drink emoji group.
Food Emoji List
To date, Emojiguide has more than 100 food emojis, each belonging to its own category.
Fruit Emojis
The first food emoji category is the fruits category. Here are the emojis under this category: 🍋 Lemon, 🍊 Tangerine, 🍉 Watermelon, 🍈 Melon, 🍇 Grapes, 🥝 Kiwi Fruit. Other fruit emojis are 🍓 Strawberry, 🍑 Peach, 🍒 Cherries, 🍐 Pear, 🍏 Green Apple. Our final list of fruit emojis includes the 🍎 Red Apple emoji, 🥭 Mango, 🍍 Pineapple, 🍌 Banana, 🥥 Coconut, and 🥑 Avocado emojis.
Vegetable Emojis
Let's move on to our second food emoji group, the vegetable category. Here are the emojis in this category: the 🥦 Broccoli, 🥬 Leafy Green, 🥒 Cucumber, 🌶️ Hot Pepper, 🌽 Ear Of Corn, 🥕 Carrot, 🥔 Potato, 🍆 Eggplant, 🍅 Tomato, 🍄Mushroom, 🧅Onion, 🧄 Garlic, 🥗 Green Salad, and 🍠 Roasted Sweet Potato.
Meat Emojis
Our third food emoji group is the meat section. To most people, meat tastes good, so good that, for them, a meal without meat just isn't a meal. Now here's the list of the emojis under the meat section. In no particular order, they are the 🍖 Meat On Bone, 🍗 Poultry Leg, 🥩 Cut Of Meat, and 🥓 Bacon.
Dairy Emojis
For our fourth group of food emojis, let's talk about dairy emojis. Here are the dairy, or dairy-based emojis: there is the 🥯 Bagel, 🥨 Pretzel, 🥖 Baguette, 🥐 Croissant, 🥛 Glass Of Milk and 🍞 Bread emoji. To add to that are the 🥪 Sandwich, 🧀 Cheese Wedge, 🧇 Waffle, 🥞 Pancakes, 🥚 Egg, 🧆 Falafel, 🥙 Stuffed Flatbread, and 🥮 Mooncake emojis. Other dairy or dairy-based emojis include the 🍥 Fishcake With Swirl, 🍦 Soft Ice Cream, 🥠 Fortune Cookie, 🥟 Dumpling, 🥧 Pie, and 🍮 Custard.
We're betting netizens with sweet tooths often use the 🍫 Chocolate Bar, 🧁 Cupcake, 🍰 Shortcake, 🎂Birthday Cake, 🍪 Cookie, 🍩 Doughnut, 🍨 Ice Cream, and 🍧 Shaved Ice emojis!
Seafood Emojis
As we move on to the fifth food emoji category, you better take a deep breath because we will be going under the sea! Let's dive into the colorful world of seafood emojis: first is the 🍤 Fried Shrimp, followed by the 🍣 Sushi emoji, 🦑 Squid, 🦐Shrimp, 🦞 Lobster, and 🦀 Crab emojis.
Fast Food Emojis
Fast food is a presence in almost everybody's life. In fact, over a quarter of Americans eat fast food daily! That said, the emoji world wouldn't be complete without a couple of fast food emojis to represent the intense craving people have for fast food. So, here they are: we've got the 🌭 Hot Dog, 🍕 Pizza, 🍟 French Fries, and 🍔 Hamburger emojis.
🌮 Tacos and 🌯 Burritos may not be considered as fast food, although fast-food joints like Taco Bell serve them, so we slid the 🌮Taco emoji and 🌯 Burrito emoji in this category, too.
Rice Emojis
Rice lovers, listen up, because our seventh food group is all about your favorite source of carbohydrates! To start with, Emojiguide has four types of rice emojis, they are the commonly used 🍚 Cooked Rice emoji, followed by the 🍙 Rice Ball emoji, the snackalicious 🍘 Rice Cracker emoji, and the 🍛 Curry Rice emoji.
Snack Emojis
Want to talk to your friend about the snack you had that day? Why not add a fun emoji to your text, email, or social media post? You can do that if you ate 🍿 Popcorn, had a 🍭 Lollipop, a piece of 🍬Candy, a 🌰 Chestnut, 🥜 Peanuts, a 🍡 Dango or 🍢 Oden, or pretended to be Winnie The Pooh and finished an entire 🍯 Honey Pot!
Traditional Cuisine Emojis
Two forms of traditional cuisine belong to the meal category of our food emoji round-up. They are the 🍝 Spaghetti emoji and the 🍱 Bento Box emoji. Spaghetti is one of Italy's favorite traditional pasta dishes, while the Bento Box is a single-portion, take-out, or home-packed meal common in Japanese cuisines. A traditional bento, or bento box, holds noodles or rice, fish or meat, with pickled and cooked vegetables, all packed neatly in a box.
Food Emoji Recipes
After going through the food emojis, now it's time to get to work! We'll start with the appetizer, then move to the main course, and finally dessert.
To kick things off, let's cook something yummy and healthy like a 🌮! (See what we did there?)
Healthy Taco Dish
Ingredients:
(Good for 4)
2 heirloom 🍅
4 soft or hard tortilla shells
½ cup of 🌽
1 can black
1 cup uncooked quinoa
2 cups vegetable broth
2 🌶️ (you can add or subtract this amount to match your spice level)
One hand's worth of cilantro
🧂, pepper, and lime juice, according to taste
🥑, salsa, and hot sauce
Instructions:
Chop 🍅 and cooked 🍆 in ½-inch pieces. Cook the quinoa vegetable broth. Put the 🌮 shells in the oven and assemble the 🌮 using all the ingredients above. Put the cilantro, a squeeze of lime, pepper, and salt on top. Finally, top with hot sauce, 🥑, or your favorite salsa.
On a diet? No problem! These 🌮 are gluten-free! If you're watching your weight, avoid fillings with tons of oil like fried 🐟, or ground beef. Substituting certain ingredients will lend all the flavor you want, minus the unhealthy amount of sodium and fat.
For our main dish, we'll be having pork chops! Pork chops are an excellent source of protein. They are flavorful, satisfying, and inexpensive. What more could you possibly ask for?
Pork Chop With Cherry Glaze
Ingredients:
(Good for 4)
4 boneless pork loin chops
1 tablespoon olive oil
1 cup of pitted dark sweet 🍒
2 tablespoons dried 🍒
1 tablespoon chopped chipotle pepper
¼ cup of dry red vinegar juice
½ tablespoon orange
🧂, pepper, cinnamon, and 🧄
Instructions:
Season your pork chop with cinnamon, 🧂 and pepper. Cook chops in olive oil for 6-8 minutes per side. Use a large skillet and medium heat for this. Once done, move the pork chops to a plate to keep warm. Get the skillet you cooked the pork chops in and combine vinegar, 🧂, chipotle peppers, orange juice, and 🧄. Cook for around 3 minutes or until the sauce is thick. Pour the sauce over the pork chops. Bon appétit!
Skip the boring chicken dinner, buy some *shrimp, and cook up a delightful meal! 🦐 is versatile and cooks quickly, too. After cleaning the house and homeschooling your kids, you want to feed your family with something delicious and easy to do, like this recipe for 🧄🧈🦐coming to the rescue for you! It takes less than 20 minutes to cook, and every succulent, juicy bite is worth it (we promise).
Garlic Butter Shrimp
Ingredients:
(Good for 4)
1½ pounds of medium 🦐, peeled and deveined
1 stick unsalted 🧈
🧂 and freshly ground black pepper, adjusted to taste
5 cloves 🧄, minced
¼ cup 🐔 stock
Juice of 1 🍋
2 tablespoons chopped fresh parsley leaves
Instructions:
Melt 2 tablespoons of *butter in a large skillet at medium-high heat. Add 🦐, 🧂 and pepper based on individual taste. Stir in the 🦐. Keep stirring until fragrant. This usually takes 2 to 3 minutes. Add 🧄 to the skillet then stir for about a minute before adding in 🐔 stock and 🍋 juice. Wait for it to boil. Once it's already boiling, reduce heat and simmer for 1-2 minutes. Gradually add the 🧈 . Stir in 🦐 and gently toss the 🦐 around. Serve with garnished parsley leaves. Happy eating!
When you are the cook of the house, and your pantry is running low, and you're too scared to go out, but you need to make dessert, here's a sweet, emoji-infused treat that's easy to make.
Peanut Butter Kisses
Ingredients:
One cup 🥜🧈
1 cup sugar
One large 🥚
1 teaspoon vanilla extract
30 milk chocolate kisses
Instructions:
Heat your oven to 350 degrees. Cream sugar and 🥜🧈 until they are fluffy and light. Beat in 🥚 and vanilla. Once that's done, beat in vanilla and 🥚. The next step is to roll in the mixture into 1 and 1/4 inch sized balls. Make sure they are two inches apart on ungreased baking sheets. Bake for 10-12 minutes or until tops are slightly cracked. Press 🍫 kiss into the center of each cookie. Let them cool before moving them from the pans to wire racks.
Did you have fun diving into these emoji-infused recipes? We hope you did, as for us, we had a lot of fun writing them down! If you have kids at home, adding emojis to your recipes is a brilliant way to get your little ones in the kitchen and away from their laptops or 📱. How so? You can have them guess the word behind each emoji, then ask them to find the ingredient they guessed!
Bring Food Emojis To Life
Another way to get kids happy and active in the kitchen is to bring their favorite emojis to life in the form of yummy dishes, refreshing drinks, or fun and scrumptious desserts.
Here are some cool examples:
Make the 😋 real with this Cheesy Yum Face recipe! The 😋 Face Savoring Food emoji is really one of the cutest emojis around. This emoji shows a face with smiling eyes and a big, closed smile with its tongue sticking out of one corner. It imitates licking one's lips and suggests a good appetite or delicious food.
Check out the instructions for the Cheesy Yum Face Recipe:
Cheesy Yum Face
Ingredients:
cheddar 🧀
salami
barbecue sauce
Instructions:
Get a basic block of 🧀. Shape the 🧀 into a circle, then add a couple of squeezes of barbecue sauce to recreate the eyes and the smile of the 😋 Face Savoring Food emoji. Once you're done with that, cut a slice of salami into a long, oval shape. Carefully remove a small sliver of meat from the middle and place it at the rightmost end of the smile. Happy cheesing!
Sunny Jell-O Treat
Summer is here… and you know what that means, we have to live in this uncomfortably scorching hot weather…ugh! Thank God for tasty and refreshing summer treats like ice cream and Jell-O! Hot summer days call for deliciously cool, Jell-O, are we right or are we right? Oh, and for even more fun, you can make this jiggly dessert even cooler by using it to recreate your favorite ☀️.
Ingredients:
🍋 jell-o
red food coloring
fruit strips
Instructions:
Get ready for this jelly! Open a package of 🍋 Jell-O and add a few drops of red food coloring to achieve the desired light orange hue. For the next step, fill a pie pan with the Jell-O, then pour the rest into a 9 x 11 baking sheet. Put the pie pan and the baking sheet in the refrigerator to set.
While waiting for the Jell-O to harden, cut the fruit strips in half, lengthwise. Once the Jell-O has hardened, turn the pie pan over. Use the Jell-O in the baking sheet to cut eight, equally shaped, triangular rays. When you're done with that, use the fruit strips to make an outline around the sun's body, creating the reddish outline. That's it! That's all you need to do! Easy-peasy 🍋 squeezy!
Tropical Drink Paradise
If you've seen the 🍹 Tropical Drink emoji, then you know how refreshing it looks. The adorable looking symbol is an illustration of a cocktail or 🍷 Wine Glass adorned with citrus fruit, ☂️ Umbrella, and straw. It's so cute, we don't think we would exaggerate at all if we were to say it's everyone's favorite drink emoji!
But here's the best part… you can make your own real-life 🍹 Tropical Drink emoji! All it takes is four, easy steps:
Ingredients:
orange juice
grenadine
lime
drinking glasses
Instructions:
Fill your drinking glass with ice, followed by orange juice. Slowly add the grenadine. Take your time, wait for it to settle at the bottom. For the last step, add a lime garnish and a blue straw… then you're done!
Since the authorities and medical experts recommend we do not leave the house due to fear of contracting the coronavirus, why not take things up a notch by organizing a Hawaiian-themed party right where you are? Greet your "guests" with easy to make 💮White Flower leis that'll instantly transport them to an island vacation! You can also whip up a couple of colorful beach 🧁, or fire up the grill with some yummy Hawaiian ham and 🍍 Pineapple kebabs!
Cooking With Kids
Contrary to popular opinion, culinary activities with kids don't have to just involve actual cooking or baking. There are many tasks and activities going on in a kitchen that your child will be more than capable of handling like measuring ingredients, mixing the batter, stirring food in a pan, etc.
Ultimately, cooking with kids is more than just a way to keep them going without getting them bored. When children are active in the kitchen, they develop culinary skills and positive food habits. Children learn healthy habits from an early age, so it makes sense to get kids started in the kitchen early to raise healthy, happy eaters.
Food Emoji Trivia
Before we wrap up, here's a fun piece of food trivia for you. We know that food is one of the most powerful things in the world; it brings people together, and it bridges the cultural divides we face in our interactions with others.
Most Tweeted Food Emoji
If you've got any doubt about the power of food, and the food emoji, perhaps this bit of info will put your fears to rest: Did you know that the most tweeted food emoji in the world, as revealed by Twitter, is the 🎂 Birthday Cake emoji? No matter where you're from, you will always celebrate your birthday… with a glorious slice of sugary pastry on the side, of course!
Pizza Emoji
Twitter revealed this fun bit of info on World Emoji Day last year. Interested to find out the second most tweeted food emoji? Domino's, Shakeys, Pizza Hut, and all the other popular pizza chains probably jumped for joy when they found out because the second most tweeted food emoji is a slice of 🍕 Pizza! The 🍓 Strawberry emoji, 🍻 Clinking Beer Mugs emoji, and ☕️ Hot Beverage emoji rounded out the top five.
Feel Good Food Emojis
It just goes to show nothing beats the simple indulgences of life, whether done alone or shared with a loved one. They are a universal cure for a bad day or blue mood, and add to our overall sense of well-being, whether it's a yummy slice of 🍕 pizza, a cup of ☕️ coffee so fresh you can smell the aroma a mile away, or an iced cold bottle of 🍺 beer on a hot summer day.
Conclusion
A quarter of the world's population is at home right now. If you're reading this, chances are, you're one of them! While it's important to stay indoors, you don't have to be all doom and gloom about it. There are plenty of activities for you, your partner, and your kids to enjoy, and… surprise, surprise! They don't always involve Netflix.
So, what are you waiting for? Go and take advantage of the fresh and new opportunities before you! Bond with your family and pets as much as you can, and make the most out of the time you have together. We're sure you'll be missing all your wonderful bonding moments when things eventually get back to normal.