16 🎄 Christmas Emojis To Use This Holiday Season ❄️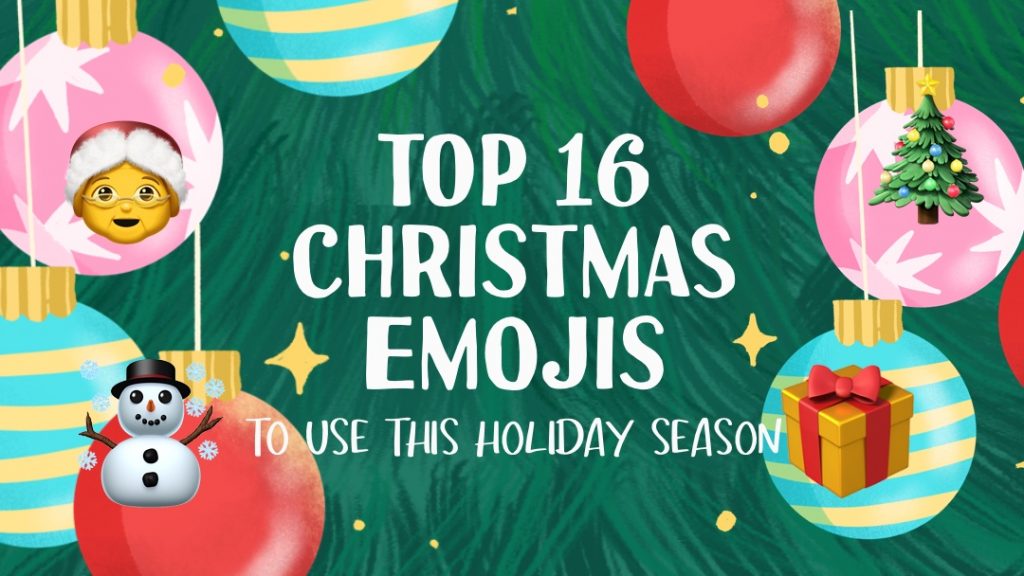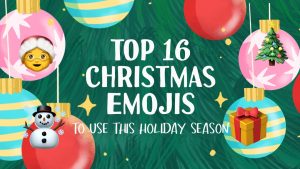 With Christmas approaching, now is the best time to prepare your holiday greetings for the important people in your life. Your boss, coworkers, clients, family, and friends will definitely appreciate the warm gesture, especially if your greetings include a variety of Christmas emojis. After all, everyone on that list played a big part in making the past 12 months a great year.
Gone are the days when people would send old-fashioned greeting cards through snail mail. Nowadays, people send holiday messages through social media apps like Facebook, Twitter, Instagram, and Snapchat, complete with this Christmas emoji list!
Christmas Emojis From The Heart
So, picking the right Christmas emojis to convey the best messages in a warm and fun way is important. When you are at a loss for words, or when even the longest of words just isn't enough to say what is in your heart this holiday season, Christmas emojis are a good way to show how you are feeling.
Having said that, we've prepared a comprehensive guide to the best Christmas emojis you can use. Find out who you can give each one to and where you can find them.
Christmas Tree Emoji

All Christmas emojis show the classic 🎄 Christmas Tree emoji, an evergreen type of tree with variously colored ornaments and a shiny yellow star on top.
Use Of The Christmas Tree Emoji
Often used for generic Christmas greetings like, "Merry Christmas And A Happy New Year!" Almost always used in its direct meaning – one look and you know the meaning of the tree, the sender is telling the recipient – "Merry Christmas." If you are feeling creative with your Christmas emoji and Christmas message, you can combine the 🎄 Christmas Tree emoji with a 🎁 Wrapped Gift emoji to give the message "Christmas gift," or a 🎄 Christmas Tree emoji with a 🎶 Musical Notes emoji if you are referring to a Christmas song.
This 🎄 Christmas Tree emoji is quite flexible. It isn't too mushy or too personal, good for use in holiday greetings to colleagues, bosses, or clients. It's generally used to refer to the holiday season.
Example: Merry Christmas! 🎄
Example: With All Good Wishes for Christmas and the New Year! 🎄
Santa Claus Emoji

Another one of the essential Christmas emojis, the 🎅 Santa Claus emoji shows the usual elements of one of the most recognized and loved Christmas characters — a face of an old man, a white beard, and a red stocking cap.

There are variations of the 🎅 Santa Claus emoji to give your holiday message a more global appeal — 🎅🏻 Light Skin Tone Santa Claus, 🎅🏼 Medium-Light Skin Tone Santa Claus, 🎅🏽 Medium Skin Tone Santa Claus, 🎅🏾 Medium-Dark Skin Tone Santa Claus, and 🎅🏿 Dark Skin Tone Santa Claus variations are available online.
Use Of The Santa Claus Emoji
Since Santa Claus is known for giving gifts to well-behaved kids on Christmas Eve, this 🎅 Santa Claus emoji works as a sign for gift giving. If you are telling someone that you are sending them a gift, use this emoji. As Santa Claus is often depicted as a jolly man, you can add this Christmas emoji to your other Christmas emojis to convey happy emotions. You can also do it to create a more merry atmosphere for your online holiday greetings.
Santa Claus emojis are available on most social media platforms like Facebook, Twitter, Facebook Messenger, Instagram, etc. Apple, Google, Samsung, Microsoft, and LG have their own versions of Santa Claus emojis as well.
Example: 🎅🏻 Ho, ho, ho, Merry Christmas!
Example: Merry Christmas, I Wish You A Very Jolly Holiday 🎅🏻!
Mrs. Claus Emoji

🤶 Mrs. Claus, the wife of 🎅 Santa Claus, adds a joyful and motherly touch to the Christmas season. Known for making cookies with the elves, caring for the reindeer, and preparing toys with her husband, she is proof that there's nothing quite like a mother's love.

Depicted on all online platforms as an elderly woman with glasses, a sweet smile, and a festive red and white bonnet, variations of Mrs. Claus with various skin tones are all available online — 🤶🏻 Light Skin Tone Mrs Claus, 🤶🏼 Medium-Light Skin Tone Mrs Claus, 🤶🏽 Medium Skin Tone Mrs Claus, 🤶🏾 Medium-Dark Skin Tone Mrs Claus, and 🤶🏾 Dark Skin Tone Mrs Claus.
Use Of The Mrs. Claus Emoji
This emoji appears in topics pertaining to Santa Claus, gift-giving, mothers, Christmas, and winter holidays. If you want to show you are a supportive wife this Christmas, this emoji is a perfect pick. Some big differences among all Mrs. Claus Claus versions online — the WhatsApp version has no glasses, while the Facebook version of Mrs. Claus is with closed eyes.
Example: Christmas Greetings From Mrs. Claus! 🤶🏻
Example: A Very Merry Christmas From Santa Claus 🎅🏻 And Mrs. Claus 🤶🏻!
Snowman Emoji

A cute, irresistibly charming symbol of winter fun, the ☃️ Snowman emoji will definitely add a playful feel to your online holiday greetings. Most of the snowman emojis look like the snowman in the popular song, Frosty The Snowman. In the song, the snowman is made of big snowballs, with a top hat, carrot for a nose, coal eyes, two or three buttons on its torso, a smile, and a red scarf. The ☃️ Snowman emoji is one of the first Christmas emojis to appear online; it first made its appearance back in 1993.
Use Of The Snowman Emoji
Snowman emojis represent topics related to winter. They appear more during the winter season, to show that the sender of the emoji wants to build a snowman or tell the person there is snow outside. If you are inviting your friends or family to have fun in the snow or just enjoy the outdoors during the holiday season, a ☃️ Snowman emoji is a great way to convey that message in a short and sweet manner.
Example: 'Tis The Season To Be Jolly ☃️
Example: Thinking Of You Makes My Heart Melt ☃️
Snowman Without Snow Emoji

The ⛄ Snowman Without Snow emoji is a variation of the ☃️ Snowman emoji. As such, it has generally the same meaning, it's mostly used in connection with winter and Christmas. Users send this emoji when they want to invite other people to build a snowman or simply tell them it's snowing outside.
Example: A ⛄ is love and laughter all rolled up into one.
Example: Star Light, Star Bright – please don't let the ⛄ melt tonight.
Wrapped Gift Emoji

Gifts are a great way to include everyone in a little holiday cheer. Indeed, there's nothing quite like the feeling of watching the faces of people light up as they unwrap your present. If you want to tell your family, friends, colleagues, and clients that you are giving them a gift, the 🎁 Wrapped Gift emoji is the best pick among all the Christmas emojis.
Use Of The Wrapped Gift Emoji
The wrapped gift emoji displays a gold box with a lid tied together by a red ribbon. Some platforms have different colors and decorations, but the shape of the box and the ribbon stay the same. Samsung's version features a blue box with white dots. WhatsApp's wrapped gift emoji uses blue paper. LG's wrapped gift emoji is very different — it has a green ribbon and pink box.
The 🎁 Gift emoji can be used all year round. If you want to turn it into one of the Christmas emojis, you can add a 🎄 Christmas Tree emoji, 🎅 Santa Claus emoji, or ☃️ Snowman emoji in your holiday conversation. There are no double meanings in this emoji; if you want to use it to talk about presents, this is the perfect emoji to use.
Example: There are so many gifts I want to give you this Christmas. 🎁 Peace, love, joy, and happiness are all the presents I am sending your way.
Example: The tree is decorated 🎄, the gifts are wrapped 🎁, now all that's left is to wish you a Merry Christmas!
Snowflake Emoji

Everyone loves a white Christmas. Whether it is the first you have experienced or something you experience year after year, seeing snowflakes and feeling the snow on your skin are moments that make the holiday season truly magical for everyone. It's no wonder then that the ❄️ Snowflake emoji is one of the most popular Christmas emojis.
A feathery ice crystal, bluish-white in color, with six intricate branches, the ❄️ Snowflake emoji is usually used in conversations about the weather — snowstorms, cold, snowy days, etc. It may also be used in talks relating to winter activities — ⛷ Skiing, 🛷 Sledding, snow tubing, ice fishing, snowball fights, sleigh rides, etc.
Use Of The Snowflake Emoji
When more than one snowflake emoji appears in a message, it is used to mean that it is snowing heavily. Also known as the ice emoji, this emoji made its first appearance in 1993.
Recently, another meaning has been added to "snowflake." The word "snowflake" is also used to describe a young person who is easily offended, overly sensitive, and weak.
Snowflake emojis that appear on different platforms all have a hexagonal shape, although the color and thickness of the snowflake's branches vary. Some snowflakes are light blue in color, while others lean towards navy blue, pastel blue, azure, etc. Furthermore, some snowflake branches are thicker or thinner than others. The snowflake emoji on Twitter is a solid baby blue with no shades of white, while the Facebook messenger version of the snowflake emoji is made of a solid turquoise color.
Example: Let It Snow~ ❄️❄️❄️
Example: Wishing You A White Christmas! ❄️
Cloud With Snow Emoji

Celebrate the magic of a Winter Christmas with the 🌨️ Cloud With Snow emoji! This emoji shows a big fluffy, white cloud with snowflakes slowly falling to the ground. It is used to describe the winter season and chilly weather in general.
When the meteorologist shares this snowy emoji, it's time to light a fire and make a cup of hot cocoa because it will soon be snowing outside! The Cloud With Snow emoji is also called the cold weather emoji from time to time.
Use Of The Cloud with Snow Emoji
Since it often appears in the context of Winter, winter holidays, and cold weather, the Cloud With Snow emoji is usually combined with emoji snow characters to evoke a wintry feel. Examples of these characters are the ☃️ Snowman emoji, and ❄️ Snowflake emoji.
The Cloud With Snow emoji can be used both literally, and figuratively. For the latter, use the emoji to tell someone how "snowed down," or tired you're feeling after a long week at work or school. Also, if someone has been bugging you to do something, and you don't want to do it, you can share the emoji as another way of saying, "When hell freezes over, I'll do it."
Example: Thanks snow much for being a good friend! 🌨️ Happy Holidays!
Example: Wake up, stop dreaming of a white Christmas because it's already here! 🌨️
Elf Emoji

Bring even more cheer to the holiday season with Santa Claus' favorite helpers, elves! The 🧝 Elf emoji is one of the most sought-after Christmas emojis, especially among kids. Elves are Santa's cute and magical little helpers. They ensure all toys and games Santa will give to the kids are ready by Christmas Eve. All elf emojis follow the usual depiction of elves in cartoons and supernatural folk tales — yellow faces, pointy ears, and wearing medieval costumes like tunics.
Use Of The Elf Emoji
The usage of elves in online holiday conversations is pretty direct and explanatory. If you want to say that your gift is being prepared, you can use an 🧝 Elf emoji with a wrapped gift emoji. Elf emojis are also used in topics related to magic, mischievous behavior, or casting spells. To add to that, elf emojis have gender variations online. There are 🧝‍♂️ Male Elf emoji and 🧝‍♀️ Female Elf emoji.
Female Elf Emoji

Female elves are healers and nurturers, if you want to send love and healing to a friend or family member this holiday season, you can post the 🧝‍♀️ Female Elf emoji with a 🏥 Hospital emoji and a 🎄 Christmas Tree emoji.
Male Elf

Meanwhile, male elves are depicted as warriors in fables, tales, and other forms of pop culture. If you want to show that you have a fighting stance amidst all the stress the Christmas season may bring, use the 🧝‍♂️ Male Elf emoji with a ⚔️ Crossed Swords emoji or a 🛡 Shield emoji together with a 🎄 Christmas Tree emoji.
Example: Have Yourself A Merry Little Christmas 🧝🏻
Example: Santa's Elves Prepared This Gift for you! 🧝🏻‍♂️🧝🏻‍♀️
Glowing Star Emoji

Stars have traditionally been associated with the spirit of Christmas. The symbol of a star remains a permanent fixture in many Christmas stories and holiday ornaments. Stars serve as the crowning glory of every 🎄 Christmas Tree. In a more religious setting, the star was the guiding light for the Three Wise Man that followed the Star Of Bethlehem to the manger of Jesus. All these reasons and more make the 🌟 Glowing Star emoji one of the most well-liked Christmas emojis around.
The 🌟 Glowing Star emoji is a glowing, gold star with five sides. It has long, elongated branches in the form of stylized bursts to make the star look like it is glowing and twinkling. All emojis that appear online have the trademark five sides and stylized bursts. The color of the Glowing Star emoji varies depending on the social media platform. Twitter's glowing star emoji is more of an orange shade, while Facebook's glowing star emoji is plumper with more orange on the side.
Use Of The Glowing Star Emoji
The Glowing Star emoji is often used to bring emphasis to something great or to praise an individual's excellent work. If you want to show you appreciate the Christmas decor on someone's house, the Glowing Star emoji conveys that message. If you want to use the Glowing Star emoji in a more religious context, it may represent the Star Of Bethlehem, a reminder for the receiver of the message to look to Jesus and the signs Jesus gives.
Example: I Wish I May Wish I Might Upon This Christmas Star Tonight 🌟
Example: Merry Christmas, To Me You Shine As Bright As The Star At The Top Of Tree 🌟
Socks Emoji

Level up your sock game, talk about all types of socks with the 🧦 Socks emoji! This emoji shows a pair of light brown socks made of wool. The socks have a patch shaped like a circle or triangle, near the ankles and toe section.
The Socks emoji appears more frequently come Christmas time. One big reason is that socks and stockings are used to hold the gifts Santa Claus gives on Christmas Eve.
Use Of The Socks Emoji
Throughout the year this emoji also shows up in talks related to shoes, feet, and different foot activities. It's also used to symbolize ankle socks, football socks, and other types of socks. Since a stocking emoji isn't out in the market yet, users pick this emoji sock to represent their stockings, making it kind of like a stocking emoji, too.
Moreover, since this emoji is the only sock emoji around, if you want to talk about one sock without the other pair, the Socks emoji is your best bet. Aside from being very flexible, netizens enjoy sharing this symbol because it is mostly positive in nature. This symbol evokes a feeling of warmth, comfort, and protection from the weather or from outer sources, like smelly shoes.
Example: Wishing 🎅 puts something nice in your 🧦 on Christmas Eve!
Example: 🎅 has already given me what I wished for so long. Now I want him to fill your 🧦 too! Merry Christmas!
Musical Notes Emoji

Decorate your fave Christmas lyrics with the 🎶 Musical Notes emoji! Once done, send them to your family and friends to get them in the holiday mood! We all can agree, no festive season would be complete without a full selection of perfectly themed songs, and when this music emoji is put before and after a message, it makes the person you are talking to feel that you are singing to them!
Regarding its' design, this emoji shows three eighth notes stuck together. As its name suggests, an eighth note is a musical note, one eighth the length of a whole note. Generally, the Musical Notes emoji refers to music or singing.
Use Of The Musical Notes Emoji
You can use the Musical Notes emoji for several occasions, as it represents every type of music genre and style on the planet, whether instrumental or with vocals. If you're posting or reposting informative content on musical events, like concerts or gigs, you can definitely use this emoji.
If you'd like to say something in a singsong tone, this notes emoji would be great to use, too. Just put the music emoji before and after your message to indicate to the person you are talking to that you are singing to them!
Lastly, in lieu of the usual smiley, music lovers like to decorate their content to convey that they are in a good mood, so much so that they feel like singing or humming the whole day!
Example: 🎶Have yourself a Merry little Christmas 🎶
Example: Beginning my caroling online…🎶We wish you a Merry Christmas 🎶
Bell Emoji

Christmas bells are one of the main symbols of this holiday. They are rung at churches, mentioned in songs ("Jingle Bells" "Silver Bells"), featured on greeting cards, elf costumes, and wreaths. Who doesn't like bells? Bells make a happy sound, but they're so much more than that. They symbolize "ringing out the old and ringing in the new."
Online, bells are visually represented by the 🔔 Bell emoji. Thanks to this symbol, the merry feels bells are experienced in a different world. This emoji is a simple picture of a metal, golden bell. Other names are, emoji bell, and Liberty Bell emoji, because it resembles the historic Liberty Bell, a bell rung in America to celebrate the first public reading of the Declaration of Independence.
Use Of The Bell Emoji
To keep up with the advancing digital trend, the Bell emoji has an additional meaning. The emoji also now represents the icon commonly used on mobile phones for notifications or ringing sounds, earning it titles like, notification emoji or subscribe emoji.
In addition, this same phone icon is used to remind others to turn up the volume on their mobile phone if they are expecting an important call, and that it is fine to have the volume on before going anywhere. Thanks to this added function, this particular type of emoji bell may fall under the category of reminder emoji because it calls a person's attention.
Example: 🔔 are ringing, everyone is singing, it's Christmas! It's Christmas! Wishing you a Merry Christmas and a Happy New Year!
Example: Jingle 🔔, jingle 🔔, jingle all the way. May you be blessed this Christmas with peace and love all day! Merry Christmas and a Happy New Year!
Candle Emoji

Light up the digital world with the 🕯️ Candle emoji! This emoji shows a picture of a white burning candle with wax dripping from its side. The type of candle featured here was often used as a light source in olden times. Online, it can also be used to represent other types of candles.
For the longest time, candles are used to set the mood for the holiday season. Most Christmas decor looks sorely without the perfect scented candle to get everyone in the holiday spirit! Plus candles can make any space (digital or otherwise), look cozier and feel more inviting.
Use Of The Candle Emoji
The Candle emoji appears in a wide array of content, ranging from birthdays to light sources to forms of relaxation. You'll see it in conversations related to religion, Christmas, and Halloween, as well. Speaking of celebrations,
That said, this emoji works fine alone. Some users combine it with other symbols, depending on context and occasion, and that's okay, too. Say, to greet someone with a happy birthday, put a lighter emoji before the Candle emoji, and a 🎂 Birthday Cake emoji after it.
Now, if you see the words "Bougie" instead of the word "candle," don't think you stumbled onto a French website. An alternative name for the Candle emoji is the bougie emoji. This trend might have been started by the French, since "Bougie" is a French word meaning "candle."
Example: Wishing you a warm, glowing Christmas this year 🕯️
Example: May you feel the Almighty's presence in the 🕯️ that softly spread their glow at Christmas.
Church Emoji

Express your faith, share the ⛪ Church emoji with your friends and family! This emoji is a colored illustration of a church building. It represents or describes the Christian way of life, one filled with good deeds and plenty of faith.
Come Christmas, this symbol appears increasingly more often. This is because Christmas Day is a day on which many Christians attend church services to thank God for his gift of Jesus.
Design-wise, the emoji church here is similar to how Christian churches look in real life. It has a triangular roof, two windows, and a cross atop its steeple. The Church emoji is used to refer to other holy places, of different faiths.
Use Of The Church Emoji
Since this symbol is mostly used in the context of religion and religious holidays, it's not uncommon to see the Church emoji paired with other Christian emojis, like the ✝️ Latin Cross emoji. For instance, if you visited a new church, prayed inside it, and marveled at the structure's overall design, you can put both emojis in there.
Depending on the context, you may also combine the Church emoji with other spiritual emoji or religion emojis. If you're talking to someone of a different faith, and what they said made you want to go to church, use the emoji with a 🕎 Menorah emoji if they are Jewish, or ☸️ Wheel Of Dharma symbol, if they are Buddhist.
Example: Rejoice in the reason for the season ⛪
Example: Sending prayers and hearty Christmas greetings to you ⛪
Deer Emoji

Christmas just won't be the same without Santa's favorite animal and favorite standard mode of transport! The 🦌 Deer emoji is one of the most well-liked Christmas emojis. This is due to the deer's connection to 🎅 Santa Claus. Based on traditional festive legend, Santa's reindeers pull a sleigh through the night sky to help Santa Claus deliver gifts to kids on Christmas Eve. Since there is no actual reindeer emoji, the 🦌 Deer emoji appears in conversations about reindeer. Some deer emojis show the full profile of the deer, standing on all fours facing left. Other deer emojis simply show just the deer's face.
Use Of The Deer Emoji
In Christmas conversations, some users get the 🦌 Deer emoji and combine it with a red nose emoji to turn it into Rudolph The Red-nosed Reindeer. The deer emoji represents similar-looking animals as well, like elk, moose, or antelope.
Apple, Microsoft, WhatsApp, and Facebook's designs feature the whole body of the deer. On the other hand, Google, Samsung, and Twitter's designs show just a deer face. There's no need for the red nose when using the deer emoji of Google. This is because it already looks like Rudolph The Red-Nosed Reindeer, it already has a red nose attached to it.
Example: Happy Christmas, My Deer 🦌
Example: Happiest Christmas Wishes! 🦌
Baby Angel Emoji

Christmas is a wonderful time of the year. What makes this even more true is the presence of angels. Angels are divine messengers who continue to spread love and joy throughout the holiday season. Images of baby angels, known as cherubs, appear as cute ornaments at the top of the 🎄 Christmas Tree. Angels often appear in the holiday season as yummy treats pop on top of a Christmas bake.
Baby angels show up in holiday conversations, too, in the form of 👼 Baby Angel emoji. People use this emoji to describe Christmas songs. Some of them are "Hark The Herald Angels Sing." Another example is "Angels We Have Heard On High."
Use Of The Baby Angel Emoji
The 👼 Baby Angel emoji express affection for people. It represents a biblical cherub, mythological cupid, or an angel as a supernatural being in general. Show you were "hit" by Cupid's arrow using the 👼 Baby Angel emoji and the ❤️ Red Heart emoji.

If you want to be more specific or more inclusive with your message, consider the different skin tone variations of the emoji. There is the 👼🏻 Light Skin Tone Baby Angel, 👼🏼 Medium-Light Skin Tone Baby Angel, 👼🏽 Medium Skin Tone Baby Angel, 👼🏾 Medium-Dark Skin Tone Baby Angel, and 👼🏿 Dark Skin Tone Baby Angel.
Example: Hark, The Herald, Angels Sing 👼🏻
Example: Angels We Have Heard On High 👼🏻
Conclusion
These are just some of the ways you can spice up your captions and conversations with Christmas emojis. If you feel the passion for doing so, go ahead and experiment! Mix and match all your favorite emojis to suit your preferences and needs. Just be careful of the emojis you choose. They give your readers an important glimpse of your brand personality and of how you present yourself online. At the end of the day, you want the emojis you send to welcome your followers into conversation and connection.
Nowadays, emojis are popular all over the world. They are widely used both on the internet and in reality, as people like simple and figurative ideas. At EnamelPins.com, people can not only customize any emoji pattern into beautiful enamel pins, but also realize their own artistic creations. You can design any theme and pattern you like and choose the material and color you want to customize. Christmas emoji lapel pins are very festive to wear on your chest or backpack, and also make a very memorable gift for your friends and family at Christmas.