📍 30 Emoji Facts: How Much Do You Know About Emojis? 🧐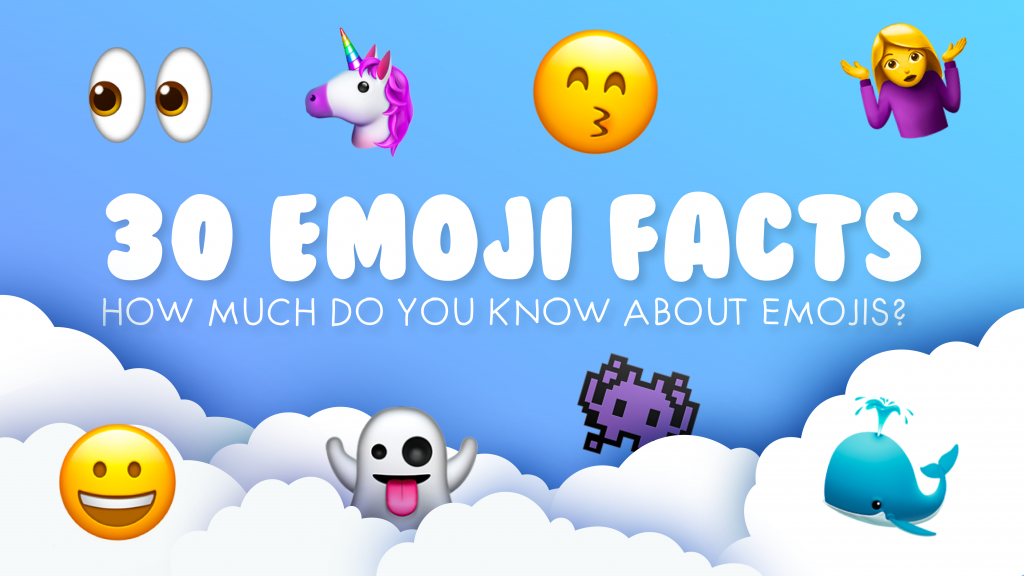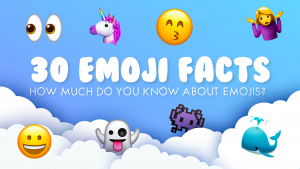 Digital communication nowadays goes far beyond just typing a few words or sentences and clicking Send. Go through any social media app or open the last few text messages on your phone. How many smileys, hearts, and other image-based characters do you see? Hundreds, maybe even thousands of awesome emojis, right? That number is nothing compared to the emoji facts we will reveal in a minute. Are you excited? Just to whet your appetite — did you know that there are over 3,304 emojis in the world? And 5 billion emojis are used on Facebook messenger every day?
Test Your Emoji Knowledge With Emoji Facts
Emojis haven't entirely replaced text yet, but they're on their way: the graphical icons have revolutionized visual communication since they first appeared on the iOS keyboard in 2011 and were quickly adopted by most other platforms. Undoubtedly, emojis are here to stay. They are everywhere, and we use them all the time, but have you ever stopped to ask yourself, how much do we really know about them?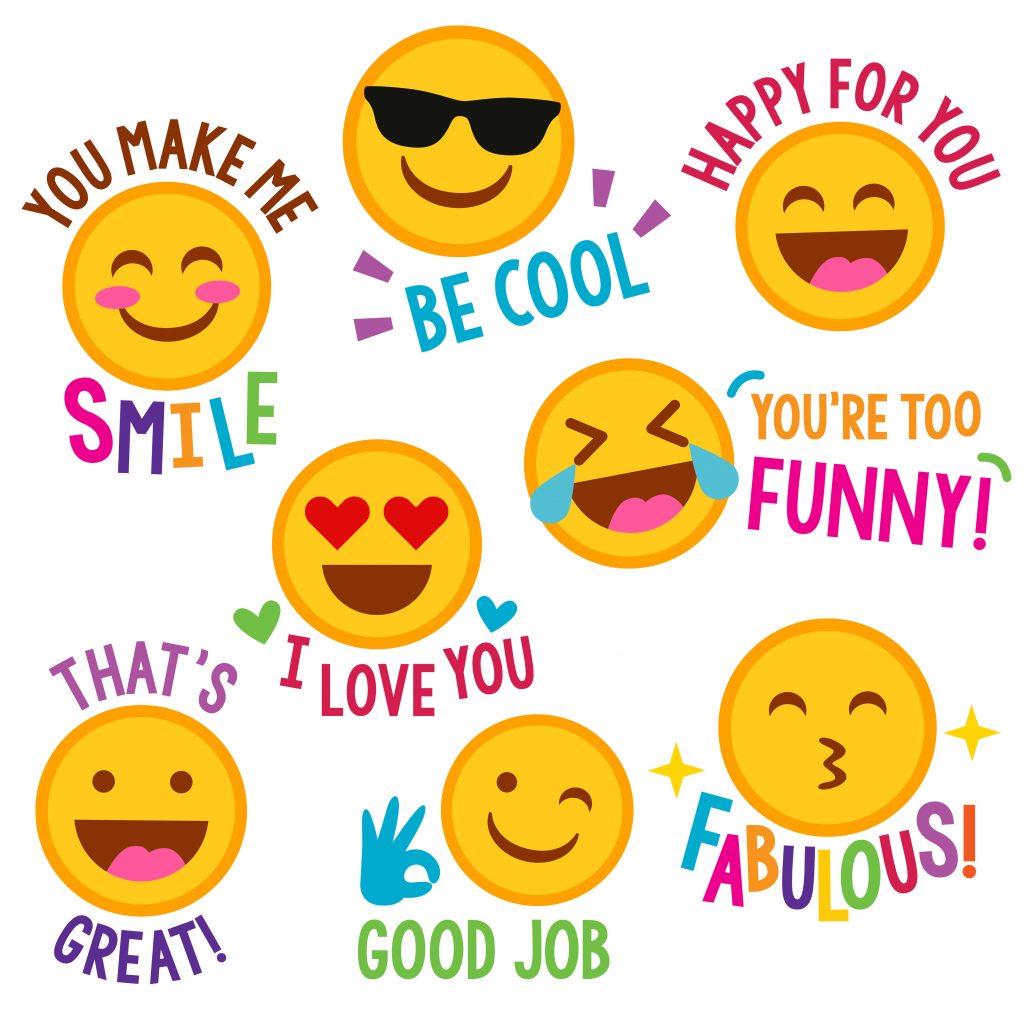 In this article, we give you the answer to that question. An answer is divided into many small parts, like an emoji encyclopedia of sorts. That got you interested? Go on and check out our run-down of emoji facts below.
1. What Is An Emoji?
Emojis are ideograms and smileys that can be used in electronic messages and websites. They come in various forms, including facial expressions, everyday objects, places, weather conditions, and animals. Emojis are similar to emoticons, but they are real images instead of typographic.
2. Where Does The Word "Emoji" Come From?
Our second bit of info on our emoji facts list will come as a surprise. Many people believe the word emoji comes from the word emotion, but the similarity is simply coincidental. It comes from the Japanese words "image" (pronounced "eh") and "letter" (pronounced "moji").
In essence, the term refers to a pictograph. Although the word "emoji" has no etymological connection to the word "emotion," how we use it reveals a lot about who we are and how we interact with others.
3. Who Invented Emojis?
Japanese designer Shigetaka Kurita invented emojis in 1999 as part of a project for Docomo, a popular phone operator in Japan.
4. How Many Were The Original Emojis?
Kurita's first collection was made up of 176 emojis. They were placed on tiny grids, measuring 12 pixels by 12 pixels. Want to see them in person? They are on display at the New York Museum Of Modern Art.
5. Who Maintains, Creates, And Releases New Emojis?
The Unicode Consortium is a non-profit organization that manages, develops, and distributes new emojis. Unicode's goal is to standardize all available characters so that everyone on mobile devices and computers can use them. The organization is based in the United States.
6. How Did Emojis Become Popular Outside Of Japan?
The first collection of emojis was included in Unicode version 6.0, released in 2010. Emojis became well-known outside of Japan because of this, with Google and Apple launching their personalized emojis for their Android and iOS/macOS platforms, respectively.
7. What Was Apple's Role In Making Emojis Successful Outside Of Japan?
Here's a little-known piece of trivia we made sure to include in our emoji facts list. Emojis were not widely adopted until 2012 when Apple launched iOS 6. iPhone users soon discovered that the emoji keyboard in iOS 6 could be used to add fun smileys and tiny icons to text messages.
Emojis have become commonplace on all social media platforms, including Instagram, Facebook, Twitter, and others. Five years later, Apple released animoji, which are animated emojis.
8. How To Request An Emoji?
Want to recommend that random emoji, want to turn your favorite, fun characters into emojis? Visit https://unicode.org/ first then go to the Emoji requests section. Every request is carefully considered, but many are turned down for a variety of reasons.
You must follow certain pretty strict guidelines in order for your request to be accepted, but you don't need to be a programmer or coder to come up with a drawing they will accept.
9. What Will Never Turn Into An Emoji?
Emojis that represent real people, living or dead, are prohibited by Unicode.
10. How To Make An Emoji?
Want to learn how to draw emojis? Sites like www.drawinghowtodraw.com come with easy-to-follow, step-by-step instructions. Google Play Apps like Learn To Draw Emoji Step By Step also have simple, step-by-step tutorials. All you need to do is to go to the app's menu, pick the emoji you want to draw, and follow all the instructions.
11. How Many People Use Emojis In A Day?
Emojis are used by 92% of the online population daily. Every day, over 10 billion emojis are sent! Each and every day, more than 700 million emojis are used in Facebook posts. Approximately 36% of Instagram posts contain 1 to 3 emojis. Emojis will be around for as long as people are texting or tweeting.
12. Why Do Different Applications Display The Same Emoji In Different Ways?
You want to send your nephew a 🐦 Bird emoji, but when you do, it looks different when seen from your nephew's phone. What happens is companies like Microsoft, Apple, and Google take the base Unicode reference and customize the appearance of the display. It could be in black & white or even an animated sticker. For example, Twitter has its own open-source Twemoji symbols with skin tones and additional characters.
13. What Is The Most Popular Emoji In The World?
In 2017, a site called MacRumors Apple Says 'Face With Tears published an article saying the 😂 Face with Tears of Joy emoji is the most popular emoji among English-speaking iOS and Mac users in the United States. The tragicomic figure is torn between crying and laughing and is equally suited to portraying both the highs and lows of life. Maybe that is why it is so popular!
However, even in the emoji universe, competition is stiff. Last year, Twitter recently reported the 😭 Loudly Crying Face emoji is the most popular symbol on the social media app. Emoji experts studied 1.68 billion tweets sent between 2018 and 2021 and noticed a surge in the symbol's use between March to April 2020. The surge was coming from the countries first hit with Covid-19 restrictions.
14. Is It True That The 💩 Poop Emoji Might Never Have Existed?
For reasons unknown, Shigetaka Kurita was initially told by his company that he couldn't include a Poop emoji in his collection; this was left to be included by other contributors at a later date.
Emojis With Double Meanings



If you're like most people, you enjoy using emojis to express your emotions and thoughts. But there are a few emojis with secret X-rated definitions. Unless you are very comfortable with the person you are speaking to, it would be best not to use these or to explain in your message that your messages are of a wholesome nature.
For the second section in our emoji facts compilation, why don't we quickly go through a few of these controversial symbols?
The 🍆 Eggplant emoji is a picture of a bright purple eggplant with a leafy system. Soon after it first appeared in 2010, it became associated with the male reproductive system.
So, if you are telling your colleague you are craving for eggplant parmesan for dinner, add more details to the message so you won't be misunderstood.
16. What Does The 🍑 Peach Emoji Stand For?
The 🍑 Peach emoji shows a peach, shown with green leaves and sometimes a stem. But because of its distinctive appearance, it is often used to describe one's buttocks, butt, bottoms, booty, whatever you call those two cheeks behind you.
17. Does The 🌮 Taco Emoji Have A Different, Dirty Meaning?
Yes, and no. A 🌮 Taco emoji is a picture of a taco, a brown folded tortilla with assorted vegetables and sauces inside of it. The 🌮 Taco emoji is used to represent authentic Mexican cuisine as well as a variety of other food-related concepts such as 'Taco Tuesdays' etc.
Now, for the vulgar reference. Not a lot of people know how it came about and why it caught on, but the 🌮 Taco emoji is sometimes used to describe a female's genitalia. We know you won't look at tacos in the same way after discovering that!
Therefore, unless you want to flex your knowledge of naughty emoji language, the next time you tell your friend you're in the mood for tacos, you should tell him or her you're talking about food, not a part of anyone's anatomy.
Heart Emoji Facts



Every day, millions of people post the ❤️ Red Heart emoji to share their love for someone or something- whether in the real world or the digital world. However, are you also aware that the ❤️ Red Heart emoji isn't the only heart symbol you can use to share your feelings?
Every now and then, there seems to be a new heart emoji out in the market, raring to be noticed, ripe for the picking. They're fun to use, but if you don't know what they stand for, you might end up sending confusing signals to important people. You don't want that to happen, so in order to not let it happen, why don't we list down a couple of heart emoji facts in the section below.
The 🖤 Black Heart emoji is the total opposite of the ❤️ Red Heart emoji. It represents darkness and sorrow. Post the emoji to describe someone who is cold, emotionless, with hatred in their heart.
19. What Do People Mean When They Post A 💙 Blue Heart Emoji?
Do not mix this up with the ❤️ Red Heart emoji because it does not symbolize love. The 💙 Blue Heart emoji represents loyalty, trust, and peace. Some people use it to describe a heart that has gone cold or icy, though only in a sarcastic or lighthearted, playful sense.
Are you a nature lover? Do you like talking about the benefits of a healthy lifestyle? Then the 💚 Green Heart emoji will be right up your alley. Use it to express a love of nature and healthy living.
A 💜 Purple Heart is a symbol people use to show romantic interest or sympathy. Fashionistas and people who love to share their OOTDs are fans of this heart.
If it's used to describe you, then you should definitely be flattered, People post the 💗 Growing Heart emoji to express a growing fondness for a person, place, or thing. Aww!
Expanding Emoji Universe
Emojis here, emojis there, emojis are quite literally everywhere! Emojis are becoming more and more popular, and marketers are quickly taking notice. Emoji movies, an emoji day, emoji merchandise, the sky's the limit when it comes to emojis.
In the next section, we give you awesome facts about the power of emoji marketing and how it's changing the world we live in.
23. When Is World Emoji Day?
In 2014, emoji experts declared July 17 World Emoji Day. Every year, on the same day, emoji lovers promote the use of emojis. They talk about how emojis have changed how people look at the world, how they play a more important role in modern communication, etc.
24. Do Most Brands Use Emojis In Social Media Posts?
An article on emarkter.com reports nearly 60% of the top 500 brands on Twitter to insert emojis in their tweets. Tweets with emojis earn 25 percent higher engagement than tweets without. Also, Instagram posts with emojis get 47.7% more action than posts with zero emojis.
25. Can Emojis Be Used As Money?
In May 2015, Domino's pizza created a "tweet-to-order" system, in which customers can order pizza by tweeting the 🍕 Pizza emoji to Domino's.
26. Is There A Movie About Emojis?
In 2017, people saw "The Emoji Movie" in theaters. It got a Rotten Tomatoes rating of 7%. The movie is about Gene, a multi-expressional emoji. He lives in a world where each emoji has only one facial expression and doesn't feel good about standing out. So, he sets out on a journey to become a normal emoji.
27. Are There Emoji Versions Of Songs?
Jesse Hill, a Beyonce fan, created an unofficial video for the song "Drunk in Love" that is entirely made up of emojis.
28. Do People Use Emojis To Report The News?
You bet. BBC publishes the most recent headlines in emojis every Friday and invites radio listeners to call in and guess what the headlines say. Here's a past quiz on the big news stories of 2019-2020. Try it out yourself, and check your answers here!
29. Can You Turn A Picture Into An Emoji?
You can convert your selfie, or any picture on your Android phone or iPhone, into an emoji with the aid of some apps available on the Play Store and App Store. It's a lot of fun to turn yourself into an emoji! Here's our recommendations for the best Memoji applications for Android phones!
30. Is There A 💩Poop Emoji Statue? Or Is That Just A Rumor?
In 2016, eagle-eyed pedestrians walking around Bernal Hill in San Francisco may have noticed a new addition to the landscape: 💩Poop emoji rock. A rock painted brown with a face, perfectly formed, like a 💩 Poop emoji. The rock looks like a giant 💩 Poop emoji smiling over San Francisco, given its position in front of a sweeping view of the area. No one knows how it got there, and no one did anything to remove it!
Conclusion
So, there you go, as promised, 30 emoji facts! Were you surprised by some of them? Or were you familiar with most of what we presented?
It's hard to believe emojis were just introduced six years ago with the release of Apple iOS 6. In that time, they've quickly become a common digital language loved by people all over the world, and they continue to develop in importance as a means for users to tell their stories in universal and meaningful ways.
No matter what country you come from or what language you speak, we can all recognize laughter in the 🤣 Rolling On The Floor Laughing emoji, or know that the person sending you a ❤️ Red Heart emoji might fancy you! That's what makes emojis so beautiful. They have the power to bring the world closer together. How many people, places, or things are able to do that?
Now that we've done our part, let's hear from you! How do you use emojis? Which ones are your favorites? Want to share a piece of emoji trivia with us? Feel free to drop us a line or two via our Contact Us section. We would love to hear from you!