🔥 Top 10 Best 🧙‍♂️ Memoji Applications For 📱 Android Phones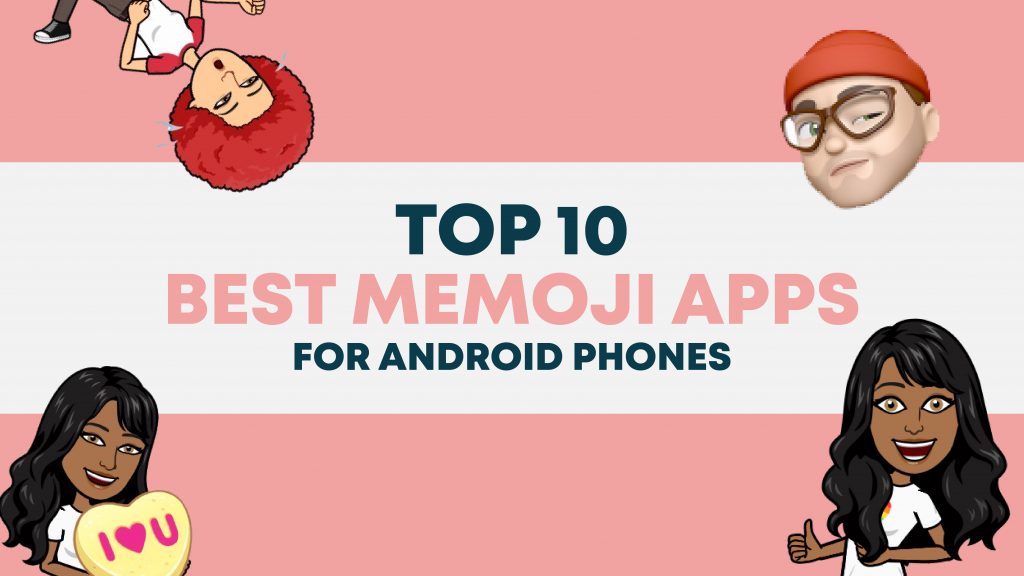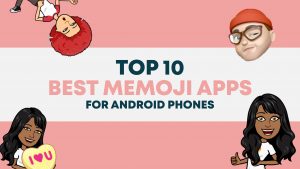 Whether you were born in the '80s, '90s, or 2000s, we bet cartoons were a big part of your childhood. In fact, for several of you, they hold some of your fondest childhood memories. You'd watch with bated breath as Wile. E Coyote ran after Road Runner or wished you were a mermaid-like Princess Ariel. Then life settles in, and the feeling probably wore off as you grew older. But with the use of the Memoji Android application, all those cartoon dreams you had as a kid can now come true.
What Does The Memoji Android App Do?
The Memoji Android app lets you create custom animated versions of yourself. You'll pick your eye color, hair color, eyebrows, and more.
So, how exactly does it work? It's actually really simple. It uses the hardware of the smartphone's front-facing camera to replicate the facial movements of the user, making it easy to create talking and moving emoji recordings. Now, isn't that neat?
History Of Memoji
Apple introduced its initial array of Animoji-capable handsets in 2017. Animojis are custom, animated versions of popular emoji characters.
So, now, you might be thinking, I thought we're talking about Memojis? How did Animojis get into the picture?
Well, here's your answer—we put them in the picture because Animojis are the "parents" of Memojis. In other words, before there were Memojis, there were Animojis. But before we get to Memojis, we've got to know more about Animojis.
To begin with, Animojis are created through Face ID, a facial-recognition feature developed by Apple. Faces are detected using the iPhone's front-facing camera. A chip inside the iPhone captures and analyses 50 different muscle movements in your face. It then mimics your expressions to produce an Animoji.
Now, here's the part where we link it all together — in 2018, Apple told the public that they'd be releasing a new version of Animoji called Memoji. Memojis are different than Animojis because with Memojis, you create a custom Animoji—of your own face or the face of anyone you want to impersonate.
Memoji Apps For Android
In case you haven't realized it by now, we're here to tell it again for you — the Memoji didn't originate from an Android device. But, as the Memoji grew rapidly in popularity, smartphone manufacturers began to produce their own versions of Memojis and Animojis using similar technology. One example of this is the Augmented Reality Emoji introduced by Samsung in 2018.
Packaged along with the Galaxy S9/S9+ smartphones, the AR (Augmented Reality) Emoji feature mimics your facial features and movements to produce a 3D avatar that looks exactly like you.
As that was being released, Memoji android apps began to quickly appear on the Google Play Store. They came in such strong, big amounts that it seemed like the Android manufacturers were telling the public—why should only iOS users have all the fun?
Having said that, as more and more custom emoji apps continue to enter the market, it's become easier and easier for users to become an easy target for marketing misinformation. We know, we know, nothing hurts more than being betrayed and lied to. And just when you finally discover that the app doesn't suit your needs, there goes money, time, and effort down the drain!
The Best Memoji Android Apps
Well, that's where we come in. We know money isn't easy to come by, and not all of the Memoji android apps out in the market are worth buying. That said, we hope that through this article, we will be able to help you pick apps that deserve a place on your phone.
1. VideoMoji : Make Animoji Avatar
First on our list of Memoji Android apps is the VideoMoji: Make Animoji Avatar app. To start, the app has a ton of awesome AR 3D-characters to choose from. Most of the characters are animals such as pandas, monkeys, and clownfish, great options for animal lovers. On the other hand, if you're a foodie, they've got hamburgers, peaches, and other delish characters to tickle your fancy!
Once you've tried some of the AR 3D characters, imagine communicating with your family and friends with them! Isn't that cool? You'd be sharing stories as a 3D monkey, fish, or panda. It's one of the coolest features of this app. Users can also record videos with this app and share those videos with friends via any type of messenger. Sharing, creating, and recording in just three easy steps? If that doesn't encourage you to download the app ASAP, we don't know what will!
Other Details
Number of downloads: 100,000
Size: 75.17 MB
Price: Free
Rating: 3.2/5 stars
Requirements: Android 5.0 and above
2. Zepeto
Second on our list of favorite Memoji Android apps is Zepeto. Now, this is an app that truly understands what a user-friendly experience means. It is so easy to use; in just a few clicks, you create a character that looks like you.
To add to that, if you're a fashionista you should listen up! We believe all fashionistas should download this app. One reason is it's got a virtual closet, allowing you to play dress-up with your avatar anytime you want. And if that isn't enough for you, in case you get bored with the clothes that are available, Zepeto releases hot new stylish items every week!
Zepeto has also collaborated with the world's hottest brands to produce a list of Zepeto-exclusive items, clothes, shoes, and accessories that will definitely make all your fashionista fantasies come true.
If you aren't a fashionista, don't fret! Other cool non-fashion Zepeto features include a photo booth with a cool set of photo frames, and an awesome virtual theme park, called Zepeto park.
Other Details
Number of downloads: 10,000,000
Size: 88.12 MB
In-app products: Prices range from $0.99 to $7.99
Rating: 3.5/5 stars
Requirements: Android 5.1 and above
3. Bitmoji
Bitmoji lands third on our list of cool Memoji Android apps. But before we go any further, let's first find out what Bitmoji means. To make a long story short, Bitmojis are like bite-size emojis. They're these small, fun cartoon avatars you can personalize to look like how you really look in real life or how you always wanted to look in real life.
To go with that, we guarantee you'll never get bored with this app because it's got a huge library of stickers to fit every mood, action, or occasion. Say or do anything romantic or ridiculous—if you want your avatar to sleep, there's a sticker for that! If you want to sleep in a bed of sushi, there's an avatar for that, too. To add to that, Bitmoji also got a fashion section to dress your avatar to match your personal style!
On another note, if you'd like to transfer your love of Bitmoji from digital life to real life, the app's got a way to do that for you through its merchandise section which sells phone cases, mugs, stickers, etc.
Last but not least is a newer feature of Bitmoji, its language options. Users can easily browse the app in Bengali, Kannada, Spanish, Tamil, Telugu, Thai, and a whole lot of other languages.
Other Details
Number of downloads: 100,000,000
Size: 30.4 MB
In-app products: Ranging from $9 to $46 dollars on Bitmoji merchandise
Rating: 4.6/5 stars
Requirements: Android 4.4 and above
4. Face Cam
The Face Cam comes in fourth place on our list of the best Memoji Android apps for your phone. As the name suggests, Face Cam is an app with a camera, a Memoji camera, and a personal 3D avatar maker. One of the newest apps to set its foot into this domain, the Face Cam has three major features: the Personal Facemoji Maker, Magical Video Filters, Multiple Memoji, and 3D Avatar Creator.
The first feature, the Personal Facemoji Maker, lets you create an emoji of your face. It's got a ton of expressions to match whatever mood you've got that day. On the other hand, Face Cam's other main feature, its Magical Video Filter, provides you with plenty of colorful, cool filters to add color and spice as you shoot videos. Thirdly, what makes this app even cooler is its share option — users can share their videos on Instagram, Snapchat, and all of the other social media platforms out today.
The last stand-out feature of the Face Cam is its Multiple Memoji options. If you've got friends, family, coworkers, or classmates that like memojis as much as you, you'll absolutely love what the Multiple Memoji Feature has to offer.
In sum, it lets you make many Memoji avatars at a time, one for you, the others for your friends and family. Now, here's the exciting part—you and your companions can also take photos or film videos in cartoon form!
Other Details
Number of downloads: 5,000,000
Size: 73 MB
In-app products: $5 – $70
Rating: 4.1/5 stars
Requirements: Android 5.0 and above
5. Bemoji
Fifth on our list is the Bemoji app. If Bitmoji is ahead of the pack when it comes to Memoji and Animoji apps, Bemoji isn't far behind. It's actually pretty easy to see why Bemoji is so popular; first, it's very user-friendly—the app provides a great variety of face characters and outfit options to make your avatar look exactly like you.
It's also got a lot of other cool features like a gif maker and a sticker maker. Apart from that, you'll definitely be entertained by its huge collection of animated creatures and GIFs. If those features weren't enough to surprise you, go ahead and check this out—Bemoji allows you to film animation videos with your friends and share what you made on all your social media apps like Snapchat and Instagram!
One last, exceptionally cool feature of Bemoji is the Bemoji keyboard. The Bemoji keyboard makes it easier to share all your Memoji stickers with all your family and friends. Plus, for a small fee, with the use of the Bemoji keyboard, users can also gain access to a number of exclusive premium avatar perks to jazz up their avatar. Perks like special hairstyles, hot accessories, and cool outfits!
Other Details
Number of downloads: 1,000,000
Size: 110 MB
In-app products: $5 – $113 per item
Rating: 3.9/5 stars
Requirements: Android 6.0 and above
6. Gboard Minis
This entry might really surprise you — but then again, we don't blame you. Not many are aware of the Gboard Minis keyboard app. An app that has a built-in Memoji/Animoji feature in the form of Minis.
Now, you might be asking, what exactly are "minis?" Minis are short for mini stickers, selfie stickers created through a combination of machine learning, neural networks, and artist illustration, all made up to conjure up the closest representation of you.
Make Your Own Minis
Now, to make your own Mini, all you've got to do is download the Google Keyboard from the Google Play store. Once that's done, go and tap the Minis icon next to the Google icon. Once you're done with that, tap on Create, and Google will automatically create a character based on your face. It's really that easy!
Now here's the fun part—to begin with, the app gives you not one but three different avatars of your face. But that's just the tip of the iceberg—click on the Show Me button to get an expanded menu of all the different avatars Gboard Minis can create. You'll see tons of avatars to suit your every whim and fancy.
You finally get to pick your avatar's hair type, face shape, eyebrows, and basically every physical aspect of your avatar's body and face. Really cool, huh?
But what makes GBoard Mini truly stand among the rest isn't its list of facial features. It's the ability to customize a single avatar based on numerous scenes and stickers and effects.
You'll never run out of choices because a single avatar already contains 70-80 customizations. There are that many ways to get creative with your mini-me, and the best part of it is that it's all for FREE! Yes, all the features we mentioned are absolutely free of cost.
Other Details
Number of downloads: 1,000,000,000
Size: Varies with device
In-app products: Free
Rating: 4.5/5 stars
Requirements: Varies with device
Latest Update
GBoard will be removing the Minis feature by the end of the year. In replacement is Emoji Kitchen, where you will be able to mix and match your favorite emojis to create a totally new personalized emoji. Stay tuned for our complete guide on How To Use The Emoji Kitchen!
7. MojiPop
Your online presence is sure to pop with MojiPop! The app, an acronym for My Personal Emoji Keyboard & Camera, transforms your face into a hand-drawn cartoon.
Apart from its main feature, which we just mentioned, one of the other good features of MojiPop is its thousands of caricatures and animated stickers based on themes like love, friendship, and seasonal activities like Christmas.
If you have a habit of getting tired of an app after a few days, (no judgment here, we all do), we're pretty sure that won't happen with MojiPop because MojiPop releases new stickers every day, and new sticker packs every week this means you'll have something to look forward to on a daily basis!
Other features the app provides are a Social Avatar section where you can share your modified avatars with family and friends. Oh, and don't forget to check out MojiPop's store section, too. There you'll find various animated avatars of yourself across varied domains (festival theme, country theme, etc.).
Other Details
Number of downloads : 1,000,000
Size: 83.73 MB
In-app products: $1 – $300
Rating: 4.2/5 stars
Requirements: Android 5.0 and above
8. Emoji Face Recorder
The Emoji Face Recorder is similar to an Android version of the iPhone's Animoji feature. In what way, you may ask? Like the iPhone's Animoji feature, this cute and cool app lets you choose from a variety of funny creatures and emoticons, then it mimics your face movements.
The Emoji Face Recorder is very easy to use, too—just open the app, direct it toward your face, and, voila! The options will come through and the app automatically copies the gesture you're making. On top of that, if you ever do get tired of the current background you're using, you can also change your background design and color. The Emoji Face Recorder has a space theme, a floral theme, and a black theme, just to name a few.
Other Details
Number of downloads: 1,000,000
Size: 45.5 MB
In-app products: $2.80 – $3.40
Rating: 3.7/5 stars
Requirements: Android 5.0 and up
9. FaceQ
FaceQ is a fun and cool Cartoon Avatar Maker. So, what makes it so fun and cool? Let's begin with the overall interface of the app, for starters. Each section is fresh on the eyes and easy to use and play around with.
Another cool thing about the FaceQ app is its "2 Players," option. This means two players can use the app at the same time! Imagine having actual conversations with your friends and family as cartoons! Quite awesome, right?
But if that wasn't cool enough for you, take a load of this—you can customize your avatar in many, many, ways, from the top of your avatar's head to the shirt your avatar will be wearing. Plus, your avatar's got a TON of options for hairstyle, skin color, mouth, gesture, and a whole lot more.
Apparently, we aren't the only people who think this app is hot. FaceQ has over 10 million downloads on the Play Store and is rated by around 600,000 users. And since we're in a giving kind of mood, here's another pro-tip for all the FaceQ users—if you're having a bad case of creative block, follow the #faceq hashtag on Instagram. You'll find thousands of users' avatars to jolt those creative juices.
Other Details
Number of downloads: 10,000,000
Size: 18.31 MB
In-app products: Free
Rating: 4.4/5 stars
Requirements: Android 4.1 and above
10. XPRESSO – 3D Animated Avatar Maker & Gif Stickers
Share your cartoon self in the funniest and cutest possible way with the XPRESSO – 3D Animated Avatar Maker & Gif Stickers app. Rounding out our list of the best Memoji android apps in the market, the XPRESSO – 3D Animated Avatar Maker & Gif Stickers app has a huge library of 3D animated animoji stickers, plus a really cool text animation maker that adds text to the animated stickers you make.
Another cool aspect of the XPRESSO app is its online dress-up feature. This one is sure to enhance your fashion design skills, because you get to choose among a variety of fun styles to fit your avatar. If you're a frustrated fashionista, you'll definitely get a kick out of this. Can't afford to wear that dress you love at the department store? You can always live vicariously through your avatar by putting her in a dress that's just like the dress that you want.
Furthermore, you'll always be ahead of the memoji curve thanks to this app, because it shows you its daily trending animation and advanced text animation stickers. And the best part is—all we described is absolutely free of charge! No paid upgrades or in-app purchases required.
Other Details
Number of downloads: 10,000
Size: 5.8 MB
In-app products: FREE
Rating: 3/5 stars
Requirements: Android 4.3 and above
Conclusion
So there you have it — a list of the best and most popular Memoji Android apps in the market. We hope this helps you find an app that will get your brain moving in the right direction, one that will give you that nudge you need to sharpen your mind and release your inner creativity.
Sure, it's great to have apps that entertain you and help you kill time, but at the end of the day, it's even more important to choose tools that help you be a better person, tools that lead to positive change. Tools that transform the way you do anything you're passionate about, whether that's drawing, designing, or even singing.