👑 Crown Emoji: Use It To Embrace Your Inner 🤴 Prince Or 👸 Princess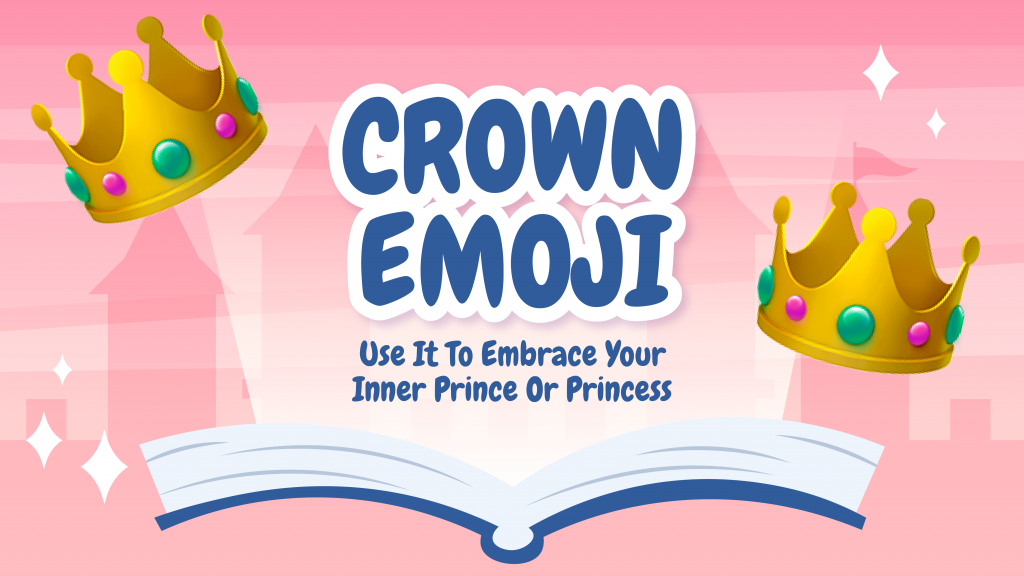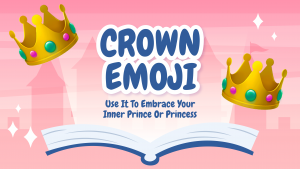 Are you having a good day today? So good it's got you feeling like a prince or princess? Share the 👑 Crown emoji to tell the world how you feel, that you're treating yourself like royalty from now on. You're a high-maintenance woman who isn't afraid to flaunt it! Or perhaps you want to tell a friend that he or she deserves to be treated like a queen or king? After all, no other accessory symbolizes a queen or king better than a crown!
Crown Emoji Meaning And History

The 👑 Crown emoji serves as a symbol of luxury, power, and riches. Drawn as a gold headpiece embedded with vibrant gemstones, it is an online representation of a real-life crown.
You'll often see the crown emoji in conversations and posts about different royal families. Meanwhile, others use it to represent some form of royalty or wealth. In its indirect meaning, it embodies the idea that someone is unique and superior to the rest. It may also function as a symbol of richness and grandeur, especially when combined with other emojis related to the subject of royalty.
The 👑 Crown emoji was introduced as part of Unicode 6.0. back in October 2010. A year later, the crown emoji extended its reach by appearing on Android and iOS devices for the first time. Specifically, the symbol popped up as part of iOS 5, the fifth major release of the iOS mobile operating system developed by Apple Inc.
Meanwhile, in the Android world, the 👑 Crown emoji burst onto the scene as a part of Jelly Bean, the 10th version of the mobile operating system developed by Google. Jelly Bean, or Android 4.3, as it was more formally known by, was the first operating system update to include a built-in keyboard for inserting emoji.
Before Android 4.3 became popular, netizens would have to install a third-party keyboard app just to gain access to emojis. You've got to admit, emojis have definitely come a long way from the very first emoji, a simple smiley face made by Japanese interface designer Shigetaka Kurita back in 1999.
Crown Emoji On Different Platforms

One big question you need to ask yourself is if you want your emoji to have multi-colored gemstones, or if you gravitate towards a nice, solid color, instead. If you prefer the latter then you've got two choices, Facebook and JoyPixel's versions. Facebook's gems are shiny, bright and blue, while JoyPixel's stones are a combination of purple, red, and blue.
Apple's crown is set in gold-tone highlighted with green and violet stones, and Samsung's gems are a combination of pastel blue and violet. Google's crown color is more yellow-gold, as compared to Apple's and Samsung's. However, the overall form of Apple's crown is much the same as Google's version, in terms of its shape and gem colors.
King Kylie Jenner On Snapchat
If you follow a few celebrities on Snapchat, then you've probably noticed a small emoji hovering next to their screen names as you scroll through stories on your page. It appears to have started with famous TV personality Kylie Jenner who chose the-you guessed it- 👑 Crown emoji as a symbol of her verified Snapchat account. She probably did it to match "King Kylie," her favorite nickname and username which she uses across most social media.
But in 2017, Kylie "relinquished" that title, removing the 👑 Crown emoji and replacing it with the 🦋 Butterfly emoji. Her newfound fondness for the 🦋 Butterfly emoji was believed to be linked to her then blossoming romance with rapper Travis Scott. What's the connection? Travis' song, "Butterfly Effect" was the lead single from Travis' third studio album, "Astroworld."
How To Use The Crown Emoji
Eager to put what you've learned into action? Before you do, why not check out a few samples we've made on how to include the 👑 Crown emoji on all your digital content.
– Don't let your boyfriend boss you around! He should listen to you, too. You deserve to be treated like a princess 👑
– After watching Meghan Markle's interview, I've realized that being a princess is not all it's cracked up to be 👑
– My sister Alice spends nearly all of her salary at the spa. She says massages make her feel gorgeous and luxurious 👑
– ​The food we ate at that Cuban restaurant was expertly prepared and definitely 💪​👉​👑​ [What it means: fit for a king]
– I literally jumped for joy when I found out there are three ​🎮​👑 ​prequels already in development! [What it means: Game Of Thrones]
– ​👑​🐵​😡​🏢 ​was my husband's favorite video game as a kid [What it means: King Kong]
Everyone Wants A Crown
Crowns have been used historically to symbolize the wearer's supreme status. With their extravagant design, costly fabric, and precious stones, these headpieces instantly distinguish monarchs from their subjects. And everyone seems to want one for themselves! Whether you grew up watching Disney cartoons, or skipped that phase altogether, the desire to feel like royalty seems to be innate in every man and woman.
For some, that dream comes true! Being born into a royal family can bring you a lot of advantages in life. You will have access to luxuries and a whole lot of cash that can be spent on anything you desire. Can you believe 26 monarchies have that kind of life?
Here are some of the countries that have kings, queens, princes, princesses, emperors, emirs, and sultans who quite literally rule the world – Netherlands, Jordan, Belgium, Denmark, Japan, Cambodia, Luxembourg , Spain, Sweden, Thailand, Norway, Monaco, Switzerland, UK, and Morocco.
British Monarchy
Out of all the countries in the list, the British monarchy is undeniably the most popular. UK's royal family continues to capture the world's attention in many ways, from Queen Elizabeth II's longevity to Kate Middleton's flawless, radiant skin. However, not all news about them is spectacular.
No Fairytale
In 2019, Prince Harry and his wife Meghan, Duke and Duchess of Sussex, shocked the world. They announced they are stepping back from their royal duties to live a more balanced life. Harry and Meghan were made to feel "totally unwelcome" in the royal family—leading them to quit their roles and forge their own lives. Perhaps being a real life prince or princess isn't all it's cracked up to be.
If you weren't born into royalty, or you don't have a boyfriend who is a prince, or a girlfriend who is a princess, you don't need to worry about becoming like Meghan or Prince Harry. Not everyone gets a seat at the palace. But that doesn't mean one can't be the ruler, or prince, or princess, of their own life! Through the crown emoji, and thanks to the crown emoji, the emoji universe has created a way for everyone to experience a taste of what it is like to descend from royalty.
Conclusion
If people could use emojis in real life, everyone would probably head for the 👑 Crown emoji. Who wouldn't want something so beautiful on their head, or inside their room? In addition, owning a crown would instantly make one a multi-millionaire!
Get this – the most expensive crown in the world is Saint Edward's crown. This is one of the most widely-viewed pieces among UK's crown jewels. Valued at $39 million, this dazzling piece of jewelry contains sixteen large semi-precious gems outlined in clusters of diamonds. In total, there are 444 precious and semi-precious gems in this crown, weighing over 2.23 kilograms!
Not to be forgotten is the great symbolic, priceless value of each and every crown. Crowns are worn to exemplify the absolute authority of an individual. As a matter of fact, throughout history, a crown has represented everything from victory in battle to the divine immortality of the wearer.
As such, a crown wherever it may be found, should be offered the proper reverence, whether one is using the real-world version or the online mock-up.
Make as if you were a good king or queen. Wear your crown, conduct things in a fair and justified manner. Doing so will make you a better netizen. It will also make the online or digital community you are part of, a nice and safe place to be in.