The 👒 Hat Emoji And Other Cool 👠​ Fashion Emojis To Level Up Your #OOTD Posts And Be A 🧥​ Digital Fashionista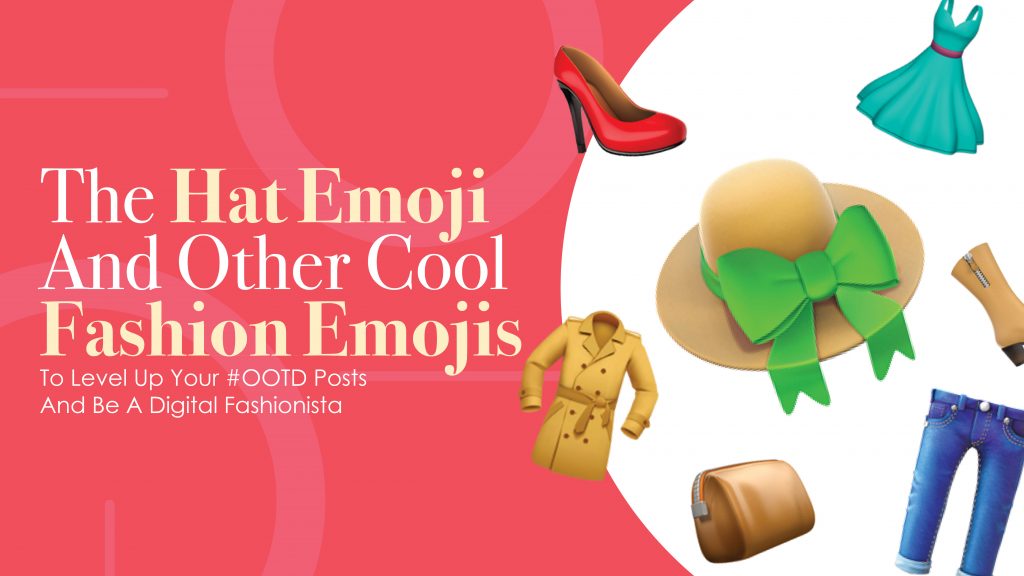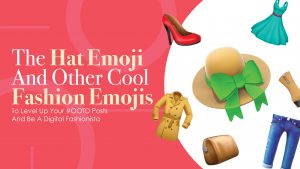 Emotional expression in digital messaging has come a long way. There are emojis for just about everything these days. If you can't say it in words, nowadays, it's normal to use an emoji to tell the world what you are feeling or what you are wearing that day! You can post a 👒 Hat emoji to tell everyone your followers you are in a fashionable mood, or you can post a 😭 Loudly Crying emoji to express sadness.
Expanding Emoji World
At the moment, the emoji universe is bigger than it's ever been, and it's only going to get bigger. Currently, there are thousands of emoji to represent the things we interact with in our world—people, places, animals, food, hobbies, passions, you name it, there is probably an emoji for it!
Do you love cute clothes? Are you crazy about make-up? If you answered yes to those two questions, we bet you are part of the OOTD crew, you absolutely love sharing outfit-of-the-day or OOTD photos. Sure, it's fun to share your personal style with the world, however, when you're churning out look after look every single day, it won't be long before you're running low on ideas.
OOTD Creation
Everyone knows the hardest part of putting together OOTD posts aren't just what you'll wear in it, sometimes it's finding the right caption to go with it. If you've exhausted your best friends with texts that say, "What should I write with this?" why not spice up your social media posts with emojis?
Fashion Emojis
Since emojis are so popular in online conversations, we are surely putting them in your fashion-related posts will be a hit with your followers. They allow you to sound not so serious and, at the same time, help you relate with your audience. And there are quite a few fashion-related symbols to choose from, from the 👒 Hat emoji to the 👗 Dress emoji, etc.
If it's something you really want to do, to save you time, we've put together a very helpful list of the most popular fashion emojis. Along with that are a few expert tips on how to best express your style. Read on to know all about it!
Turn Heads In A Dress
Show off that dress you bought in a cute and flirty way! If you have an ultra-feminine personality, you will look gorgeous in light blue, yellow, and light pink dresses. If you want to go for a more classic look, basic colors like white, black, and navy blue will be perfect. Once you post your OOTD to your social networks, remember to put a 👗 Dress emoji at the end!
Dress Emoji

The 👗 Dress emoji shows a sleeveless dress with a sweetheart neckline and a belt. This type of dress is usually worn by women for formal events. Emoji lovers feature the 👗 Dress emoji in discussions about style, fashion, shopping, and beauty. It also represents femininity and feeling girly. For example, if you use it together with the 💃 Woman Dancing emoji, you'll be giving off the vibe that you are feeling beautiful and stylish.
How to use the 👗 Dress emoji:
– I love how I look in my new dress 👗
– You can never have too many ​👗​🍸​, you can use them at work or at parties!
Woman Dancing Emoji

Do you really like what you're wearing? Then put a 💃 Woman Dancing emoji, after your fashion emoji! The 💃 Woman Dancing emoji shows a sexy, confident, carefree woman dancing in a red dress. The symbol represents fun or positive affirmation. If you are in a celebratory mood, use this symbol!
How to use the 💃 Woman Dancing emoji:
– I am so ready to test the new 💃 that I bought! Off to the party I go!
– Think I want to do a little ​💩​👯​💃 ​tonight with my new 👗 on!
Keep Warm In Style With A Coat
Stay warm, dry, and fashionable all season long with your favorite coat! Depending on where you live and how cold it is, your priorities may vary when getting a coat. Perhaps the style of the coat is the most important factor for you, but when you are facing really cold weather, your coat must be both practical and stylish.
Coat Emoji

When you're done posting your #OOTD with the coat, put a 🧥 Coat emoji beside it for some added flair! This emoji shows a long coat worn in the winter or cold weather. Some platforms feature a trench coat.
How to use the 🧥 Coat emoji:
– I forgot to grab my 🧥 when I left home and I am already in the restaurant. Can you bring it?
– Come on, grab your 🧥​ our other🚶‍♂️ ​are already on their way to get a 🍸​
Look Cool And Casual In Jeans
Women love wearing jeans because they're so affordable and fit true to size in all the right places. Jeans can carry you from a Wednesday night date to a casual Friday at the office. However, to make the best impression in your favorite denim, make sure you're wearing jeans the right way and accessorizing accordingly.
Since jeans are so flexible, comfortable, and wearable, chances are, they're in many of your OOTD posts. That said, why not make your post more fun and relatable by putting a 👖 Jeans emoji at the end of it?
Jeans Emoji

The 👖 Jeans emoji shows a pair of blue denim jeans worn by either men or women. Just like all the other emojis that represent pieces of clothing, it may be used alone or with other clothing emojis to show off a certain style.
How to use the 👖​ Jeans emoji:
– I don't care for skinny jeans, or bootcut jeans, they make me feel uncomfortable. Nothing beats the comfy feel of a nice pair of ​👜​👖​
– If 👖​ were never invented, I think I'd be naked 24/7!
Turn Heads In A T-shirt
The basic t-shirt is an essential part of anyone's wardrobe—woman or man. Everyone from Kate Moss to James Dean has made a serious fashion statement out of this stylish, versatile piece, and it has remained an IT girl/IT guy staple for decades.
The rules of wearing t-shirts are rather simple, start with the basic colors like grey, black, and navy, then slowly work your way up to patterns and prints, and mix and match them to create your own personal look.
T-Shirt Emoji

And while you're at it, don't forget to boost your OOTD and other social media posts with a 👕 T-shirt emoji! This emoji shows a simple, collared shirt with short sleeves, worn by either men or women. Most platforms show a round-necked shirt in one color.
How to use the 👕 T-shirt emoji:
– Can't make up my mind if I should get a 👕​ for my boyfriend this Valentine's Day, or maybe a 📱?
– I have 50👕 all with the same style, in different colors.
Be Bold In A Bikini
With the current news, we probably won't be going to the beach or hanging by the pool for quite some time. But who says you can only wear bikinis in the pool or on the beach? A back garden sunbathes with SPF on, and an OOTD shoot after can be just as fun.
Bikini Emoji

As you post those fun shots of yourself in your fave bikini, don't forget to put a 👙 Bikini emoji here and there to liven things up! The 👙 Bikini emoji is a photo of a red and white polka dot bikini, an article of clothing worn by women when on the beach or during watersports activities.
How to use the 👙 Bikini emoji:
– I always get like this ​​🙈​ when I wear my 👙 at the beach. Maybe I need to be more comfortable in my skin!
– I need to shave my ​👙​➖​➖​➖​, it is getting quite fuzzy in there!
Tie It All Together With Accessories
If you want to dress chic and stylish every day, always pay attention to your accessories. The right bag, or hat, or ring can make all the difference in your OOTD for the day. Accessories can complete an entire look. On its own, a dress is just a dress, but when you add a nice bag or hat, you now have a new, polished ensemble.
Accessory Emojis
Once you've got your desired look + accessories down pat, remember to capture your favorite accessory emoji before sharing your photo to all your online communities! Emojiguide's got a number of great emojis to choose from – from a 👒 Hat emoji to a 💍 Ring emoji to a 👝 Clutch Bag emoji. Take whatever suits you best, and just go with it!
Top Off Your Look With A Hat
Whether you love to dress in vintage style or just want to stand out, adding a nice hat to your ensemble is a seamless way to make a statement. There is something elegant and beautiful about a woman in a hat. If you are not used to a hat, it can feel strange at first, but you'll eventually get used to it and might even love it!
Women's Hat Emoji

A 👒 Woman's Hat emoji is a colored illustration of a hat with a wide brim and a ribbon around it. The 👒 Woman's Hat emoji can also symbolize going on a holiday since the emoji resembles a summer hat women use to protect themselves from the sun.
How to use the 👒 Woman's Hat emoji:
– I am going on a holiday, and I packed my ​👡​👙​👜​👒 ​​and I am so excited! It will be my first time going to the Maldives! Hello ☀️ weather!
– Jean loves to wear her 👒 outside, even in the winter, and I wonder how she does not get cold!
Be Cool In A Cap
Nowadays, baseball caps are not just for wearing to baseball games or basketball games. You can be creative with baseball caps and wear them in different styles, from sporty, to cute, to fashionable. Like the 👒 Hat emoji, when one gets bored with their hairstyle, one of the fastest ways to change one's look is to put on a hair accessory like a hat or baseball cap!
Billed Cap Emoji

Similar to what we suggest with hats and the 👒 Hat emoji, when you post selfies with your favorite cap, why not slip in a 🧢 Billed Cap emoji to elevate the cute factor? The 🧢Billed Cap emoji shows a blue baseball cap with a front-facing bill. You'll most likely see this symbol in conversations about sporting events, parks, or fairs.
But you must be careful when you put a cap on, styling a baseball cap can definitely be tricky. You might look weird if it's at the wrong angle!
How to use the 🧢 Billed Cap emoji:
– It's sunny outside, I might need to wear my 🧢 when I go to the park!
– I feel weird when I don't wear my 🧢 when I watch a baseball game!
Elevate Your Look With A Bag
Come rain or shine, you will make an impactful statement with a beautiful bag. Bags are a timeless accessory that can elevate any look. Pair your bag with your favorite shirts, coats, or dresses to make different outfits!
Experiment with different positions of the bag and the length of the bag strap to create various looks. Be creative and express your own style! If you like emojis and you love wearing bags, then you are in luck! Emojiguide's got nice pictures of bags to match your various OOTDs. We give you a preview below.
Handbag Emoji

The 👜 Handbag emoji shows a handbag, used mainly by women to carry personal items. Colors and styles vary across platforms, but most show a brown leather bag. Like the 👒 Hat emoji, it is mostly used in its direct meaning.
What to pair with a handbag? Whether you are going shopping, going to the office, or going to a party, you need a different bag to go with the occasion. As a rule of thumb, small bags add a more sophisticated look, while bigger bags give off a more laid-back vibe. So, if you decide to wear a casual bag with an evening gown or a clutch with a pair of jeans and a shirt, you might get a fine from the fashion police!
How to use the 👜 Handbag emoji:
– I got myself a ​🐂​👜​for my birthday, and I do not regret it! I work so hard, I should treat myself!
– If you are not happy in a relationship, you need to just break it off! You don't deserve to have a ​🚮​👜​ sucking the life out of you.
Purse Emoji

The 👛 Purse emoji is a picture of a coin purse, a small purse with a clasp generally used by women to keep coins and money. You'll see it in discussions related to money, it may appear together with other money-related emojis to symbolize wealth, or it may illustrate the process of shopping or paying for something. Sometimes it is used to symbolize the expensiveness of something.
How to use the 👛 Purse emoji:
– When I go out, I don't carry a lot, here are the things 💳​💵​ inside my 👛​
– All of Janet's personal belongings are pink, including her ​👛​
Clutch Bag Emoji

The 👝 Clutch Bag emoji is a picture of a small woman's bag which can be held in one hand. Only a little larger than a purse, it is commonly used to carry important items like make-up products or credit cards and is often worn during formal events like weddings, proms, etc.
When can you use a clutch bag? Clutch bags are ideal for formal and dressy events. You can pair them with your favorite little black dress or LBD. If your dress comes with sequin and other heavy detailing or embellishments, a plain clutch is a wiser choice.
How to use the 👝 Clutch bag emoji:
– I can't put all my things in a 👝 but I need to because we are going to a formal wedding.
– You should hold your 👝at the bottom, like a newspaper. Your 👝 bag won't suddenly open if you hold it that way.
Style Your Outfit With Shoes
If they say the eyes are the windows to your soul, then the shoes are the windows to one's style. What you choose to put on your feet actually does reflect something about you, whether it be boots, high heels, sandals, or flats. Therefore, if you want to present yourself better online, pick footwear that will reflect your personal style and personality and put the most appropriate emoji beside it!
Shoe Emojis
Netizens really love shoes and love to talk about shoes! Unlike the 👒 Hat emoji or the💍 Ring emoji that feature only one, when you look at the shoe emojis, you'll discover that there are four types of shoe symbols online—the 👠 High-heeled Shoe, 👢 Woman's Boot, 👡 Women's Sandal, and 🥿 Flat Shoe. So what are you waiting for? Pick the type of shoe you relate to the most, include it in your OOTD, and wait for the compliments to pile in!
High-Heeled Shoe Emoji

The 👠 High-heeled Shoe emoji shows a red high-heeled shoe, commonly worn for more formal events by women. Almost all platforms show the shoe facing right, only a few like the Facebook version face left. This symbol is commonly associated with style, beauty, and femininity.
To all women who love to wear heels, if there is one word to sum up your personality, it is confident. Heels make you walk in a certain way, they make you stand out in a crowd. When you wear a pair of heels, it is as if you are saying, "Lady boss, coming through!"
How to use the 👠 High-Heeled Shoe emoji:
– Out of all the shoes I have in my closet, ​👢​👡​👠 are my favorites because I feel so fierce and stylish when I wear them!
– When I went to Anna's house, she showed me her huge collection of 👠 and they looked absolutely gorgeous!
Woman's Boot Emoji

The 👢 Woman's Boot emoji shows a tall boot with a small heel, shown in brown or red on most platforms. The symbol represents women's footwear and is used in topics or discussions about clothes and different outfits.
Show That Bootie
Do you love wearing boots? Curious about the message it says to the world? People who wear boots give off an independent vibe. You like doing things on your own, you don't tolerate negativity, and may even come across as a bit aggressive. Boot lovers are believed to be well-traveled and highly sociable, too.
How to use the 👢 Woman's Boot emoji:
– My ​🐍​👢​are so comfy. I love wearing them when it rains!
– ​😺​👢​👢​ is my favorite character in Shrek. He makes me laugh every time!
Woman's Sandal Emoji

The 👡 Women's Sandal emoji is a colored picture of a brown sandal. The sandal is facing right. Its colors vary by platform, some emojis include an ankle strap, and some don't. This emoji appears in topics about fashion and style, and since sandals are footwear most worn in the summer, you will also see the symbol in discussions related to vacations, weather, and summer holidays.
If you like to wear sandals with heels, you are telling the world you're practical, self-assured, and straightforward. You're girly but not too high maintenance, you're in the middle of sexy, fashionable, and down-to-earth real.
How to use the 👡 Women's Sandal emoji:
– Got my favorite 👡 on, I am so ready to hit the sale at the mall!
– I knew I bought a size too small, the 👡 I have on are killing me! I want to bring them back to the store!
Flat Shoe Emoji

Being the extrovert that you are, while taking selfies with your colleagues or friends, if you'd like to draw attention to your flats, place a 🥿 Flat Shoe emoji or two on your online post! The 🥿 Flat Shoe emoji shows a ballet flat shoe, worn mostly for casual events by platform. It's worth noting that the color of the shoe and the presence of a ribbon decoration on the show vary by platform. So before you put the 🥿 Flat Shoe emoji on your post, double-check which device you're using!
Be Fab In Flats
Flats are everyone's go-to comfy shoe style. Been walking the entire day in heels? Need to rest your feet but want to still look stylish and cute? Grab a pair of your favorite flats, slip them on, and go! If you love flat shoes, chances are, you're all about being active and staying on your feet. You prefer speaking to your coworkers in person rather than calling them from your desk. You are a true blue extrovert, and you love being with people!
How to use the 🥿 Flat Shoe emoji:
– When I am out clubbing, I always leave a pair of 🥿 in the car because I know my feet will be tired in a few hours.
– I don't care if it is a formal event, I will wear 🥿 because I don't want to get into an accident.
Put A Ring On It
Want to add that extra bit of oomph to your look? Then why not make a striking statement with a beautiful ring? In many ways, rings are more than just a simple accessory, they visually share a bit of the wearer's personality, boldness, bravery, and flair, so if you've got one, wear it with pride, and don't forget to post about it as well! Complement your post with the 💍 Ring emoji and see your social media engagement go up!
Ring Emoji

The 💍 Ring emoji shows a diamond ring with a silver band. You'll often see it in topics related to jewelry, marriage proposals, etc.
Nearly all the digital platforms feature a blue diamond on top of a silver or gray band, Apple, Samsung, and JoyPixel's versions show the ring in a diagonal position. Conversely, all the other platforms display the ring vertically. Furthermore, like the 👒 Hat emoji, the 💍 Ring emoji doesn't contain other variants or other types under it, what you see is what you get!
How to use the 💍 Ring emoji:
– Bryan proposed to me, and I said yes! 💍 I can't imagine spending my life with anyone else.
– The​ ⏰ is ticking! ​​I am not getting any younger, I want to get married within the year 💍
Conclusion
So, there you go! We've come to the end of the road. We hope we helped you improve your OOTD game through our breakdown of outfits, accessories, and emojis. Remember, when all else fails, don't forget that at the end of the day, choosing the best outfit and making a statement with your stylistic choices will greatly depend on you, too.
Don't wear a hat or put a 👒 Hat emoji if you feel it isn't you, don't put on a dress if you aren't the girly type. Pick the pieces that make you feel comfortable and tell the world who you are. Unquestionably, a good outfit can alter your mood either positively or negatively, so choose wisely.
Do you feel there aren't enough fashion emojis to enhance your OOTDs? If you'd like to request for more variants for, say, the 👒 Hat emoji or more emojis for jewelry, just go to Unicode, and from there, you'll be guided on how to file a request!