🤑 Black Friday Emoji Combinations For Your 🛒 Shopping Spree 🛍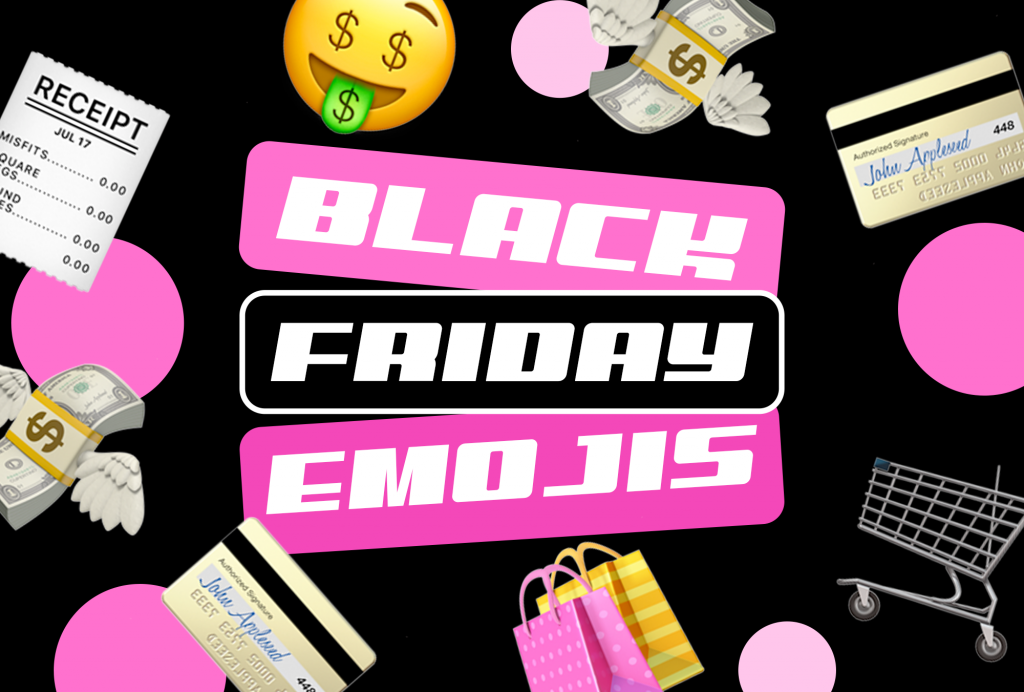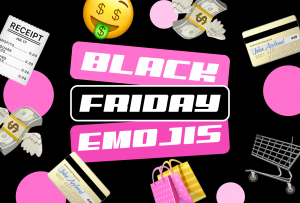 Ready your feet (or your smartphones) for some intense shopping, as the most significant annual sale is just around the corner! Black Friday opens its floodgates with countless deals you don't want to miss. It may be the only time of the year when you can spend good money to maximize the cheap pricing of retail stores. That said, it will be handy and crucial to use a suitable Black Friday emoji when messaging friends and family. In this post, we're going to help you do just that! We'll walk you through the most relevant emojis, helping you pick a spot-on emoji for Black Friday.
Now without further ado, here are emojis and combinations you can use!
Black Friday Sale Emojis








Great bargains make the shopping holiday spirit come to life, so if there's a cheap emoji, some of these will make an excellent fix in any conversation about the big sale. Things get overwhelming when you find a hot item that you want to run before someone else gets it. The 🏃 person running emoji will depict that you are on your feet for the last pair of jeans that will make you look like a star.
You must never forget your credit card and use the 💳 credit card emoji because if you don't have cash on hand, nothing can be more convenient than this piece of plastic. Try flaunting your receipt with the 🧾 receipt emoji on Instagram stories or with loved ones to flex how long it is and how much you've hoarded. The 💸 money with wings emoji is there to help you show how much you've spent on this year's Black Friday, whether you feel happy or guilty about it!
Not to mention the 🛒 shopping cart emoji you will surely need and the 🛍️ shopping bags emoji when mentioning the brands and stores where you've shopped. The 🤑 money-mouth face emoji or the 🏴 black flag emoji will be the perfect emoji Black Friday shoppers should use.
Kicks And Shoe Emojis






People anticipate BF sales to add worthy picks to their shoe collections, whether for dress shoes or sneakers.
If you didn't know, Nike's Black Friday is always a big deal for sneakerheads and Nike fans. Nike appreciates music and pop culture's role in spurring demand for their products, so they often release special edition shoes in collaboration with celebrities. These limited-edition shoes typically sell out quickly and are highly coveted by collectors. Nike's Black Friday sale is the perfect time to stock up on these hard-to-find kicks. Nike also releases new shoes on Black Friday, so it's a great time to snag a pair of the latest sneakers.
And if you're in the market for a new pair of high heels or ballet shoes, Black Friday is also an excellent time to score a deal on those. So don't miss out – Nike's Black Friday sale, among that of other stores, is the perfect opportunity to restock your shoe collection.
Also known as the sneakers emoji, the 👟 running shoe emoji will be perfect for portraying the pair of kicks you're buying. Also, consider using the 👠 high-heeled shoe emoji, 🩰 ballet shoes emoji, 👞 man's shoe emoji, 🥾 hiking boot emoji, and 👢 woman's boot emoji if you're shopping for these types of shoes!
Lululemon Emojis






Lululemon is a famous apparel company that makes yoga pants and other workout clothing. Their Black Friday sales are always popular, and their products are generally well-made and comfortable. However, their prices can be pretty high, so they may only be for some.
Their clothes are most popular with people who do yoga or other forms of exercise, as they are designed to be comfortable and move with your body. If you are looking for high-quality workout clothing, Lululemon is an excellent option to consider. However, other companies may be a better fit for you if you are on a budget. But that's why you must never take their BF sales for granted in the first place! You will enjoy high-quality workout clothing for a steal!
Lululemon emojis can include the yoga emoji, also known as the 🧘 person in lotus position emoji, 🎽 running shirt emoji, 👟 running shoe emoji, 🩳 shorts emoji, 🧥 coat emoji, and 👕 t-shirt emoji. A combination of these Black Friday emojis can make your posts or messages about fitness and clothing more striking, especially when shopping at Lululemon!
Black Friday Movie Emojis







You can forget about waiting in line at the mall this Black Friday and fighting over the last doorbuster deal. Instead, curl up on the couch and watch a movie guaranteed to get you in the holiday shopping spirit. The Black Friday movie is a recent comedy horror starring Devon Sawa, Ryan Lee, Ivana Baquero, and Stephen Peck. It's about a toy store that opens for the biggest sale of the year when there is something noticeably eerie about the customers. The plot follows a group of people trapped in a department store on Black Friday who must fight for their lives against a horde of zombies.
Black Friday, directed by Casey Tebo, is a fun and suspenseful film that's perfect for anyone who's ever gone a little too crazy during the holiday shopping season. This year, you can choose to skip the mall and watch Black Friday instead. You won't be disappointed!
You can use one or a combination of these emojis when referring to this film! The 🧟 zombie emoji is for the customers who become monstrous beings. At the same time, you can also use the 👽 alien emoji and ☄️ comet emoji since the craze started when the alien creature from the meteor crashed. Feel free to use the 🧸 teddy bear emoji, 🎁 wrapped gift emoji, and the 🛍️ shopping bags emoji since the setting was in a toy store. The 🏬 department store emoji is also an excellent choice to depict the store itself! You may even use this combination to make your loved ones guess which film you're watching next.
TV Show Emojis





Since the Thanksgiving season and Black Friday are times we get together, nothing beats quality time watching a classic holiday movie or family-favorite TV show.
That said, Hulu is one of many popular streaming services that offer a wide range of TV shows, movies, and Hulu Originals. One thing that sets Hulu apart from other streaming services is its extensive selection of exclusive content. For example, Hulu is the only place you can watch all seasons of The Handmaid's Tale. Hulu also offers a variety of subscription plans, so you can choose the one that's right for you, whether an annual plan or the monthly $7.99. And with Hulu Black Friday deals, you can save even more on your subscription. It's one of the best deals you can get from Hulu everywhere, so ensure that you take advantage of it.
If you're considering a movie marathon or a series binge on Hulu, some emojis will come in handy! These are none other than the 🎞️ film frames emoji, 🎥 movie camera emoji, 📺 television emoji, and 🎭 performing arts emoji. You can even do a few taps of the 🍿 popcorn emoji because what movie-watching experience would be complete without it? And, of course, tap in a few emojis related to the TV show or film you'll be watching.
Pandora Emojis






Pandora is one of the leading online retailers for Black Friday sales. They offer a wide range of products, including bracelets, earrings, necklaces, rings, pendants, and charms. Pandora also has a sale section where you can find great deals on Pandora products. Pandora offers free shipping on orders over $75. It is also great to shop for Black Friday because they offer great deals on popular items. Pandora also offers a hassle-free return policy–remember that it must not take more than 30 days from the purchase, and shipping fees are non-refundable. It's no wonder Pandora is a great place to shop for Black Friday, and they have a good reputation for customer service.
You can symbolize or talk about their products with the 💍 ring emoji, 💎 diamond emoji, 👑 crown emoji, some flare with the 💁‍♀️ woman tipping hand emoji, 👸 princess emoji, and a bit of warmth with the 💝 heart with ribbon emoji. This Black Friday Pandora emoji combination will hint to your friends where you've gone shopping!
Apple Product Emojis








Apple products are some of the most popular items during Black Friday sales. The Apple Watch is one of the sought-after items, with many people looking to score a deal on the highly-coveted device. While Apple does offer some Black Friday deals on their products, the discounts are often not as significant as what other retailers offer. Nevertheless, Apple fans flock to stores in droves on Black Friday, hoping to get their hands on the latest and greatest from the tech giant. Whether it's the Apple Watch, iPhone, or iPad, Apple products always generate a lot of hype on Black Friday.
The ideal emoji to use is no other than the 👩‍💻 woman technologist emoji or the 👨‍💻 man technologist emoji, which can best represent any true Apple fan. When related to the items on your shopping list, here are some emojis you must use. The 🎧 headphones emoji will best represent the AirPods Max or general headphones, while the 💻 laptop emoji will depict any MacBook you may be getting on sale.
The 📱 mobile phone emoji is a no-brainer pick if you're getting the next iPhone, the ⌚ watch emoji for the Apple Watch, and the 🖥️ desktop computer emoji for the iMac, Mac Studio, Mac Mini, or perhaps the Apple Pro Display XDR.
Last but not least, if you're planning to upgrade on essential accessories, consider using the 🖱️ computer mouse emoji and ⌨️ keyboard emoji, which portray the Apple Magic Keyboard and Magic Mouse. These emojis will best depict the hottest Apple products on the market. So, whether you're out to get an iPhone or Apple Watch Black Friday deal, post it with one of these emojis!
Facts About Black Friday You Should Know By Now
What Is Black Friday?
Black Friday is a special day in November when stores offer hefty discounts on their products. Whether online or in department stores, people experience shopping hype to take advantage of discounted prices. It's the perfect opportunity to shop for Christmas presents, personal electronics, or smart home devices – practically, for anything a retail store can sell.
People recognize the Black Friday Sale as the beginning of the Christmas shopping season in the United States. People in at least 15 other countries have their version of this holiday. If you're curious, shoppers in the U.S. spent an average of $430 and a total of $8.9B in 2021. It is how big this extravaganza can get!
¿Cuándo es el Black Friday?
You can only enjoy the Black Friday sale if you know when it usually takes place. So, you may be asking the big question, Cuando es el Black Friday or when is Black Friday? It happens on the Friday after Thanksgiving Day. Note that the upcoming Black Friday will be on November 25th, 2022. That said, it would be ideal to ready your Christmas shopping list as early as now.
It takes place right before Cyber Monday. On this day, people resume their shopping spree as other stores continue to stay on sale. However, you can mostly enjoy Cyber Monday among online stores–thus, the coining of its name. Just combine the laptop or desktop emoji with the Black Friday emojis we mentioned. It will depict a Cyber Monday emoji–and your recipient or audience will get the context of your post!
Why Is It called Black Friday?
BF has many compelling stories behind its name. Some date back to the late 1800s, but there is an explanation that makes the most sense.
Back in the 80s, stores made their financial records with paper and pen–red ink for losses and black for profit. So, imagine all the black ink stores need before Christmas, as they expect customers and massive profits.
Here are a couple more fun facts. Did you know that online sales outnumbered in-store sales for the first time in 2016? It's a massive turn in Black Friday history. Thanks to the Internet, people like you can choose to do their shopping online! It helps anyone avoid big crowds and long lines. When you brave the sea of people, it's always great to stay careful. So far, there have been a total of 125 people injured and 17 deaths. Three of the deaths were recorded in 2021. It can get tragic, so we hope you never add yourself to that list!
Conclusion
There are many ways to celebrate the BF sale. Whether you brave the stores or shop online, use the right Black Friday emojis! It will let your loved ones know what you're buying or where you're shopping! And as we mentioned, there are tons of activities worth looking forward to! Like shopping, watching films, and binging shows with Black Friday subscription deals.
Either way, always take BF predictions with a grain of salt because pricing and availability may vary wildly. It's best to avoid any disappointment! Also, since the virus is still out there, remember to pull up that facemask to avoid infection from the crowds. Have a happy and safe Black Friday! We hope that you found this post helpful.