💙 Facebook Reactions: How They Work, What They Are, And How The 🤗 Care Reaction Button Is Changing The Game 💜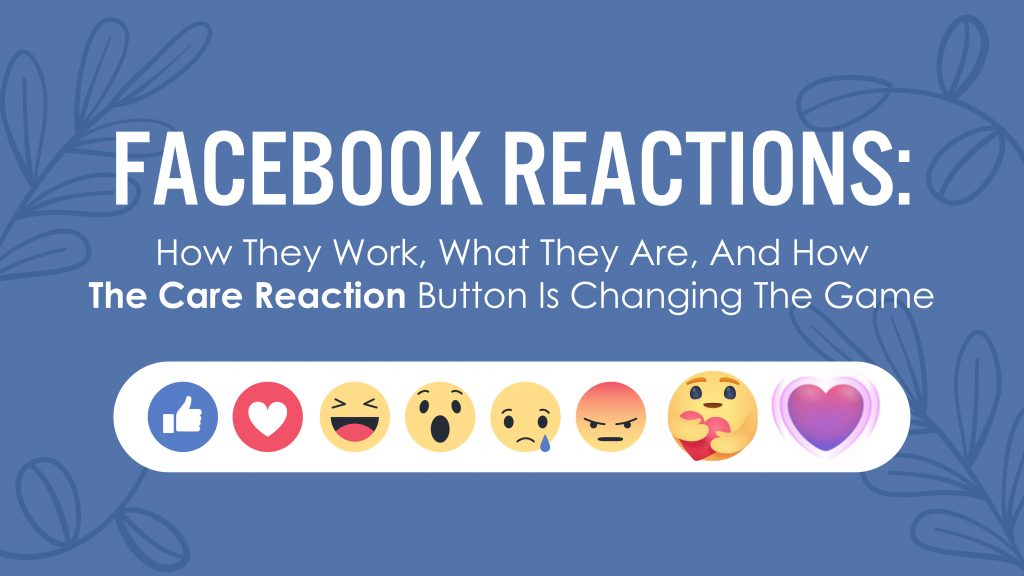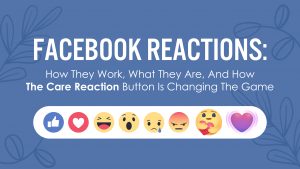 Facebook is stepping up its role as a global connector amid a worldwide pandemic. With over a third of the world's population on Coronavirus lockdown, many people rely on social media apps to communicate with friends and family that live far away. As the world's largest social media platform, Facebook is doing its best to bring people together, by rolling out features people can use to show love and support. In fact, one of its most recent endeavors is the Care reaction button, the social media platform's latest addition to its growing list of Facebook reactions.
Care Reactions On Facebook
Whether you prefer to chat with your friends over Facebook messenger, or you're more into posting daily updates and Facebook reactions on your wall, Facebook's Care reaction will be there to tell people your loved ones you care. In case you're wondering why, it's because Facebook is releasing two versions of it! There's a yellow face hugging a pink heart for the core Facebook service, while in the Messenger app the Care reaction appears as a pulsating, purple heart.
For the core service, the Care reaction sits next to other Facebook reactions. The other reactions show love, sadness, anger, and other emotions in response to videos, images, posts, comments, or other content. To use the Care reaction on Facebook, hold down the like button to see other Facebook reactions. From there, tap the reaction you want to choose.
Care Reactions On Facebook Messenger
The Care reaction on Facebook messenger works as an update to the pre-existing Heart emoji. It's like an alternate, "higher" version of the Heart emoji. If you want the Care reaction to appear on Facebook messenger, give the Heart emoji a long press. The app will then ask the user if you would like to replace the existing heart with the latest Care reaction. Once you say yes, the animated, pulsating purple heart will appear!
Undo Care Reactions
Undoing the Care reaction on Facebook or Facebook messenger follows the same process as undoing other Facebook reactions. The process is similar to how you'd unlike a photo or Facebook post, simply do a double click on mobile or desktop in the reaction area to undo.
View The Care Reaction
Want to see if your Care reaction popped up, or if a Facebook friend used the Care reaction? Do the same thing you do with the other Facebook Like button. Remember how you would hover over a post to see if someone liked your status or photo or video you recently posted? Just do the same thing with the Care reactions emoji. Hover over the reactions area to see which people used the Care reactions emoji to express themselves.
Facebook's Announcement On The Care Reaction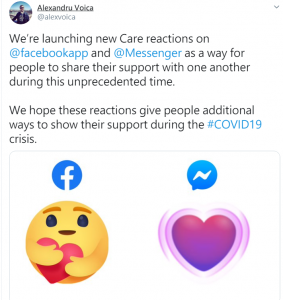 On April 17, 2020, Facebook's EME Communications Manager Alexandru Voica announced the rolling out of the Care emoji in a series of tweets released on his Twitter account. "We're launching new care reactions on the Facebook app and Messenger as a way for people to share their support with one another during this unprecedented time," he tweeted. "We hope these reactions give people additional ways to show their support during the #COVID19 crisis," Alexandru said in the same tweet
In related news, Fidji Simo, Vice President Of Product at Facebook, backed up Alexandru's statement. She told the media they thought of releasing a new heart emoji to help their users get through moments in their lives when the use of the usual heart symbol regular heart is not enough (we won't lie, we got a little choked up after hearing that ).
"This current crisis really shows a range of people struggling with very different things," Fidji shared in an interview with the media."People who are sick or taking care of sick ones, people who are losing their jobs. People who are home-schooling their kids. Everyone right now has something in their lives that requires support."
We couldn't agree more. We are living in unprecedented, uncertain times. The Coronavirus continues to upend life around the world. 165,059 people have already died from the virus, while many lost their jobs. Scary times, but we must not lose hope. It's time for all of us to step up and do what we can to stop the virus, even with something as simple as using a Care reaction emoji.
Where To Find The Care Reaction
Itching to try the Care reaction on your device? According to Facebook, the Care emoji will be available this week on both desktop and mobile apps, and the rollout will take place around the world. He didn't go into specifics, though, whether it would first appear on Smartphones or iPhones, etc. We'll just have to wait and see, and check our devices from time to time.
If things take long, let's just be patient about it, we are sure it will be worth the wait! It's the first expansion of Facebook's emotional-reaction emojis in over four years. Yes, four years! In 2015, Facebook expanded the original thumbs-up "like" button and added five new Facebook reactions, love, sadness, anger, the laughing reaction and the "wow," or surprised reaction.
Here's hoping it won't take five more years for a new Facebook emotional — reaction emoji to appear! Facebook reactions bring emotion to Facebook posts and conversations, they make our digital interactions so fun and colorful! Can you imagine talking to someone on Facebook without it? We can't! What other emotions would you like to see as an emotional-reaction emoji on Facebook?
How Facebook Reactions Affect Your Feed
In case you've forgotten, or maybe you just momentarily got swept up with all that's happening in the world, whatever the case may be, we're taking this moment to remind you to use Facebook responsibly. Facebook monitors user activity- what you post, share, and even what you like and react to.
How Reactions Affect Facebook Algorithms
In fact, in 2016, Facebook confirmed Facebook reaction buttons influence the way your news feed appears. As a matter of fact, Facebook puts more weight on emoji reactions than likes to determine which content should appear at the top of your News Feed. So, if you put a heart or a wow smiley on a post about Taylor Swift's new single, expect to see more stuff about Taylor on your news feed.
Facebook provided more details about the revelation through a statement released to the media:" Over the past year, we've found that if people leave a reaction on a post, it is an even stronger signal that they'd want to see that post than if they left a like on the post. So we are updating the news feed to weigh reactions a little more than Likes when taking into account how relevant the story is to each person."
This makes sense once you think about it. Love, anger, sadness, and surprise are stronger emotions than plain interest. Plus, responding with a reaction takes more effort than just tapping the like button, right? That said, does it mean if you put an angry reaction on a post about prostitution, you will see less of the topic in other posts? Not exactly.
In the same statement, Facebook revealed that all reactions have the same weight, which means the news feed's algorithms are not based on whether you react with "love," "sad," or "angry." So, if the Kardashians irritate you to no end, and you don't want to hear about them for a while, perhaps it would be best to just ignore news about them on your Facebook page.
Do Brands And Marketers Pay Attention To Facebook Reactions?
The answer to that is one big YES. If you are a Facebook advertiser you'll be able to see a breakdown of Facebook reactions on your Facebook Ads manager or on your Facebook Fan Page insights. You'll see in the notifications tab of those tools the reactions people have to your posts, and you can also get a quick summary of reactions right at the top of your Facebook page.
However, you must remember, since all Facebook Page posts are public, your Facebook reactions tally is not private info. Everyone can see the breakdown of Facebook reactions on your Facebook Fan Page, including your brand's competitors, people who are not admins, and people who are not fans of your Facebook page. And, it works both ways, too, you can go to other Facebook Fan Pages and see the breakdown of reactions on their posts, as well.
Facebook Reactions For Special Occasions
It never grows old… the fun and warm, fuzzy feeling you get when Facebook celebrates special occasions like Halloween, or Mother's Day with you. In 2016, the social media platform stepped up their Facebook reactions game by releasing Facebook reactions for special occasions, like a purple flower reaction to celebrate Mother's Day. The purple flower stood for the word "thankful." When Facebook users used the purple flower reaction, the symbol worked as a gesture of gratitude to all moms.
Facebook Reactions For Mother's Day
One year later, Facebook added several other ways to say thank you to moms on Mother's Day. Users could send a personalized card, share a card on their news feed, add Mother's day-themed frames or masks to their pictures. On top of that, users of Facebook's mobile version got to add various Mother's day-themed masks and frames to their pictures.
Facebook Reactions For Halloween
Another example of Facebook reactions rolled out by Facebook for special occasions was when the social media platform released Halloween-themed emojis in October 2016. Facebook users really got into the Halloween spirit when they saw an illustration of a pumpkin replace the Facebook reaction for "angry," a picture of Frankenstein replace the Facebook reaction for "sad," an image of a witch replace the Facebook laughing reaction emoji, and a ghost replace the "wow" emoji.
The fun and spooky Facebook reactions appeared on all posts, both public and personal. They were also retroactive, if you used a wow emoji a week ago to react to your friend's sexy outfit, it turned into a ghost emoji! Facebook also introduced Halloween-themed filters for its live videos.
Facebook Reactions For Trekkies
In September 2016, Facebook gave Star Trek fans a little treat by releasing Star Trek-themed buttons and reactions to celebrate the franchise's 40th anniversary. The love Facebook reaction button turned into a Vulcan salute, the laughing Facebook reaction button became Captain Kirk, the "wow," reaction changed into a small picture of Mr. Spock, while the angry Facebook reaction mutated into the ridged forehead of an enraged Klingon warrior.
Star Wars Facebook Reactions
Last December, The Force visited Facebook to promote the film Star Wars: The Rise Of Skywalker. For a short time only, Facebook released Star Wars-themed Facebook reactions, stickers, and other effects. But they were only available on Facebook's Messenger app. The stickers and Facebook Reactions turned users into popular Star Wars characters, Star Wars fans were given the chance to cry like C-3PO, laugh like Finn, get mad like Kylo, or act surprised like Rey.
Disney also came out with limited edition Star Wars-themed AR effects that appear when Facebook users take photos, selfies, or are on video calls.
Conclusion
When Facebook launched its Reactions options in 2015, it turned out to be an amazing tool for marketers. Businessmen, entrepreneurs, celebrities, influencers, and even politicians learned another way to get insight from Facebook users. Through Facebook reactions, celebrities and entrepreneurs received info on the kind of content their audience is attracted to, how their audience thinks, and what type of content their audience responds to the most.
Facebook Gives Back
That's amazing news, and it looks like we will see more brand-related Facebook reaction campaigns in the coming years. However, with all that's happening in the world, we hope Facebook will release features similar to the care reaction button, as well, to help raise awareness about global issues, like Coronavirus-related stickers urging people to wash their hands, or Facebook Reaction symbols about saving the environment, or reducing poverty!
Suggest Facebook Features
If you feel the same way, then let your voices be heard! You can give Facebook feedback about a suggested feature by going to Facebook's Help Center. To get there, go to your account and click the button shaped like a question mark at the top of your Facebook page. You will then see the dropdown menu, and at the top of the menu, you'll see the words "Help Center." Click on that.
On the Help Center page, scroll down. On the left side, near the bottom, click Visit Help Community. Once you're there, type "give feedback" on the search bar at the top of the page. You will then go to Facebook's Give Feedback Page. Click on the link for Give Feedback For The Help Center, then just type your suggestion!
Who knows? Facebook might use your idea and even credit you for it! With nearly everyone on Facebook nowadays, an act similar to that will go a long way to healing and saving our world.