🐯 Tiger Emoji: Liven Up The Year of the Tiger 🐅 This Chinese New Year 🧧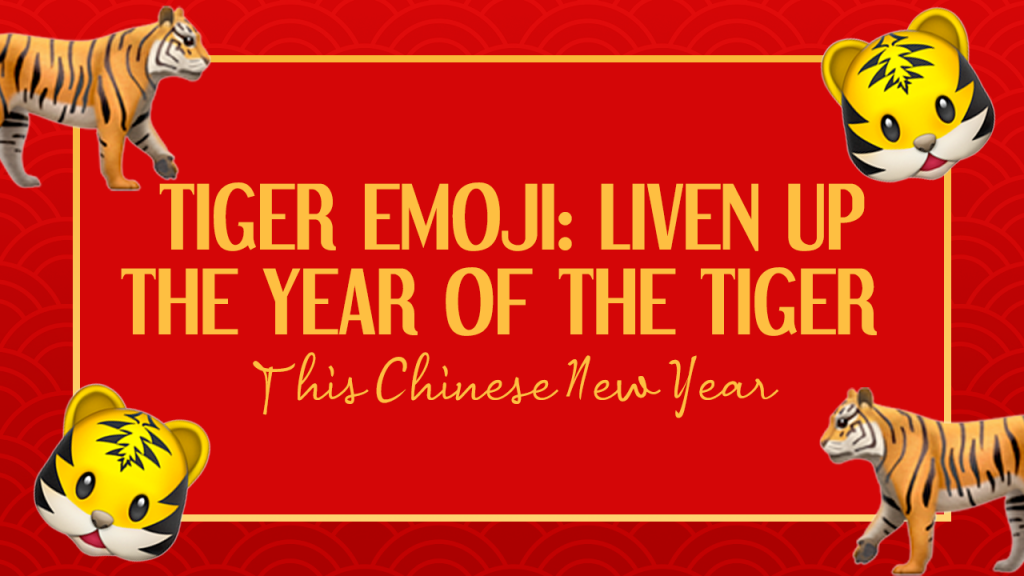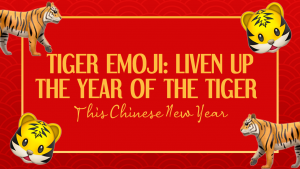 Ask anyone of Chinese descent what their country's most important holiday is, and they will most likely tell you it's Chinese New Year. While most of the world sets off fireworks on January 1, the Chinese wait until the first day of the lunar calendar to kick off a 15-day celebration that puts others to shame.
During this time of the year, households and businesses hold feasts marked by good food, red envelopes, and blessings for all. For 2022, expect to see the Tiger emoji and Tiger Face emoji popping up in social media feeds, digital conversations, etc.
The Chinese New Year marks the beginning of the Chinese calendar year, and based on traditional Chinese astrology, each calendar year is named after an animal. 2022's animal is the tiger, and 2022 is the Year Of The Black Water Tiger. Since there's no official design for the water tiger, the Tiger emoji would be the next best thing to include in blogs, emails, and social media posts.
Why emojis? As we all know, emojis are huge engagement boosters! A post on Twitter with emojis gets 25.4% more engagement than a post without emojis. Moreover, Facebook posts with emojis get 57% more likes, 33% of more comments, and 33% more shares.
Before you formulate your own Chinese New Year greetings and online posters, why don't we learn more about what we intend to put on the poster first, beginning with popular tiger symbols, like the 🐅 Tiger emoji.
Tiger Emoji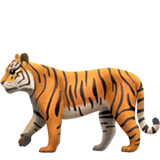 The 🐅 Tiger emoji shows an entire, furry body of a tiger, standing on all fours, looking at one side. It's depicted in a yellowish-orange color, has black stripes, and appears with a curled tail. Across all operating systems, apps, sites, and platforms, it appears to be roughly the same size. However, that is where the similarities end. Each platform displays the same emoji in different ways.
Tiger Emoji On Different Platforms

Here are some of the design differences, at first look, it's clear Twitter's and Windows' versions have the least amount of stripes. The most realistic drawing out of the bunch definitely belongs to Apple and Facebook, from the sharp detailing to the shape of its head and tail.
Alternate Emoji Names
It's not unusual for netizens to name emojis after pop culture characters close to their heart. In the case of the tiger emoji, sometimes it's referred to as the Tigger emoji, or Tony The Tiger emoji.
Cereal and cartoon lovers definitely know what we're talking about, Tigger is from the boisterous and exuberant tiger in the popular cartoon Winnie The Pooh, while Tony The Tiger is the cartoon mascot for Kellogg's Frosted Flakes breakfast cereal.
Tiger Emoji Meanings
When used in its direct meaning, the tiger emoji often appears in messages and, or posts about cats, tigers, and wildlife. If your post or online chat has any or all of those three topics, the tiger emoji will be right at home there.
On the other hand, when used in its indirect meaning, the tiger emoji is often shared to convey ferocity, strength, and courage. These are all prominent behavior characteristics of tigers.
Say, since tigers are born with great, natural survival instincts, one use of the tiger emoji would be to accentuate posts about living in uncharted territory. It could be about living in a foreign city, country, or even a different state. Also, popular quotes with the tiger in them, like "Go get 'em tiger," would look so much better with the tiger emoji, too.
Crafting Chinese New Year Greetings With The Tiger Emoji
Going back to the topic of celebrating Chinese New Year, as earlier mentioned, it's okay for users to share the tiger emoji in their online greetings. After you're done with that, the next step would be to focus on a meaningful message. Most Chinese say, "Kung hei fat choi," a traditional Chinese New Year's greeting. When you tell someone this, you're wishing them prosperity and good luck. You're saying, you hope they have a prosperous and abundant year ahead.
Lucky Colors
Don't forget to use the proper colors in your font and overall online greeting design as well. Colors are so important to Chinese culture, so much so, many Chinese use colors symbolically in each ceremony or festival they hold.
For the Chinese New Year, decorations in red and gold can be seen everywhere. Therefore, it's important to make sure your online greetings and posters has those. Chinese people believe that red brings in good fortune and scares away evil spirits.
In China, gold is also often used in important occasions because it symbolizes wealth and richness, and represents prosperity and good fortune. A word of caution, though, whatever happens, do not put too much white or black on your greeting. You can add a little here and there, but refrain from making it the focal point of your design. In Chinese culture, white is associated with death and is used in funerals. It symbolizes mourning. Black is also connected with mourning and death.
Tiger Face Emoji
Sometimes fierceness isn't what's needed in a post… even if your topic revolves around tigers. For those moments when cuteness and charm needs to be at the forefront, the 🐯 Tiger Face emoji would be, hands down, a much better choice than the traditional Tiger emoji.

Often used in a more affectionate tone than the full-bodied Tiger emoji, the 🐯 Tiger Face emoji consists of a cute, cartoon-like, face of a tiger. In all aspects, it's far from the usual mean tiger face depicted in TV series, movies, and documentaries.
The face projected in this emoji is yellowish-orange in color, with black stripes on its cheeks and forehead. Increasing the cute quotient in this symbol is the cluelessly adorable expression the cartoon tiger is wearing.
Tiger Face Emoji on Different Platforms

Like the tiger emoji, the overall design of the tiger face emoji changes from platform to platform. Each site, operating system or app, processes and interpreting the symbols in its own, unique slightly different way. Indeed, when it comes to this emoji, no two faces are alike. All of them are cute, sure, but none of them look exactly the same.
A perfect example of this would be Google's and JoyPixel's tiger faces which both have a round, circular face. Samsung, Facebook, Apple, and Twitter all have a more rectangular shape. Winning the odd emoji out award would be Windows' tiger, whose face is triangular in structure. Regarding how defined the details in an image are, it's Twitter's tiger face that is the most blunt and cartoonish in appearance. This is seen in its oblong, beady eyes, to the pink details on its ears.
At the other end of the spectrum, JoyPixel's tiger face features the most unique components. It's got important added details like whiskers, black stripes, other face markings, and long mouth. On a separate note, from certain angles, Facebook's tiger face resembles a fox more than a tiger, complete with orange face, and shaggy, white cheeks.
Tiger Face Animoji
Before we end this section, here's something the tiger face emoji has that's not present in the general tiger emoji. Did you know the tiger face emoji is available as an Apple Animoji? Animojis are customized, animated emojis that mimic the user's exact facial expressions and voice meses. When you use the tiger face animoji, your face turns into a tiger that copies how your face moves. This feature is available on the iPhone X and later models, and can also be used on the iPad Pro.
Alternate Emoji Names
The tiger face emoji is also known as Cute Tiger or Adorable Tiger. From time to time, it goes by the name, Face Of A Tiger. Unlike the tiger emoji, it doesn't have a lot of alternative names probably there aren't that many fictional characters or popular brand logos featuring only the face of a tiger.
Tiger Face Emoji Meanings
Generally speaking, the Tiger Face emoji is used to exude a sweet, friendly, tone or mood. It may also used to refer to an animal or object that's cute or fluffy. Say, you saw a stuffed toy tiger in the store, or an adorable tiger cub in the zoo, the tiger face emoji would be the perfect symbol for it.
In its indirect meaning, the tiger face emoji may be used to describe a person with the characteristics and physical features of a tiger. He or she may have the appetite of a tiger or the strength of a tiger, for instance. Songs with 'tiger" in them, like "Eye Of The Tiger," would also look better with the tiger face emoji beside them.
This emoji may be used alone, or in combination with other emojis to mean an entirely different thing. Check out some examples of common combinations:
​​👦🏻​🌲​🐯​🐍 ​- Tarzan
​🐯​🐻​🐾​ – animal tracks
​🐯​🔫​🚘​🌍​ – safari
Decorating Chinese New Year Greetings With The Tiger Face Emoji
Earlier, we talked about using the full-bodied tiger emoji in Chinese New Year online greetings. It's possible to do the same thing with the tiger face emoji, but it would be better to combine it with the traditional tiger emoji for a more realistic vibe.
Based on the Chinese zodiac, the Water Tiger is highly vigorous, bold and powerful, with sharp claws and piercing eyes. Its' fierce nature definitely makes it more compatible with the tiger emoji.
When Chinese New Year comes around, most people wonder if the next 12 months will be lucky for them. Believers will be glad to know, the luck prediction of the Black Water Tiger is great. We've got the characteristics of the tiger to thank for that. Always fierce and cunning, no matter what bad situation the tiger finds itself in, the animal always finds a way out.
2022 Chinese New Year Celebrations
With all that's happening in the world, many Chinese New Year celebrations will be taking place virtually. No one would like it to be that way, but it is what it is. Fortunately, there are plenty of ways to make your Lunar New Year digital event pop while still remaining respectful of tradition. Here are some tips we've rounded up.
Fun Video Calls
Plan a series of video calls with family and friends you'd normally see during the Chinese New Year. As you send your wishes for prosperity, longevity, and wealth, dress up your video calls with some décor or a virtual background in vibrant Chinese New Year colors. You can even create personalized invitations for the calls just for fun! Don't forget to include the tiger emoji and tiger face emoji in your messages for further added flair.
Tiger-Themed Gifts
Gifting during Chinese New Year is considered auspicious because it attracts luck and prosperity for the giver and the receiver. In Chinese culture, it is also an expression of respect and gratitude. While you may not be able to gift people in person, you can get a taste of the experience by sending care packages you've specially curated. Get everyone excited with Year Of The Tiger-themed face masks, savory and sweet treats, and flowers. Remember to include the tiger emoji and tiger face emoji designs in your gift in keeping up with the theme.
Roaring Reunion Dinner
One of the most important aspects of the Chinese New Year is the reunion dinner, This takes place on Chinese New Year's Eve. During the event, large families of several generations gather around round tables to enjoy the food and each other's company.
If you can't do that this year, why not order tiger-themed dishes from a nearby restaurant for you, and for your family. Once you're done, get everyone on Zoom to enjoy an unconventional reunion dinner together while apart.
That's it for now! We hope we gave you enough ideas to celebrate the Chinese New Year with the tiger emoji. If you are not Chinese, but you've always been fascinated by Chinese culture and would like to celebrate the Lunar New Year, you can!
At the end of the day, there's nothing wrong with paying homage to a culture you admire. Just remember to do it in a respectful way. Find out what's offensive and steer away from that. Be open to knowing why people engage in certain rituals and traditions.
Practice cultural awareness, and cultural sensitivity. As long as you have the right intentions, you won't go wrong. On that note, allow us to greet you all with a warm Kung Hei Fat Choi! 'Til the next emoji article, stay safe and happy!