Virtually Honor Our Fallen Heroes On Memorial Day With The 🇺🇸 American Flag Emoji, 🎖 Military Medal Emoji, And Other Patriotic Emojis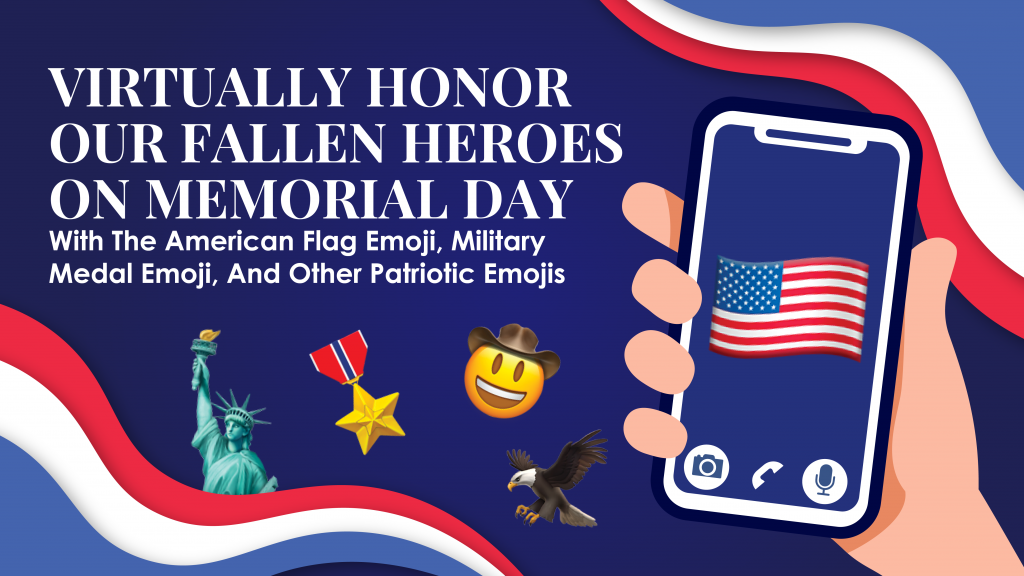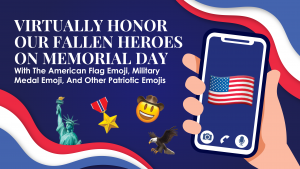 Every last Monday of May, Americans observe Memorial Day. It is a day that honors the men and women who died while fighting in the United States Armed Forces. One of the ways Americans pay their respects to those who've died is by flying the American flag the way it is done at any other time of national mourning: at half-staff. The flag stays in that position, and by noon, it is briskly hoisted to its peak again, where it remains until sunset. Similarly, in the digital world, many users post the 🇺🇸 American Flag emoji or other symbols of the American flag, to commemorate this special day.
Virtual Memorial Day
Chances are, Memorial Day activities this year will be similar to how they were done last year. Since there is a current ban on large gatherings of people, crowds won't be allowed to gather for solemn ceremonies to honor the dead.
But that doesn't mean you should forget Memorial Day altogether. Many cities are cooking up virtual events that will pay tribute to their soldiers who lost their lives for the peace and security of the country.
Memorial Day Activities
If that isn't your thing, there are a lot of other activities you can do for Memorial Day on your own or with immediate family members. Compose a poem dedicated to our fallen soldiers, or make a Memorial Day drawing. In the mood for something bigger than that? Why not get all the kids involved to create a patriotic theme mural in your own backyard?
Commemorate Memorial Day With Emojis
When you're done, we highly suggest you include Memorial Day-themed emojis to spice up your posts. More and more people will gravitate to your content if you do so!
Don't know where to find them or not sure how to use them? Then you've come to the right place! Emojiguide has a lot of great ones for you to choose from. Use these emojis to honor the fallen soldiers and to express your patriotic and undying love for your country.
Check out our list of Memorial Day-themed emojis to see what we mean.
American Flag Emoji Or United States Flag Emoji

The flag of the United States of America is represented by the 🇺🇸 United States Flag emoji. The ​🇺🇸 United States of America Flag has thirteen alternating red and white horizontal stripes. On the upper left corner, 50 white stars sit in a blue rectangle.
If you are an American and you want to show just how patriotic you are, tweet, text, or use the ​🇺🇸 American Flag emoji in your captions. You may also use this symbol to honor the patriotism of others, for example, of our fallen heroes.
Meaning Of The United States Flag
You'll see the symbol in all kinds of posts related to America. Expect to see more of it online on certain national holidays like the Fourth Of July, Independence Day, and Memorial Day.
If you are a Snapchat user, you might be surprised to know the 🇺🇸 American Flag emoji has an additional meaning. It is the official Snapchat symbol of Hillary Clinton, the former first lady of the United States and 2016 presidential candidate.
How to use the 🇺🇸 United States Flag emoji:
– When you display the 🇺🇸 American flag on your porch on Memorial Day, make sure the 🇺🇸 flag should not have anything below it or rest on the ground.
– Want to display the 🇺🇸 American flag on your car? Don't forget to clamp the staff to the right front fender.
– I've always wanted to take a ride in ​✈️️​🇺🇸​1️⃣​ [What it means: Air Force One]
– This Memorial Day, I am saying a special prayer for all the troops that lost their lives at ​🇯🇵​💣​🇺🇸​⚓​ [What it means: Pearl Harbor]
Military Medal Emoji

Like the 🇺🇸 American Flag emoji, the 🎖️ Military Medal emoji is a strong symbol of patriotism. This emoji shows a medal attached to a ribbon.
Military personnel who have made great contributions and sacrifices for the country receive medals similar to the 🎖️ Military Medal emoji. The medal and ribbon design vary depending on the platform.
An individual who does well in the military will most likely get one or more military awards. Medals and decorations are awarded to service members by all five branches of the US military to commemorate various accomplishments, achievements, and services rendered.
Meaning Of The Military Medal Emoji
You'll see this symbol in posts related to military personnel's heroic acts. The 🎖️ Military Medal emoji's design varies from platform to platform. Any web service, operating system, or device maker is free to design emojis in their own corporate style and vision.
Google, Twitter, WhatsApp, and Samsung's versions show a gold star inside a circle. On the other hand, Apple and Facebook version of the 🎖️ Military Medal emoji comes with only a single gold star and no circle.
Furthermore, the stripes on Google and Twitter's medals are pastel blue, while the stripes on Facebook, JoyPixel, and Samsung's ribbons are dark blue or navy blue.
How to use the 🎖️ Military Medal emoji:
– I had a wonderful talk with my son after he found my grandfather's many 🎖️ in the basement.
– The Medal Of Honor 🎖️ is the highest military decoration awarded by the United States government. Only one woman, Mary Edwards Walker, a surgeon for the US Army during the Civil War, has been given that honor.
– When I randomly see ​🎖️👨‍✈️️​👩‍✈️️​ walking around in public, I make sure to thank them for their service. ​[What it means: military men and women]
– Every year, I take my kids to see the ​🎖️🏅​🏆​ on display at the National Infantry Museum in Georgia. I tell them what each medal means, and how grateful they should be to the men and women who sacrificed their lives to keep our country safe. ​[What it means: military medals and awards]
Eagle Emoji

The eagle is the national bird symbol of the United States of America. In 1872, the country's leaders at that time chose the eagle because of its association with authority and statehood. In fact, the eagle had been used as a symbol of governmental power since Roman times. An 🦅 Eagle emoji shows an eagle, a huge predatory bird, with brown feathers and a white head.
Meaning Of The Eagle Emoji
Like the 🇺🇸 American Flag emoji, the 🦅 Eagle is a traditional symbol in the USA. Numerous netizens use it in their Instagram captions, tweets, and other social media platforms.
Across all devices, the 🦅 Eagle emoji looks almost identical. Google, on the other hand, has the most distinctive 🦅 Eagle emoji, with its wings tucked in as though it were perched on a branch. Twitter's version is also very different, the symbol appears on Twitter, but all that is seen is just an eagle's bust.
How to use the 🦅Eagle emoji:
– The 🦅 is most known for being a recognized symbol of the United States Of America. Therefore, if you don't want to talk about anything related to the USA, don't use this symbol!
– When someone tells you to be as strong as an 🦅, they mean business. An 🦅 can fly up to 10,000 feet high. An 🦅 can soar through strong and stormy winds.
– Ann's daughter is so ready for the online ☠️️​🦅​♠️​ Even if the event is supposed to take place at 12 pm, she was already online as early as 9 am! [What it means: online scavenger hunt]
– Whenever I see the 🦅 on our 💵, I am reminded of all the soldiers that fought hard to preserve our freedom. [What it means: eagles on our banknotes]
Statue Of Liberty Emoji

The 🗽 Statue Of Liberty emoji is a representation of the real-life Statue Of Liberty, a massive neoclassical sculpture located on Liberty Island in New York Harbor in the United States. Like the 🇺🇸 American Flag emoji, the 🗽 Statue Of Liberty emoji is also a symbol of American freedom.
The statue is a 305-foot-tall depiction of Libertas, the Roman goddess of liberty. In her right hand is a torch, and in her left hand is the date of the US Declaration of Independence. Underneath the statue's clothes are broken shackles, symbolizing the end of all forms of servitude and injustice.
Meaning Of The Statue Of Liberty Emoji
It's almost always used in relation to America—its holidays, customs, activities, events, and news. Visiting New York for the first time? Without a doubt, New York is one place that all of us dream about living in or maybe just visiting. And when that day comes, you can use the 🗽 Statue Of Liberty emoji in your Instagram caption, Tweet, or Facebook post.
Various platforms have different versions of the🗽 Statue Of Liberty emoji, Facebook and Twitter show depict a bust of Lady Liberty, while Apple, Google, Windows, and Samsung show the chest and the body of the Statue Of Liberty.
How to use the 🗽 Statue Of Liberty emoji:
– Did you know that the 🗽 was a gift of friendship from France to the United States? A symbol of friendship after resolving the Revolutionary War. It is a standing symbol of many things today, including freedom and hope.
– The 🗽 is one of the most recognizable symbols of freedom and democracy. It represents freedom in the broadest sense, the freedom of peoples against their oppressors.
– ​​I'm proud to be an American 🗽 ​and living in 🗽​🍎 Life ​can be so fast-paced and that's what makes it so beautiful. ​[What it means: Big Apple]
– ​When I hear the song ​🗽​🎶​ by Alicia Keys, it makes me want to move there! No other place quite like it! [What it means: "New York," the song]
American Football Emoji

There is no other place or area in the world where people play football by yards, tackles, and the majestic quarterback throws like in the United States. Football is one of America's favorite sports.
Meaning Of The American Football Emoji
The 🏈 American Football emoji shows an American football, a brown ball, spherical in shape, inflated with air.
Different platforms display the 🏈 American Football emoji in different ways, but the changes are not that major. JoyPixel's version is orange-brown, while Apple and Facebook's 🏈 is of a lighter shade of brown.
How to use the 🏈American Football emoji:
– Inviting my cousins from Europe to see how we Americans play 🏈 which is very different from their version of 🏈
– I am not a fan of 🏈 teams, I would rather play it than talk about it.
– ​🏈​😲​📣​ in this year's Superbowl! Go Buccaneers! [What it means: rooting for the team]
– Left the house early to ​👀​🛋​📺​🏈​. I feel even more proud to be an American when I watch a 🏈 game. [What it means: watch tonight's football game]
Cowboy Hat Face Emoji

Giddy up, cowboy! One thing that America is known for is cowboys. What better way to describe America than the way of life that once dominated the world and perhaps still does in certain ways?
The 🤠 Cowboy Hat Face emoji is a great way to show your support for America. This emoji can be used to express adventure, trust, and the embodiment of the American dream! It shows a broadly smiling face wearing a wide-brimmed, brown leather cowboy hat. The smile varies from a wide-open grin to a smirk across platforms.
Meaning Of The Cowboy Hat Face Emoji
In terms of context, the 🤠 Cowboy Hat Face emoji can be used in the same way as other laughing and smiling emojis—that is, to express gratitude, excitement, friendliness, laughter, and so on. You'll also see it in conversations related to farms, farmers, and cowboys.
How to use the 🤠Cowboy Hat Face emoji:
– Asked to wear a patriotic costume to our office party, and I came as a 🤠 You can't get more American than that!
– I miss those old school, legit Wild, Wild West movies with 🤠 They don't make those kinds of movies anymore.
– I must confess, I love ​🎶​🎸​🤠​, there's a simplicity in that genre that you can't find anywhere else. [What it means: country music]
– Sam has always ​💗​ 🤠, she likes how they work hard, get things down, and they dress, with boots and cowboy hats. [What it means: a thing for cowboys]
Baseball Emoji

Baseball is another popular sport in the United States. If you're a baseball fan who follows the season diligently, chances are, the ⚾ Baseball emoji is on your phone or any other gadget that you have.
Baseball is also common in other countries, such as Japan. However, the United States of America has, without a doubt, the largest baseball league in the world.
The ⚾ Baseball emoji is made up of a ball with a baseball pattern on it and a slight leftward tilt. It's also almost identical across all platforms; only a few platforms, like Google and Twitter, lack the emoji's light tilt.
Meaning Of The Baseball Emoji
You'll see the ⚾ Baseball emoji in posts and messages related to the sport, fans of the sport, players of the sport, etc.
How to use the ⚾ Baseball emoji:
– ⚾ is America's national pastime. It is a game rooted in history and tradition. Every time I watch the ceremonial pitch at a game, usually thrown by the President of the United States at the first game of the season, it makes me so proud to be an American.
– After such a long time, I am going to a baseball match today! ⚾ Who wants to come with me?
– Bought myself a new ​🧢​⚾​ for the game today, guess I am excited? [What it means: baseball cap]
– Reading a book about ​💰​⚾​a strategy in which a major baseball team analyzes the market for players then buys those that are undervalued and sells those that are overvalued. [What it means: money ball]
Bear Emoji
The 🐻 Bear emoji shows a face of a bear with brown fur, black eyes, and pink ears.
Meaning Of The Bear Emoji
It can be used in its direct meaning: to talk about a bear or group of bears. In conversations related to icons and traditional American symbols, the Bear may represent Smokey Bear.
Story Of Smokey Bear
Smokey Bear is a longtime popular campaign and advertising icon of the United States Forest Service. Since 1944, this beloved fictional bear has been teaching Americans how to prevent wildfires. Wildfires are unplanned fires that burn in forests and other wildlands, such as shrub or grass ecosystems.
How to use the 🐻 Bear emoji:
– You can't talk about traditional American symbols without mentioning Smokey 🐻 the famous mascot of the United States Forest Service. He taught people how to avoid forest fires and appeared on radio programs, comic strips, and cartoons in the '50s.
– When Smokey The 🐻 became popular, the average number of annual wildfires in America decreased by over 40,000.
– Better stay indoors, the Sheriff saw some ​🐯​🐻​🐾​ near the house! [What it means: animal tracks]
– I showed my kids my old Smokey The 🐻comics and they wanted to read more! Exposing kids to educational American icons will definitely ​🐻​🍑​! [What it means: bear fruit]
Bell Emoji

A representation of a bell, a hollow, metallic device, when hit, emits a reverberating sound. Usually gold or yellow in color, it works as a warning or ringing sound icon on cell phones.
Meaning Of The Bell Emoji
The 🔔 Bell emoji reminds others to turn up the volume on their mobile phone if they are expecting an important call or that it is fine to have the volume on before going anywhere.
It can also be sent to someone to inform them that you have arrived at their residence and are either waiting for them to appear or are waiting to let you in.
Amazing Liberty Bell
The 🔔 Bell emoji is used to represent the Liberty Bell in conversations related to the American symbols of freedom. The Liberty Bell is an iconic symbol of American independence, located in Philadelphia, Pennsylvania.
In 1752, the Pennsylvania Provincial Assembly asked the London firm of Lester and Pack to create the bell. It was cast with the lettering "Proclaim LIBERTY In All the Land unto All the Inhabitants Thereof," a Biblical reference from Leviticus 25:10. Unfortunately, the bell was first rung after its arrival in Philadelphia, it cracked.
How to use the 🔔 Bell emoji:
– The Liberty 🔔 located in Philadelphia, has been a treasured American icon for generations, attracting tourists from near and far to marvel at its scale, elegance, and, of course, its famed Philadelphia crack.
– Today is the first day I learned the strike note of the Liberty 🔔 is E-flat.
– Is it just a coincidence? February 1846 is the last time anyone tried to 💍​👉​🔔​ Liberty 🔔​. That day was George Washington's birthday celebration. [What it means: ring the bell]
– One day, I hope to see Liberty 🔔​ and ​👂​➡️​ Liberty 🔔​ ​being rung . [What it means: hear Liberty Bell being rung]
Conclusion
Since last year, Memorial Day activities have been distilled into online versions. It is what it is, and it is something we need to accept. But that doesn't make Memorial Day any less important. In every virtual parade, or social media post with an 🇺🇸 American Flag emoji or 🎖 Military Medal symbol, the honor and respect given to the armed forces are still there. That is something that will never change.
Honoring Soldiers And Veterans
With pretty much everyone moving online, a simple Memorial Day emoji or social media post thanking a vet for his or her service will create a huge impact. You'll be sharing the love and inspiring other people to do the same.
May this poignant holiday be a reminder that we all have a role to play for a better tomorrow. A better tomorrow for our country and for our fellowmen. As what author James Bryce once said, "Patriotism consists not in waving the flag, but in striving that our country shall be righteous as well as strong." We need to do our part.