🖤 Black Heart Emoji: Show Your Dark And Gothic Side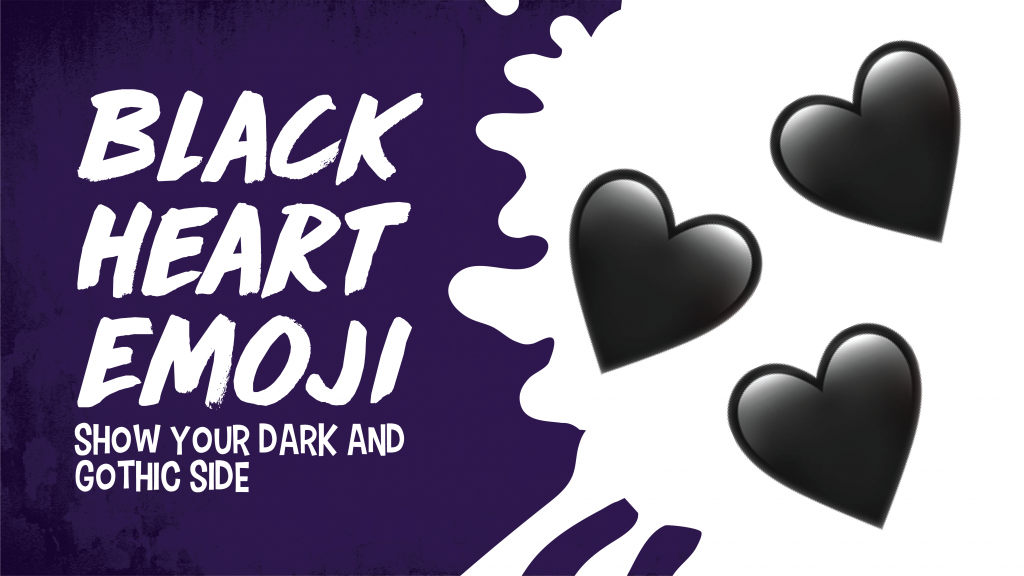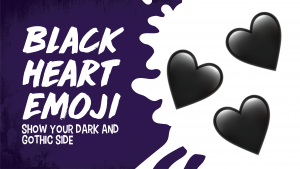 We all have a dark side — the parts of ourselves we are ashamed of or deeply embarrassed about. These traits make us feel we're undeserving or unworthy of love. Thus, we bury them deep within ourselves, never to be seen again – along with maybe our fave goth-style item or any related sighting of the 🖤 Black Heart emoji.
The Dark Side
Be that as it may, what many people fail to realize is, exploring one's dark side is not such a bad thing. Our dark sides are an essential part of who we are. When we uncover and embrace our shadow side, we become whole. We know ourselves better, and when you know yourself more, you are able to make better choices about everything.
Black Heart Emoji Meaning And History

That said, a great way to explore one's dark side is through the use of online symbols, such as the darkest of them all – you guessed it- the 🖤 Black Heart emoji. What's darker than a human being with a black heart, right? The 🖤 Black Heart emoji is an illustration of a heart and is also the black variant of the ❤️ Red Heart emoji. Netizens use it to share or communicate melancholy, dark humor, or sadness.
At first glance, it doesn't look like much, a simple but plain image of a heart shaded completely black. But don't be deceived by appearances! It's one of the most morbid icons in the emoji universe.
A black heart is often associated with something that is evil. However, the meaning of a black heart can shift dramatically depending on the context in which it is used, making the black heart very diverse. In fact, it is the most versatile of all heart emojis.
The black heart emoji was one of 72 new emojis released by the Unicode Consortium in June 2016. Other new characters part of this update were the 🤞 Crossed Fingers emoji, 🤳 Selfie emoji, and popular drink emojis like the 🥛 Glass Of Milk and 🥃 Tumbler Glass emojis.
iOS Appearance
Within the same month, the black heart emoji appeared on iOS devices for the first time as a part of iOS 10, the tenth major release of the iOS mobile operating system, developed by Apple Inc. In this upgrade, Apple also introduced a much easier-to-navigate Health app, a new version of Maps, and a freshly rearranged control center.
Android Appearance
The black heart emoji popped up on Android devices in 2016 as well, this time as part of Nougat. Nougat was the nickname given to the seventh major version update of the Android operating system. Android Nougat introduced a number of new user-facing features for Android users, like a Quick Settings panel, automatic night mode function, redesigned battery menu, etc.
Alternative Names Of The Black Heart Emoji
Saw another name for the black heart emoji? Don't let it confuse you, this sort of thing happens a lot in the emoji world. Some platforms prefer to change the name of the emojis under them. For instance, the Black Heart is also known as Dark Heart, Heavy Black Heart, or Wicked Heart.
Black Heart Emoji On Different Platforms
As we are all aware, emojis appear differently across platforms. Every web service, operating system, or device manufacturer develops or enhances characters based on their business style and vision. The following is how the 🖤 Black Heart emoji appears on most platforms.

Currently, the artwork appearing on most platforms shows a solid gray heart despite it being called the Black Heart emoji. Why it is so, we don't know! On the other hand, Apple, and Facebook present more of a black gray gradient, while Microsoft comes with a little glint.
As for its form and structure, Apple's black heart emoji is the thinnest of them all, while Twitter's version is the fattest and thickest. On the other hand, Samsung and Google are more or less the same size, you could even mistake them for one another, except for the fact that Samsung's artwork has a little bit of gray on top, while Google has a subtle, light, white smudge over half of its body.
How To Use The Black Heart Emoji
Want to take action and apply what you learned? Before you go on your own way, here are some samples to get you moving in the right direction:
– I want to move out of the house, even my own family doesn't understand me 🖤
– So sorry to hear of your loss 🖤, sending you love and strength during this hard time.
– Sara came to me during lunch break to talk about the JLO and Alex Rodriguez break-up. I told her, I couldn't care less 🖤
– ​🖤​✡️️​💯​ I can't see myself marrying someone with different beliefs [What it means: my heart is in religion]
– People say they're unlucky but I don't care! ​🐈‍⬛​🖤​ [What it means: I love black cats]
– How I feel about our relationship ​🥀​🖤. I don't need to say anything else [What it means: wilted relationship]
The Symbolism Of The Black Heart
Grief
For instance, a black heart is used when a family member or friend dies. The black heart symbolizes the love AND grief of an individual. The ❤️ Red Heart emoji has too much of a happy tone, and is obviously inappropriate when someone just passed on. The black heart emoji balances sadness and support.
When you send someone a black heart it is as if you are telling them you are sorry for their loss, and you are willing to help them in any way you can. It is commonly utilized in the planning of funerals, burials, memorial services, etc.
Indifference
At the opposite end of the spectrum, some people use the black heart emoji to show how emotionally cold and indifferent they are. They don't care about other people's feelings and have a nasty sense of humor. This attitude can be quite appalling. When people talk to individuals who are like that, they use the black heart emoji to question their intentions or if they even have a heart!
Emo
Kimberly Richards of the online publication Romper hit the nail on the head when she described the black heart emoji as a symbol of emo-pride. Moody, angst-ridden, easily depressed, "emo" individuals use it to share their sad thoughts and feelings with the world.
Black Lives Matter Movement
Here's a more recent, quite surprising function of the black heart emoji – people are using it more and more to show their support for the Black Lives Matter, or BLM, Movement.
Want to show how much you love BLM, too? Post the black heart emoji and the ✊🏿 Dark Skin Tone Raised Fist emoji to share your thoughts. The black fist is most closely identified in the United States with the Black struggle for civil rights.
Relationship Problems
In the romance department, couples use the black heart emoji when they are upset with their partner, but don't want to look too vulnerable. A 💔 Broken Heart emoji might come off as too strong, you don't want to kill the relationship. You are not totally broken, but you do want to leave space for reconciliation. It's a peaceful way to drop hints, to subtly let your partner know what he or she should do to make things right.
Conclusion
On a final note, always be cautious while sending out the 🖤 Black Heart emoji. This is because 9 times out of 10, it means nothing positive.
Do you have some awful news to tell yet wish to remain optimistic? Did anything terrible happen to one of your team members? Know that when you click send, the receiver will automatically associate a black heart with something sad or evil. Think twice before using it.
To conclude, as we said earlier, everyone has a dark side, and it isn't per se a negative thing–you can even harness it for good. Sharing your dark side doesn't mean you should become a troll or an ax murderer. No matter what, use technology appropriately and in a safe, and knowledgeable manner.
Consider this: Batman has more rage issues than any therapist can handle, but he uses them to make the world a better place. There's no reason why you can't do the same.