Boost Your Digital Life With The 📷 Camera Emoji And Other Cool 💾 Tech Emojis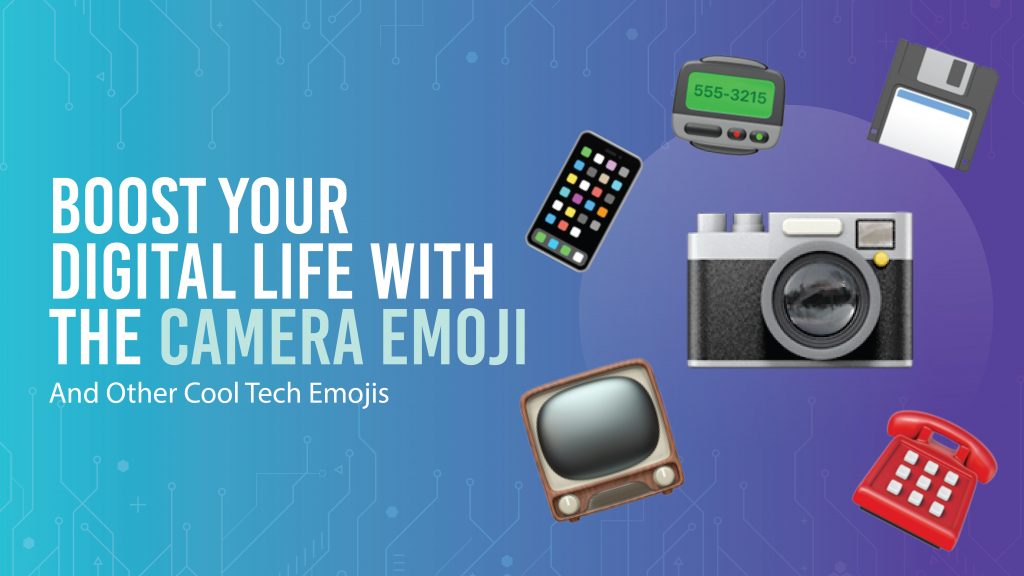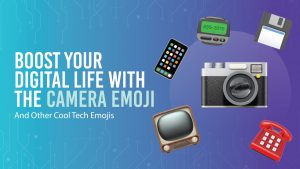 We live in a very different world than we did a few years ago. With awareness rising every year and technology making leaps and bounds, our world is heading towards a realm that would not have been recognizable in the past.
Living In A Digital World
Everything in business has gone digital: the workplace, product strategy, etc. And robotics and artificial intelligence make it happen faster.
It makes sense to see emojis adapting to this trend as the most popular form of communication in today's digital era. For instance, more tech emojis, like the 📷 Camera emoji, are being added to the emoji world.
Emojis Everywhere
Compare the current number of computer emojis, or computer-related emojis, to when emojis first burst onto the scene back in 2008. Technology has quickly transformed the way we communicate with each other.
Living in a digital world means we must know how to use the Internet, technology, and all that comes with it. Threats are growing, and so we all need to be aware of the risks and take steps to protect what's important to us.
When it comes to emojis, we need to understand what they are, what they're for, and how we can use them to their fullest potential.
Tech Emojis
In line with that, we've compiled a quick guide to some of the most popular tech emojis to help you get started.
Camera Emoji

No one can deny we're living in the age of the selfie. Everyone seems to be taking so many selfies with their cameras!
A quick self-portrait, created with a smartphone camera and instantly transmitted to the network, is an instant visual communication of where we are and what we're doing. This trend is what makes this emoji so important.
The 📷 Camera emoji shows a black single-lens digital camera, used to take simple digital photos or videos.
How to use the 📷 Camera emoji:
– I finally saved up all my money to buy a DSLR 📷. After taking a few photography lessons, I already feel like a pro!
– One of the first things I look at when I buy a phone is the 📷 because I love taking selfies!
Camera With Flash Emoji

A variant of the 📷 Camera emoji is the 📸 Camera With Flash emoji. This emoji shows a camera with its flash going off, used when taking a picture in a dimly lit or dark setting. It looks like a 📷 Camera emoji, except it comes with a burst of yellow light.
How to use the 📸 Camera With Flash emoji:
– When I was a kid, I was squinting at all the photos taken of me because of the 📷 my parents used, it was like this 📸 and it had 💥
– Red eyes happen in photos when you use a 📸 and the light goes through the person's pupils and reflects from the blood vessels in the eye into the camera lens.
Mobile Phone Emoji

Mobile phones have really changed the way we communicate. They are the most used communication tool today. This is what makes this emoji so important!
The 📱 Mobile Phone emoji shows a touchscreen smartphone, a multipurpose modern phone. Platforms show a screen with multicolored squares to represent apps or a blue home screen wallpaper. Since most phones have cameras, you can combine the 📱 Mobile Phone emoji with the 📷 Camera emoji in your texts, emails, or social media posts.
How to use the 📱 Mobile Phone emoji:
– My nephew is already using the 📱 I gave him for Christmas last year! It comes with a high-resolution 108-megapixel primary 📷
– I think the first thing anyone does when they wake up is to look at their 📱
Mobile Phone With Arrow Emoji

Here's another cool tech emoji variant—the 📲 Mobile Phone With Arrow emoji. This emoji shows a mobile phone with an arrow pointing to it from the left, used to represent an incoming call or message.
How to use the 📲 Mobile Phone With Arrow emoji:
– I loved catching up with you, but I need to go, 📲 got to answer it!
– Didn't you see I called you? 📲 The boss has been looking for you the whole day!
Television Emoji

You can't have a tech emoji list without a TV! TV, or television, is a form of entertainment that's readily available and comes with a wide variety of choices. If you like politics or drama, mystery or satire, there's no lack of shows you can enjoy.
If you want to talk about TV or shows you enjoy, the 📺 Television emoji is the symbol to be used. This emoji shows a traditional television box set used in the past, with knobs and antennae on some platforms.
How to use the 📺 Television emoji:
– I can't wait for the weekend so I can watch my favorite 📺 shows with a bowl of popcorn by my side.
– I can't get our 📺 fixed, so I asked our neighbors for help.
Computer Emojis
It seems like there are computers everywhere these days! There are computers at school, in all the offices, and almost everyone has at least one in their house. Some people even have cell phones that are like computers, too!
Since computers are visible and actively used in all sectors of society, it all the more is important to be familiar with the computer emojis and other symbols that represent them.
Laptop Computer Emoji

The 💻 Laptop Computer emoji shows an open laptop, commonly used as a portable personal computer. This emoji features a Macbook on the Apple platform.
How to use the 💻 Laptop Computer emoji:
– My dream 💻 is a MacBook Air, as a graphic designer who works remotely, I like how lightweight it is, I can pop it in my bag, and take it with me anywhere.
– Jane just told me before the staff meeting she spent all her savings on buying her kids 💻 for their home school.
Desktop Computer Emoji

The 🖥️ Desktop Computer emoji shows a desktop computer monitor. It shows an image of the iMac on the Apple platform. On platforms like Google and JoyPixels, a keyboard is included in this emoji.
How to use the 🖥️ Desktop Computer emoji:
– Cleaned and got a new upgrade for my 🖥️ it's so fast now!
– What a way to start the week, my 🖥️ is 🔒​ and I forgot the password!
Printer Emoji

The 🖨️ Printer emoji shows a gray printer filled with paper.
How to use the 🖨️ Printer emoji:
– I used the quarantine season to write a couple of 📚 and I am so excited that they will all be published this year 🖨️
– Bob went out to buy ink for his new 🖨️ It looks better than all the other printers we have in the office.
Keyboard Emoji

The ⌨️ Keyboard emoji shows a gray or white desktop computer keyboard, an input device that uses a series of finger buttons called keys to enter or modify data on a computer or other device.
How to use the ⌨️ Keyboard emoji:
– I've spent the whole day typing on my ⌨️ and my fingers hurt so much!
– Amazon is the best place to buy quality ⌨️ online.
Computer Mouse Emoji

The 🖱️ Computer Mouse emoji shows a white, gray, or black cordless computer mouse, a portable hardware input device used to transfer and choose text, icons, folders, and files. Apple's version shows an Apple Magic Mouse, with a smooth surface and one touch-button.
How to use the 🖱️ Computer Mouse emoji:
– After designing hundreds of posters, I think the 🖱️ I had for more than five years finally gave out!
– Is your 🖱️ broken? Why don't you try using the trackpad on your computer as a 🖱️
Trackball Emoji

The 🖲️ Trackball emoji shows a colored illustration of a cordless trackball, a cursor control device found in notebooks and laptop computers.
How to use the 🖲️ Trackball emoji:
– I'm very happy with the Logitech 🖲️🖱️ I bought, it can last for 18 months without cleaning.
– Want to get through all your documents faster? Use a 🖲️ with an optical 🖱️ and scroll wheel.
Battery Emoji

The 🔋 Battery emoji shows an illustration of a small green electric battery. Cylindrical in size, the battery contains white indicators for its negative and positive terminals. You'll usually see this symbol in posts related to electricity, energy, and power.
How to use the 🔋 Battery emoji:
– After drinking three cups of ☕ I am so full of energy today 🔋
– I am so 😀 when my📱 is fully charged 🔋 I feel so lost when my 📱 shuts down!
Electric Plug Emoji

The 🔌 Electric Plug emoji shows a thick wire, plugged into an electrical socket to provide power to a device. Depicted as a black plug with two gold prongs at the end of it. Commonly used for various literal and figurative content related to electricity and power.
How to use the 🔌​ Electric Plug emoji:
– When I was in college, I worked three jobs just to buy an ​🎸​🔌​
– It's important to ​🔌​ 🧠 with informative content on a daily basis.
Satellite Antenna Emoji

The 📡 Satellite Antenna emoji shows an image of a dish-shaped satellite antenna used to receive or transmit information from a communication satellite. Commonly seen in discussions relating to satellite television, the Internet, and the radio.
Commonly used to represent satellite television, radio, and Internet, as well as broadcasting, streaming, cellular, and wireless services or technologies. The 📡 Satellite Antenna emoji may also represent various concepts of signals and transmission.
How to use the 📡 Satellite Antenna emoji:
– My uncle, who is a truck driver, is looking for a portable 📡 so he can entertain himself while on the road.
– Did you know that you can build a makeshift 📡 using only a broken car radio and clothes hangers?
Video Camera Emoji
The 📹 Video Camera emoji shows the side of a video camcorder, a portable electronic recording device used to record live-motion video and audio for later playback.
How to use the 📹 Video Camera emoji:
– I am up early, I need to ​📹​ the🤽‍♀️ competition​ for work.
– I can't believe a world without ​📹​🎱​🎲​🎳​, can you?
Retro Tech Gadgets Emojis
No matter how sophisticated technology becomes, our first (and favorite) gadgets will always have a special place in our hearts! Whether it was our first computer, our first mobile phone, or that beloved and bashed-up music player that kept us company in high school, we'll never forget the hours of joy they gave us.
If retro gadgets constantly make you nostalgic for the good ole days, and you enjoy sharing your thoughts and feelings about these things online, Emojiguide has a nice list of classic gadget emoticons to spice up your texts and social media posts.
For a complete walk-through, check out our list below.
Video Cassette Emoji

The 📼 Video Cassette emoji shows a colored illustration of a videotape cassette, used in the past to watch movies or record TV content for playback.
How to use the 📼 Video Cassette emoji:
– I got it on 📼! I recorded the entire performance of my daughter in her school play.
– How would you like me to send the 📼 I recorded of our client's event for your post-event press release?
Fax Machine Emoji

The 📠 Fax Machine emoji shows a device that transmits documents over a phone line. A fax machine is an obsolete means of communication, very, very few businesses still use it to send and receive information.
Depicted as a black or white machine with a keypad, display screen, telephone handset, and paper in its tray.
How to use the 📠 Fax Machine emoji:
– Our office still has a ​📠​ with a current ​📠​#️⃣​ can you believe it?
– Lisa shared with me how she used to clean 📠 📠 when she was still an intern in our office.
Telephone Receiver Emoji

The traditional landline is being endangered by the rise of mobile devices. It explains why the 📞 Telephone Receiver emoji is on this list. In fact, less than 20 percent of Americans currently own a home phone.
Most millennials don't know what a landline is, but for those who grew up with residential phone service or for those who grew up at a time when there were phone booths on every street corner, this emoji is especially for you.
The 📞 Telephone Receiver emoji shows a black telephone receiver on most platforms, with a speaker to hear the other speaker and a microphone to speak into when making a call. You'll see this symbol in content related to literal and figurative phone-calling.
How to use the 📞 Telephone Receiver emoji:
– Oh no, I forget to ask for the ​📞​💳​ of the potential buyer of our new house.
– Whenever we have an office party, Harold needs to ask his wife if he can come. His wife ​📞 ​the 💉 ​in every aspect of his life.
Pager Emoji

In 2021, if you want to meet someone, you contact them through Facebook first. Easy! That was not the case in the '90s. Most people would carry a pager in their pocket, and on its screen would flash a phone number. If you were in public, you'd have to look for a phone to call the number and schedule a meeting.
That said, if you are a '90s kid or a '90s adult, this emoji is for you! The 📟 Pager emoji is an image of a tiny pager. The color of the screen varies from green to yellow, depending on the platform you're using.
How to use the 📟 Pager emoji:
– If you're a '90s kid, you know the feeling of waiting for your boyfriend to send you a message on your 📟 telling you where you will both meet for your next date!
– I spent the whole weekend looking for my old 📟 in my cabinet. I know it's there, somewhere!
Floppy Disk Emoji

Before the Internet was open to the public, people used floppy disks to save and trade files and programs. A floppy disk is a thin, plastic disk covered in a magnetic material. Students and professionals used floppy disks to store and back up various files.
For example, a word processing file could be copied to a floppy disk and opened on another computer. Think of them as the flatter, older version of the USB flash drive.
If you relied on floppy disks to store information, or if you remember carrying a stock of floppy disks to every school or office meeting, you can relive those days of yore with the cute little 💾 Floppy Disk emoji.
The 💾 Floppy Disk emoji shows a square-shaped device used in the past to store data. It is seen today as a Save icon on most modern computer programs.
How to use the 💾 Floppy Disk emoji:
– I always forget to 💾 my work, thank goodness I use Google Documents, my reports are automatically saved!
– When I was a kid, I remember formatting my 💾 before using it to save my book reports.
Computer Disk Emoji

The 💽 Computer Disk emoji is an image of a small mini disc, a gold or silver optical disc encased in a square cartridge, with its door at the right.
From the '90s to the early 2000s, this small mini disc was used to play music and store data. Unfortunately, it was discontinued in 2013, when people began to use CDs and MP3's a whole lot more.
Even if people don't use computer disks anymore, you might still see this emoji online. It is commonly used to represent DVDs, CDs, along with a variety of music and film content.
How to use the 💽 Computer Disk emoji:
– Who else remembers playing with the 💽 drive when you were a kid? I'd put a 💽 in, press the eject button, get it out, then put it in again.
– A standard 💽 back in the day, could only record 80 minutes of audio, or 700 MB of data.
Conclusion
With the explosion of text message interactions over the last few years, emojis have become one of the fastest-growing forms of communication. They build a sense of common language. You can understand what an emoji is trying to convey, whether you speak Japanese, English, or Spanish.
Emojis As A Reflection Of Humanity
Why do people like emojis so much? Perhaps it's because emojis reflect so much of our humanity – where we go, what we drink, what we eat, what we do. They tell our story in the simplest of ways through cute, tiny characters. When life becomes too complicated, emojis remind us of the beauty in simple things.
Tech Emojis At The Forefront
As the emoji lexicon continues to grow month after month, year after year, out of all the emoji groups present, tech emojis are the ones expected to increase in number the most.
And the reason for that is actually quite simple—it's because everyone is touched by technology nowadays, and everybody wants to talk about it, whether it's a phone or a laptop they purchased. Technology is radically changing our lives, and emojis are eagerly witnessing this wonderful change.