Easter Emojis: Make 🐰 Easter The Most Special One Yet With 🐣 Fun Emoji Party 🎉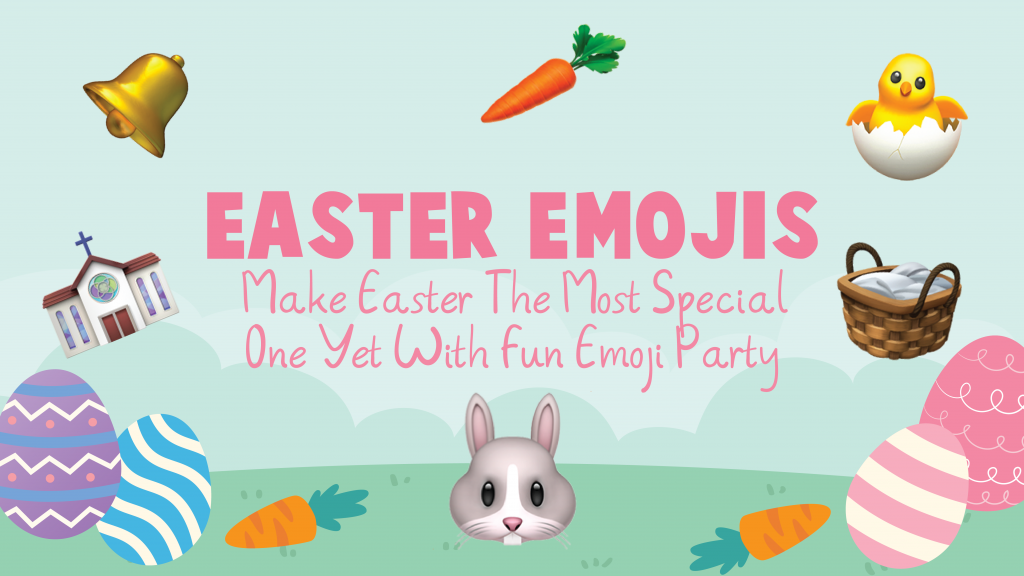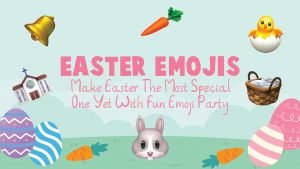 Holidays are a time for family and friends to get together. Easter, especially, calls for egg hunts, parades, and other activities organized by various communities and commercial establishments. Unfortunately, since things aren't 100 percent back to normal yet, Easter activities will most likely be done virtually. But that doesn't mean you shouldn't connect and celebrate with your loved ones! With the help of your laptop, some props, and our special list of Easter emojis, you can still enjoy all the fun and traditional aspects of Easter.
From virtual Easter egg hunts to Easter bingo, here are some suggestions to have a fun virtual celebration.
Easter Emojis
Before we get into the nitty-gritty, we need to go over some of the basics first, like Easter emojis and Easter symbols. Why is this so? Since most of the events will be done virtually, you will definitely be dealing with a lot of Easter symbols and Easter emojis to make your digital parties look and feel more realistic. So, how to go about it? Well, the good news is, you won't have to look very far because we've got most of the symbols you need right here. Check out our Easter emoji collection below.
Rabbit Emoji

First on our Easter emoji list is the 🐇 Rabbit emoji. It shows a rabbit looking to the left. The rabbit has a white body with pink ears and a pink nose. This emoji is often used to represent the Easter Bunny, a folk character and a symbol of Easter, portrayed as a rabbit carrying Easter eggs.
How to use the 🐇 Rabbit emoji:
– Every Easter, I buy a new 🐇 and keep it as a pet.
– What does a 🐇 have to do with Easter? One theory of the Easter Bunny's origins is that it stemmed from early pagan celebrations. Pagans worshipped the goddess of dawn and fertility, Eostre, who was often represented by the hare or an egg.
Rabbit Face Emoji

The 🐰 Rabbit Face emoji shows a white and gray rabbit face. The face is looking ahead, with upright ears, pink ears, and a pink nose. Commonly used in a more affectionate tone than the 🐇 emoji. Like the 🐇 emoji, it is often used to represent the Easter Bunny.
How to use the 🐰 Rabbit Face emoji:
– ​Every year, my daughter waits for the 🐇​🐰​🥚​ to pass by our house and give us candy and chocolate eggs.
– Whenever I have an exam, I always put my ​🤞​🐇​🦶 ​keychain in my pocket. It truly is my lucky charm. I've never failed an exam since!
Carrot Emoji

The 🥕 Carrot emoji shows a whole, bright orange carrot, topped with long green leaves as if freshly plucked out of the garden. Some platforms have a longer, thinner carrot, others a shorter, more bulbous one.
How to use the 🥕 Carrot emoji:
– Any suggestions on how to make our family like 🥕? They hate it, but I just learned one glass of 🥕​🥤 has about 800 percent of your daily recommended intake of Vitamin A and 16 mg of beta-carotene, more than enough to meet one's daily requirement.
– Looking for a picture of an Easter Bunny with a 🥕 in its mouth for our virtual Easter scavenger hunt tomorrow.
Hatching Chick Emoji

Third on our Easter emoji list is the 🐣 Hatching Chick emoji. This 🐣 Hatching Chick emoji shows a baby chicken hatching from an egg. The chick is yellow with an orange beak. You'll often see this emoji used in an affectionate tone. The 🐣 Hatching Chick emoji may also be used to depict various types of baby birds. Some people use it in conversations related to Spring or Easter.
How to use the 🐣 Hatching Chick emoji:
– At my parent's farm, I ​saw a 🐥🐣 ​​​and it was such a beautiful and special experience 💖
– For our Easter movie marathon, me and my nieces and nephews watched the Disney movie ​🐣​🏃‍♂️​💨​ a 2000 stop-motion animated adventure comedy film, and we loved it!
Baby Chick Emoji

The 🐤 Baby Chick emoji is an illustration of a yellow baby chicken with an orange beak. Variously portrayed as a chick in full profile, standing on its legs, or as a chick head. Many people use this symbol with an affectionate tone. The 🐤 Baby Chick emoji is commonly used in topics related to baby birds, chicken foods, Easter, and Spring.
How to use the 🐤 Baby Chick emoji:
– After watching that tennis game, why do I have a feeling there is some ​🐧​🐦​🐤​🎮 ​involved?
– Want to have strong bones? Eat ​🐤​🍐​! The iron, calcium, and other nutrients in 🐤​🍐contribute to healthy bone structure and strength.
Egg Emoji

The 🥚 Egg emoji is seen as a chicken egg with a light brown or white shell. Commonly used during Easter.
How to use the 🥚 Egg emoji:
– What do I want for breakfast tomorrow? 🥚 and 🥓 please!
– When I was a kid, I wanted my 🥚 to be sunny side up. Now that I am an adult, I would rather have my 🥚 scrambled!
Chocolate Bar Emoji

The 🍫 Chocolate Bar emoji shows a block of dark chocolate, normally displayed in a red foil wrapper, peeled back to reveal a series of candy squares. WhatsApp depicts a purple wrapper, a color usually associated with the chocolate brand Cadbury.
How to use the 🍫 Chocolate Bar emoji:
– ​Spent the whole weekend doing a ton of Spring cleaning. I think I 🍫​➡️️​😋!
– The ultimate Easter treat for grown-ups is Burdick's 🍫🥚. No one can resist their assorted crispy centers!
Church Emoji

Our next entry in our list of Easter emojis is a more serious one. We are talking about the ⛪ Church emoji, a colored illustration of a church building characterized by a cross atop its steeple. A church place of worship for Christians, generally associated with Christian denominations.
Why is this included in the list? Because for Christians all over the world, Easter, also known as Resurrection Sunday, is a festival and holiday commemorating the resurrection of Jesus Christ from the dead.
How to use the ⛪ Church emoji:
– When you go to ​⛪ and you do not feel the ⛪​👻​ in that place, something could be wrong in that church!
– For almost a decade, I would sing at the Resurrection Sunday service ⛪ Nothing beats serving the Lord with your talents and gifts.
Basket Emoji

The 🧺 Basket emoji shows a picture of a basket used to hold various items like picnic food or laundry. Come Easter time, bunnies are placed inside a basket filled with eggs. Most platforms show a woven basket with two handles. Commonly used to represent doing laundry, having clothes cleaned, or having a picnic outside.
How to use the 🧺 Basket emoji:
– Every year, my kids leave a 🧺out overnight for the Easter 🐇to fill with candy, toys, and gifts on the night before Easter.
– Fixing my Easter 🐇 for the Easter egg hunt this afternoon! I hope to catch a lot of eggs!
Cherry Blossom Emoji

A refreshing entry to our Easter emoji list, the 🌸 Cherry Blossom emoji depicts a pink flower, one plucked from a cherry tree. It has five petals and a white or yellow center. One of Japan's national flowers, the 🌸 Cherry Blossom emoji is used to convey romantic movements.
You might be thinking, so how is it related to Easter? Easter season is a time of renewal and rebirth, and nowhere is that more evident than in our gardens. From the evergreen shrubs to the bright bulbs, the arrival of Spring signals to the flowers that it is time to bloom freely!
How to use the 🌸 Cherry Blossom emoji:
– The best time to go to Japan is during the 🌸 season, from late March to early April. You will see 🌸 wherever you go! It is in full bloom throughout the country.
– Hirosaki Park in Japan is filled with so many 🌸 that the sky is hardly visible. Can you believe that?
Blossom Emoji

The 🌼 Blossom emoji shows an image of a white and orange flower in full bloom. The flower's petals are yellow or white or both, with a golden center. Commonly used on Valentine's Day, Mother's Day, and other special occasions. It can be used more broadly to express concepts like passion, gratitude, and satisfaction.
How to use the 🌼 Blossom emoji:
– One of my favorite childhood memories is being a ​👧​🌼​🌻​🌷 ​at my aunt's wedding.
– One of the perks of living in the countryside is witnessing the seasons change, from ​🌼​➡️️​🍂​
Seedling Emoji

The 🌱 Seedling emoji shows a young and small plant on a tiny mound of earth. Depicted as a thin, light green plant with a short stem and two leaves, and often used for different content related to Spring plant life and new growth.
How to use the 🌱 Seedling emoji:
– What a way to start the week! When I woke up this morning, my first seedlings in the garden appeared! 🌱
– ​🌱​🍃​🌞 ​and I could not be happier! I hate the Winter and the chilling cold!
Ribbon Emoji

The 🎀 Ribbon emoji is an illustration of a pink or red ribbon wrapped in a bow. It is generally associated with things that are beautiful, cute, or unique.
How to use the 🎀 Ribbon emoji:
– Whenever I am asked to speak in public, I always end up ​👅​🎀​
– I tied all the Easter candy boxes I give away with a 🎀​ because pink is my favorite color!
Bell Emoji

The 🔔 Bell emoji shows an illustration of a gold or yellow bell, typically used on cell phones as an icon for alerts or ringing sounds.
How to use the 🔔 Bell emoji:
– When my brother was in high school, he'd be at school right on time, like that '90s show, ​💾​🔔​
– The awkward moment when you're at a meeting and your cellphone 🔔 and you try to put it on silent mode, but you accidentally make the sound louder!
Latin Cross Emoji

The ✝️ Latin Cross emoji depicts a cross with a longer vertical line crossed with a shorter horizontal line, used as a symbol of Christianity.
How to use the ✝️ Latin Cross emoji:
– As a Christian, the most important Easter symbol is this ✝️ a sign of both Christ himself and of the faith of Christians.
– I wear my necklace with a ✝️ pendant wherever I go to protect me. I feel that Jesus is with me.
Folded Hands Emoji

The 🙏 Folded Hands emoji, or more commonly known as the 🙏 Praying emoji, shows two hands placed firmly together, meaning please or thank you in Japanese culture. A common alternative use for this emoji is for prayer, if you want to show that you are praying for someone, use this emoji.
How to use the 🙏 Folded Hands emoji:
– During Lent, I try to stay away from meat and I try to 🙏 more.
– One should never underestimate the power of 🙏
Raising Hands Emoji

The 🙌 Raising Hands emoji shows two hands raised in the air, celebrating an achievement or another happy occurrence.
How to use the 🙌 Raising Hands emoji:
– Don't praise Jesus only on Easter, praise Him everyday 🙌
– How my hands look like every Friday afternoon 🙌 Who does not love the weekend?!
Honey Bee Emoji

The 🐝 Honey Bee emoji has a black and yellow bee with a striped tail and two legs. The bee, an insect that lives in a hive and makes honey, faces left in this emoji. This symbol is widely used to represent various types of bees and wasps.
How is this related to Easter? The connection between the 🐝 Honey Bee emoji and Easter is quite simple- Easter happens in the Spring, and Spring is the time of year when many flowers start to bloom and when bees are at their busiest.
In case you didn't know, bees feed on the nectar and pollen of flowers, they use the nectar as an energy source and the pollen for protein and other nutrients.
How to use the 🐝 Honey Bee emoji:
– Is it just me, or are there a lot of 🐝 in the garden during Easter?
– In high school, Jenny was so popular, she was the ​👸​🐝 ​in her class.
Virtual Easter Scavenger Hunt
Online scavenger hunts are entertaining activities groups can get into remotely. Similar to the Easter egg hunt, a scavenger hunt sends players to search the house for clues, but instead of looking for eggs, players find items or perform acts related to Easter or Spring.
Before a scavenger hunt, players are usually given a list of actions to do and things to look for. It's even more fun if you present your scavenger hunt clues as challenging riddles for your players to guess! You may also use the various Easter emojis on our Easter emoji list to decorate your clue list. Just copy an emoji from our list above, and paste them on your printable scavenger online template! You'll find many of those online.
Virtual Easter Bingo
Virtual Easter bingo is a fun and easy game you can play with your nearest and dearest. To begin, send each player an Easter-themed card. In a creative mood? Then why not create the cards yourself? Pick an Easter emoji from the list to decorate your cards with. We're sure you will find a symbol that will tickle your fancy!
Once all the players have their cards, split the participants into Zoom breakout rooms or speak as a group and jot down the names of the players in the given squares. To encourage guests to talk to speak to as many people as possible, players cannot re-use the name of the same person in any consecutive column, row, or diagonal.
Easter Icebreaker Game
Posing fun questions is a great way to jumpstart conversation at any party, especially if your guests don't know one another. Here are a few questions you can ask:
What is your favorite Easter candy, and why?
Have you ever taken part in a church play or religious activity? What was your experience like?
If you were asked to hide an Easter egg, where would you hide it to make sure it stays hidden?
Goodbye, Easter Bunny! If you were asked to choose a new animal to be the Easter mascot, which one would you choose, and why?
You've got a yummy chocolate Easter bunny, do you eat its ears or feet first?
What are some of your favorite childhood Easter memories?
If your group is big, feel free to split up into breakout rooms to give each guest a chance to explain their answers. Otherwise, have each guest respond in front of everyone so that the guests get to know one another.
Chubby Bunny Game
There's no better time to play this game than on Easter!
First, make sure each player has a pack of marshmallows beside them. Then, ask all the players, one by one, to place one marshmallow in their mouth and say, "chubby bunny." Every round, each player adds one marshmallow to what is already in their mouth and repeats the phrase. When a player cannot fit any more marshmallows in his or her's mouth, he or she is out.
Keep doing this until only one player remains, or you run out of marshmallows. To help you keep track of each member's performance and to help make the game even more festive, use a Chubby Bunny scorecard. Before you use it, why not design your scorecard with all your favorite Easter emojis to get you in the holiday spirit?
Online Easter Egg Decorating Party
Host an egg dyeing party with friends and family via a video chat service like Skype or Zoom. Send guests a proper invite together with instructions for basic egg dyeing days before the party, and maybe some additional techniques using popular household materials so that they can have everything ready to go when the virtual party begins!
Instead of mailing paper invitations where you have to venture out to the post office, why not just send a virtual invite?
In keeping with the event's theme, to make things a little more festive, why not incorporate Easter designs from our Easter emoji list?
If you're feeling up to it, you can also record a video invitation and text it to your friends. Include the date and time, and instead of a physical location, include the social platform you will use, like Zoom, for instance.
Talk About Your Event On Social Media
Your work isn't over until the last guest exits the venue or, in this case, leaves the chatroom. As a matter of fact, it's just getting started. What we mean by this is if you want your Easter virtual event to have a lasting impact, you should get active on your social media accounts, blogs, or vlogs, to gain strong post-event engagement.
Remember to include a thank you message, photos from the event, a collection of GIFs and memes compiled from the event, and a montage of testimonials and event highlights. As you create each post, don't forget to include your favorite Easter emoji, or Easter emojis, in all of them.
Why is it so important to use emojis? According to a report made by Sprout Social, a social media platform for businesses, emojis can create a massive boost in engagement when used correctly. This could be because emojis stand out in text posts and have a casual and friendly appearance. Emojis have become so big both users and marketers are able to tap into themed conversations with emojis, which is similar to what people are already doing with hashtags.
Still not convinced? Based on an article by prominent online news publication Social Media Today, based on various studies, on Facebook, posts with emojis get 57 % more likes, 33 % more comments, and 33 % more shares than posts without emojis. On Twitter, tweets with emojis get 25.4% more engagement, and on Instagram, nearly 50% of all captions and comments contain emojis.
Conclusion
In closing, before you get to work on all your fun Easter activities, don't forget to make a schedule and stick to it. Even though you may not be leaving the house, you want to make sure your at-home Easter party is still on track.
In addition to thinking about your schedule, think about your guest's schedules, too! For example, if kids will be involved, you might want to schedule your games earlier. Believe us when we say, whether you're hosting an egg decorating party or an Easter happy hour, you'll be so glad you kept everything organized with a timeline.
Finally, and we can't say this enough, it's very important to tap into the vast and expanding world of emojis if you want good post-event engagement on your social media accounts.
Oh, and don't forget to have fun, too! This is the perfect time to incorporate new Easter family traditions into the family, traditions that may even be passed down through generations, from one generation to the next. How great is that!