Level Up Your ⭐️ Emoji Game With The World's Top 5 📱 Mobile Messaging Apps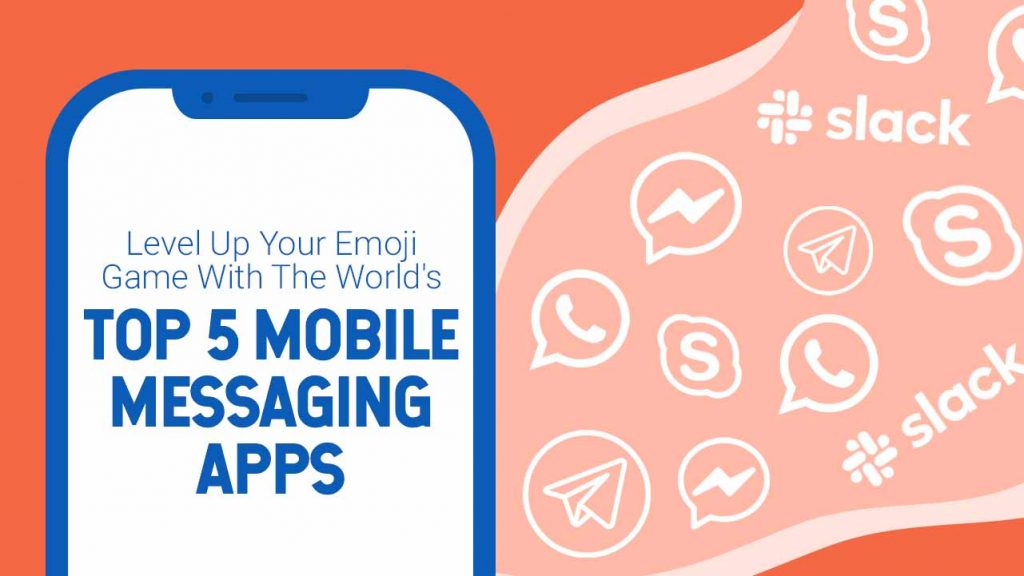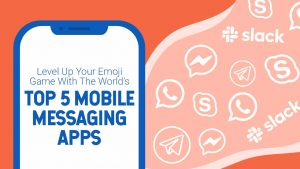 Remember the days when phone booths stood on every corner? If you had to talk to someone, you'd step inside the booth, lift the phone off the hook, dial the number, and hear it ring. And for only 25 cents, in the quiet of the booth, you could tell your spouse you'd be coming home late, update your boss on what's going on, or check up on your kids.
If you're over 30 years old, you do. As fun as that might be for you, times are changing, and phone booths are long gone. At present, if you're stuck in traffic, there's no need to look for a phone booth if you urgently need to communicate with someone. You can either call, text, or drop a line through messaging apps like WhatsApp or Viber.
Most companies, whether small or big, use mobile messaging apps to communicate with their colleagues, clients, bosses, teammates, and even customers. Even private individuals use mobile messaging apps to communicate with their family and friends. Why are mobile messaging apps so big, and why do some people prefer messaging apps over phone calls or emails?
After doing a little research, here's the answer we've come up with – mobile messaging apps offer a superior alternative to texts and email thanks to built-in social networking features, enhanced security, and free video calling over Wi-Fi or data plans. Plus, messaging apps like Facebook messenger, Skype, and WhatsApp are image-based and use emojis.
Who doesn't love emojis? Emojis, even the most basic ones like the ❤️ Red Heart emoji express emotion, thought, or concept in a simple, graphical way.
Emojis In Mobile Messaging Apps
Indeed, emojis are the best way to communicate these days. Emojis help you convey your feelings to the opposite person. They make the conversation more interactive. In fact, did you know that, as communications on mobile messaging apps become more image-based through the use of emojis, brands like General Electric and Coca-Cola have even created their own branded emojis to engage their customers in a new and exciting way?
If you're a company manager or business owner, you need to choose the right mobile messaging apps to use for your team, whether you're in charge of one team or multiple teams. Never is a meeting just a simple gathering online; each business is unique in the way the team members communicate and collaborate on tasks, so communication tools need to come with a wide variety of options to suit as many business models as possible.
In the following sections, we talk about the most popular messaging apps today and how to find and use the emoji features in them.
WhatsApp
WhatsApp Messenger, more popularly known as WhatsApp, is a free, cross-platform messaging app and Voice Over Internet Protocol service owned by Facebook. It allows users to send voice and text messages and make video calls and voice calls. Users can also share documents and images when they use WhatsApp.
WhatsApp's client application runs on mobile devices but is also accessible from desktop and laptop computers as long as the user's cell phone is connected to the Internet while they use the desktop app. This is pretty much one of the biggest flaws of WhatsApp, but users still enjoy the app, anyway. In fact, more than 2 billion people in over 180 countries use WhatsApp.
How To Find And Use Emojis On WhatsApp
iPhone
Emojis aren't built-in to WhatsApp for the iPhone. But there is a workaround – you can still use emojis on your iPhone with an emoji keyboard.
1. Check to see if your iPhone's emoji keyboard is activated.
2. To do so, open the Settings feature on your iPhone.
3. Go to General.
4. Scroll down and click on Keyboard.
5. Make sure Emoji is on there. If it isn't, tap Add New Keyboard, and then tap Emoji. That should do the trick.
6. Tap the WhatsApp icon. It's a white phone icon inside a white speech bubble encased in a bright green box.
7. Click on the Chats button. It is located at the bottom of the screen. If WhatsApp opens to a conversation, click on the Back button at the top left corner of your screen.
8. Click on a conversation; this will open the conversation. You can also click on the pencil and pad icon at the top right portion of the screen. Once you do that, you can make a new message.
9. Click on the white bar at the bottom of the page. If you are starting a new conversation, tap on the contact's name.
10. Tap the button with a drawing of a Globe at the bottom left corner of the iPhone keyboard. If the emoji keyboard is the only other keyboard you have on board, the icon looks like a smiley face.
11. Tap the emoji keyboard icon and select an emoji. Tap one of the tabs at the bottom of the screen to choose a specific group of emojis, or swipe left over the emoji keyboard to check out all the available emojis.
12. For the final step, look for the button with an arrow on the right side of the chat bar. Tap it to send your emoji. It's that easy!
Android
1. Open WhatsApp on your Android device. It's a green app with a white phone icon and a white speech bubble on it.
2. Tap the Chats button near the top of the screen. If the app suddenly opens to a conversation, just tap the Back button at the top left side of the screen.
3. Click on a conversation to open an existing conversation, or if you want to start a new conversation, tap the New Message button at the lower right corner of the screen.
4. Click on the emoji button. You won't miss it; it's the smiley on the left side of the chat bar at the bottom of the screen.
5. Pick the emoji you want to use. Click on a tab near the top of the emoji window to browse through emoji categories, or swipe left across the emojis to scroll through them.
6. Now, here is the last and final step, click on the button with the arrow to send your emoji to the person or group you are conversing with. The arrow button is on the right side of the chat bar. You won't miss it!
How To Use Emojis At Work On Whatsapp
So you saw your colleagues in your WhatsApp group use emojis to talk to one another, and you want to do the same. That's great! Injecting emojis will help your interpersonal relationships at the office. But before you do, remember to stick to the simplest emojis. This is because emojis can be tricky to interpret, so stay away from the sassy ones and the ambiguous ones (don't even touch that Middle finger or Eyeroll emoji!).
Here are some common case scenarios for you to practice on.
Clapping Hands Emoji

Use the 👏 Clap emoji to congratulate your colleague who got a promotion.
Hey, I heard you got promoted to manager! Congratulations 👏
Thumbs Up Emoji

Use the 👍 Thumbs Up emoji when your manager asks you if you understood his or her instructions for the week.
Yes, I did, 👍 Thank you for taking the time to explain this to me.
Star Emoji

Use the ⭐ Star emoji when you want to recognize an officemate who's been stepping up lately.
I love how you lead the meeting earlier. You gave great insights and recommendations for our next event ⭐
How To Use Emojis While Talking To Family And Friends On Whatsapp
Who says WhatsApp can only be used for work? Some people use it to catch up with their friends and family. Let's look at a few ways you can use emojis in WhatsApp convos.
Smiling Face With Heart Eyes Emoji

Use the 😍 Heart Eyes emoji when you're talking to a friend about your crush.
I just saw my neighbor raking the leaves, and man, he always looks so hot, even in the early morning 😍
Thumbs Up Emoji

Use the 👍 Thumbs Up emoji when you talk about a trailer you like with a friend:
I finally saw the previews for the new Wonder Woman movie 👍👍👍👍 I can't wait to see the whole thing!
Skype
Next on our list of messaging apps is Skype. Skype is a voice over Internet Protocol (VoIP) service that lets people call and receive voice and video calls over the Internet with a computer, web browser, or mobile phone. You can also share files directly via Skype's chatbox.
Most of Skype's features, like emojis and stickers, can be found on other popular messaging apps like Facebook Messenger and WhatsApp. But these add-ons appear more creatively on Skype. You'll like the lively emojis that never stop moving and showing their emotions!
How To Find And Use Emojis On Skype
Feeling 😀 or in a 😥 mood? Many times pictures speak louder than words. Use Skype emojis to liven up all your conversations, or add them to your messages to let your friends and family know how you are feeling! You will surely have fun with this messaging app!
Here's how to do it! Do note that Windows, Mac, and Android devices follow roughly the same procedure.
1. Tap the smiley face icon at the bottom right of your chat window, or you can use a keyboard shortcut, a group of characters, or a specific word in brackets. How to see the keyboard shortcut? Just hover over an emoji!
2. You can now insert a wide variety of emojis!
3. Use the gray arrows at the bottom of the pop-up window to scroll through the available categories. In addition, did you know you can personalize emojis before sending them out? If you are using Skype from your desktop, right-click on the emoji, or if you are using Skype from your phone, just tap and hold the emoji.
This is one of the things we love about Skype, and it truly makes the app stand out from the rest – did you know Skype also offers "Mojis," GIFs, and stickers? Mojis are short video clips of classic TV and film moments. Want to tell your friends you're in a Carrie Bradshaw type of mood and you'll be walking down the street in a big, green feather hat? Show it with a moji!
Excited to use Skype emojis at work or with family and friends? Here are a few examples to get you started.
How To Use Emojis At Work On Skype
Thinking Face Emoji

Use the 🤔 Thinking emoji when your colleague asks you if you have any ideas for your presentation next week.
I am still preparing for it, will give you a list of my ideas and recommendations later 🤔
Person Shrugging Emoji

When an officemate asks you if you are craving for anything since she will be ordering lunch for the team, you can use the 🤷 Shrugging emoji to express you have no preference.
I am not craving anything 🤷 I will let you guys decide.
Crying Face Emoji

Use the 😢 Crying emoji when a difficult client says you did a good job.
I am 😢 now with happiness. Mr. Santos loved the Microsoft convention we organized! You all know how thorough he can get!
How To Use Emojis While Talking To Family And Friends On Skype
B Button Blood Type Emoji

Use the 🅱️ B emoji when you're talking about donating blood.
After recovering from COVID-19. I decided to donate my blood, platelets and plasma. I wonder if they accept my blood type, 🅱️
Clown Emoji

Use the 🤡 Clown emoji when you want to talk about clowns, clowns in general or clowns as part of a show, like the circus.
I miss bringing my niece to the circus. She likes seeing the 🤡 and the elephants and magicians, but I don't think the circus will be coming to town this year due to the virus.
Yawning Face Emoji
Use the 🥱 Yawning Face emoji when you saw a movie or TV show so boring, it made you yawn a lot!
I was 🥱 the whole time while watching Mulan. What a boring movie!
Slack
Slack is a business communication platform created by American software company Slack Technologies. With Slack, team communication can be done with a single application, reducing time spent in meetings or sending emails.
Slack provides real-time instant messaging and file-sharing in group chats and one-on-one conversations. In all those conversations, users can add emojis to their messages or share their reactions to messages with emojis! Looking for quotes to include in your post-event report? Slack comes with powerful search and archiving features to help users find information easily. You can find content, like specific files and previous conversations, in Slack workspaces.
Plus, Slack syncs user data across all devices – desktop, tablet, or phone, so you'll always have access to your work, whether you're working on your phone or on your tablet. Need to reply to your boss while on the way to work? No problem, thanks to Slack!
How To Find And Use Emojis On Slack
In Slack, emojis serve both a fun and practical purpose. You can use them to enhance your messages, add a reaction to your message, or copy a message from one channel to another channel.
In the following sections of the article, we show you how to add emoji to your messages using an iOS device, an Android device, and your desktop.
iOS
1. Tap the message chat bar to open the iOS keyboard.
2. Tap the emoji button on the keyboard. If you have more than one keyboard installed, you will see a Globe Button.
3. Click on an emoji to add it to your message.
Android
1. Click on the smiley in the message chat bar to open the menu.
2. Tap on an emoji to add it to your message.
Desktop
1. Click on the smiley to open the menu.
2. Tap the icons at the top of the menu to go through categories or to look for an emoji code.
3. Click on the emoji you want to include in your message, and add it to your message.
Custom Emojis On Slack
Here is what we love about Slack, if you use emojis as much as we do, you'll get really excited about this feature, too! Slack lets you upload and use your very own custom emojis. In other words, you can make an emoji out of a currently existing image! Isn't that amazing?
We will show you how! Just follow the simple instructions below.
Remember, your images should be in PNG, JPG, or GIF format, and you can't create a custom emoji in the Slack mobile app, but you can use the ones you've already uploaded. Keep in mind, you'll get the best results with a smaller, square image. Also, only workspace admins and members with permission can create custom emoji.
Create A Custom Emoji On Slack
1. Click the smiley to open the emoji menu.
2. Tap "Add Emoji".
3. Go to "Upload Image" and choose a file.
4. Under "Give It A Name", give a name for your emoji and click Save.
Upload Custom Emojis On Slack
1. Access Slack from your desktop.
2. Go to the workspace you want to add a custom gif or custom emoji to.
3. Click on the name of your workspace. You'll find it in the top left part of your window.
4. Choose "Customize" from the menu.
5. Tap on the "Add Custom Emoji" button, then the "Upload Image" button to pick a file.
6. Name your file. Remember, the name you pick is what you will type to have the emoji pop up in your workspace.
7. Finally, click Save.
How To Use Emojis At Work On Slack
Red Heart Emoji

Use the ❤️ Heart emoji when you are trying to comfort a colleague who was scolded by her boss.
Try not to take it personally, I am sure Boss means well, he is just challenging you to do better ❤️
Party Popper Emoji

Use the 🎉 Party Popper emoji when you're in the mood to party and you don't want to hide it!
Why does the time go by so slowly on Fridays? I am so ready to 🎉 I've been staring at the clock the whole day!
How To Use Emojis While Talking To Family And Friends On Slack
Oncoming Fist Emoji

Use the 👊 Oncoming Fist emoji when you and your friend like, and are cheering for the same team!
Since we're rooting for the same team, why don't you come to my place tonight? We can watch a football game together 👊
Astonished Face Emoji

Use the 😲 Astonished Face emoji when you're surprised by someone or something, like when two friends, who are very different from one another, hook up!
This was my face 😲 when I found out Jen and Adam were together. What an unlikely couple!
Crying Face Emoji

Use the 😢 Crying Face emoji when you feel sad about a situation, like not going out of town for your birthday.
I want to go out of town for my birthday so bad, but I can't until the pandemic is over 😢 We've just all got to sacrifice a little bit, nowadays. I know you feel the same way since your birthday is coming up, too!
Telegram
Telegram is an instant messaging app with a focus on speed and security. Netizens love it because it is fast, easy to use, and most of all, it's free!
Here are a few of Telegram's outstanding features:
Users can post messages, photos, videos, and files of any type
You can use Telegram simultaneously on multiple devices. Your messages sync seamlessly across an unlimited number of computers, phones, and tablets.
Telegram users can create groups of up to 200,000 contacts. Within these groups, users can make calls or share voice messages, texts, multimedia files, GIFS, and stickers.
Want to keep things private? You can message your contacts individually, too!
Do you feel like Telegram would be a good fit for your business and personal life? Find out how to download it to all your devices.
How To Find And Use Emojis On Telegram
Since 2019, Telegram's included in its list of features tons and tons of cute animated emojis! They definitely make communication more fun and enjoyable. Emojis transmit easily identifiable emotions and they make self-expression easier for socially awkward users.
Having said that, let's go through this step-by-step guide on how to find and upload emojis on Telegram :
The process works for both Android and iOS users.
How To Find And Upload Emojis On Telegram
1. Go to the Telegram app. Open the conversation you would like your emoji to appear in.
2. Tap the icon at the bottom left of the app.
3. Scroll over the sticker packs until the sticker icon with the '+' symbol next to it appears.
4. Tap on the icon to open a screen with new emojis and new stickers. You should see an active Add button.
5. Go through all the sticker packs and emojis. Add the stickers and emojis you would like to use.
6. Want to remove a particular emoji, sticker, or sticker park? All you need to do is go back to the process, but this time around, click Remove beside the sticker pack or emoji.
How To Find Animated Emojis On Telegram
Since 2019, Telegram has provided support for animated emoji. The best part? You don't need to download any third-party app to use it! Everything you need to animate the emoji is in the emoji itself. Cool, right?
What's also cool about animated emoji is that they aren't a one-time deal. Want to see them move again? A simple click will do the trick! Plus, returning to a thread with an animated emoji will result in a repeated animation, even if you've already read the message.
On that note, check out what you need to do to get animating:
1. Make sure your Telegram is updated to the latest version.
2. Open up a conversation on Telegram, and post your preferred emoji. Be reminded, if other people in the chat aren't using an updated Telegram app, they will see the usual static emoji (emoji that doesn't move).
3. Is your emoji not animating? Maybe it's also because the large emoji feature is disabled. All you have to do is open up the settings function in the app, and click on Appearance for iOS devices or Chat Settings for Android devices. Once you are there, check to see if Large Emoji is toggled on. If it is off, turn it on.
One of the biggest features of Telegram is its animated emojis. The app has more than 90 of them! Come on, who doesn't love emojis? They're fun to look at, especially when they're moving, and you can use them in any kind of conversation: whether you're talking to your officemates, family members, or friends!
On that note, to help you get started, check out a few ways you can use Telegram emojis whether at work or in your personal life.
How To Use Telegram Emojis At Work
Broken Heart Emoji

Use the 💔 Broken Heart emoji when you're sad about leaving something or someone, like a job you've grown to love.
After 15 years in the company, it 💔 to leave, but I think I need to grow. I just felt the need to look for greener pastures.
Fearful Face Emoji

Use the 😨 Fearful Face emoji when someone scares you, like a boss at work!
This is how I look 😨 when I see our area manager. He seems to be very intimidating!
Grinning Face Emoji

Use the 😀 Smile emoji when something or someone makes you smile, like when you see your crush at work!
I 😀 so wide when I found out my crush from the other department is moving to the same floor we're in!
How To Use Emojis While Talking To Family And Friends On Telegram
Confetti Ball Emoji

Use the 🎊 Confetti Ball emoji when talking about parties or reunions!
I'm excited for my virtual high school reunion later! 🎊 I'm so glad it's pushing through, despite the ongoing pandemic.
Worried Face Emoji

Use the 😟 Worried Face emoji when you miss someone and you are worried about them.
I miss hanging out with my besties! 😟
Kiss Mark Emoji

Use the 💋 Kiss emoji when you want to blow a kiss to someone you like, like to your friends.
I'm sending the email for our Emmys viewing party via Zoom! Wait for it, it's coming in a few minutes! 💋
Facebook Messenger
Last but definitely not least is Facebook Messenger! Facebook Messenger is an American messaging app and platform developed by Facebook, Inc. When users log on to Facebook Messenger, they can send messages and exchange videos, photos, stickers, audio, and files.
Facebook Messenger Features
FB Messenger, as it is popularly called, supports voice and video calling, too. With FB Messenger, you can call or message your Facebook friends. If you want to message someone who is not a Facebook friend, you can do that, too. The person you're messaging will receive a message request, and it will be up to the person you're messaging if they will accept your request.
Facebook Messenger Popularity
Do you know Facebook is the second most used instant messaging app in the world? Out of all the messaging apps out there? Second only to WhatsApp? Almost everyone in the world uses Facebook and Facebook Messenger to communicate with their family, friends, and colleagues- it's easy to use and compatible with nearly every device!
If you belong to the very small percent of the worldwide population that doesn't use FB Messenger, we're pretty sure sooner or later you'll come across someone who'll want to talk to you through the popular messaging app, so why not download it now?
How To Find And Use Emojis On Facebook Messenger
When communicating on Facebook Messenger, people often use emojis to express their feelings and emotions. Emojis are changing the way we talk to each other – whether it's a sad face to show you had a bad day at work or a red heart to tell someone you love them, emojis are a great way to express one's self when words aren't enough. In fact, nearly 10% of mobile sends in Messenger include emojis!
Want to spice up your Facebook convos with emojis? We show you how:
Android
1. Open Facebook Messenger. Click on the conversation you want to insert an emoji in.
2. Select the smiley face at the right of the chatbox.
3. You'll see a menu that pops up under the text box. When that happens, go to the emoji tab.
4. Tap the emoji you want to use without exiting the emoji menu.
5. That's it! You are good to go!
iPhone
1. To insert Facebook emojis on iOS devices, you need to activate the built-in emoji keyboard in your device. Apple rolled out an emoji keyboard when it released iOS 5.0 in 2011.
2. Activate the built-in emoji keyboard on your iPhone. It appears at the bottom of your iPhone screen as a replacement to the regular keyboard.
3. Tap the emoji you want to include in your Fb chat.
4. Go to General in the Settings section of your device.
5. Go to the bottom and click on Keyboard to change your settings.
Finally, now that you know how to include emojis in your FB Messenger convos, the next step is to figure out how to use them for work, or for chatting with family and friends. Well, you know we got you in that regard!
How To Use Facebook Emojis For Work
Pensive Face Emoji

Use the 😔 Pensive emoji when you're nervous about a work evaluation.
Today is my performance evaluation, and I am really nervous about it 😔
Peach Emoji

Use the 🍑 Peach emoji when you want to talk about peaches, or butts!
I was talking to our supervisor about the fruits we're having for lunch since we're both on a diet, and I got nervous because I sent a 🍑 haha!
Fire Emoji

Use the 🔥 Fire emoji when you want to say someone did a good job!
Did you enjoy the talk our CEO gave at the general assembly? He was on 🔥
How To Use Emojis While Talking To Family And Friends On Facebook Messenger
Loudly Crying Face Emoji

Use the 😭 Loudly Crying Face emoji when you miss someone.
I'm glad you woke up early to join our Facebook video call with our relatives overseas, I missed you so much 😭
Broken Heart Emoji

Use the 💔 Broken Heart emoji when you're sad about your favorite place closing down.
I think we need to go somewhere tonight, I checked the pub we usually drink in, and it's already closed 💔
Zany Face Emoji

Use the 🤪 Zany Face emoji when you watch a funny TV series or movie.
Thanks for recommending the series Two Broke Girls To Me, I began watching it on Netflix last night, and I nearly woke up the whole house! It was so funny 🤪
Conclusion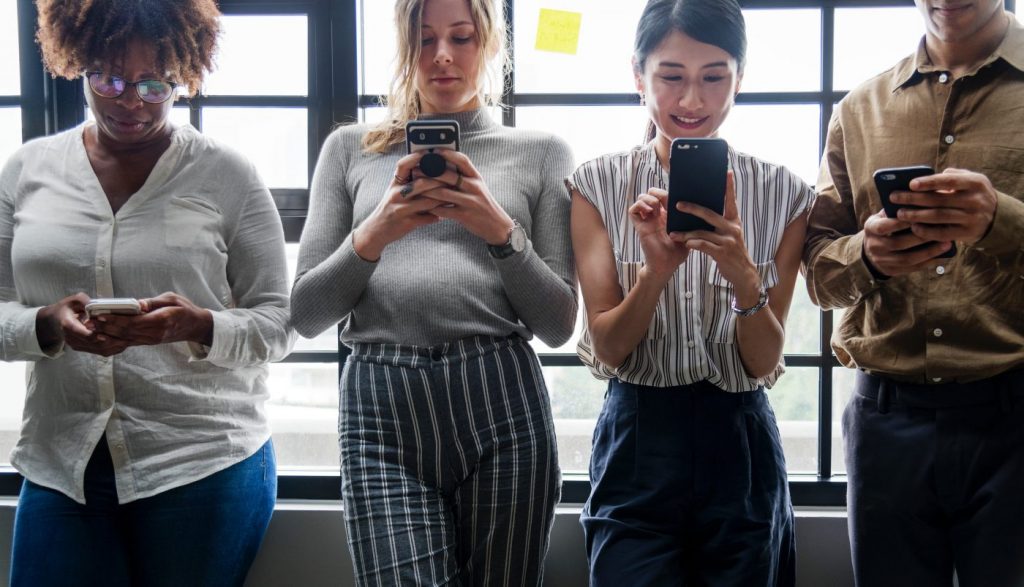 The appeal of communicating through mobile messaging apps is easy enough to understand: it's quick, convenient, and on the go. And since most people never leave their house without their cell phones, talking to people with the use of their everyday gadgets is the easiest and quickest way to get in touch with them.
As we go through our day, chatting with people on mobile messaging apps like WhatsApp, Skype, Telegram, Slack, or Facebook Messenger, don't forget to make sure your messaging manners are always on point. Remember to always check the messaging apps on your phone. Do not take too long to reply to an urgent message, and try to explain as much as you can in one solid text. One-word replies can be very confusing. Sometimes, the one you're sending the message to will receive the third word before the first word, and that can mix everything up.
On a final note, remember not everything should be said via text or through messaging apps. If a cat has done something amusing on the Internet, it's okay to send a link through one or two messaging apps. But if your client wants to cancel an event at the last minute, a call would be more appropriate. And if you're ending a relationship, doing it through one of your messaging apps definitely sends a message, but not a sympathetic one.
Remember, we are all human beings living on one Earth. It's in our DNA to crave human interaction from time to time; it keeps a part of ourselves alive.