⭐️ 10 Best Emoji Translator List: Sites To Help You Communicate Better In Emoji 🤩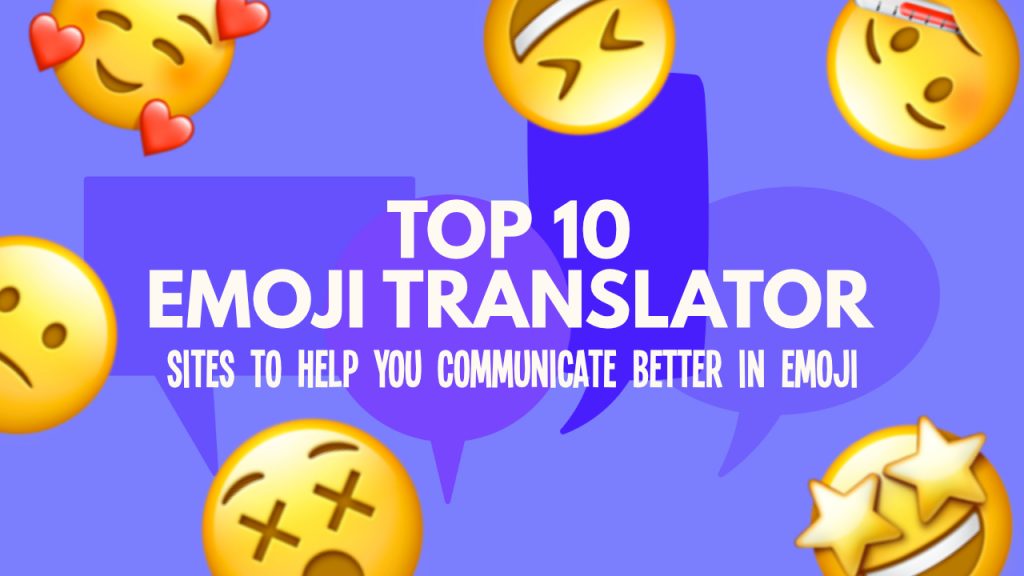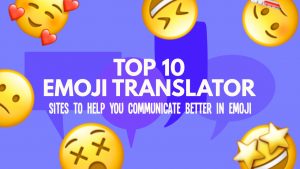 The popularity of emoji has given rise to new ways of communicating online. Emojis share thoughts or feelings you would probably not be able to express in face-to-face communication. Sometimes, though, it's hard to decipher the meaning of an emoji when someone sends you a sentence full of them. While it may appear simple on the surface, emojis may have double or triple meanings, depending on the context. When this happens, an emoji translator will help sort stuff out!
The struggle is real whether you're the sender or receiver! Even if you believe you have used the best four or five emojis to convey a specific message, this does not guarantee others will be able to translate what you said as easily. So when you get that confusing emoji message, save yourself all that stress and worry by having an emoji translator site bookmarked in your Favorites tab!
Google the words "emoji translator," and you'll find quite a few. Don't go with the first one you see, though. Many tools come with special features like spell check, search tools, mobile optimization, etc. You'll want to take advantage of these add-ons because they will help make you a better online communicator!
To make it easier for you, we've rounded up a list of some of the most popular emoji translator websites. The list is not in descending order, or ratings-based, which means the ranking of a site does not reflect its quality. We suggest you try them out, to find the online resource that best suits your needs!
1. Super Emoji Translator
Website URL: superemojitranslator.com
When a site's got "super," in its name, and a picture of a superhero on its' page, you naturally expect the services and features of the site to be, at the very least, above average. Overall, it ain't bad.
Super Emoji Translator recognizes specific words in a message and replaces them with one or more emojis to help describe them, while leaving the rest of the message alone.
After clicking the big blue 'Let's Get Started' button on the front page, type or paste your message into the provided field, and then click the blue button to the right to translate it. Don't miss the Emoji.gg link button at the bottom of the screen, too, clicking on it will take you to a Discord and Slack emoji search site where you can browse thousands of custom emojis.
On the downside, the site doesn't have spell check, which means, if you're not confident with your grammar, you'll need to double-check your phrase before going to the site. Furthermore, Super Emoji Translator recognizes only English words, and is not optimized for mobile.
2. Lingo Jam
Website URL: https://lingojam.com
Lingo Jam has a disclaimer at the bottom of the site saying the website is a "work-in-progress," Hmm, well, props for being honest, and we couldn't agree more. The emoji translations are not very accurate.
For instance, when we typed, "We like to see clear weather. The barrel of beer was a brew of malt and hops, " we got "We like👫 to see👀 clear weather❄️. The barrel of beer🐝 was a🅰️ brew 🐴 of malt and hops" Putting the emoji after the word can be confusing, and where was the bee in the situation?
What we did like is the random sentence generator feature. You can use it to hone your emoji interpretation skills! Click on the Generate Random Sentence button, and a sentence will quickly pop out. Replace the words with emojis, then compare what you did with what the Generate Random Sentence button produced.
3. Monica's Emoji Translate Tool
Website URL: https://emoji-translate (meowni.ca)
Why, the name Monica? Turns out, Monica Dinculescu, a web developer, named the site after herself! The site started out as a side project, and when it was done, she hosted it on her personal website.
Since the project turned out to be quite useful and helpful, it eventually grew in popularity. Speaking of useful, one thing we like about Monica's Emoji Translate Tool site is its very simple design and user interface, making it a good option for beginners.
How does it work? Similar to the other sites, it directly replaces some words with emojis while leaving the rest of the message intact. To use it, all you have to do is start typing or copy and paste your text into the provided field. Easy-peasy, right?
What we also liked about this tool is how it suggests alternative emojis, providing you with more options as you go about composing your sentences in emoji speak. Plus, the results are displayed in real-time, too, great for all those moments you need immediate results!
4. EmojiTranslate
Website URL: https://emojitranslate.com
This is definitely one of our faves! EmojiTranslate is the only emoji translator site that allows you to write your text in over 100 different languages. And, each translation is done automatically.
Plus, you can customize your emojis to match your skin tone. Also, when you click on one of their tabs, you get sent to an Amazon store where you can purchase various emoji sticker packs to complete your emoji experience!
5. Fun Translations
Website URL: https://funtranslations.com
Try not to have fun with this one, (pun intended). Fun Translation translates regular English to 50 plus dialects – from Yoda speak to emoji speak, to Valley Girl speak, they even have Minion speak and pirate speak!
To translate, type your text in the empty field and click the blue Translate button below. When you're done, you may also click on the blue button at the right side of the field to Tweet your translation!
Take a look at this – Fun Translations also has a random sentence generator button called the Use Sample Text tab. Click on it, and a random sentence will immediately appear. In addition, beside that button is an 'Embed This' button which allows you to embed the translator right onto your own webpage!
6. Emoji Translator – Human Language Text to Emoji App
Downloadable on Google Play
Some emoji translators come in apps, which actually makes sense since emojis are most of the time accessed through phones. Emoji apps, however, serve a slightly different function than the usual desktop-based emoji translator websites. Most of the time, mobile emoji translators are designed for more creative purposes such as to supplement or enhance the text.
Moving on to your first one – one of the best things about the Emoji Translator – Human Language Text to Emoji app is that it supports 99 languages. You heard it, 99! Quite user-friendly as well, the app, downloadable on Google Play, will translate in real-time, the words, sentences, or lyrics RIGHT as you type them. However, the app will only work on Android 5.0 and up, so if you have a lower version you can forget about using the translator.
Sadly, the Emoji Translator – Human Language Text to Emoji still needs a few kinks worked out of its system. Users say the "Something Went Wrong" button appears often when they access the app. They also complain about the tool's overabundance of ads, without any removal ads button.
7. Emoji Translate App (only for Android)
Downloadable on Google Play
A million users can't be wrong! Presently, Emoji Translate has over a million installations downloaded on the Google Play Store. One of the things that makes it so successful is that it allows you to view emojis from different platforms. Pretty neat, right?
With Emoji Translate, you can get an Apple emoji and see how it will look on Samsung, Microsoft, LG, Google, Twitter, and HTC devices – without ever leaving the app! This is especially useful for Samsung users, as Samsung emojis frequently have the most differences design-wise.
Here's a few downsides you may want to know and consider before downloading the app – unfortunately, if you have poor eyesight, you might need to wear your glasses. A few users say it's difficult to see the emojis because they're so small.
Moreover, it does not allow you to copy and paste the emojis that are generated. The last and most obvious "con," in our pros and cons list is that Emoji Translate only works on Android devices. Apologies to all the iPhone users!
8. Edit Pad
Website URL: https://www.editpad.org/tool/emoji-translator
Edit Pad helps translate text into emojis within seconds. This means, the emoji translator instantly translates as you type the words. It's that fast! All you need to do is enter your text in the left input box, and copy the emojis from the right output box.
You can also upload sample data simply by using the Load Sample Data feature. Unlike emoji translator apps, the mobile-based kind we mean, in order to translate simple text into emoji sentences, Edit Pad does not require any downloading, installation, or sign-up of any kind! Edit Pad also comes with a Plagiarism Checker and Paraphrasing tab to make sure your content is safe and on point. This one's got our vote!
9. Emoji Phrasebook
Website URL: https://www.emojiphrasebook.com
On its main homepage, Emoji Phrasebook displays 10 emoji categories, each with its own sub-category, making it one of the more organized text to emoji translator sites we've laid our eyes on. Type in a word or a phrase like "the dog ate my homework," and you will get the emoji translation, along with which category each emoji belongs to (Dog, School, for instance).
If you want to get credit for your online translation, you may, as long as you register on the website, first. But if you are using someone else's translation, you may credit them by including a source URL.
Once you've registered and made your own online translation, it will be a part of Emoji Phrasebook's thousands of English-to-emoji translations.
New to this sort of thing? There's a Random Translation button for you to understand their process a bit more.
10. Name Generators Emoji Translator
Website URL: https://namegenerators.in/emoji-translator
Last, but certainly not least on our list of emoji translators is Name Generators. This is quite possibly the most advanced name generator on the Internet. There's a Boy Name generator, Girls Name generator, even a random password generator. A great tool for all those times you need to give your imagination a jump start!
Under its useful free tools tab is the Emoji Translator. Like all the other emoji translators, the site picks up on certain words in a message, and replaces them with one or two or more emojis, while leaving other parts of the message alone.
After giving the site a thorough look, we've got to admit, there's not a lot going on here, to be honest. The user interface and web design of the website are pretty simple and straightforward.
One thing we sort of liked, though, is how you can copy the clipboard and paste your translated emojis anywhere you prefer, on your social media accounts or personal documents. The other tools on the site are pretty cool, too, like the hundreds of name generators.
If you are a writer and you don't want to share your real name when writing an article, book, or column, the name generator will be particularly useful in that situation. Or if you're looking for a name for your new bundle of joy. When the words don't come easily like they used to, there's no shame in getting help to get those creative juices going!
Conclusion
Nowadays, the inability to understand emojis can become a serious communication problem- especially when conversing with most millennials and Generation Z-ers. Based on an article on news research site Study Finds, 7 in 10 millennials and members of Gen Z prefer to communicate digitally than in person.
So, if you are a teacher or a parent or just dealing with people from that generation at school or work, it would be best to understand where they are coming from. There are only so many times one can awkwardly ask, "Would it be okay to repeat that in words? Only in words?"
Emoji translators can be a lifesaver, but as you go about looking for the right one, don't throw caution to the wind. Be safe. Avoid sites that ask for personal information. Legit sites don't ask for such information off the bat, they usually ask you to register first.
Use a search engine that corrects wrong spelling, so that you don't land on a fake webpage. Creating fictitious websites with similarly spelled addresses is a fairly common scam known as "typosquatting."
Lastly, but just as importantly, educate yourself. Find out if there are new emojis entering the scene. Some symbols may be 100 percent wholesome when they're released to the public, but for some reason or other, they may mean dirty words (hello 🍑 Peach emoji, 🍆 Eggplant emoji). Emojis will play a strong role in the future of digital communication. They are definitely the language of the future, so, the quicker you're able to master them, the better!