Get Excited: 117 New Emojis Are Coming To All Your Devices This 2020 🤩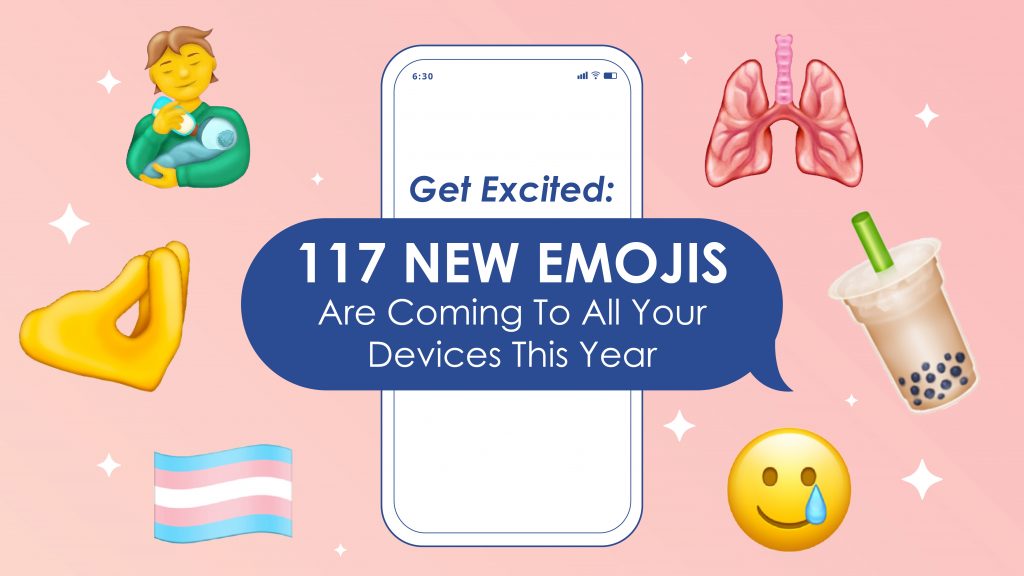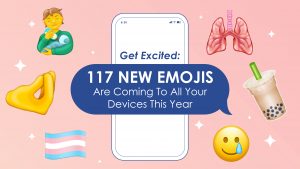 New Year, new you. The start of a new decade is upon us-isn't that exciting? Adding to the thrill is a fresh batch of brand new emojis released by the Unicode Consortium, the central bank and governing body of international symbols-emojis included.
2020 Release Of Emojis
A whopping 117 new emojis made the final cut for release this year and included in that list are 62 new emojis and 55 gender and skin-tone variants. There's already a lot of excitement for some emojis. One of them is the People Hugging emoji which shows two people stretching out their arms to give a hug. Based on previous feedback from netizens, this emoji shows a greater sense of empathy than another hugging emoji, the 🤗 Hugging Face.
Excited About Emojis
As soon as word came out that a Transgender Flag will be among the newest batch of emojis introduced this year, members of the LGBT community and supporters of LGBT rights immediately expressed their excitement online. The same thing happened with the milk tea lovers, when they heard about the Bubble tea emoji they couldn't wait to showcase their passionate love for Taiwan's favorite drink.
Unfortunately, LGBT supporters and will tea fans will have to wait a bit longer because this batch is due to hit devices only later this year. There is no set date, although based on previous patterns, tech experts and emoji experts predict the new emojis will appear in Android devices by August, and to iOS and macOS in October or November.
Kind of a bummer, we know! If that's too long for you, here's something to make you feel better – a list of all the new emojis! It's good to have an early preview of them, once they're finally accessible to the public, you'll know all about them and how to use them in all your online conversations.
Let's begin with the ones generating a lot of buzz, then move on to the rest:
Gender-Inclusive
In another step towards inclusivity, the batch of new emojis includes several gender-inclusive symbols.

Mx Claus – The Mx Claus emoji is a gender-inclusive version of Santa Claus. This emoji is an illustration of a person with gray hair, wearing a Santa hat. The Mx Claus emoji will come in various skin tone variants, like the Light Skin Tone and Medium-Light Skin Tone variant.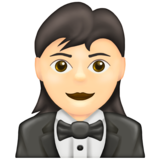 Woman In Tuxedo – Whether it's for prom night or for a black-tie event, tuxedos have been a strong style statement just for men. Well, not anymore! More and more women are now wearing suits and tuxedos, which explains this emoji. The Woman In Tuxedo emoji is a photo of a woman in a black and gray tux. She has shoulder-length black hair and is smiling but with no teeth.

Man With Veil – As more and more countries legalize same-sex marriage, it seems natural for the Unicode Consortium to have a Man With Veil emoji to represent and reflect that. Typically available in only one gender, the Man With Veil emoji pushes the boundaries of what gender should wear a wedding veil. The emoji is an illustration of a man wearing a white veil and a white dress. He is wearing a band of pearls on top of his head.

Gender Neutral Parent Bottle Feeding A Baby – Previously, the Unicode Consortium featured just a baby bottle, failing to capture the bonding between the caregivers and baby during bottle feeding. The Gender Neutral Parent Bottle Feeding A Baby changes that by introducing a genderless person holding a baby bottle, and feeding his or her baby.

Transgender flag – For the past 4 years, the Transgender Pride Flag was one of the most requested emojis online. The Transgender community tried their best to get an emoji of their flag online, and their persistence definitely paid off. The Transgender flag is a blue, white, and pink flag with three horizontal sections.
Food And Drink
Cooks and foodies will have a blast with all these mouthwatering, thirst-quenching, new emojis!

Bubble Tea – At long last, we have a Bubble Tea emoji! Bubble tea, a drink made with iced tea, sweetened milk, and black tapioca balls, was first introduced in Taiwan in the 1980s. Now, it's a global phenomenon made popular by Internet foodies! The Bubble Tea emoji is a picture of a pink drink with black balls and a blue straw.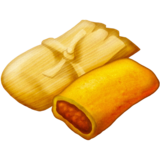 Tamales – Whether you're talking about making tamales at home during the holidays, or sharing your cravings for one of the best Mexican dishes on the planet, the option to talk about it online will be there before you know it.

Teapot – Why this was not included in the list years ago, will be one of the biggest questions in the emoji world. Well, that's all behind us now. The iconic teapot will finally get its own emoji, and that's all that matters. We've got Yorkshire Tea, a popular black tea brand to thank for this. Yorkshire pitched the concept to Unicode, and the rest is history.

Do you love to fondue? If you answered yes, good news, there will be a Fondue emoji, perfect for family food night or at-home date night.
Foodies, give a big, warm welcome to Olive, Bell Pepper, and Blueberry emojis, as well!
Smileys and Hand Gestures
There are also several smiley faces and hand gestures to match all those feels:

Smiling Face With A Tear – We've all had those moments – smiling while crying inside. You've got to put on a brave face even if it hurts you so much to do it. We feel you, and the Unicode Consortium did, too! When people heard about the Smiling Face With A Tear emoji, many people talked about it, probably because it was so relatable. A smiley with a blue tear coming out of one eye, it's perfect for those moments when you've gotta smile when your heart is aching.

Pinched Fingers – The Pinched Fingers emoji is one of the most popular symbols online. It's a stereotypical Italian hand gesture that has since filtered through to other countries around the world. Its official purpose is to represent the way an Italian might ask "what do you want? "But if you live in Korea, or are influenced by Korean culture, you know it's got another meaning, too. The Pinched Fingers emoji also works as a Korean symbol hand heart, a message of love hand gesture. The Pinched Fingers emoji comes in different skin variants including Light Skin Tone, Medium-Light Skin Tone, Medium-Dark Skin Tone, and Medium Skin Tone.

People Hugging – As mentioned earlier, the People Hugging emoji is a picture of two blue figures shown in an embrace. A more human version of a hug, before this came around, the symbol closest to a Hugging emoji was the Hugging Face, a yellow smiley with open hands. Another new emoji belonging to this category is the Disguised Face, a smiling, comical face wearing a fake nose, glasses, and mustache.
Animals
Many additional emoji categories are getting exciting updates in 2020, one of them being the Animal category. Get your gadgets ready for this list because it's quite a long one!!


The new emojis coming to your phones, computers, and tablets include the Mammoth emoji, Beaver emoji, Dodo emoji, Seal emoji. Other animal emojis are the Beetle emoji, Worm emoji, and Bison emoji.
The next time you see pesky insects like the cockroach and fly invading your home, you've got cockroach and Fly emojis to go with your online rant because they'll be getting their own emojis, too!
Construction


The emoji dictionary is about to get bigger with a lot of construction-related emojis. It seems like many people will be building houses and making furniture in 2020, because of the Carpentry Saw emoji, Screwdriver emoji, Hook emoji, Ladder emoji, Rock emoji, Wood emoji, Hut emoji, and Pickup Truck emoji are all included in the list of new emojis for 2020.
It's interesting to see other hobbies or occupations represented in the emoji keyboard, emojis that have gotten as little of our attention, not as much as, say, the gender-inclusive ones, but are still important.
House

It doesn't matter what you look like or where you come from, there are some things we need, especially with items at home. This probably explains the inclusion of home items like the window emoji, plunger emoji, mirror, sewing needle, knot, and toothbrush emojis.
Music

Music emojis add a pleasant melody to any message, just one note can add so much charm to a conversation. Now musicians and music lovers can maybe even start their own emoji band because Long Drum and Accordions are the newest musical additions to the emoji library!
Random
Of course, it wouldn't be a new emoji announcement if there wasn't a random selection of emojis like the Nesting Doll, Boomerang, Magic Wand (maybe for all those online fantasies you share with your friends?)
Kidding aside, there are tons of stuff that may not fit into any category. This is if we were to consider just the new emojis of 2020. But if we were to look at the emoji world as a whole they make perfect sense and are good additions to previous lists. Like the Thong Sandal emoji which you can pair with the Dress emoji which came out in a different year.
Other "random" emojis are the Fishing Hook emoji, Elevator emoji, Placard emoji, and Elevator emoji.
The Most Realistic-Looking Emoji For 2020

Winning the award for the most realistic-looking emoji is the Lung emoji. Massachusetts -based doctors Dr. Shuhan He and Dr Christian Kamkoff pitched the Lung emoji last year to raise awareness about respiratory health. And, obviously, it got in! The Lung emoji shows the right lung, left lung, and the pleura. Pleura is a sponge-like tissue that separates the lungs from the chest wall.
Conclusion
Emojis are the pop stars of digital communication. Love them or hate them, they have certainly changed the way we communicate. Emojis make our world seem smaller and simpler. Through these fun, character-based emoticons we learn about different countries and different cultures. Isn't that just wonderful?
If you want your race, culture, or community to have representation, or if you just have a wild idea you want to share with the world, just go to www.unicode.org to submit a proposal. Who knows, Unicode might include it in their next batch of new emojis? 🙂