🌹 Rose Emoji: Make Your Messages Romantic 💖 With The Amorous Red Flower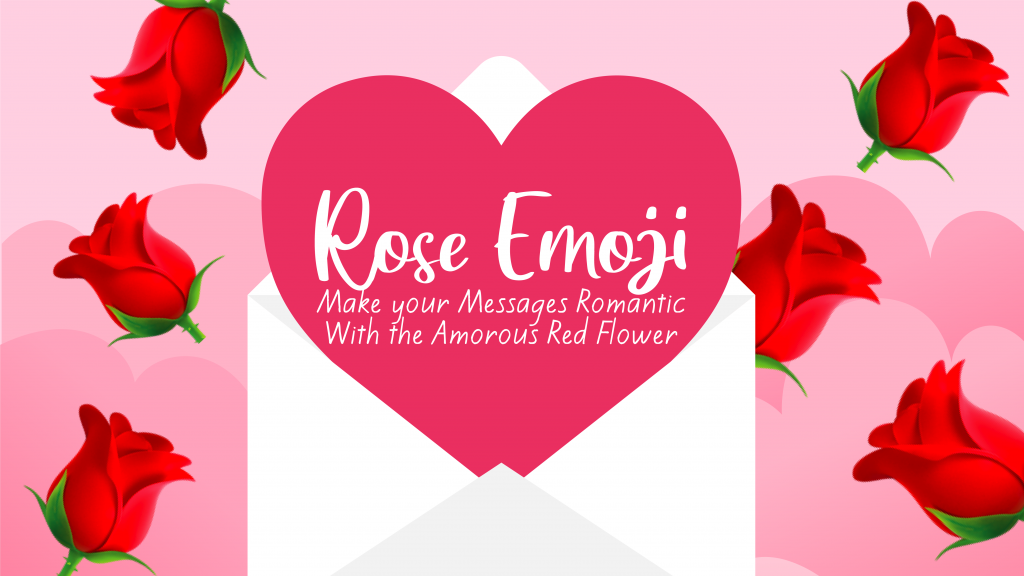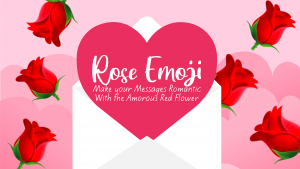 Including the 🌹 Rose emoji in messages adds a sweet and romantic vibe to almost any text. Almost all types of emoji keyboards offer the beloved flower in its common color, red. It's a simple yet meaningful substitute for sending red roses to your loved ones who live far away. No matter where you are in the world, the beauty and elegance of a red rose mean so much to those who receive it. The sadder alternative to the rose is the 🥀 Wilted Flower emoji. It's the withered version of the favorite romantic flower.
Roses belong to the flowering plant family Rosaceae. You can find several rose species in Asia, while other cultivars develop in Europe, North America, and the northwestern areas of Africa. The leaves grow separately from the stems of the climbing or trailing rose shrubs. In different cultures, people grow roses for their beauty and fragrance. Some let the roses fully bloom before making them into rosewater or rose oil.
Just before they bloom, farmers harvest the amorous flowers and deliver them to florists as the petals start to open. The beloved flower features a variety of colors, like pink, yellow, and white. But, the red version is usually sold-out from flower shops during holidays celebrating love. We normally see several single stems or bouquets of red roses on Valentine's Day and Mother's Day.
As an alternative to the famous red flower, people send the rose emoji to their loved ones living afar. Common red roses develop with five petals divided into two distinguishable lobes. Additionally, five sepals grow underneath each petal, adding a more unique appearance to the amorous flower. You can see most of these features in most red emojis available across different platforms. Most offer the simple single-stemmed rose complete with one or two leaves.
Rose Emoji: Meaning, Symbolism, And History

Generally, people from all over the world associate roses to love and romance. These amorous flowers appear in classic literary pieces like Shakespeare's Romeo and Juliet and Antoine de Saint-Exupéry's The Little Prince. Nowadays, we see several reality shows like The Bachelor franchise depicting the romantic representation of a single-stemmed rose.
The rose's fame and association with love or passion have been happening for centuries. The Ancient Greeks and Romans relate the beauty and loveliness of roses to the Goddess Aphrodite or Venus. During the Victorian Era, conservative European men gave or sent roses to the women they liked. The gesture was popularized because public displays of affection were considered scandalous during that period.
Before the innovation of emoji keyboards, people used typed –<–<–@ or @->->– to symbolize a single-stemmed rose in a text message. It may lessen the message's limited character count, but it also makes texts more sweet or romantic. The rose emoji we all know and love first appeared on most emoji keyboards in 2010. Developers added it to their emoji collection to represent the bestselling flower. As an alternative, some netizens use the rose kaomoji typed as @;ڿڰۣ—.
Animating The Single Red Rose Across Other Platforms

Since its debut in the emoji keyboard, the single-stemmed rose has appeared differently across several platforms. Almost all depictions showcase a single red rose with a stem and one or two leaves on the sides. Other platforms feature a fully bloomed red rose with delicate petals outstretched on all sides.
We commonly encounter emoji keyboards from Apple, Google, Samsung, and Facebook. All mentioned platforms feature a single-stemmed rose to represent the famous flower of love. Despite the small size of the emojis, Apple's animated rose showcases about six red petals with 3 shiny leaves and a thorny stem. Meanwhile, Google's red rose features five chunky petals with different shades and three downturned leaves connected to a stem with one thorn. Facebook's rose, on the other hand, shows a very detailed semi-opened rosebud connected to two leaves and a thick thorny stem.
Like most mentioned versions, Samsung's red rose emoji showcases a semi-opened rosebud connected to leaves. Its difference from other renditions is its tilted angle and thornless stem. In 2016, Samsung offered a pink rose in their emoji keyboard. The earlier version showed a fully bloomed pink rose attached to four leaves and a thornless stem.
Differentiating The Tulip And The Rose Emoji
Almost all platforms use a rosebud in the midst of blooming to represent the rose. Because of this, many people mistake the 🌷 Tulip emoji for the amorous flower. This confusion stems from the fact that a rose's shade looks more like pink due to its placement in the color wheel (#FF0080). Additionally, tulips offer a variety of colors and come out differently across different platforms.
To keep you from being puzzled, you can simply search "rose" on your emoji keyboard. Just keep in mind that roses only appear red on most common platforms like Samsung and Apple. Most tulip emojis come out as pink or purple on platforms. Plus, the animated tulips are almost always connected to thornless stems, whereas roses are usually attached to thorny stems.
It's understandable why some people mistake tulips for roses in emoji keyboards due to the slightly similar meaning of the two flowers. We all know that red roses mean love, but not all roses symbolize romantic affection. If someone gives you yellow roses, it means they want to be just friends. Additionally, don't get your hopes up when you receive white roses because they mainly symbolize respect or new beginnings. The similarity of roses and tulips falls on their red versions. Red roses depict deep love, while red tulips mean perfect love. Their exact meanings differ, but they both symbolize great love.
Making Messages Romantic With A Single-Stemmed Rose
No matter what you try to mean, adding a rose emoji to messages makes them sound romantic to the receiver. Even if you're just talking about the famous flower, roses in a post, message, or comment emit a more loving or sweeter meaning to the text next to it.
Whether it's through a text message or a real bouquet, sending someone a certain number of roses transcends a deeper meaning than just love. There's a reason why your longtime girlfriend or wife is unsatisfied with a single-stemmed rose. Here's a simple list of the hidden meaning behind the number of roses you send to your beloved.
Number Of Roses And Its Hidden Meaning
One rose
– You're my first love.
– I fell in love with you at first sight.
– You're still the one.
Two roses
– Mutual love
Three roses
– Let's celebrate our one-month anniversary.
Six roses
– I'm infatuated with you.
– I want to be your lover.
Ten roses
– Our love is perfect.
Eleven roses
– You are my most treasured love.
Twelve roses
– Be mine.
Fifteen roses
– I love you and I'm sorry for all my mistakes.
Twenty-four roses
– I'm yours.
– I give my everything to you.
Thirty-six roses
– I'm head over heels in love with you.
Fifty roses
– My love for you knows no bounds.
– Let's celebrate 50 years of our love.
How To Use The Rose Emoji
If you plan on using an emoji, we advise you to stick to less than ten roses. Just send a bouquet and spare your lover from getting cross-eyed from counting the number of roses in your text message. Aside from loving or sweet messages, you can also add rose emojis to symbolize simple codes. Here are a few examples to challenge your friends or loved ones:
🥀​💦🌹 or 🥀​💧🌹 [What it means: Water the roses or flowers.]
✂️​🌳💦​🌹 [What it means: Tend the garden.]
👸​❤️️​🌹​🐻 [What it means: Beauty and the Beast]
🌺💀🌹 [What it means: Day of the Dead]
Sending A Rose On Valentine's Day
People often use the rose emoji during romantic occasions, especially on Valentine's Day. They also use different heart emojis to make messages more meaningful and sweet. Aside from its symbolism of love, why are roses commonly used during St. Valentine's feast day?
During the late 17th century, King Charles II reigned in Sweden and started the tradition of gifting flowers to loved ones on Valentine's Day. After traveling in Persia, King Charles II learned the language and symbolism of different flowers. He then applied his knowledge and encouraged his subjects to communicate with their beloved using flowers instead of words or letters. Because of this, almost everyone knew that sending or giving someone a red rose meant you deeply love the recipient.
In Greek mythology, a beautiful bush of red roses grew as Aphrodite, the goddess of love, mourned over the bloody death of her handsome lover, Adonis. Because of this, both early Greeks and Romans associated red roses with the Goddess of Love's deep love for her mortal lover. This story further proves the significance of using the red version of roses in the emoji keyboard.
Greeting Moms With Roses On Mother's Day
During Mother's day, women usually receive red roses from their husbands instead of other family members. If you're not the woman's betrothed, we suggest you send pink roses to mothers. Pink roses symbolize admiration or gratitude while red emits a romantic message to the receiver. However, that doesn't stop people from selling out red and pink roses during the well-known holiday.
Throughout history, roses became associated with various feminine and mother figures like the Virgin Mother Mary. When it comes to the Blessed Virgin, roses represent the passion, suffering, and blood of martyrs and her son, Jesus Christ. Additionally, most holy apparitions manifest the miraculous growth of roses in areas where they don't usually develop. Because of this, roses also become offerings to the Mother of God during her nativity on September 8.
Due to the ongoing COVID-19 pandemic, people opted to send their mothers flower emojis like the rose in place of real bouquets or floral arrangements. It may not seem as meaningful but it keeps both parties safe in their respective homes. Despite the distance, this simple gesture reassures all mothers that their loved ones didn't forget their special day.