Happy Emojis: 😀 Share Those Positive Feels In A Fun and Cool Way 😎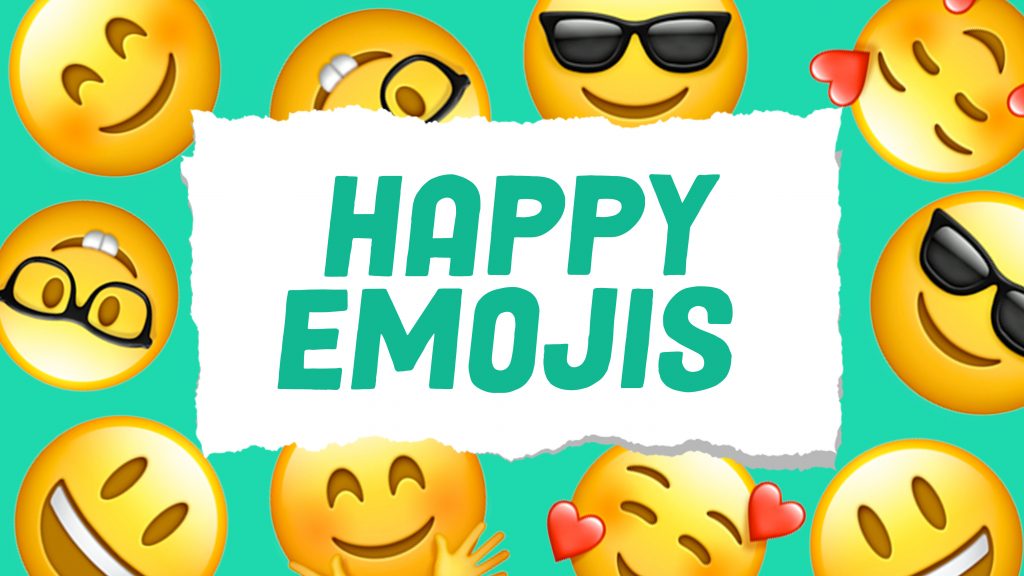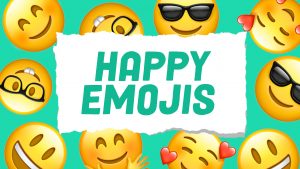 Ever been in an awkward moment that could only be fixed by emojis? At one time or another, we all have! When thoughtfully used, emojis intensify messages, establish the mood of dialogues, and encourage an imaginative and attentive communication style. Trying to finish a late-night conversation that turned raunchy way too fast? A 🙊, ✌️, 🛏️ can get out of there stat, without hurting the other person's feelings. But, it wasn't always this way. When emojis appeared on the scene in the '90s, users only had a few emotional emoticon options to choose from. No happy emojis to pick out, just one smiley. If you wanted to share what you were feeling, words were your only option.
Back then, users couldn't rely on emojis to accurately reveal their true feelings because emotions are intrinsically complex. Think about it—you're never just happy or sad. Feelings happen in varying degrees and sometimes they're mixed with other emotions. On a scale of 1 to 10, how happy are you? Are you a 😆 or a chill 🙂?
Positivity Rules
Moving back to the present, one can't help but say—"My, how things have changed!" There are emojis to match every complex emotion. Isn't that great? Also, did you know most of the emojis used worldwide are positive? We don't know why this is so. Maybe they were an offshoot of the OG smiley that turned netizens' lives. Whatever the case may be, at present, you'll find many cool and interesting happy emojis on any emoji site.
Happy Emojis Collection
Going through all the happy emojis in one place is definitely a daunting task, considering all the options that are available. So, in order to make things easier for all of you, we created a full list of happy emojis right on this page!
If you feel that there are not enough emojis in your messaging apps or social media platforms, you've definitely come to the right place. There are many emojis to choose from, and they can be copied and pasted anywhere. Just click to copy and paste on Facebook, Twitter, Instagram, Snapchat, and all other social media platforms. All emojis work on almost all browsers and platforms. You can even use them on your iPhone or Android device!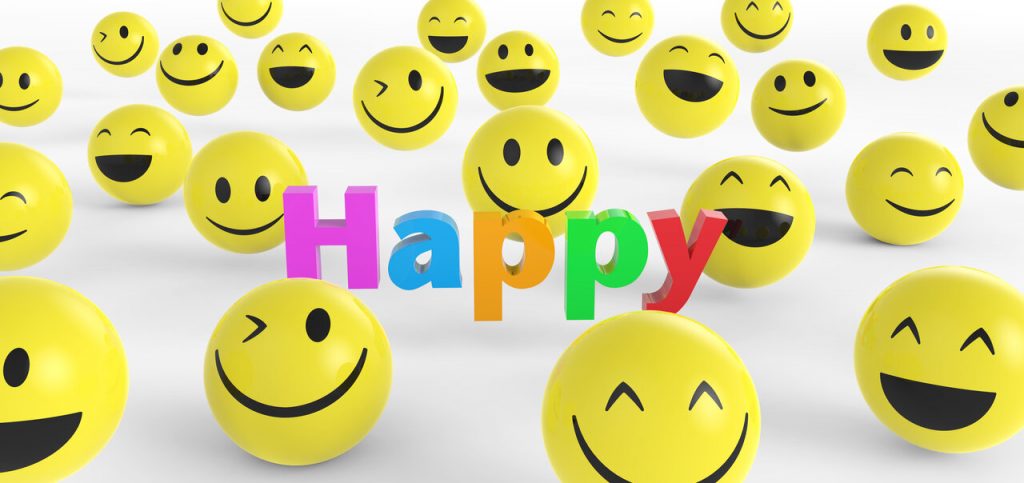 When people think of happy emojis, smileys are the one thing everyone will tell you off the top of their heads. A wide range of happy emotions are featured here, from a simple contented smile to a flat-out, rolling-on-the-floor type of laugh.
Grinning Face Emoji

Let the countdown begin! We're kicking off our list of happy emojis with a crowd favorite. Feeling happy today and just want to show it? Then this is the emoji for you!
Featuring a toothy grin and big, excited eyes, the 😀 grinning face emoji is often used in three scenarios: to show excitement, to congratulate others, or to give out compliments. Do you want to give an officemate a pat on the back for snagging that promotion? You can definitely include this emoji in that message.
Grinning Face With Big Eyes Emoji

Get the grinning face emoji, sprinkle a few granules of awe, and you get the 😃 grinning face with big eyes emoji! This emoji features the default yellow face seen in smileys.
On that face are a pair of bright, black eyes with the mouth open in a wide smile. Most of the time, this emoji is used to express surprise at a surprising or fantastic event, like winning a contest you totally forgot you joined or seeing something for the first time.
Grinning Face With Smiling Eyes Emoji

If this emoji could talk, it would probably say something like "I'm happy and I don't care what anyone else thinks!" Out of all the happy emojis, 😄 grinning face with smiling eyes emoji is one of the more intense ones—being a combination of contentment, happiness, and unadulterated joy. Got so much good stuff happening in your life all at the same time? Use this emoji to encapsulate what you're feeling.
Beaming Face With Smiling Eyes Emoji

No, your eyes aren't playing tricks on you. This is not a repeat of the previous emoji, although it does look like it. The lower and upper teeth are visible in the 😁 beaming face with smiling eyes emoji; this makes it different from the grinning face with smiling eyes emoji.
A lot use the beaming face with smiling eyes emoji to reply to a compliment or to express a sense of fulfillment or enjoyment. If you love showing your teeth when you smile, you can also use this emoji to bring that gesture to the virtual world.
Grinning Squinting Face Emoji

You don't need words to describe this emoji; the broad smile and delighted pair of eyes say it all! No serious vibes here! The 😆 grinning squinting face emoji is usually delivered in response to a joke or at the end of a joke. Use this emoji to show you liked a joke and laughed about it, but it didn't make you cry or roll on the floor in laughter.
Smiling Face Emoji

If this emoji could speak, it would probably say, "Smile, it's going to be a great day!" And you'd probably believe him or her. As the most recognized and classic of all emojis, it's developed a reputation for speaking the truth! Out of all the happy emojis on this list, the ☺️ smiling face emoji is the OG and one of the oldest.
The smiling face is great to use to show joy or happiness about something. Since it gives off quite a friendly vibe, include it in conversations you have with people for the very first time. In addition, when someone sends you a compliment, the Smiling Face, along with a thank you, can be a brilliant response.
Smiling Face With Smiling Eyes Emoji

The 😊 smiling face with smiling eyes emoji is so popular that it's usually the first thing one thinks of when they hear the word "emoji."
Why it is so shouldn't surprise anyone because the smiling face with smiling eyes is one of the most genuine emojis you'll ever find. And, it doesn't convey any strong feelings or emotions at all. If you're content with how things are and happy to simply go with the flow, then this emoji is for you.
Smiling Face With Halo Emoji

Bar none, the best emoji to show you're happy about being a good boy and girl and you want to tell the world about it! The 😇 smiling face with halo emoji features a smiling face with a halo on top of its head. Most of the time, the emoji is used to signify being good or without fault. Use it instead of saying, "It wasn't me," "I'm as innocent as an angel!" or, "I've been good and obedient!"
Smiling Face With Hearts Emoji

Smileys plus hearts equals a double dose of sweetness! This emoji features a yellow face with a pair of rosy cheeks and several hearts on its face. Most of the time, the 🥰 smiling face with hearts emoji is used to show a sense of belonging, of being part of something important. It can also describe someone or something adorable.
Grinning Face With Sweat Emoji

Got way too close to potential danger or death? Happy to just be alive? Use the 😅 grinning face with sweat emoji to express immediate comic relief after going through an extremely stressful event.
As for the style of it, the grinning face with sweat emoji depicts a wide open mouth with one drop of sweat on its forehead. When someone sends you something that makes you feel uneasy, send this emoji to share how you feel without appearing impolite.
Rolling On The Floor Laughing Emoji

Let's begin this one with a bit of trivia—did you know that, out of all the happy emojis in existence, the 🤣 rolling on the floor laughing emoji is the only one that came from an acronym? ROFL was one of the earliest acronyms that gained widespread popularity on the internet, along with LMFAO and LOL.
This emoji is often used in response to something absolutely amusing; so funny, that it makes you fall to the ground in laughter! If you truly want someone to read or watch something, you could also use this emoji as a method of attention-getting. Everyone enjoys a good laugh, so they'll read or watch anything that makes them ROFL.
Face With Tears Of Joy Emoji

Think of a crying and laughing emoji. Blend in the two and you get everyone's favorite, the 😂 face with tears of joy emoji! Out of all the happy emojis, the face with tears of joy emoji is undoubtedly the most popular. In 2017, it was the most used emoji on iOS devices, and two years before, it was shared a record-breaking 6.6 billion times on Twitter.
The design of this emoji makes it the perfect way to respond to something funny, which is exactly what it is made for. It shows a yellow sobbing face with raised eyebrows. The face is laughing while crying out tears. Use this emoji when something makes you laugh so hard that you sob, such as when you're watching a funny movie or a TV show. Some people use it to poke fun at themselves.
Slightly Smiling Face Emoji
Keep people guessing with this emoji! When you first lay your eyes on it, the 🙂 slightly smiling face emoji looks quite harmless with its simple design and friendly, open eyes. But believe it or not, this emoji is more passive than happy. The slight smile could mean a dull, "Wow, that's nice," or a sarcastic, "You're annoying." It all depends on the person you're conversing with. Among all the happy emojis, this one is, by far, the most fluid and complicated.
Upside Down Face Emoji

Don't be afraid to get a little silly with the 🙃 upside down face emoji! This emoji conveys a tone of childishness, humor, and everything silly. And, as everyone knows, laughing makes you happy! On how it should be used, anything said that's combined with the upside-down face emoji can be taken as not being serious. From time to time, the upside-down face emoji can commonly convey irony and sarcasm, too. Simply put, if you want to say "oh well" in emoji, use 🙃.
Winking Face Emoji

Just like how a wink works in real life, the 😉 winking face emoji can turn any innocent act into something more naughty! In fact, this emoji is commonly used to "test the waters" to see if there's sexual attraction between two people. Without a doubt, the winking face belongs on our list of happy emojis because when you're flirting, you're genuinely excited and happy to be talking to that person. As for the style of it, the winking face emoji features a yellow smiley with one eye closed and the other eye open.
Smiling Face With Heart Eyes Emoji

What or who do you love? Is it a person, a pet, or a type of food? Whatever it may be, the 😍 smiling face with heart eyes emoji provides a great way to show how much you adore them. This emoji even has red hearts as eyes, to show how much the sender is in love, infatuated, or obsessed with someone or something.
If you saw something that made you so happy and made you fall in love at first sight, include the smiling face with heart eyes emoji at the end of your post. Or, if you received something totally adorable and it rendered you speechless, you can also use this emoji.
Star-Struck Emoji

Who doesn't feel happy about seeing their favorite celebrity? Meeting your idol is something you bring with you your entire life, and the 🤩 star-struck emoji is the best emoji to use to help describe that experience.
This emoji displays a yellow face with a wide grin and stars for the eyes. Its primary function is to convey the emotion one experiences upon seeing their idol in person.
The pair of star eyes on this emoji is its most remarkable feature. These eyes display awe and excitement towards a certain subject or circumstance. People use this emoji to convey the feelings of awe and happiness they have when they see someone or something they think is amazing, thrilling, exhilarating, or stunning.
Face Blowing A Kiss Emoji

Give your loved ones a kiss online with the sweet 😘 face blowing a kiss emoji! This emoji features a winking smiley with pursed lips, while near the chin of the smiley is a red heart. Typically, the emoji is used to express love, affection, and warmth.
It's great for both platonic and romantic relationships. Use this emoji to flirt with your crush or to add a bit of sweetness to a good-night text.
Kissing Face With Closed Eyes Emoji

Time to give someone a nice, big smooch! The 😚 kissing face with closed eyes emoji features a yellow face with its eyes open and lips puckered in the kissing position. It's similar in design to the face blowing a kiss emoji, but it's missing one thing—the red heart.
Like the previous emoji, the kissing face emoji can be flirty, friendly, or downright romantic in tone as well, depending on how you use it. For instance, it's the best type of emoji to be affectionate to your crush, or as a response to good morning texts from family and friends.
Kissing Face With Smiling Eyes Emoji

Lean in for a kiss! The 😙 kissing face with smiling eyes emoji features a yellow face with rosy cheeks, closed eyes, and puckered lips, giving a kiss. Want to kiss someone but feel sort of shy about it?
This emoji is the best one to use to show how you feel. It gives off a feeling of endearment, longing, and love. The kissing face with smiling eyes emoji can also show your special someone you're missing the taste of their lips. On an unemotional note, you can also use the symbol to signify whistling, but it'll depend on the situation and the person you're texting.
Face Savoring Food Emoji

Yum yum! Show you're enjoying your meal with the 😋 face savoring food emoji! This emoji depicts a yellow face with its tongue out and its eyes closed in a satisfied smile—to show it's eaten something delicious.
Use this emoji to react to yummy-looking, food-related content such as pictures or videos. You can also use it to show that you're hungry. While it originally meant satisfaction and contentment over a delicious meal, the emoji can also refer to someone as a "snack." Snack is basically slang for "hot," "fine," and "foxy"—all those words people use to describe individuals they fancy.
Winking Face With Tongue Emoji

Be wacky in the best way with the 😜 winking face with tongue emoji! This emoji shows a smiley with one eye closed and the other wide open. It's got an open, toothless mouth, and its tongue is sticking out.
As seen in its design and overall vibe, the winking face with tongue emoji is crazier and much more playful than the rest of the happy emojis on this list. Thus, it's often used in more intense circumstances, like in flirtier conversations or as a response to something crazy and unbelievable.
Zany Face Emoji

It's time to get a little zany today! You're in a crazy mood, or maybe you just had too much sugar. Either way, you want your followers to know you're ready for a wild ride! You're fun and fancy-free, and there's nothing your friends can say to bring you down from this high.
This 🤪 zany face emoji gives off a type of manic energy that cannot be defined in words. Are you sending pictures or videos from a wild party you just came from with your buddies? You can use this emoji in that context.
Face With Hand Over Mouth Emoji

Stifling laughter, or laughing secretly may come to mind when you see this 🤭 face with hand over mouth emoji. You can definitely see it from the hand covering its mouth! Covering one's hand with one's mouth can mean other things, too. It can also show that you're laughing so hard that you need to put your hand on top of your mouth to prevent embarrassing noises from coming out.
Squinting Face With Tongue Emoji

This is the perfect emoji to use to show your cheeky side! The 😝 squinting face with tongue emoji consists of a yellow face with a pair of x-shaped eyes and a sly smile, with the tongue sticking out. It's more exuberant than the winking face with tongue, and a lot flirtier too. Like all other emojis with tongues out, this smiley can be used to occasionally tease or jokingly insult another person.
Money-Mouth Face Emoji

It's all about the money! Money, money, money! The 🤑 money-mouth face emoji is for anyone who has ever made a lot of money and wants to celebrate that achievement. On the flip side, it's also used in posts expressing some wishful thinking about money or as an emoji response to something people see as fancy but out of their reach.
Though it can be used in various situations, the money-mouth face emoji's main meaning remains the same—to show a love of wealth or an extreme involvement in money.
Hugging Face Emoji

Let me give you a big, virtual hug! Now, who can say no to that? The 🤗 hugging face emoji depicts a smiley offering a hug. It's got a radiant smile on its face, with a little blush on its cheeks. It's an emoji that's filled with care and love, a sweet gesture that gives off a joyful feeling. Among all the happy emojis, the hugging face is definitely one of the most affectionate.
Drooling Face Emoji

Is that drool in your mouth? Whatever you are thinking about, it's making a mess on your face! The 🤤 drooling face emoji shows a yellow face with closed eyes and a slightly open mouth. Saliva is dripping from one corner of the mouth.
This emoji suggests a cheerful type of longing for something. It could be a favorite dish or a travel destination. If your friend sent you a photo of someone visually irresistible, use this emoji as a shameless reaction to the photo. You may also send the drooling face as a reaction to something yummy you just saw or watched.
Partying Face Emoji

Celebrate good times, come on! The 🥳 partying face emoji features a yellow face wearing a colorful hat while blowing a party horn. This emoji exudes joy, excitement, and cheer. Include it in chats, texts, and posts to create an atmosphere of fun! You'll most often spot the emoji in birthday wishes in texts or as part of discussions related to upcoming gatherings.
Smiling Face With Sunglasses Emoji

Already in vacation mode? Use the 😎 smiling face with sunglasses emoji to tell your friends you can't wait to go outside and cool down in the pool! While it might seem simple on the surface, this emoji can have different meanings depending on the context.
When used in a literal sense, the smiling face with sunglasses emoji delivers the message that it's so bright outside. You need to wear sunglasses so your eyes don't get hurt. More often than not, it is used to point out the coolness of an individual, some of their cool achievements, badass moves, or just the way they feel at the moment.
Grinning Cat Emoji

This one's perfect for cat parents that are 100% happy with their pets! Share your love of these purr-fect creatures with the 😺 grinning cat emoji! This emoji features a yellow cat's face with pointy ears and whiskers on both sides of its face. The cat's smiling from ear to ear; the happiness it exudes can be seen in its warm and excited eyes.
It expresses a contented form of happiness and is used to convey a sense of joy and pleasure. This emoji is used in the same way the 😀 grinning face emoji is used, except it's in cat form.
Grinning Cat With Smiling Eyes Emoji

Share your passion for cats and spread the love with this cute cat emoji with long, wispy whiskers. Those who adore cats mostly use the 😸 grinning cat with smiling eyes emoji. Those who can relate to cats enjoy sharing the symbol as well. For instance, if you want to describe someone as being "as cute as a cat," by all means, use this emoji! If you see someone exhibiting cat-like qualities such as curiosity, intuitiveness, and sensuality, you may use the grinning cat with smiling eyes emoji to describe them too. This emoji is the cat counterpart of the 😄 grinning face with smiling eyes emoji.
Cat With Tears Of Joy Emoji

Use the 😹 cat face with tears of joy emoji to mimic your favorite feline! This emoji features a smiling cat face with tears of joy flowing out of each eye. The cat's eyes are closed, and its eyebrows are relaxed. The cat with tears of joy emoji is almost the same as the 😂 face with tears of joy emoji, except it looks like a cat instead of an ordinary smiley.
As for its meaning, it is used by cat lovers to react to something hilarious or to cry out of happiness. If someone is making cat jokes, it would be a pity not to use the cat with tears of joy emoji as an emoji response!
Smiling Cat With Heart Eyes Emoji

Say "meow" in a more passionate way with the 😻 smiling cat with heart eyes emoji! This emoji depicts a yellow cat face with red hearts for eyes, and a blank, black mouth. If this cat could speak, it would probably say, "I love it," or "that's amazing!" As depicted in the previous sentence, this cute kitten is often used to show admiration, affection, or sometimes even infatuation. This emoji has the same meaning as the 😍 smiling face with heart eyes emoji, except it's in cat form. Use this emoji as a response to anything virtually attractive, like a cat you find really adorable.
Kissing Cat Emoji

Send a smooch in feline form and share the 😽 kissing cat emoji with friends and family! This emoji depicts a yellow cat's face puckering its lips. Along with its lips are a pair of happy eyes and a tiny, adorable nose. It also has some blush on the left and right cheek. It is the cat counterpart of the 😚 kissing face with closed eyes emoji.
Because cats are adorable pets, it's pretty obvious to see when a person sends the kissing cat emoji; he or she is trying to act cute as they send smooches to a person. On the other hand, you can also send this emoji if someone did something that made you love them all the more. For example, if your best friend finally agreed to watch your favorite Marvel movie with you, share this emoji with an "I love you."
Relieved Face Emoji

This emoji is the perfect representation of the relief one feels after overcoming a hard situation or event. The 😌 relieved face emoji features a yellow smiling face with closed eyes and raised but relaxed eyebrows. It conveys feelings of calmness, contentment, relief, and tranquility.
This emoji can also respond to calming and peaceful videos you've just seen. You could use this emoji as a playful reaction to a compliment too. If you've suddenly felt so much gratitude for an individual who's helped you in the past, and you're texting someone about it, use this emoji in that conversation.
Smirking Face Emoji

As its official name reveals, the 😏 smirking face emoji represents the facial expression of a smirk. When people smirk, they smile at someone in an irritatingly smug, conceited, or silly way. Those that smirk all the time are pleased with themselves. They believe they are superior to others in every way. With their heads held high, they act like they know everything and that nobody will ever get up to their level.
This emoji is quite popular, especially among young wild teens, because it is often used to convey flirtation or sexual innuendo as well. Send it to your crush to show you want to have fun with them. And by fun, you get what we're saying. If someone's acting way more innocent than they actually are, use it as a way of saying, "I see right through you; you can't fool me."
Nerd Face Emoji

It's time to release your inner nerd! The 🤓 nerd face emoji represents all the fun, nerdy people in the world. What exactly is a nerd? A nerd is an individual devoted to academic, intellectual, or technical pursuits or interests. They're known for being introverted, overly intellectual, and lacking social skills.
As for their physical appearance, you don't need to look too far to get a glimpse; just look at the nerd face smiley! This emoji has the same physical characteristics as a real-life nerd, from the huge glasses to the awkward smile and rabbit-like teeth. In how it's used, it's often used to describe someone who is acting geeky or nerdy. Since nerds are known for being smart, you can also use the nerd face emoji to let others know you're preparing for a big exam. Depending on the context, the "nerdy face," as it is sometimes called, may also be used to show a personal achievement.
Smiling Face With Horns Emoji

Why don't we end our happy emojis list by throwing a little mischief here and there? Ready to get into trouble? Don't keep your devilish side hidden; we'll definitely make it fun! The 😈 smiling face with horns emoji is a tiny but wicked creature with protruding horns and a mischievous smirk. When used in conjunction with the 😇 smiling face with halo emoji, it is meant to show that a person has both a good and a bad side.
But most of the time, the smiling face with horns is bad, really bad. It's used to demonstrate mischievousness or to talk about future or past trouble-making schemes. Simply put, this emoji can be a great way of saying you're up to some mischief! If you're feeling like a happy devil, and you're not afraid to let the whole world know, send this emoji to show that.
Struggling With Happiness
After learning about happy emojis, you would want to try them out for yourself. But, you can't find happiness within yourself, and you don't want to fool your followers into thinking you are something you're not.
You want to be happy again, but don't know how. It's true that everyone defines happiness differently, and everyone enjoys different things. But, regardless of your version of true happiness, living a happier, more satisfying life is within your reach. A few tweaks to your regular habits can help you get there. Below are some tips for you to follow day by day. Don't worry; all the suggestions below are simple and easy to apply.
Smile Therapy
The first one is to smile! We smile because we're happy, and smiling makes us happier because it releases dopamine from the brain. Dopamine is a chemical released in the brain that makes you feel good. Having the right amount of dopamine is important both for your brain and body. As you smile in real life, you can smile online too with happy emojis!
Happy Dance
Next, don't forget to exercise! Not only is exercise good for your body, but regular exercise can enhance happiness and self-esteem while lowering stress, anxiety, and depressive symptoms. Third, practice gratitude. As you go about your day, keep an eye out for all the good things in your life. They can be big things, like a promotion, or a co-worker who treated you to a cup of coffee. Post about them. End your posts with happy emojis. With a little practice, you'll soon become more aware of all the positive things around you.
Gleeful Kindness
Once you're filled with gratitude, why not share how you feel by practicing good deeds? According to research, showing compassion to others may also improve your well-being as a whole. Giving someone a sincere compliment online or in real life can instantly make someone's day better while giving your own happiness a boost.
Still find it hard to be happy after doing all those things for quite some time? You might be struggling with depression. Mental illnesses like depression can make it hard to be happy without treatment from a mental health provider. If that's the case, you should seek treatment immediately.
Conclusion
With all that's happening in the world, there's no better time than the present to change one's mindset. Though it may feel like there has been little uplifting news lately, there are still a lot of reasons to be optimistic. You just need to know where to find what you need. And sometimes, you've also got to make those opportunities for yourself.
Benefits Of Positivity
The way to create more positivity online is to generate it. And once it's out there, people will notice it and share it. There's an old saying that "honey catches more flies than vinegar," and nowhere is this truer than on social media. Begin by spicing things up with happy emojis! Also, learn the most effective ways of incorporating emojis into your social media posts.
Social Media Tips
Here are a few tips to get you started. First, from time to time, harvest your audience's reaction to something. For example, tell them to leave a 👍 or 👎as a reaction to a post. You can do the same with happy emojis. Ask them to choose a happy emoji to define how happy they are.
Second, why not ask your audience to answer a question? For example, you can ask them about their plans for the weekend, but they can only use emojis to reply.
On the more technical side, use emojis to separate long strings of text. When a social media post has too much text, it looks boring. Putting happy emojis in your posts will help catch the eye and attention of visitors.
Social media is a very effective way of connecting with your audience and has proven to be a place where positivity is received with open arms. If you do things correctly, without a doubt, spreading positivity across your platforms will help you, your brand, and your followers in the long run.