🏳️‍⚧️ Trans Flag Emoji: Show Support For The Transgender Community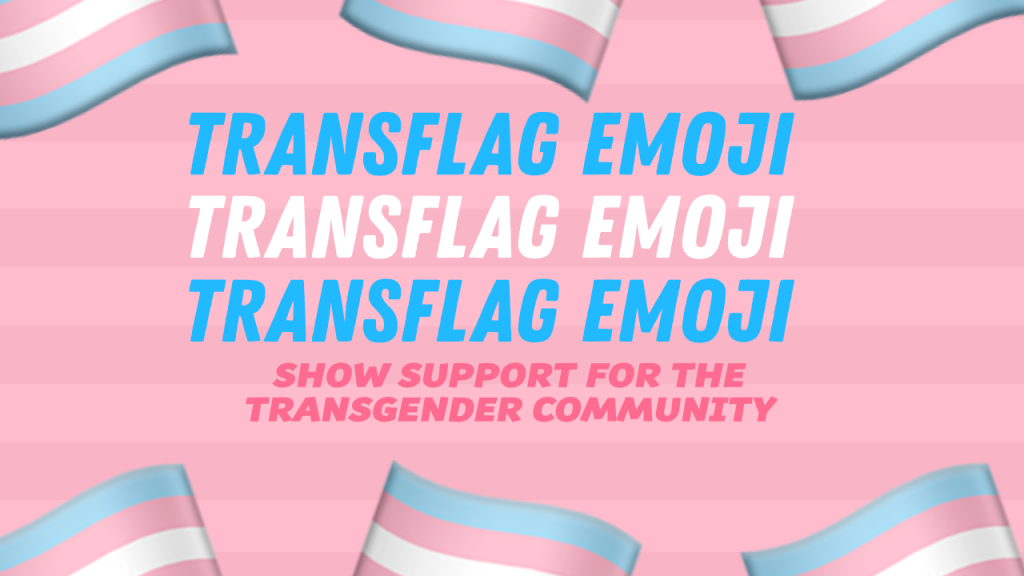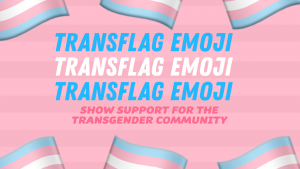 Emojis reflect the world we live in, and the world we live in is changing and developing lightning fast. Years ago, the word "transgender," did not exist. You were either straight or gay. However, as human sexuality becomes increasingly diverse, terms like "transgender," and "gender fluidity," are now widely used. Keeping that in mind, since emojis are reflections of the world we live in, gender-inclusive symbols like the 🏳️‍⚧️ Trans Flag emoji, and 🏳️‍🌈 Rainbow Flag are being added to the emoji palette to represent a better vast demographic of users.
Transgender Flag Emoji

The 🏳️‍⚧️ Transgender Flag emoji, in particular, has quite a colorful backstory. For the past four years, the Transgender Pride Flag has been one of the most often requested emojis on the Internet. The transgender community worked hard to acquire an emoji of their flag online, and their perseverance paid off.
At the start of this year, Unicode Consortium, a group of some of the biggest organizations in the world that vote on which emojis will be created, announced they will be releasing a Trans Flag emoji this year. People power at its finest!
Trans Flag Emoji Colors
If you usually attend Pride events, you're probably familiar with the transgender flag. The Transgender flag has three primary colors, light blue, pink, and white.
Go online, you'll see the Trans Flag emoji is a digital version of the real-life flag. Light blue and pink are the main colors. This is because they're the traditional colors associated with baby boys and girls. So, what does the white stand for? White represents persons who are intersex, transitioning or consider themselves to be of a neutral or ambiguous gender.
Transgender Flag History
The Transgender Flag has been in use since 1999, when it was designed by Monica Helms, a transgender Navy veteran from the United States. The flag made its debut at a Pride march in Phoenix, Arizona, a year later. It's quite hard to believe it took more than 20 years for an emoji to be made about it!
Meaning And Use
In the digital world, you may use the symbol in topics related to the LGBT (Lesbian, Gender, Bisexual and Transexual) community. For instance, if you are a member of the transgender community, share this emoji with pride, tell the world you are not afraid to be who you are! You may also use this flag if you are preparing to undertake a sex change procedure in order to be in the body you correctly believe you belong in.
Share The Trans Flag Emoji Online
Feel free to use these examples as a guideline when creating your own post, or email, or chat.
– 🏳️‍⚧️ And proud of it! I was biologically born a boy named Todd, my gender identity, the way I want to express myself, is female.
– My heart jumped up and down when I saw a 🏳️‍⚧️ character on the TV show "Supergirl" Even the superhero world is getting more diverse!
– So sad to know within the LGBTQ community, 🏳️‍⚧️ and bisexual women face the most alarming rates of sexual violence.
– ​I feel sad for members of the 🏳️‍🌈​⚧​🧑​👨​👩​that live in Kenya and Egypt where homosexuality is banned [What it means: LGBT community]
– Where can you buy a small 🏳️‍⚧️? I want to add it to my desk at the office. [What it means: transgender flag]
– Having my 🏳️‍⚧️⚕️💉 today! I am feeling excited and a bit nervous. Saved up 100,000 dollars for this! [What it means: gender reassignment surgery]
Trans Flag Emoji Origin Story
In the early part of the article, we talked about how the 🏳️‍⚧️ Trans Flag emoji was announced and approved by the Unicode Consortium as part of the 2020 new emojis. Unicode labeled the new emoji as "Transgender Flag," and rolled it out to major platforms as part of Emoji 13.0., the 13th version of the Unicode Standard to support emoji. Some vendors chose to change the name to the symbol Blue, Pink, And White flag, while others went with a shorter version, "Trans Flag."
Unicode 13.0: Most Diverse Batch
Among all the batches released and approved by Unicode, 13.0 is undoubtedly the most gender-inclusive of them all.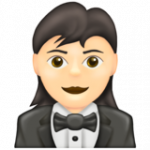 Out of 117 new images, five of them refer to gender identity and sexuality- namely, Mx Claus, Woman In Tuxedo, Man With Veil Gender Neutral Parent Bottle Feeding A Baby and of course, the Transgender Flag. Some of them haven't been rolled out yet, or are scheduled to be released.
Transgender Flag Emoji Across Platforms

Bringing diversity to emojis is no trivial matter when it comes to gender inclusion. To have gender-affirming and gender-fluid symbols on such a trendy platform, really says a lot about how far we've come as a race. Do remember though, that all emojis, even the gender-inclusive ones, often appear differently depending on one's device.
Emojis are cross-platform, you may use them on desktops, laptops, and mobile phones, however, once a vendor receives the general design from Unicode, the emoji will be rendered in the appropriate style for the current operating system. The 📱Mobile Phone emoji will look like an iPhone on a Mac or iPad, but it will look like a Windows phone on a Windows PC.
Twitter and JoyPixels Design Artwork
With the Trans Flag emoji, the design tweaks lean toward shape and color. Twitter and JoyPixels' artwork get the most attention, hands down, because they're not in the shape of a flag. Twitter's rendition of the controversial flag has a more rectangular shape, with zero curves, similar to a mousepad. Meanwhile, JoyPixel's depiction stands out among other emoji keyboards due to its rounded shape.
Apple, Google, WhatsApp Design Artwork
Apple, Google, Samsung, and WhatsApp display a flag with a blue line at the top and bottom, pink lines below them, and a white line at the center. However, Google's version comes with a thin blue border, Apple's shade of blue is darker than the rest, and Samsung's model is the smallest.
Practice Caution
No doubt, it's fun to play around and share new emojis, the temptation to flex what you have with your family and friends on social media, email, or via text is strong indeed, but when dealing with controversial emojis, more caution is necessary.
More people are identifying as LGBT than before, hardly surprising, considering the increase of gay and trans rights conversations in the media. So, if you want to use gender-inclusive symbols regularly, it's best to always be updated. You don't want to insult people, or label someone in a wrong way.
Gender-Inclusive Emojis
With that in mind, here are other gender-inclusive and gender-neutral emojis:
Transgender Sign

Like the Trans Flag emoji, the ⚧️ Transgender Sign emoji represents someone who was born as one gender but identifies as another. The transgender emoji depicts the transgender symbol, which consists of a female, a male, and a genderqueer symbol arranged in a circle. When discussing the LGBTQ community, transgender persons, or LGBTQ pride, use this emoji.
Rainbow Flag

A rainbow flag with the colors red, orange, yellow, green, blue, and purple. The LGBT movement commonly uses it as a gay pride flag, or just a pride flag. The bright colors reflect the diversity of the LGBTQ community. While the use of the rainbow flag originated in San Francisco, members of the LGBT community have adopted it as their official symbol. You'll see a lot of the rainbow flag at LGBT rights marches
Mixed Families
There's also a range of emojis featuring lesbian, gay, bisexual, and transgender family structures.
For lesbian couples – 👩‍👩‍👧‍👧 Family of Woman, Woman, Girl and Girl , 👩‍👩‍👧‍👦 Family of Woman, Woman, Girl and Boy, 👩‍👩‍👦‍👦 Family of Woman, Woman, Boy and Boy, 👩‍👩‍👦 Family of Woman, Woman and Boy, and 👩‍👩‍👧 Family of Woman, Woman and Girl.
For gay couples – 👨‍👨‍👦 Family of Man, Man and Boy, 👨‍👨‍👧 Family of Man, Man and Girl, 👨‍👨‍👧‍👦 Family of Man, Man, Girl and Boy, 👨‍👨‍👧‍👧 Family of Man, Man, Girl and Girl, and lastly, 👨‍👨‍👦‍👦 Family of Man, Man, Boy and Boy.
Conclusion
Ultimately, now that there are new situations we're finding ourselves in, it all comes down to awareness, understanding, and caring. Know what the Trans Flag, and other LGBT-type emojis stand for and how to use them. Practicing tact and diplomacy online leads to improved digital communication with other people.
Online Etiquette
For most people, their sexual orientation is a private subject matter. If they don't mention it, it's better not to ask. Moreover, if a person doesn't agree with someone's choices in life, sure, it's their right to disagree. However, it's not their right to interfere with that person's life.
In particular, online etiquette is of utmost importance when using the Trans Flag emoji and other gender symbol emojis. When chatting online, don't second guess a person's sexual orientation unless they share it with you.
Right Pronouns
Last, but not the least.. pronouns. Pronouns are important. Using someone's correct pronouns is an important way of affirming someone's identity, and is a fundamental step in being an ally. We exchange pronouns because they are a crucial aspect of who we are and to prevent assuming based on appearance.
Furthermore, we validate someone's identity by using their correct pronouns. The most frequent pronouns are 'he' and she,' which relate to a person's gender. However, for certain transgender, non-binary, or queer persons, these pronouns may not apply, thus using them can be awkward and sometimes harmful.
Be An Ally
Some gender non-conforming people use a combination of pronouns, such as he/them or they/her. In many circumstances, mixed pronouns indicate that the person uses both pronouns interchangeably, but prefers the first one specified. However, because pronouns have different meanings for each individual, it is best to ask what pronouns they use. These simple tasks go a long way in creating an affirming and inclusive environment for members of the LGBT community.