🍨 Ice Cream Emoji: Share The Joy Ice Cream Brings Online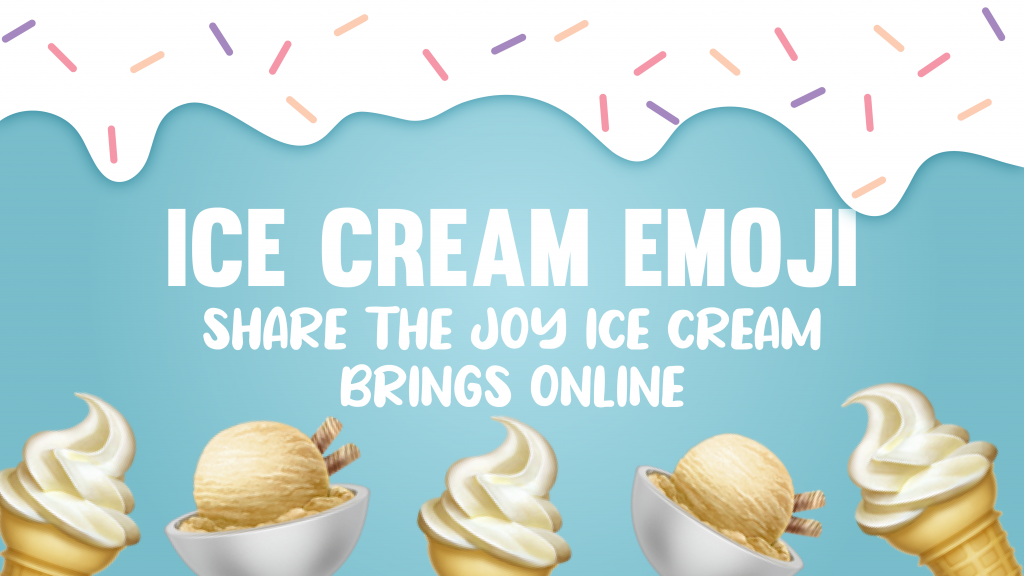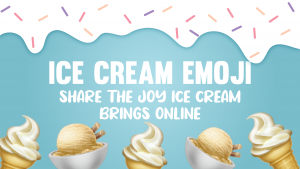 I scream, you scream, we all scream for ice cream! On a hot summer afternoon, who doesn't enjoy a scoop of ice cream? While there's nothing wrong with enjoying the simple, tasty frozen delicacy all by yourself, sometimes you want to take your love of ice cream to the next level by talking about it online, which is where people hang out most of the time, anyway. If posting your fave ice cream moments will make you happy, then why the heck not, right? Dropping an 🍨 Ice Cream emoji or two will surely boost the exposure and engagement of your digital content, as well.
However, if you really do want to make an impact online, emojis can be strong tools for helping your message linger with your audience. Based on studies, people who received messages with emojis performed better on memory tests than those who received messages without emojis, demonstrating that emojis can make your message more remembered.
Emoji Power
Emojis are certainly useful in the marketing world. Add them in a tweet, they can boost engagement by 25.4 percent, while emojis in a Facebook post can boost likes by 57 percent, and comments and shares by 33 percent. If emojis can significantly enhance the likelihood of engagement, there is no reason not to use them.
At present, there are 2,666 emojis to choose from. So where should one start? First of all, the emoji you pick should be connected to the subject of your post. So, if you are talking about ice cream and other sweet, frozen treats, the best symbol to use would be, of course, the ice cream emoji.
Ice Cream Emoji Meaning

The 🍨 Ice Cream emoji is a pretty self-explanatory type of symbol. Even so, it can be used in many situations. The symbol is basically a colored illustration of a bowl filled with scoops of ice cream of varying flavors. It looks pretty much like the 🍧 Shaved Ice emoji, but it is a different type of dessert since it is made of milk and cream.
You'll see ice cream emoji in posts related to ice cream, desserts, and summer. Some people use it to describe the action of "cooling off," and "cooling down," like when you cool off your body by taking a dip in the pool, or when you cool down after having an argument with a loved one.
Other Names of the Ice Cream Emoji
Usually, different sites have different names for the same emoji. Some sites use "Bowl Of Ice Cream," or "Dessert." Yup, the emoji is so popular, it's used to describe all types and forms of desserts!
Ice Cream Emoji Origin
The ice cream emoji was introduced to the public as a member of Unicode 6.0, back in October 2010. Unicode 6.0 was the first version of the Unicode Standard to include emoji functionality. This batch was the first to include additional characters solely for the purpose of compatibility with emojis used in Japan. Some of the other popular emojis included in Unicode 6.0 were the sassy 💅 Nail Polish emoji, the hilarious 💩 Pile Of Poo emoji, and the awesome 💯 Hundred Points emoji.
Ice Cream Emoji On Different Platforms

Can the ice cream emoji be used cross-platform? Basically, yes. However, emojis are both device-dependent and app-specific. They are rendered according to the settings of the current operating system, app, or platform they are being shown from.
Now, if you want to talk about a specific flavor of ice cream on your chat apps or social media accounts, you need to see how the symbol appears on your device, or the app you're using it from. You'll immediately how the color and design of the emoji changes according to the platform.
Apple And Google
For instance, Apple's ice cream emoji is brown, with two wafers at the back, making it look like a bowl of chocolate ice cream. Conversely, Google's version contains one scoop of chocolate, and one scoop of strawberry all in a bright blue. Much more colorful than Apple's emoji, Google's version even has got rainbow-colored sprinkles on top.
Facebook And Samsung
Moving forward, the flavor of the ice cream on Facebook's version is strawberry. And instead of sprinkles, it's got a nice, bright, red cherry on top. Surprisingly, Samsung's version is quite similar, except the bowl holding the ice cream is shiner, and there's a circle of whipped cream around the ice cream. On the other hand, Twitter's model outdoes the rest by displaying not one, not two, three, three scoops of ice cream. One pink scoop, one brown scoop, and one light brown scoop!
JoyPixel
Last, but not the least, is the JoyPixel version, which wins the yummiest-looking ice cream award by far! Each scoop is coated in chocolate, and it's got sprinkles AND syrup on top. Yum, yum!
How To Use The Ice Cream Emoji
Due to their casual and fun nature, emojis can be used in a variety of creative ways, solo, or along with other symbols. Check out some of the samples we've made.
– My favorite 🍨 flavor is strawberry. It's the only flavor I look for when I'm in the grocery store!
– I just found out 50 percent of the volume in 🍨 is air! No wonder it has such a light texture!
– Read that there's 🍨 flavored with shrimp, octopus, and cow tongue! On second thought, I think I'll stick with chocolate.
– Every morning, I make a nice ​🍌​🍨​🍓 to start the day.​ [What it means: smoothie]
– Got such a sweet tooth, I eat ​🍰​🍨​🎂​ before the main meal! ​[What it means: dessert]
– Had five meetings today. I am so tired. ​🍨​➡️️​😋​ right now! [What it means: need a bowl of ice cream]
Soft Ice Cream Emoji

The 🍦 Soft Ice Cream emoji is an image of soft-serve ice cream with a milk base served in a crunchy wafer cone. You'll see this emoji in conversations related to ice cream, frozen yogurt, and frozen desserts. As for its meaning, as you can see, the meaning and usage of the emoji are quite similar to the 🍨 Ice Cream emoji, so we won't go into that.
What makes this symbol different is its design and color, especially on different platforms.
Soft Ice Cream Emoji On Different Platforms

Like the previous 🍨 Ice Cream emoji, the biggest difference per platform lies in the product itself. For the 🍦 Soft Ice Cream emoji, it's the color of the swirl on top of the wafer. Apple's swirl is brown, while Twitter, Google, and JoyPixels are all leaning toward orange. However, out of all of them, Facebook and Windows stand out the most.
What makes Facebook so different? First off, it's the only 🍦 Soft Ice Cream emoji with a pink swirl. Windows is also different because it is the symbol under the category that appears with a black outline.
Soft Ice Cream Emoji and Poop Emoji: Are They The Same?


If you're eating something right now, you might want to stop for a moment- unless you're not the squeamish type.
Take a look at the 💩 Pile Of Poo emoji and 🍦 Soft Ice Cream emoji more closely. Do you see how similar they are? We see it, too! The poo swirl and the ice cream swirl have the same shape.
In 2015, Los Angeles-based editor and writer Peter Miller first made the comparison when he was photoshopping the poo in the 💩 Pile Of Poo emoji onto the cone of the 🍦 Soft Ice Cream emoji as a prank to his girlfriend.
Eventually, this "huge discovery," was even featured on the Huffington Post and other media outlets! However, the startling revelation did not stop people from loving the 🍦 Soft Ice Cream emoji. So much so, it is currently the 326th ranked emoji in the world.
Conclusion
We hope we were able to help you share your love for all things ice cream! When you can't go a day, a week, or a month without your favorite ice cream flavors- we know how that feels. On a separate note, we also know that when you love something you want to learn more about it. And as we were going through our research, we found a few cool, random, pieces of trivia about ice cream that you can use for your online content. You're welcome. Just don't forget to include the ice cream emoji for greater reach, too!
Here's our first trivia tidbit- do you know that ice cream trucks in the United Kingdom are only permitted to play music or ring a handbell from 12 pm to 7 pm? Let's take a deep dive into ice cream history for this one.
Did you have any idea that Catherine the Great, Russia's longest-ruling female leader, loved ice cream so much she owned a special ice cream service set made of Sevres porcelain? Lastly, have you ever wondered what's THE most popular ice cream flavor? Chocolate lovers, take a step back for this one! It's vanilla, followed by chocolate, strawberry, and cookies and cream.
That's it for now, folks! Keep checking Emojiguide for more features and news about your favorite emojis!