The Most Adorable 🐶 Dog Emoji Twitter Thread: Here's Why The Internet's Freaking Out Over It 🐕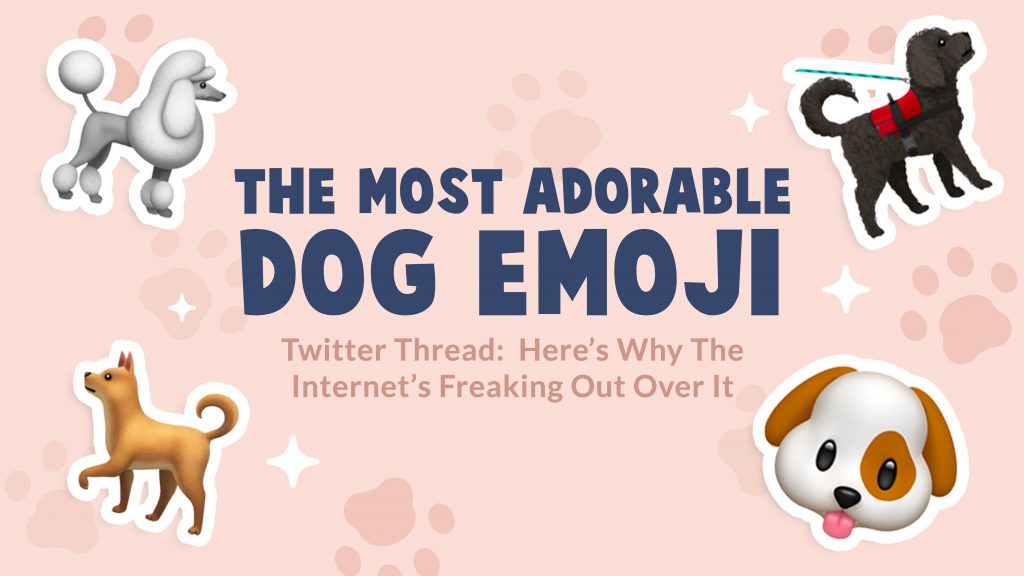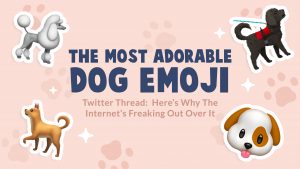 Famous author Josh Billings once said, "A dog is the only thing on Earth that loves you more than you love yourself." Certainly, we agree with that statement, and we're sure all the other dog lovers are replying with a loud "heck, yeah," to that quote, too! Anyone who has ever owned a pet knows they have the capacity for the kind of unconditional love seen otherwise only between a human and its offspring. Isn't that amazing?
Pets In A Pandemic
Certainly, no matter how hard things may get, it pays to count our blessings. For one thing, even though this year has been incredibly tough, we're thankful to have our favorite pets at home to keep us sane. Thus, as we struggle to reset and find a "new normal" in the midst of a pandemic, the fun and companionship our pets bring us have taken on a new level of importance.
Dog Plus Emoji = Fun!
On that note, to go with that sentiment, we stumbled on a fun Dog with emoji Twitter thread sure to make your day, your week, or your month even. In fact, when we read it, it definitely filled our hearts with happiness! We hope it gives you the same effect, too!
In particular, the thread that is going viral on social media features two images, the first image is of an emoji, and the second image is of a dog copying the said emoji.
Face With Hand Over Mouth Emoji
Twitter user @ayushguptaaa began the thread on July 27, 2020. He posted a picture of a Golden Retriever copying a 🤭 Face With Hand Over Mouth emoji. He captioned the tweet with: "Here is something to bring a smile on your face. Dogs are so cute and wholesome :)))"
Dog lovers, emoji lovers, and Dog emoji lovers all over the world began commenting on the tweet, sharing pictures of their adorable dogs, which prompted @ayushguptaaa to post more photos of his own!
Face With Tongue Emoji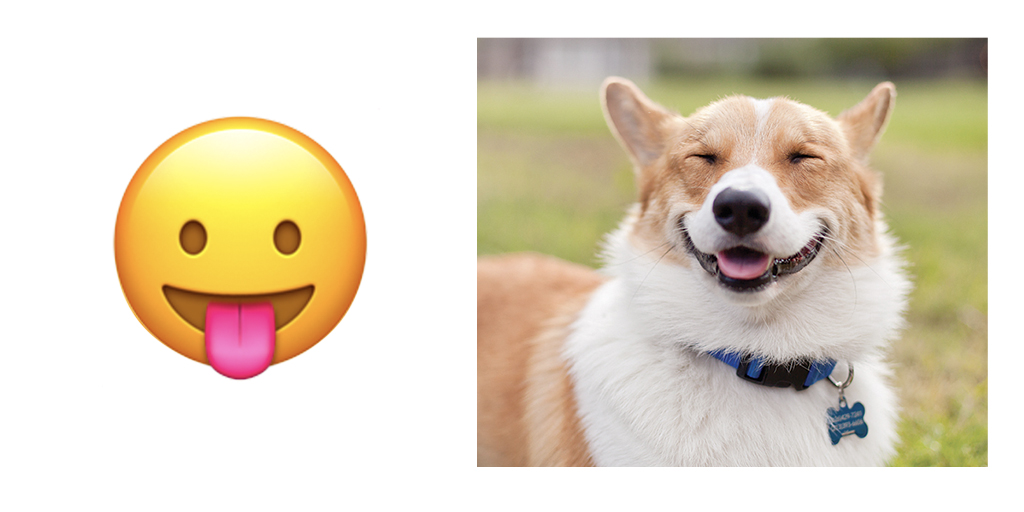 His second tweet featured a Welsh Corgi wearing a black and blue collar mimicking the 😛 Face With Tongue emoji!
Smiling Face With Sunglasses Emoji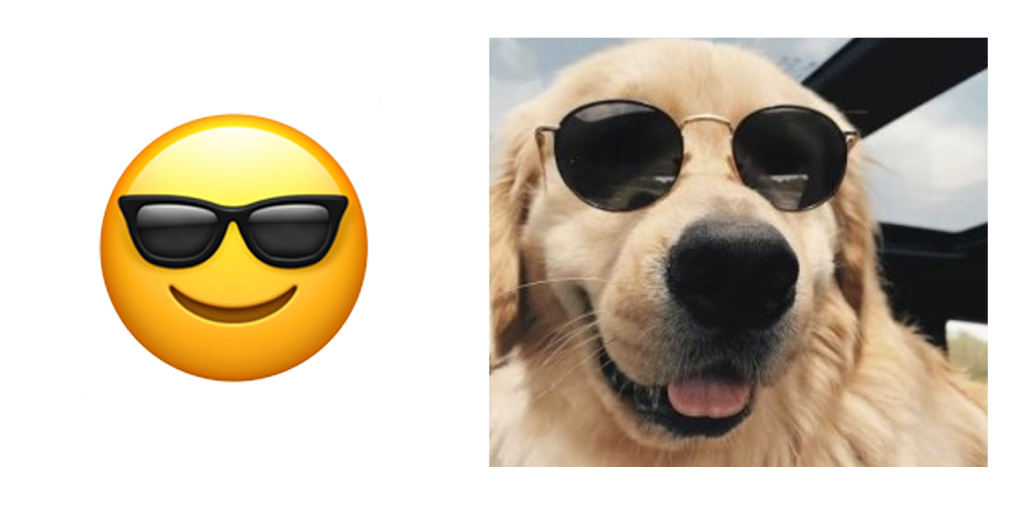 @ayushguptaa's third tweet was a little bit different. The dog had accessories! The cute doggie wore a pair of sunglasses and copied the 😎 Smiling Face With Sunglasses emoji.
Winking Face With Tongue Emoji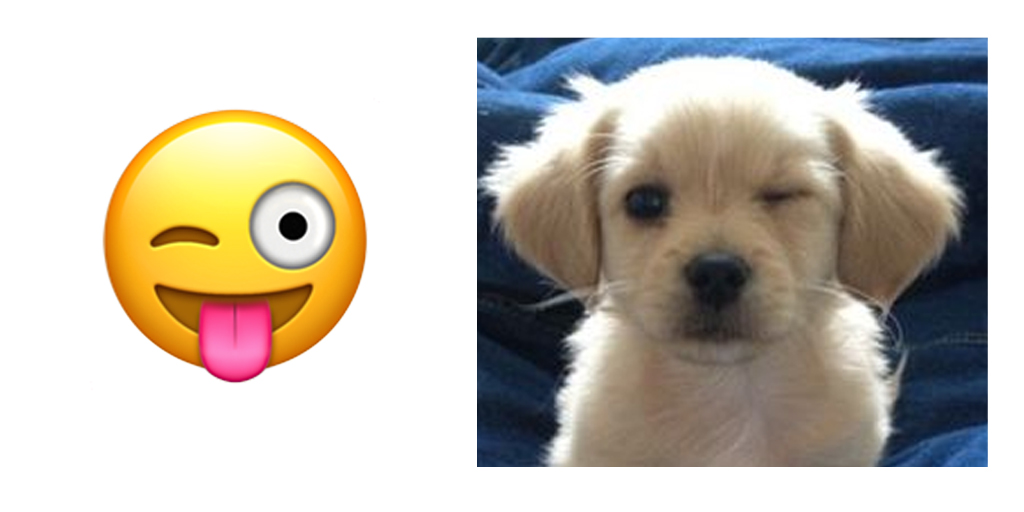 As we moved on to the fourth tweet, our inner "aww," grew even louder due to another Golden Retriever, but this time he was winking! The Retriever made our hearts melt with his adorable facial expression. He was copying the popular 😜 Winking Face With Tongue emoji.
Face With Tongue Emoji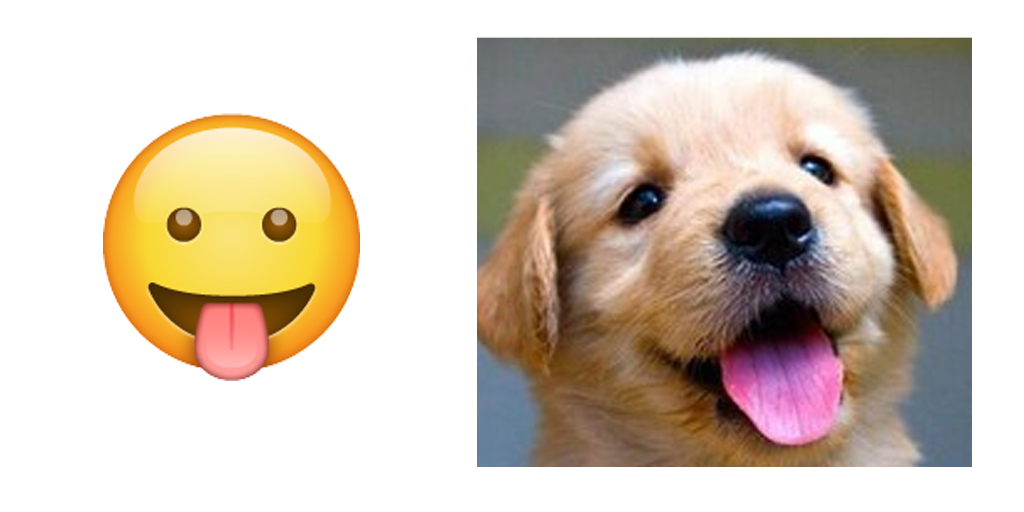 Moving on, the fifth tweet featured yet another Golden Retriever. However, this one was cheekier than all the rest because his tongue was sticking out. He tried to copy the 😛 Face With Tongue emoji, and he nailed it!
Nerd Face Emoji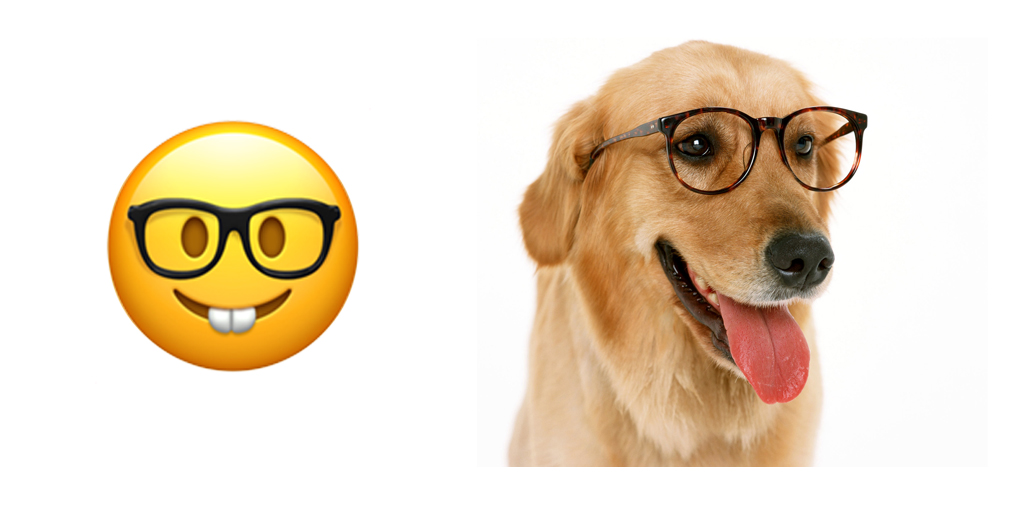 For the sixth tweet, the featured dog went for a brainier look. One of the cutest Labrador Retrievers we've ever seen, wore a pair of glasses, replicating the 🤓 Nerd Face emoji!
Pleading Face Emoji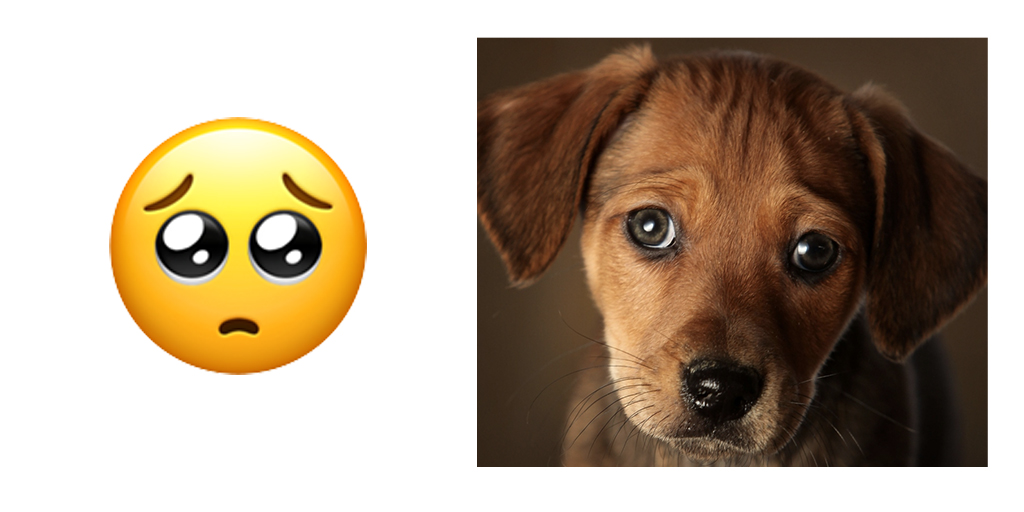 The dog, a Redbone Coonhound, featured in the seventh Tweet, really pulled at our heartstrings. His sad little pout was the perfect doggie version of the 🥺 Pleading Face emoji.
Angry Face Emoji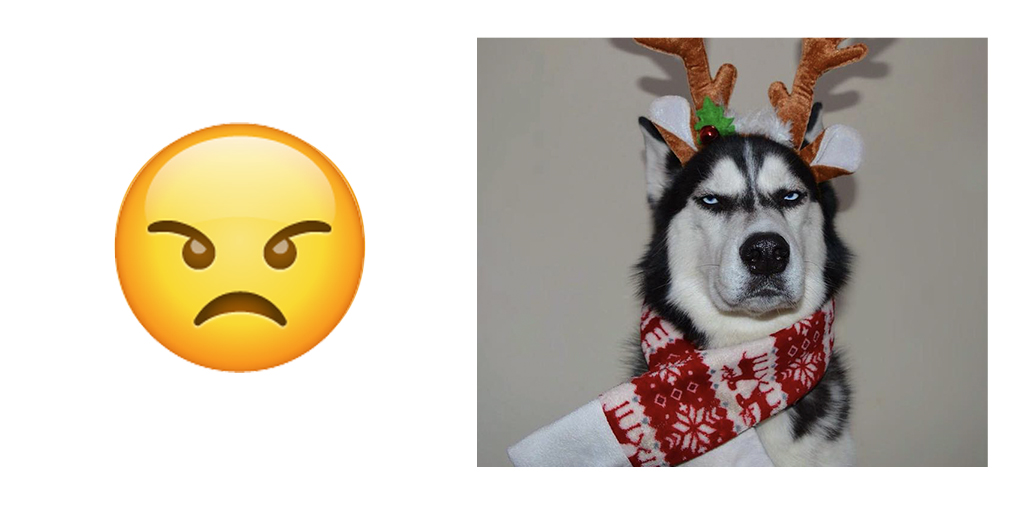 You don't want to mess with the Siberian Husky in the 😠 Angry Face emoji; he is definitely in a bad mood. In this case, maybe it's because of the silly scarf and antlers he is wearing!
Disappointed Face Emoji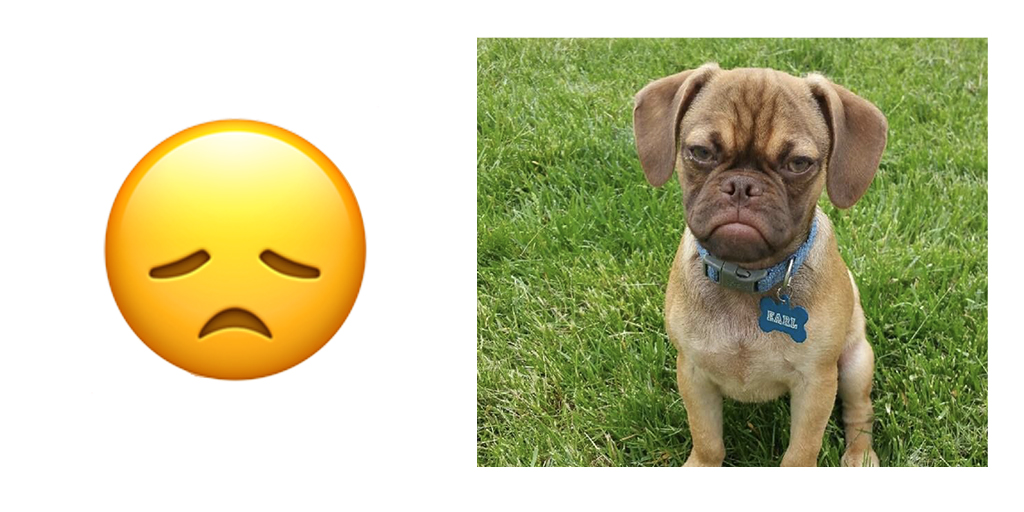 The ninth dog in the thread is a puggle (pug-and-beagle hybrid) named Earl The Grumpy Puppy. He is copying the 😞 Disappointed Face emoji.
Famous Puppy
Did you know Earl The Grumpy Puppy's adorable pouty face is a meme? Earl The Grumpy Puppy is so popular online that his photo garnered over 500 comments on Reddit, and there is a subreddit devoted to Earl! In @ayushguptaa's viral Twitter thread, Earl copied the 😞 Disappointed Face emoji, and he did a great job!
Frowning Face Emoji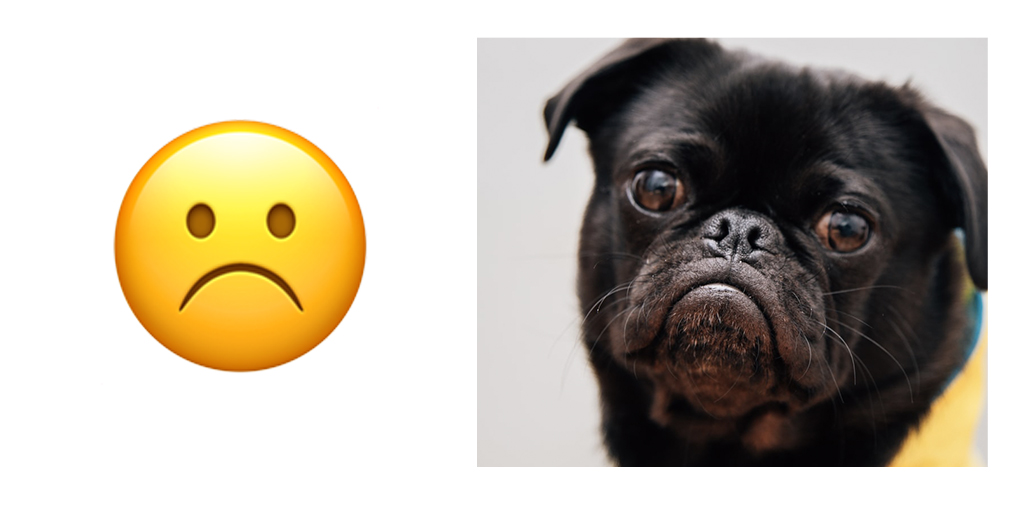 A black pug in a sad mood is the tenth and second to the last dog featured in the thread. We wished we could hug the pug in real life! He gave his own version of the ☹️ Frowning Face emoji, and it made our day!
Face With Tears Of Joy Emoji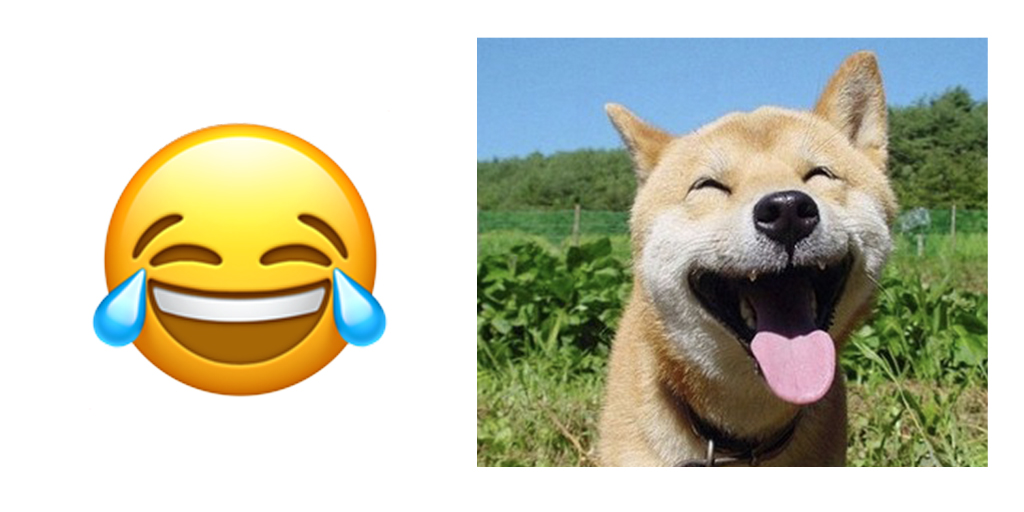 For the final dog, Twitter user @ayushguptaa certainly saved the best for last! In this case, the last dog in the thread is the happiest Shiba Inu we've seen! Shiba Inu is a Japanese breed of hunting dog. In the thread, the dog copied the most popular emoji of all time, everyone's favorite 😂 Face With Tears Of Joy emoji.
Viral Dogs
As of this writing, the viral Twitter thread has already garnered 816 retweets, 90 quote tweets, and 3.7 likes. Most of the reactions are very positive. Furthermore, some are thankful for the tweet, calling it the "happiest thread ever." Netizens like the photos so much that they save the images to their devices and send thank you tweets to @ayushguptaa for starting the thread and spreading much-needed positivity.
Loving Dogs Just The Way They Are
Like humans, dogs have very different personalities. Some dogs jump all over everyone they meet, and some reserve their slobbery kisses for only a few very select humans. Certainly, whether they're an introvert, extrovert, or ambivert, we're sure you love them unconditionally, and you like to feature them on your Facebook account, Twitter account, Instagram account and other social media accounts!
Show Your Love For Your Pets With These Dog Emojis
Having said that, do you know you can spice up your social media posts with different types of Dog emoji? If you didn't, well, now you know! You can even include them in your texts, social media posts, and emails ASAP! Let's go over some of them below.
Dog Emoji
The 🐕 Dog emoji is a cartoon-styled photo of a dog, a four-legged animal people use as a pet or to hunt or guard things. The dog is standing on all fours, is facing left, is light-brown in color, and has a curly tail and floppy ears.
The digital community first saw the 🐕 Dog emoji in 2010, when it was released to the public as part of Unicode 6.0, the first version of the Unicode Standard to support emoji. The 🐕 Dog emoji appears in topics about dogs and is also used as a synonym for cuteness and friendliness since many people think dogs are cute.
Facebook and Google's 🐕 Dog emoji looks similar to the Shiba Inu, a Japanese breed of hunting dog. To go with that, here's another interesting fact- the 🐕 Dog emoji appearing on vendors WhatsApp, Google, and Messenger are the only Dog emojis that are forward-facing, the rest are facing to the side.
How to use the 🐕 Dog emoji:
You're in the 🐕 🏠 now after spilling confidential information to our client!
I need to say, the only thing keeping me sane right now is my 🐕, the stress is so bad at work, I wish I could hide my 🐕 in the drawer!
Dog Face Emoji

The 🐶 Dog Face emoji is a cartoon-styled face of a dog. The dog is brown and white in color, with round black eyes and a pink tongue. The animal's mouth is hanging open.
The 🐶 Dog Face emoji first appeared in October 2010 as part of Unicode 6.0, the first major version of the Unicode Standard published solely in an online format. This shows just how important dogs are to the digital community, the 🐕 Dog emoji and 🐶 Dog Face emoji were part of the first few batches of official emojis! People use the 🐶 Dog Face emoji when they want to talk about dogs, pets, or their favorite animals.
Google and Facebook feature a Shiba Inu as their 🐶 Dog Face emoji. On the other hand, Whatsapp, Microsoft and Apple's 🐶 Dog Face emoji are the only vendors with a brown patch covering one of the dog's eyes.
How to use the 🐶 Dog Face emoji:
Recently, there have been so many burglaries in our neighborhood, it's making me so scared. I think I need to get ⌚🐶 to keep my home safe.
Janet went for a 🚶 with her 🐶. Do you have any messages for her?
Poodle Emoji

The 🐩 Poodle emoji is a gray and white illustration of a poodle, a square-proportioned dog with a proud carriage and elegant appearance.
The 🐩 Poodle emoji's background is similar to the 🐕 Dog emoji and 🐶 Dog Face emoji. Like the previous emojis, the public first got a glimpse of the 🐩 Poodle emoji in 2010 when it was released to the public.
The 🐩 Poodle emoji, like the 🐕 Dog emoji, represents a variety of dog breeds. So if you want to talk about poodles or different types of dogs, use the 🐩 Poodle emoji.
Did you know Facebook, Samsung, and Google's 🐩 Poodle emoji used to be pink? They're all white and gray now.
How to use the 🐩 Poodle emoji:
My pet 🐩 is so smart, it only takes her an hour to learn a new trick!
My 🐩 is so spoiled. Every week, I bring her to the salon. She gets her ears cleaned and coat conditioned. I have no regrets, though. I always want her to be clean and healthy.
Guide Dog Emoji

Second to the last on our 🐕 Dog emoji list is the 🦮 Guide Dog emoji. The 🦮 Guide Dog emoji is a picture of a yellowish-brown guide dog. A guide dog is a dog trained to help lead a person who is blind or visually impaired. All guide dogs come with a harness and a handle. The 🦮 Guide Dog emoji is no different, all versions of the symbol have a harness, a handle, and a collar.
Unicode Standard introduced the 🦮 Guide Dog emoji to the public, and later added it to Emoji 12.0.
The harnesses in Apple, Google, and Twitter's 🦮 Guide Dog emojis are gray. On the other hand, the harness on Facebook's 🦮 Guide Dog emoji is green, and the harness on Window's 🦮 Guide Dog emoji is purple. To add to that, Facebook's 🦮 Guide Dog emoji is pinkish-beige in color, not yellow at all.
How to use the 🦮 Guide Dog emoji:
The 🦮 of my neighbor is so cute and so friendly. I wish he were mine!
Sadly, my dad's eyesight hasn't been the same since the accident. As a result, today he is getting his first 🦮. Finally, I can sleep soundly at night.
Service Dog Emoji

Taking over the final spot on our Dog emoji list is the 🐕‍🦺 Service Dog emoji. It is an emoji of a dog trained to perform work for a person with a disability. The 🐕‍🦺 Service Dog emoji faces left, is either gray or yellow-brown in color, and wears a red and gray harness. The 🐕‍🦺 Service Dog emoji was added to Emoji 12.0 in 2019. Emoji 12.0 is the first set of new emojis approved for release in 2019.
People use the 🐕‍🦺 Service Dog emoji in conversations about service dogs or assistance dogs. If you know someone who wants or has a guide dog, chances are you'll see the 🐕‍🦺 Service Dog emoji in their social media posts, emails, and texts.
Apple's 🐕‍🦺 Service Dog emoji stands out in many different ways. For instance, the dog featured in Apple's symbol is black and furry and is the only black and furry 🐕‍🦺 Service Dog emoji. Furthermore, all the other dogs from all the other vendors are either yellow, brown, or beige.
In addition to what was previously mentioned, among all the vendors with the Service Dog emoji, there are those with several differences in the emoji's position. Whatsapp 🐕‍🦺 Service Dog emoji is shown facing forward, unlike the other dogs depicted from a side view.
How to use the 🐕‍🦺 Service Dog emoji:
My grandma entered Costco with her 🐕‍🦺 yesterday. The staff asked her to leave because pets are not allowed in the store. She had to show her Persons With Disability ID.
My blind grandpa is so grateful for his 🐕‍🦺. He can't go anywhere without it. Dogs truly are man's best friend!
Conclusion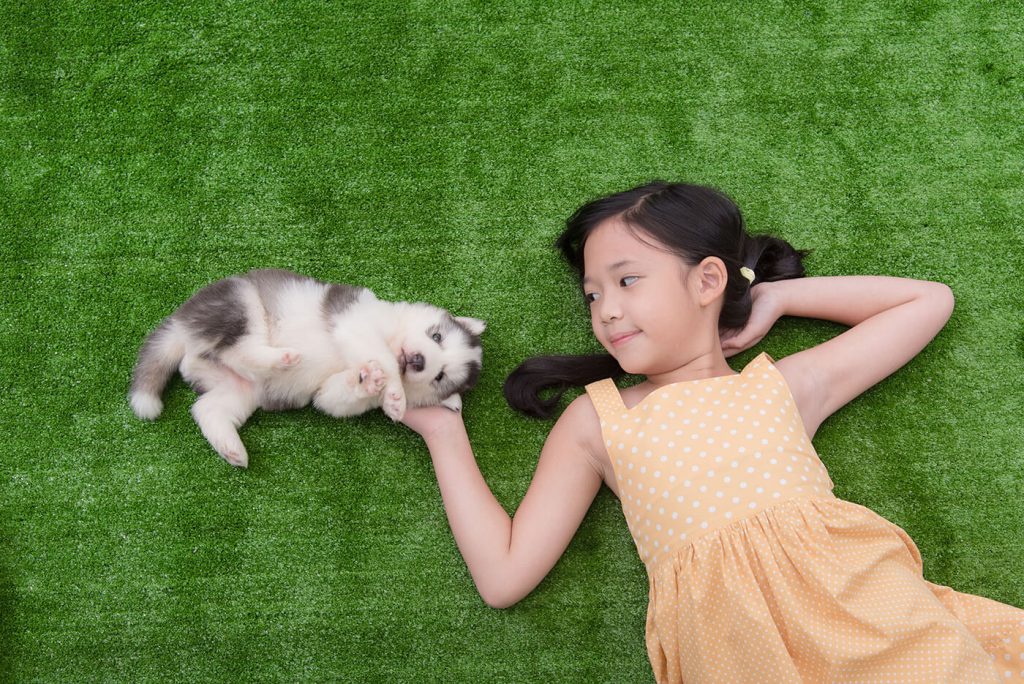 If you can't own a dog, for whatever reason, animal emojis like 🐕 Dog emojis and 😺 Cat emojis are the next best thing to having a pet.
On the other hand, if you are financially ready to bring an animal into your life, then go for it! Indeed, owning and caring for a pet can be a very rewarding experience. The joy, affection, and love our pets bring into our lives make all of the care they need worth it, especially in the midst of this pandemic.
Benefits Of Owning A Pet
Based on a report made by the Center For Disease Control And Prevention, along with the happiness they provide, pets offer a variety of physical and mental health benefits. Some of these include decreased blood pressure, lower cholesterol levels, and decreased levels of triglycerides (a form of fat in your body).
Pets Are Covid-Free
Furthermore, you're free to hug and kiss your pets as much as you want due to the fact animals cannot be infected with the virus that causes COVID-19!
Conversely, it is important to wash your hands after playing with, feeding, or cleaning your pet. This reduces the risk of getting sick from other germs pets may carry.
Be Safe
No matter what people may say, water and soap are best for hand washing. On the other hand, if you are on the road or at a place with no water near you, you can use hand sanitizer in the meantime- until running water and soap is available. If you've got young children in the house, please assist them with hand washing. Remember, a clean house is a happy house!
Have A Safe Home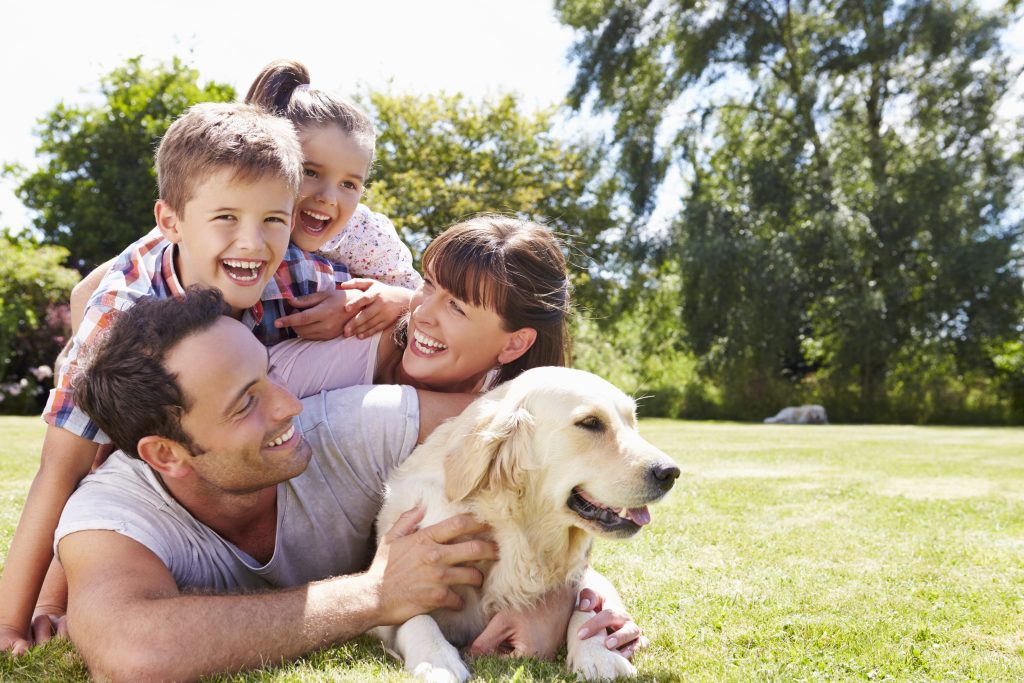 In everything we do, let's remember what author Daphne Joyce Maynard once said, "A good home must be made, not bought." Here's wishing you all the best in caring for your pets and in making your home just the way you want it to be!
Calling All Pet Lovers
What did you think of the emoji-dog pairing? Did it put a smile on your face? What other emoji-dog pairs can you think of? Do let us know! Drop us a line or two at the Contact us section!