Throw Away The 😢 Cry Emoji: Tips To Keep You Happy And Healthy At Home 🏠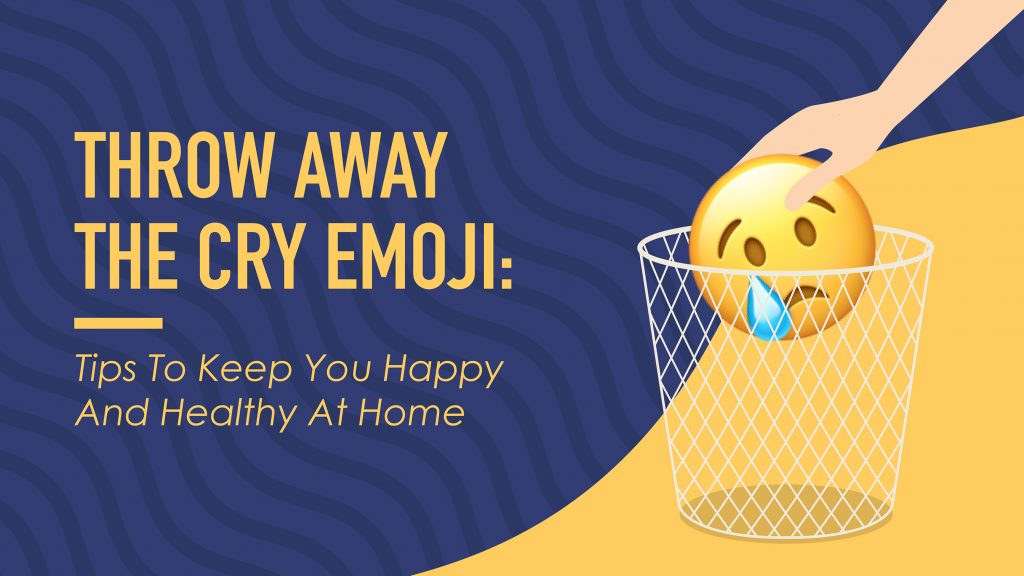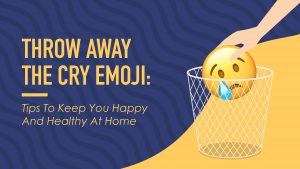 Most of the world is at home right now. And it seems like it will remain that way for quite some time. We need not explain much; we all know what's happening — an infectious disease called the coronavirus, otherwise known as COVID-19, is affecting more than 200 countries and territories around the world. More than 1 million people tested positive for the disease, and at least 50,000 people have died from it. No one knows how or when it will end. Everything is so sad and scary, you want to put a 😢 Cry emoji after every word you utter.
Talk To Someone
We understand these are troubling times. Yes, it's normal to get sad and afraid, but don't let it eat you up. Reach out and talk to someone on the phone or online. There are plenty of social media platforms like Facebook, Twitter, Instagram, and online platforms such as WhatsApp or Skype to help you communicate with people. If you aren't that comfortable about making the first move or you're not ok about being the first one to share your feels, emojis are here to help you communicate better.
Cry Emoji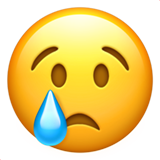 For instance, there's the 😢 Cry emoji or 😢 Crying Face emoji. The 😢 Cry emoji signifies feelings of sadness and pain. If you're feeling unhappy about someone or something, and you want to tell someone about it, this is the emoji you might want to use to break the ice.
Cry Emoji On Other Platforms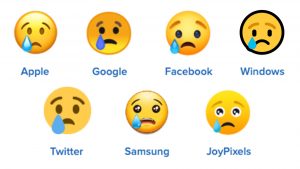 You won't have a hard time finding the 😢 Cry emoji. It's on almost all platform vendors, including Apple, Google, Samsung, and Microsoft, and app vendors like WhatsApp, Twitter, and Facebook.
Loudly Crying Face Emoji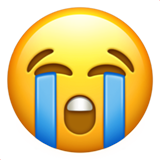 Sometimes an emoji doesn't give enough meaning to our deepest feelings. If you feel that way about the 😢 Cry emoji, there's a more intense form of it: the 😭 Loudly Crying Face emoji. The 😭 Loudly Crying Face emoji describes extreme sadness or grief.
Loudly Crying Emoji On Other Platforms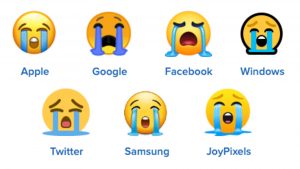 It isn't hard to spot multiple operating systems and social media apps like Facebook, Twitter, Apple, Google, Samsung, and Windows that support the 😭 Loudly Crying Face emoji. Whether you're more comfortable with the 😢 Cry emoji or you'd rather use the 😭 Loudly Crying Face emoji, what's important is you communicate your feelings. If you continue to feel anxious or distressed after talking to someone, maybe it's time to talk to a psychologist to help you better.
Laughing At Home
Another way to look after your mental health in this situation is to laugh! Why? Because laughing releases endorphins, the brain's feel-good chemicals that reduce stress. That said, one way to let the endorphins out is to watch a funny movie or sitcom on Netflix. You can even do a review about it and share it with your friends. By doing this, you'll be hitting two birds with one stone – you'll be a productive, much-needed source of good vibes, sorely needed in a time like this.
Online Emoji Quizzes
If you enjoy putting your brain to the test now and then, online games and quizzes are a great way to pass the time. There are tests about anything and everything under the sun, from current events to which Disney or Marvel characters you relate to most? When you've taken all the quizzes you want, you can even go one step further by making your own online test.
A site called Poll Everywhere will help you do that. It even has a Create Emoji Quizzes section! You formulate your own questions, and the multiple-choice answers are in emojis. For example, if you want to ask people how they're feeling, A can be 😍 Smiling Face With Heart Eyes emoji, B can be 😢 Cry emoji, C is 🤣 Rolling On The Floor Laughing emoji, and D is 😏 Smirking Face emoji.
Chat With Friends Online
You've seen the memes. While introverts have been preparing for self-quarantine for their whole lives, extroverts are going into a state of panic. Extroverts need to have regular infusions of people interacting with them to feel more connected, productive, and happy. When they don't get their "fix," it drains their mood. So… you can just imagine how difficult quarantine can be for extroverts.
Thank God, though, for remote conferencing services and group messaging apps! Whether you are an extrovert or an introvert, remote conferencing services like Zoom are a good way to fight isolation and loneliness. The revolutionary app lets you stay connected with friends and family — for free! Zoom brings video conferencing, online meetings and group messaging into one easy-to-use, cool application. The app lets you talk to up to 100 people at a time! Isn't that cool?
Emoji Games Online
If you're using Zoom to stay connected to friends and family, why not play online games while using it, like online charades or Guess The Emoji. In Guess The Emoji, one person can act out the emoji and have other participants guess what the emoji is! Easy emojis such as the 😢 Cry emoji, 😜 Winking Face With Tongue emoji, and 😏 Smirking Face emoji are easy to act out, although you'll surely get a bunch of laughs with the more difficult and funny ones like 💩 Pile Of Poo emoji, 🧗‍♂️ Man Rock Climbing emoji or 🧗‍♀️ Woman Rock Climbing emoji, or the 👯‍♀️ Women With Bunny Ears emoji!
Group Messaging Chats With Emojis
When you're at home, you are at your most relaxed, messy hair, loose clothes, some even have their feet on the table. Assuming you're in that state and not in the mood to show your face to the outside world, group messaging chats like Viber are your best friend. You can interact with an unlimited number of people about a shared topic or passion without seeing them face to face. When you're done talking with your friends and family members about current events and showbiz news, why not play some games on Viber, too?
Decode The Emoji Game
Here's an easy game you can do – have your friends decode some emoji pop songs, the first one to guess the right answer gets a point! Here are some emoji song titles you can try:


Emoji breakdown: 🚀 Rocket emoji and 👨 Man emoji
Answer: Rocket Man by Elton John

Emoji breakdown: 😢 Cry emoji or 😢 Crying Face emoji
Answer: Cry by Mandy Moore


Emoji breakdown: 💃 Woman Dancing emoji and 👑 Crown emoji
Answer: Dancing Queen by Abba





Emoji breakdown: 🙆‍♀️ Woman Gesturing Ok emoji, 💭Thought Balloon emoji and 🔊 Speaker High Volume emoji
Answer: Thinking Out Loud by Ed Sheeran



Emoji breakdown: 📱 Mobile Phone emoji, 🙋 Person Raising Hand and 🙏 Folded Hands emoji
Answer: Call Me Maybe by Carly Rae Jepsen
Online Games Help Mental Health
Online quizzes and games give more than just entertainment and knowledge to listeners. They also improve your mental health. Many studies have shown that gaming stimulates two important parts of the brain, one associated with motivation and attaining goals and one associated with learning and memory. When you play games, you have a task you need to do, and you get a reward for completing them.
Benefits Of Online Games
This helps people with anxiety because when you have anxiety, you think everyday tasks seem insurmountable, your projects are doomed to fail, and you can't do anything right. Your confidence is at its lowest. Playing games and accomplishing tasks, no matter how small or how big, help you regain your sense of self. Games also help redirect your mind from your current emotions. Instead of putting all your energy into worrying about what's happening in the world, you rest your attention on something else.
Many aspects of the situation we are in are beyond our control. We don't know when the coronavirus ends, whether the lockdown is extended, whether your sloppy-looking neighbor is a carrier… How long you will live… Whoops! That escalated fast!
TBH, it's just human nature, we'd rather know how a situation will play out, rather than see what happens later on. But that isn't how life works. There will always be something you can't control, and if you keep on obsessing about it, it can seriously disrupt your peace of mind.
Declutter At Home
So why not work on what you CAN control, like your home? Home improvement is a good way to feel productive and in control. Routinary and predictable exercises like cleaning your room or decluttering your closet give you a sense of control in the face of uncertainty. But do not let perfectionism get in your way. When cleaning or decluttering begins, the mess gets bigger and can make you feel overwhelmed. If this happens, remember how great you will feel when you feast your eyes on a clean room or closet.
Here's another idea… unless you've been living underneath a rock, you probably already know emojis are becoming more and more popular. To celebrate the cute and lovable symbols, and to help you relax from all the Coronavirus-driven anxiety, why not get into some DIY emoji craft projects?
Make Emoji Crafts
We know not everyone is a domestic goddess like Martha Stewart, and that's A-ok! There are many easy-peasy emoji crafts to sink your teeth into, you can make emoji mason jars, emoji coasters, emoji shoe charms, emoji plant holders, emoji easter eggs, emoji rings, and emoji notebook covers… the possibilities are endless! Other Mix and match your favorite emojis for a look that's unique to you and your brand.
Share The Emoji Crafts You Made Online
Whether you adore the 😍 Smiling Face With Heart Eyes emoji, you think the 😜 Winking Face With Tongue reflects your cheeky side, or you believe the 😢 Cry emoji shows your emo side, make sure you put all your faves in there! Once your items are created, why not share your finished product on your social media accounts? You'll inspire others to expand their creativity and make the most out of their free time.
Make Crafts Fun For The Family
Plus, arts and crafts are a great bonding activity for parents and kids! You can ask your children to do simple tasks like cutting pieces of paper, or gluing bits and pieces of the shoe or jar or coaster you're working on. Spending time with your kids is not just about helping them with their homework or chores. Crafts and other artistic endeavors encourage the artistic and technical abilities of kids.
Making Memories With Your Kids
Overall, it's important to spend time with your kids – not just when they are small, but also in their teenage years. Time spent together will help the family build memories – trust us when we say your kids will never forget these moments even when they grow up and they have their own families.
Making Yummy Emoji Sweets
Across the world, people under lockdown are cooking and baking to fight boredom and bring joy to their day. It's a no-brainer, really. There is something sweet and comforting about pulling a batch of cupcakes or cookies out of the oven. A little comfort we could all use right now.
If you're thinking of going into baking, now's the best time to do it. You've got time on your hands, and we're sure your family at home will enjoy the finished product! If you're in search of a design that will cater to both sexes, emojis are your best bet.
Emoji Designs On Pastries
Who doesn't love emojis? From the 🤩 Star Struck Eyes emoji to the 😢 Cry emoji, from 🤯 Exploding Head emoji to 🤠 Cowboy Hat Face… kids are infatuated with these cute little symbols. Decorating your cupcake with emoji designs might take longer to make than the usual cupcake, cookie, or waffle, but when you see the finished product… it makes all the hard work worth it.
Baking can be intimidating for first-timers. If you didn't grow up baking muffins from scratch, there are plenty of online recipes for you to follow. Start out with the basics. Once you get the hang of it, you can move on to the emoji designs. They will make your day!
Baking Is The Health Balm We Need
Fighting boredom… being productive… bringing joy… did you know that baking relieves stress, too? Baking helps you focus because it often relies on exact measurements. You need to add ingredients in the correct order to make your recipe work. When your mind focuses on the recipe, you don't allow your thoughts and fears to distract yourself.
Baking For Others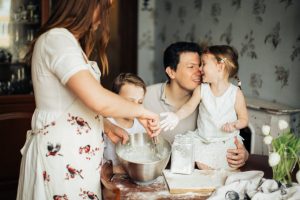 Another reason baking makes you feel good is because it allows you to create something for someone else to enjoy. Doesn't it feel so good to see your family enjoy what you baked? When you keep on doing it, you'll soon see the fear and anxiety melt away.
Working Out At Home
The coronavirus has changed lives around the world in so many ways, how we work, how we socialize, even how we workout, or the lack of it. If you love going to the gym, sorry, it's "no bueno" for now. Doctors suggest we stay home because there is the risk of equipment that hasn't been properly disinfected after every use. However, there is a bright side to all this, and that's some gym and streaming fitness companies are offering online workouts for free.
Free Online Workouts
Beachbody, a streaming fitness company, is offering its fitness programs for free for 14 days. These include popular workouts PiYo, P90X series, and Insanity. The great thing about these workouts is you need very little space and you don't need a lot of equipment except for hand weights, a mat or bands. In addition, high-intensity Manhattan training studio The Fhitting Room is holding free virtual live classes called Fhitting Room On Demand, for an entire month!
Workout To The Emoji Movie Soundtrack
In addition, don't forget to rock out to your favorite music during your gym session! Studies say listening to music helps distract people from their bodily awareness or pain. So pop in your favorite Spotify playlist while working out. While you're looking for other songs to include in your workout list, why not give the Emoji soundtrack a listen? Songs like Good Vibrations like Ricky Reed and Feel This Moment by Christina Aguilera will put you in such a good mood you won't be posting a sad emoji or a 😢 Cry emoji for a long time!
Working Out Is Great For The Mind
On top of everything we mentioned, here is the best reason to work out, depression and anxiety symptoms often improve with exercise. Studies say regular participation in aerobic exercises improve one's sleep, self-esteem, and overall levels of tension. As little as five minutes of workout can stimulate anti-anxiety effects.
Conclusion
This might be the most important thing to keep in mind – don't beat yourself up when things are not going perfectly to plan. We're in the middle of a crisis, which means things will be hairy for a while. If you forget a workout or the emoji coaster, you made isn't how you envisioned it to be, it's not the end of the world.
It's not a life or death situation. If you punish yourself repeatedly, won't it defeat the purpose of why you're doing those things in the first place? So cut yourself some slack. Be productive, do what you love, but don't forget to reflect on the important things. You and your family are healthy, you've got a roof over your heads and food on the table.
When you feel stuck and unsure of how to feel better, take things one day at a time. What can you do TODAY to make things better? Work on those. Get in the right mindset and enjoy every day as it comes.