🤦 Facepalm Emoji: How To Use This Emoji 🤦‍♀️ In A Quirky And Humorous Way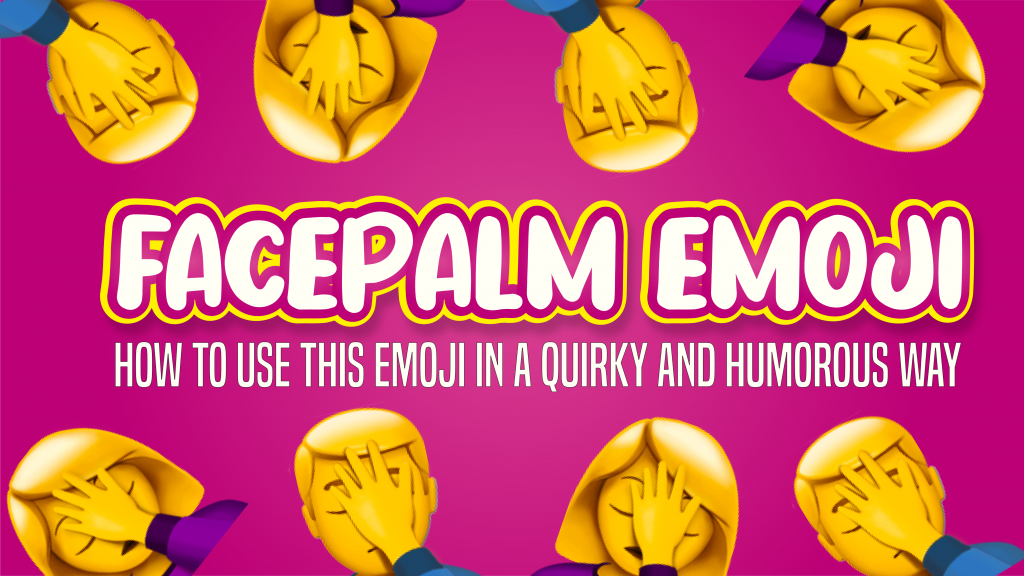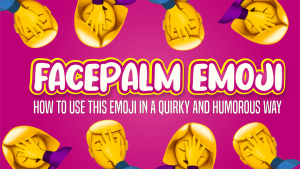 We all make mistakes, and we all screw up. Everyone's got moments in their lives they wish we could erase from their minds and the minds of others who witnessed their folly. Forgetting those unpleasant moments is difficult, even harder when they are immortalized on social media. When these things happen, humor and a 🤦 Facepalm emoji or two can provide a fresh perspective on a difficult situation. When you can laugh at your own mistakes and get other people to laugh at them, too, it gives you the confidence to move past your errors.
Expressing Facepalm In Emoji
When you're online every day, you come across situations that can only be adequately expressed with emojis. There are some things that just aren't as effective when they're written out, and the only appropriate response is a big, 🤦 Facepalm emoji.
Sure, you'd love to display embarrassment or frustration at the ineptitude of a person, thing, or situation that's making you cringe, but it might not be the most polite way to share what you're feeling.
Sometimes saying what you feel, through words, might even make the situation worse! So, you use the 🤦 Facepalm emoji, and the gesture gets across what you're thinking in a smoother, less offensive, slightly humorous manner.
For that reason, the 🤦 Facepalm emoji is one of the most useful symbols on the planet. Since it happens to all of us, if you've never used it, why not try it out?
Facepalm Emoji
Before you do, it would be wise to get to know the symbol better first. Sure, you know what people use it for, but do you know if it can be used in other situations? Or how it entered the digital world? And if it can be used in other situations?
In the following sections, we answer all of those questions and more with a quick and comprehensive symbol guide.
Person Facepalming Emoji

The 🤦 Person Facepalming emoji shows a cartoon-styled depiction of a person in a t-shirt, covering his or her face with his or her palm in dismay. The person gives off a feeling of frustration, shame, or disappointment. If this emoji could talk, he or she might be saying, "what the heck, man!" or "I can't believe this is happening, I am so embarrassed."
Facepalm Emoji History
The 🤦 Person Facepalming emoji was introduced to the public as part of Unicode 9.0 on June 21, 2016. 72 emojis were in this list, such as the popular 🤳 Selfie emoji and 🤠 Cowboy Hat Face emoji. This was quite an epic bunch!
Skin Variants of the Person Facepalming Emoji
As with other platforms, emojis with human appearance, like the one above, have five additional variations, for each skin tone. They're the 🤦🏻 Light Skin Tone Person Facepalming emoji, 🤦🏼 Medium-Light Skin Tone Person Facepalming emoji, 🤦🏽 Medium Skin Tone Person Facepalming emoji, 🤦🏾 Medium-Dark Skin Tone Person Facepalming emoji, 🤦🏿 Dark Skin Tone Person Facepalming emoji.
Facepalm Emoji On Different Platforms
As we all know, emoji is a standardized set of characters available on iOS, Android, Windows, and macOS. While the artwork for each emoji character varies by platform, the meaning of each symbol remains the same. So, if you want to use the 🤦 Person Facepalming emoji, you need to see how it will look from your current platform.


This is all the more emphasized with the use of the 🤦 Facepalm emoji because every available version looks very different!
Apple and Twitter's models both have short blond hair. However, Apple's version shows the person touching her forehead with her left hand, while on Twitter, he or she is slapping his or her forehead with her right hand.
Meanwhile, on the surface, it seems like Google, Facebook, and Samsung's variants look nearly the same, but if you were to take a closer look, you'd see the person appearing on Samsung has bangs. Furthermore, the hair on Google's variant is wavier than the rest, and the face on Facebook's version is darker than the rest of their body.
Gender Variants Of The Person Facepalming Emoji


A popular feature of the 🤦 Person Facepalming emoji is its gender variants, namely the 🤦‍♂️ Man Facepalming emoji, and 🤦‍♀️ Woman Facepalming emoji. We won't go into a lot of details here because those two symbols have the same meaning as the 🤦 Person Facepalming emoji.
The only difference lies in the design of the symbols, and the gender they are made for. If you're a woman, you will use the 🤦‍♀️ Woman Facepalming emoji, and if you are a man, the 🤦‍♂️ Man Facepalming emoji is the right one for you.
How To Use The Facepalm Emoji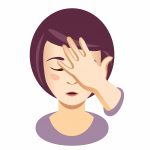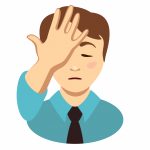 Free yourself from online mistakes and awkward digital situations, add a humorous twist to your post with the 🤦 Facepalm emoji.
Situation 1 – Sending a text to the wrong person
Texting, when you think about it, makes for a lot of awkward encounters. Not only can technology wreak havoc on your communications experience, but so can your own errors. Sending an SMS to the wrong person is one of the most embarrassing mistakes made by humans, especially if the message was clearly not made for their eyes.
Here's what you can say with the 🤦 Facepalm emoji:
– I am so sorry, that text was meant for someone else 🤦 Anyway, hope you are doing okay, have a great day!
Situation number 2: Forgetting to mute on a Zoom call
It can be difficult to keep track of all the new virtual norms, especially with all the settings and sound procedures. Remembering to turn your microphone on and off can be difficult if you're forgetful. When this happens, you can send an apology through the Zoom chat box, along with a good question to show that you are listening and to make up for your mistake, and to redirect the focus of the meeting.
Here's what you can say with the 🤦 Facepalm emoji:
– Apologies 🤦 My mute button is on now. This won't happen again. About the virtual seminar, maybe we can include a few topics on mental health? This will help our employees a lot.
Situation number 3: Realizing mid-argument how wrong you are
So, you pick an argument with someone on Facebook. However, halfway through, you realize you are the one at fault. How to react?
Here's what you can say:
– I just checked, and you are right, hydrogels are not part of the ingredients in Covid-vaccines. My bad 🤦
Other situations
– Harry is still going to the parlor? He never listens ​🧑‍🦰​🤦​ [What it means: hair color does not suit him]
– 💁‍♂️​👭​🤦​after so many years, people still condemn it. Why? [What it means: society condemning same-sex marriage]
– ​Opened the TV and saw Taylor Swift 🤦‍♀️​💃​ I saw her fans create a Tumblr called Awkward Taylor Swift Dancing to capture her in all of her "splendor." [What it means: dancing is so bad it is embarrassing]

Facepalm Emoji In The Meme World
It is impossible to speak about facepalms, and not mention memes. It's no secret that they've become the internet's unofficial fuel. Everything becomes a meme nowadays, from Meryl Streep cheering, to Drake's classic meme made from two "Hotline Bling" video stills.
Facepalm Memes
Facepalm memes, in particular, are sweeping the Internet like wildfire. They've even managed to introduce the world to different levels of facepalm. (Who knew?) There's the giant-sized Godzilla facepalm, the double facepalm, and the most hilarious of them all, the it's-so-bad-even-my-pet-is-face-palming facepalm.
Use them every time you need to express your frustration, exasperation, embarrassment, or sarcasm, and don't forget to put the 🤦 Facepalm emoji at the end! After all, times are hard, when an opportunity to laugh presents itself, we should take it!
Conclusion
We've reached the end of the road for now. Remember, no matter how embarrassed you may feel by your mistake, the most effective thing to do is to relax and take charge of the situation. Apologize. Say what you need to say, do what you need to do.
We've all heard that laughter is the best medicine, and it's true. When used at the right time, laughter, and funny things like facepalm memes and the 🤦 Facepalm emoji, can be a great tool for defusing awkward moments.
Truth be told, we've all been there. More often than not, whatever happens, no matter how embarrassing, is likely to be forgiven. Even better, it is most likely avoidable. So, learn from your lessons and move on.