Think, Laugh, And Learn 💭 With Emoji Riddles For Kids 🚸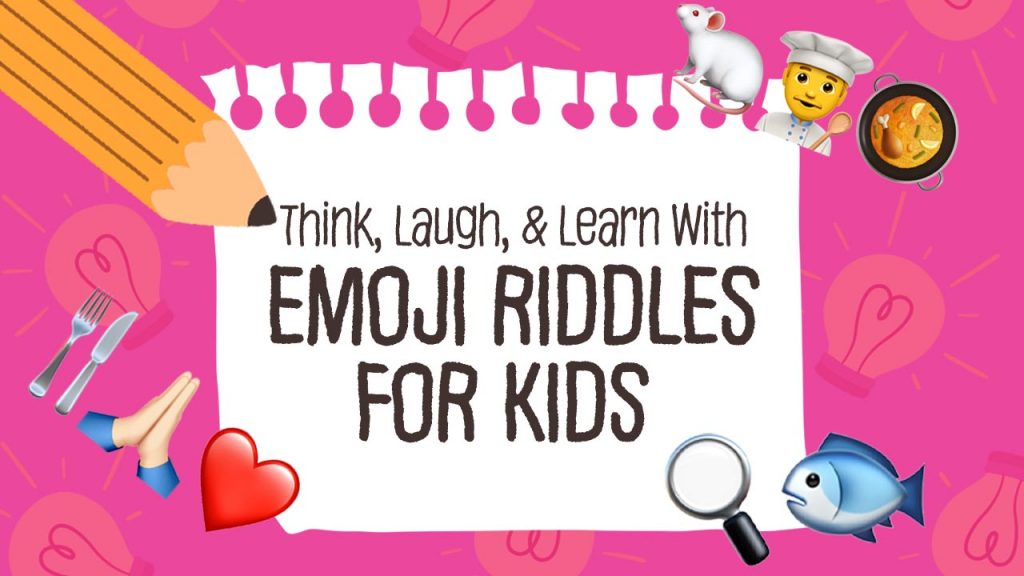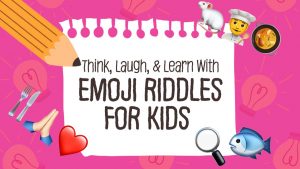 Whether you're a 💃🤣🔥 kind of person or more of a 😑🛌🧊 type of person, you can't deny the fun emojis bring to daily conversation. Since their release, these symbols have become a part of our everyday language — helping users efficiently express themselves in ways words cannot. With over 60 million emojis sent each day, it's hard not to notice the popularity of these cute pixel-sized emoticons. While that's going on, businesses are making the most of what's happening by coming up with entertaining emoji-based games like digitized versions of emoji riddles for kids.
Google the words "emoji games" and the different products that'll appear will overwhelm you — from jigsaw puzzles to emoji riddles for kids and adults, to emoji maker apps. Out of all of them, emoji riddles for kids and adults remain one of the most popular.
Emoji Riddles
Doesn't it kind of make you think? With so many fun and creative options to choose from, what inspires people to keep coming back to something as simple as emoji riddles? Perhaps it all boils down to practicality and spontaneity. Some of them are challenging and fun at the same time. Some are easy to figure out, while others will keep you occupied for hours.
They're also easy to set up and fun to play! You don't need a pair of dice or a handful of pawns to begin. Your phone or iPad is more than enough. Going on a road trip with friends? Make it a competition to see which of your friends can guess a complete list of emoji riddles the fastest! Finally, yet importantly, answering emoji riddles increases and improves one's overall mental aptitude.
When you solve riddles, you're exercising your short-term memory. Short-term memory, also known as active or primary memory, is the information we are currently aware of or thinking about. Short-term memory helps us remember various colors, shapes, and many other things we encounter in our daily life.
Emoji Riddles For Kids
With this in mind, it is even more critical that we develop our short-term memory at a young age. Kids with strong short-term memory adapt better, learn faster, and remember more. As could be expected, doctors often encourage the parents of their patients to use emoji riddles for kids to train their children.
Before you run over to Google Play or the iOS App Store to download the latest emoji riddles for kids app, why not come up with some funny and clever riddles of your own? Think of it as an easy creativity exercise designed to target your core artistic muscles. Unless you've forgotten, creativity is a muscle, and like any muscle, it needs exercise! Once you've thought about your riddles, write them down on your laptop, and ask your kids or students (if you are a teacher) to guess!
If, after a few tries, you get stuck, don't panic. It happens to the best of us! We all know what to do and how to do it. Sometimes, all we need is someone (ahem, ahem) to give us a push to get those creative juices flowing. In case you didn't get that hint, we're in charge of the "pushing today." And the first step begins by putting your skills to the test to see if you can crack these emoji riddles. Perhaps they'll give you an idea of how to make your own. These riddles are quite interesting and fun, and most of all, they're family-friendly!
Easy Round


1. Love letter

2. Watchdog


3. Spiderman




4. Back to square one

5. Finding Nemo / Finding Dory


6. World Cup

7. Be right back


8. Lion King


9. Mountain Dew


10. Coffee break
Congrats! You've cracked the basics of riddle solving, and you're ready to step things up a notch. But before you dive in and share this with your family, bear in mind that this list, in terms of difficulty, might be better suited for older children.
Intermediate Round


1. Hole-in-one




2. Princess And The Frog





3. Titanic






4. Star Wars



5. Werewolf





6. Harry Potter




7. Brains over brawn



8. Honeymoon



9. Ratatouille



10. Money doesn't grow on trees
Way to go! After finishing the last two rounds, you're clearly ready for the big guns! Think you can decipher these difficult puzzles? If you're a pop culture fan, then you definitely have an advantage! Put your emoji riddle-solving skills to the test one last time below.
Difficult Round



1. The Devil Wears Prada


2. Raining cats and dogs


3. A Clockwork Orange



4. ET phone home


5. Dancing With The Stars



6. Once in a blue moon



7. Lion sleeps tonight



8. Frozen



9. Edward Scissorhands



10. Eat, Pray, Love
Emoji Riddles For Android
You tried, you answered all the riddles, stared at the ceiling for hours, and finally decided that writing's really not your thing. Well, that's all right. There are plenty of apps in the online world that are bound to fit your needs. To start with, the Google Play store alone has a lot of options!
As an example, Emoji Guess Puzzle is a fun and frenetic puzzle game where players need to pick the right set of emojis to express the saying, movie title, or phrase given. If you're tired of the traditional way emoji riddles are answered, you might just enjoy this! What's more, win or lose, players definitely get something in return — playing this game sharpens a person's logic, word association, and visual perception skills.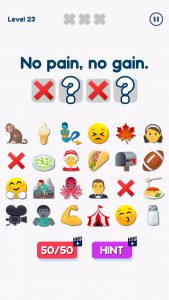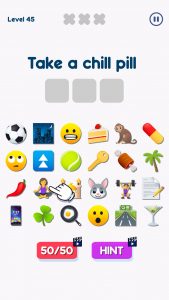 Meanwhile, in Guess The Emoji, players are shown a series of emojis and a set of letters. They are then asked to guess what they mean when they're all put together. Overall, it's sort of like a hybrid emoji riddle game, a mash-up of emojis and letters, with special in-game boosts to help players move to the next quiz question.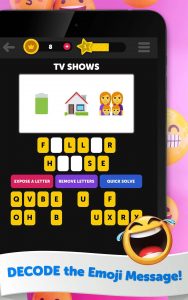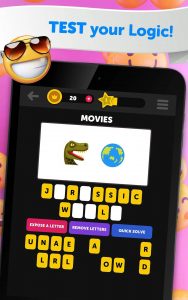 Another cool app is the Emoji Game: Guess Brand Quiz. The mechanics of this game are actually quite simple. Players are asked to guess the name of a brand. But before they do so, a series of emojis will be flashed on a screen before they log in their final answer. This sounds easy, but some puzzles can be quite tricky!
Here, your brand knowledge and brand awareness will be tested to the fullest extent possible. You'll be asked to guess the names of various products, brands, and companies, from car makers to pizza restaurants and department stores.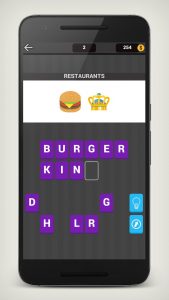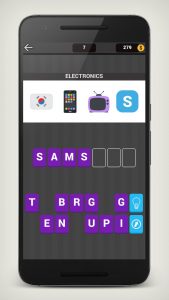 Emoji Games For iOS Devices
Not an Android user? No problem! The Apple Store's got some pretty cool games, too. After checking out a few, EmojiNation – Guess The Emoji is one that really got our attention. What's nice about this game is that it's got hundreds of emoji-themed puzzles in it! Hundreds of puzzles featuring all sorts of topics ranging from idioms to music and celebrities.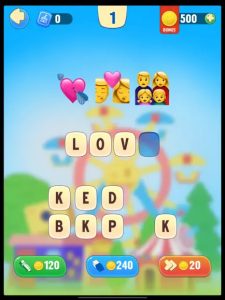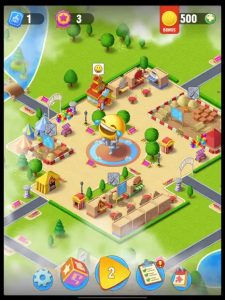 On how the game's played, put simply, it's quite similar to what players do with emoji riddles. They just have to translate a given word, sentence, or catchphrase written in emoji. Users are also given the opportunity to create the emoji park of their dreams, filled with Ferris wheels, carousels, roller coasters, and many other attractions they choose. In order to do so, they just need to accomplish their daily quests and claim the corresponding gifts.
Gadget Free Family Fun
Technology and family life have changed so much. Years ago, parents and kids actually had to stand up to make a call at home, and the television in the living room only had three channels. Everyone in the family is staring at their phones everywhere they go, from the dinner table to the bathroom. And only three channels? Those days are over. Now, there are essentially endless alternatives for on-screen viewing. If those statements resonated with you, and you'd like to bring back the good old days with your fam bam, why not organize a gadget-free night of bonding?
Instead of setting up the emoji riddles for kids on a laptop, you can jot them down on a piece of paper, or create flashcards. If it's your first time making one, don't worry. You won't ever be alone because there are plenty of resources online. Start with one of the biggest sites in the world — Canva! The graphic design platform has a free online flashcard maker that lets users choose the size, theme, and shape of their templates. Users can choose from thousands of flexible templates to start their design, or they can create their design from scratch.
Meanwhile, Adobe Express hooks users up with thousands of professionally designed templates. You can search by platform, aesthetic, task, mood, or color. And, it's also all for free!
Concurrently, sites such as cram.com and flashcardsgenerator.com are also capable of getting the job done, but with fewer fancy features. FlashCardsGenerator requires users to build their own flashcards manually by typing in their questions and answers per line. The maximum length is 250 characters.
Conclusion
With the rise of social media and smartphones, emojis are firmly entrenched in the way people communicate textually. So much so that a lot of smartphone keyboards will even suggest emojis depending on the phrases you type, saving you the time of needing to find the right one. While some people may frown upon the use of emojis as frivolous, there's no doubt that they've made our online communication richer and more nuanced.
As more and more people use emojis to communicate with each other, having our children be familiar with what people are calling "the new global language" could undoubtedly be a wise move. While using emoji riddles for kids to accomplish this task, it's important, for us, as responsible adults, to be familiar with the rating of each game. Pick a game to suit their age, to ensure that the child is being challenged appropriately.
Above all, it should also be made clear that emojis are meant to enhance sentences and phrases, to bring feelings to messages, but are never, and should not be a replacement for words. Words are still, and will always be, more important! And on that note, we say goodbye. We hope you learned a lot about emoji riddles today. Have a great time teaching and bonding with family and friends!